While hoodies used to be considered an item of casual clothing, nowadays, they are being worn in occasional sets for anyone at any age. It's perfectly fine for you to dress your daughter in a hoodie this holiday season.
Hoodies make wonderful additions to your baby's cozy, fancy, and adorable Christmas outfits.
If you're unsure where to begin, don't worry. Take a look at these cute and stylish ways to style toddler girl Christmas hoodies.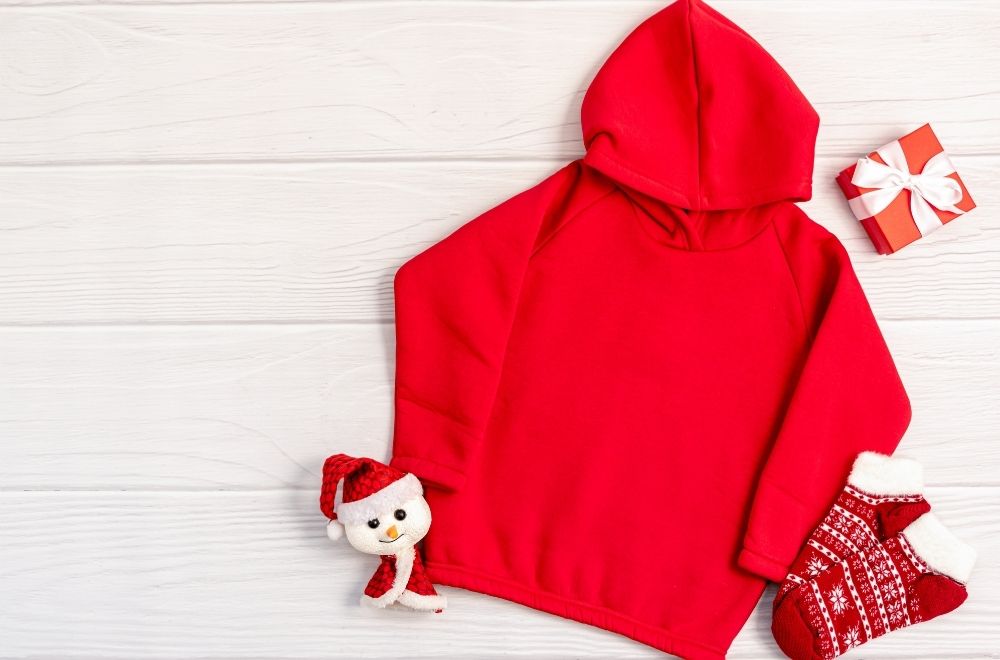 A Quick Tip For The Best Toddler Girl Christmas Hoodies To Keep In Mind
If you are buying clothing for your little one this Christmas, don't forget to check out online stores. Seasonal sales are beginning everywhere, so you will surely be able to grab great quality items for your young lady at a very affordable price.
Keep in mind that while shopping for toddler girl Christmas hoodies, safety, warmth, and comfort should always come first. The best kids' hoodies are soft and made of top-quality cotton to make your little ones feel cozy and warm on chilly winter days.
#1 Toddler Girl Christmas Hoodies and Sweatpants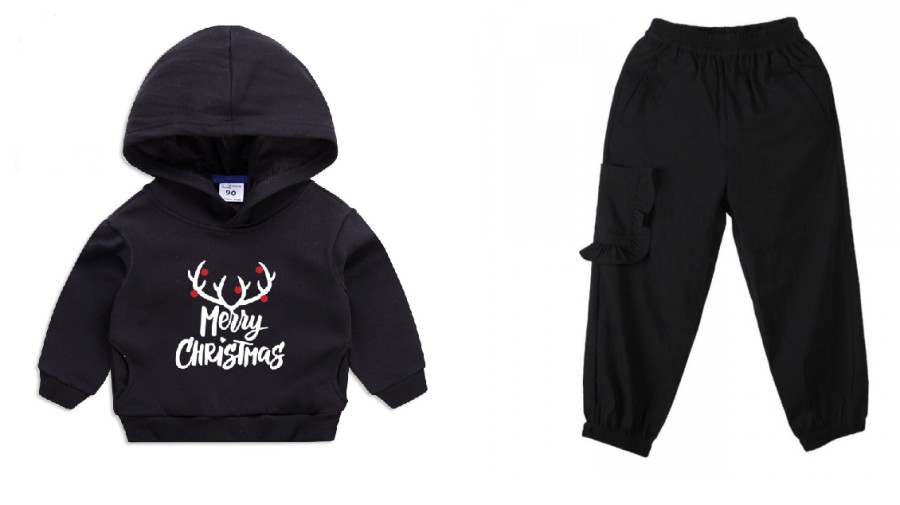 The classic combo of hoodies and sweatpants works exceptionally on any occasion, including Xmas. This combo will keep your young lady comfy and fancy throughout all the events at Christmas, including family meals, photos, or a visit to the elders' house. Just pick a Christmas hoodie and sweatpants that share the same colors (or tones at least) for your toddler girl, then add a pair of simple sneakers to nail a casual yet charming and relaxed look this Christmas.
#2 Plaid-themed Hoodies + Plaid Pants+Knitted Reindeers Hat

Plaid and Christmas is undeniably an excellent match for every age. This combination will bring a cozy and festive feel to your toddler girl. On top of that, it is perfect for family Christmas photos that will last for years in your album or will win thousands of "likes" on social media for your young fashionista. And when it comes to accessories, a knitted reindeer beanie will further amplify your girl's cuteness while embracing the festive spirit of Christmas.
#3 Christmas Hoodies + Denim Jackets + Jeans

The denim jackets and jeans match will simply create a cool-looking street-style outfit for your young lady. Meanwhile, a Christmas hoodie will add some splash of colors to the set and make it a little more festive and holiday-ish. Footwear-wise, if your girl needs something more formal, a pair of high-neck boots will be the right option. But if she wants her outfit to be a little bit more naughty and sporty, any sneakers won't let her down.
#4 Toddler Girl Christmas Hoodies + Tutu Dresses + Floral Headband

Transform your toddler girl into a cute Icy Christmas princess with this combo of clothes. The tutu dress and floral headband have already made up a pretty elegant and adorable set for your child, but adding a Christmas hoodie with light color will add the extra funky hints of the holiday. This outfit will keep your little princess warm and fancy all day long, not to mention that you can always take off the hoodie for your girl in case it gets a little bit toastier. And last but not least, a pair of ballerina shoes will be the final piece to complete this set.
#5 Christmas Hoodies + Christmas Sweaters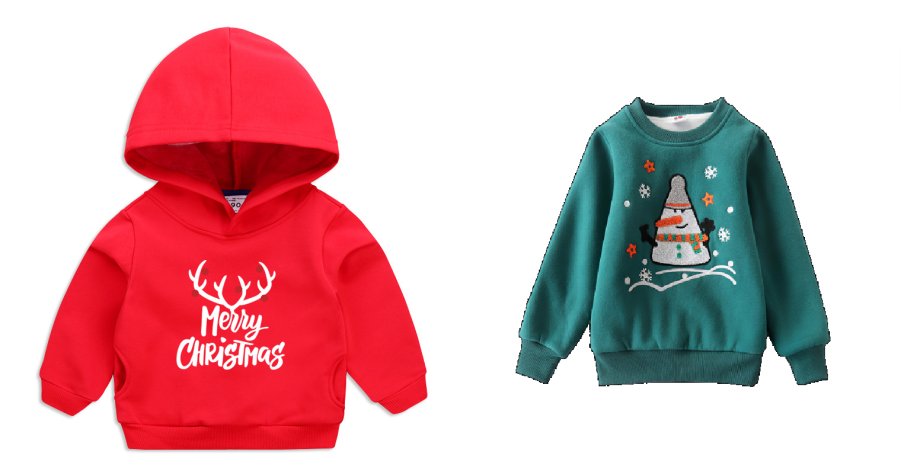 In case the weather is getting breezy, this combination will layer your little girl up and keep her in extra coziness while staying cute throughout Christmas. These winter tops for your little one will keep them warm too! You should pick hoodies and sweaters that have contrasting colors. For instance, green and red are perfect for highlighting the Christmas theme of your little one outfit. In addition, you may pick a sweater that has funky graphics to make the set even cuter. Keep in mind that any kind of pants will work in this combo, and sneakers are still the most suitable footwear option in this case.
#6 Reindeer Hoodies + Animal Print Leggings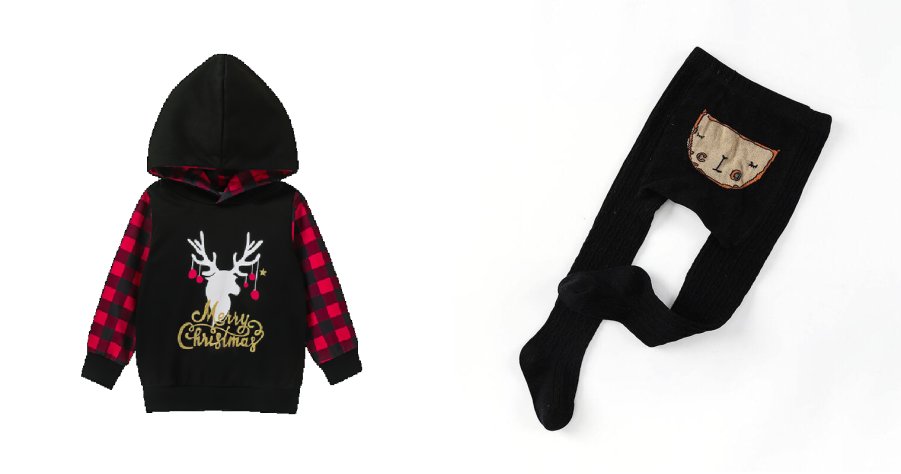 If your little one wants a comfy and cute look, she can dress right in when she wakes up on Christmas morning, this set will be a great selection. It's effortless, cozy, yet super adorable. The reindeer hoodies represent the festive theme of Christmas, while the animal print leggings bring a fuzzy and cuddling feel for your girl's look. Thus, it will be tough to resist your little one's cuteness and give her multiple hugs and smooches. As this set will mainly be for the gift-opening session and a relaxing Christmas day at home, you can add a pair of fluffy slippers to finish this look.
#7 Corduroy Skirt Overalls + Christmas Hoodies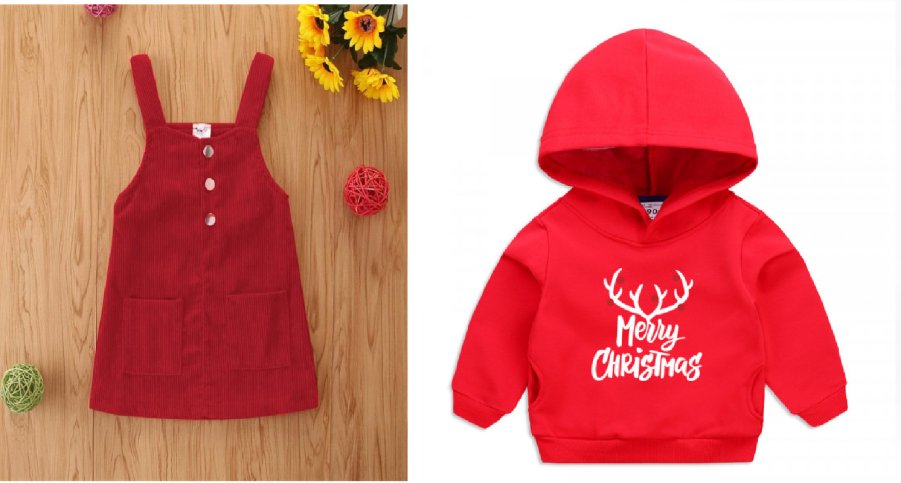 Overalls are getting more love from many parents and their children due to their convenience and cuteness. A plain color skirt coverall will provide your newly mobile toddler girl with the freedom she needs to walk or crawl faster in playtime. It is also great for quick cloth or diaper changes as well! So pair it with a Christmas hoodie, and your daughter will have an adorable and cozy outfit for a fun afternoon playtime after Christmas lunch.
#8 Toddler Girl Plaid Christmas Hoodie + Plaid Skirt + Solid Color Blazer

Like the plaid pants and Christmas hoodies combo, this set will work really well to show off the festive holiday theme while keeping your daughter cute and comfortable. But with the addition of the solid color blazer, your girls will now look even more classy and warmer. Thus, you should dress your little one in this combo when your family goes out in colder temperatures, or you are taking more formal pictures. Both sneakers and boots will work well in this combination. You can add sunglasses for the young fashionista to make her look even dapper in any photos.
#9 Christmas Hoodies + Faux fur Stole Shawl + Sparkling Layered Dress

This is another dressy and adorable option for your toddler girl this Christmas. You should pick all pieces with light or muted colors for it to work the best. The fancy faux fur stole shawl and layered dress turn your toddler girl into a magnificent senorita, just like someone just stepped out of a fairy tale. The Christmas hoodies simply add some funkiness and jolliness to the set, further highlighting your child's cuteness and style. For shoes, ballerina shoes are the right candidate for your daughter.
#10 Cute Drawstring Santa Bag + Red Christmas Hoodies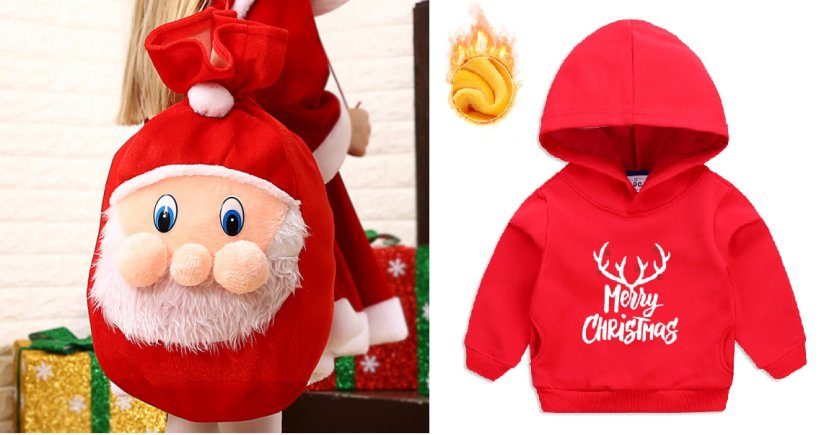 The cute drawstring Santa bag will become a "secret" place where your daughter can hide all her candy while pretending to be Mr. Claus himself. Combined with a red Christmas hoodie and any kind of pants, they will create a fun and adorable set for your girl this magical holiday. All of these make the perfect winter dress for your cutie.
The takeaway
Styling toddler girl Christmas hoodies isn't so difficult as you might think. With these outfit ideas, you'll easily put together a cute outfit and accessories for your little girl and she will look just perfect for Christmas!