Skin tags are common and are generally harmless, but they don't look appealing. Although few home remedies take a lot of time to work, you can get yourself a skin tag removal pen, aka mole removal pen, which you can use to remove your skin tags safely at home.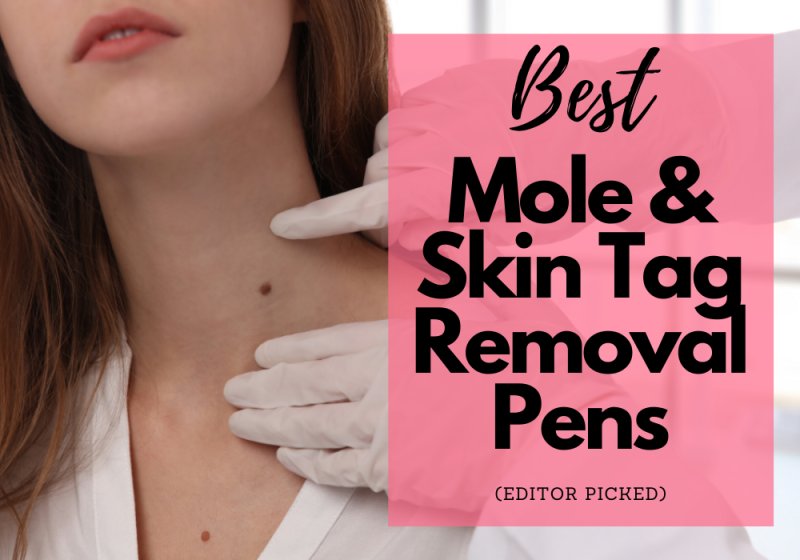 Skin tags are small, flesh-colored extra skin growth and can be seen in both men and women. People who are obese are more prone to skin tags. Some skin tags generally fall off on their own, while others require medical treatment or some sort of device to get rid of them.
Skin tags are known as 'acrochordon' in medical terms. A trip to the dermatologist was the only way to remove skin tags; however, technology has come out with several other options to remove skin tags at home safely these days.
Scroll down to know more about these pens. We also have some top recommendations for skin tag removal pens to make your job easier.
What Does A Skin Tag Removal Pen Do?
When you have a mole or a skin tag, the best option is to visit a dermatologist and get it removed. However, this can be expensive and can take up too much of your time.
Skin tag removal pens can get your skin tags removed effectively, quickly, and easily. Another most important thing is it is way more affordable than going to a dermatologist.
Using a mole remover pen can eliminate any skin tags or moles from your face and anywhere in the body. These pens can remove any tags, age spots, or moles right at the convenience of your own house. These pens, however, are not recommended or opted for by everyone.
You need to do a lot of research to find out the best skin tag removal pen that works for you. There are many removal pens out there, and they are all meant for the same purpose. However, not all of these pens can safely remove the inevitable skin tags.
But the pens that we are going to share with you will remove the skin tags or mole and effectively remove any dark spots or scarring caused due to these. These pens are portable, and they are the most appreciated inventions in the skincare field.
11 Skin Tag Removal Pens
Readers like you help keep The Beautyholic running. When you buy through links on our blog, as an Amazon Associate, we earn from qualifying purchases at no extra cost to you.
Skin tag removal pens are quite an affordable and convenient option. Rather than wasting several hours at the dermatologist's clinic, you can just buy these pens and get the job done much faster.
Here we bring you a list of skin tag removal pens, and we are also going to tell you why they are on our list.
So let us begin.
1. SGGI
 Multi-Speed Adjustable Beauty Equipment
Buy on Amazon

This skin tag removal pen is specially designed to use at home. It is easy to use, portable and saves your time and money.

This pen has nine intensity levels, and the users claim that they can also adjust the levels as per their convenience. Users also claim that this pen provides amazing results.

You can use the pen anywhere and everywhere, and it is chargeable. A one-time charge can stay up to three uses.

This pen is convenient, and it has an LCD panel that displays the power. The power setting is also adjustable, and each frame displays 1st gear of the power setting. The users highly recommend this pen, and they say it does what it claims to do.
Pros

Cons

It is convenient and portable.
It has adjustable power stings for different types and sizes of skin tags.

It hurts, so people who are sensitive to pain might not like it.
It might leave a scar for larger skin tags or moles.
2. Claritag
Advanced Skin Tag Removal Device
This is a patented skin tag removal pen. It uses the freeze and squeeze technology that safely removes skin tags.

This pen is a safe and quick skin tag removal device that effectively and instantly removes the skin tag from the face and body.

This pen has foam treatment pads, and it has liquid cooling gas. Using this pen can remove their skin tag within just 60 seconds. This pen is clinically tested, and it is proven to be painless.

Users say that it is easy to use and is even easier to apply. Since dermatologists test the pen, customers find this safe to use.

Using this pen eliminates the need for visiting dermatologists, and it can work on multiple body zones. It has 10 treatments per kit, and it also has an instructions video to help the users out.
Pros

Cons

It is quick and easy to use and is also painless.
It is tested by dermatologists, and hence it is safe to use.

It might not work on every skin tag.
It can leave a scar.
3. Tagband
 Skin Tag Remover Device
This mole remover pen has an innovative design, and it works fast to remove skin tags or moles from your body and face. With just one use, this pen can remove skin tags.

Tagband is designed to cut the blood supply of the skin tags, which is essential for its growth. Doing this kills the skin tags, and it eventually falls off.

This pen is very user-friendly, and it is straightforward to use. It works well for all areas of the body except the sensitive ones. It also has a user manual to guide the users for its safe and effective use.
Pros

Cons

It is safe and effective to use.
It gives instant results with just one use.

It is not suited for sensitive areas like the eyes and mouth.
It is not effective on every type of scar.
4. Beemyi Picosecond Laser Pen
This skin tag remover pen is the upgraded version of all the pens on our list. It has an adjustable frequency of up to 9 levels and an intensity level of up to 4 settings.

It provides outstanding performance and effectively removes moles, skin tags, acne marks, and freckles.

This laser pen has a rechargeable battery, and it is a more portable and convenient option for everyone.

It is safer to use, and it removes your mole without any bleeding. It also has speed and power settings so that you can use it at your convenience.

It is effective for all the shapes and sizes of your moles.
Pros

Cons

It is effective and easy to use.
It has numerous power and intensity settings and also has a rechargeable battery.

It hurts mildly but does not give you severe bleeding.
It has a short pulse width and hardly produces any heat or light effect.
5. Euro Tool
Perfect End Thread Burner
This mole remover pen is perfect for shredding and destroying the mole or skin tags. It is ideal for stopping frayed ends of the thread on embellishments.

It has a tip that gets red hot, and You can do it with just one touch.

This pen can even melt synthetic threads to stop them from unraveling. An AA battery powers the pen, and it works on a charge.

This pen is reasonably priced and is quite affordable.
Pros

Cons

It removes skin tags instantly and effectively.
It is easy to use and works for all skin tag types.

It is a little expensive.
It can sting and burn a little.
6. Lescolton Professional Laser Pen
Lescolton is an advanced mole removal pen that operates with the laser. Not only moles and skin tags, but it also helps in removing scars and tattoos.

This is a highly equipped tool that comes with frequency adjustment options. It also comes with yellow glasses for protection that is to be used while using the laser pen.

The mode of functioning is simple – connect the laser pen to electricity, adjust the frequency, and use it on the desired area. This is much more safe and easy to use rather than those cheap laser pens. Its width is short, which can be adjusted.

It works fast and produces no heat and bleeding, although a little temporary pain is experienced, as they say, no pain, no gain.
Pros

Cons

It is easy to use and gives fast results.
It has a laser light, which makes the removal safer.

The safety glasses are not laser rated.
It can get a little too professional for beginners.
7. La'prado Skin Tag Repair Kit
It is much easier to use but doesn't come with many options. You can use it for removing freckles and tattoos along with skin tags and moles.

This has a power button to switch it on or off and a working button that has to be pressed during operation.

The mode of function is quite simple, and you need to press the power on button for 3 seconds to switch on the device and press the power off button for 3 seconds to switch it off.

After switching it on, if you do not use it for 10 seconds, it automatically switches off. There is a working button that allows the smooth functioning of the laser pen. Once the working button is released, the device turns off.

It comes with three levels of action – easy, moderate, and advanced. The advanced one is for skin rag, while You can use the lower modes to remove freckles and spots. This is simple and easy to use for everybody.

It removes skin tags without bleeding, and it gives the result of cosmetic procedures.
Pros

Cons

It is easy to use and also provides fast healing.
It is safe and effective and gives the result of cosmetic procedures.

The buttons might not function smoothly every time.
It might hurt while removing.
8. BuWiz Picosecond Mole Remover Pen
You can use this picosecond mole removal pen for multiple purposes. Not only for tattoos and freckles, but You can also use this to remove age spots and even moles.

This device is used by many because it is highly effective, but it might take your downtime to get adjusted to its specifications.

The power and adjustment of this happen once you use this directly on your face. If your skin gets red and you feel irritated, then lower down the power range. Well, it might sound scary, but that's how it works.

Removing mild spots and freckles may take some time, but removing freckles, happens at one go. If some fluid is released, you can rub it off with a cotton swab. The fluid is not necessarily blood, but melanin present on the outer layer, released to remove those dark spots.

For using it on areas near your eyes, ask somebody else whom you trust to do it. Also, you can use eyeglasses, which come with it as a precautionary step.
Pros

Cons

It is easy to use, and You can adjust the power.
It provides successful and effective results.

Your skin might get red and irritated, and during this, you should stop using it.
The skin might take a little longer to recover.
9. JDANXIA Portable Multi-Level Skin Tag Remover
This mole removal pen is so easy to use, and it is amongst the best. Once you use it, it will change your life and improve your skin five times more.

This pen can solve all their skin problems at home. It is effective and safe to use and can be used to achieve results instantly. You can use this device to remove skin spots and dark marks.

Easy to use, it has a power on and off button, which has to be pressed three times to either switch it on or off. Press the working button while using it, release the button to stop its action. There is a set level from 1-9 to adjust the power.

And the best part is that it comes with a spotlight so that you can spot the marks and be more precise with it. It causes mild pain, for which you can use a numbing cream.
Pros

Cons

It is easy, effective, and safe to use.
It can solve all your skin issues just at home.

It is not painless and hurts like any other device.
It can give you a tingling sensation after use, which can worsen if you touch your skin many times.
10. Xguang Skin Tag Remover
Buy on Amazon

This mole removal pen is again on the more advanced side. It comes with LCD and 9 different working levels to adjust the power levels based on your skin. The LCD helps to be more accurate while working.

You can use it to remove skin freckles, marks, and other blemishes.

This pen causes pain but no bleeding. It removes the marks instantly. But along with these qualities, it also comes with 9 different needles based on your skin type and purpose.

The smaller needles can be used for mild marks and blackheads, while You can use the ones with higher numbers to remove large acne and tattoos.
Pros

Cons

It is safe and easy to use.
It provides painless removal of skin tags without any bleeding.

The chip voltage stability might sometimes be a little difficult to control.
The adjustable settings might sometimes get difficult to control.
11. DPSED Skin Tag Repair Kit
Buy on Amazon

This skincare mole removal pen is again very easy to use. It instantly removes skin tags and moles. You can use it to remove blackheads and whiteheads and cleanse the pores to have healthy skin.

This pen comes with 9 different levels to adjust the frequency of the power according to your skin. This is also easy to use.

You can press the on button for three seconds to switch it on and the off button for three seconds to switch it off. It also comes along with an LCD.

This skin tag and mole remover device is beneficial to maintain healthy skin.
Pros

Cons

It is portable and convenient.
It is easy to use.

The gear level can sometimes show glitches, and the display might not function properly.
The power buttons also might not function smoothly every time.
Why Should You Choose These Pens Instead Of Cosmetic Surgery?
When it comes to removing moles and skin tags, a mole removal pen can come in handy. If getting the perfect skin brings you to the door of dermatologists every time, then we suggest you give these pens a try.
Moles and skin tags can be a worrying point for many individuals, and therefore they try to do everything possible. In such cases, mole remover pen work very effectively and instantly.
These pens are affordable, and they can get rid of any unwanted issue from your face or body. Using these pens can also eliminate age spots, wrinkles, and several other issues related to your skin.
The mole remover pen is an advanced technology, and they are easy to maintain as well. These pens can give you the desired results, and you can use this without any swelling, bleeding, or pain.
These pens are portable, and You can take them anywhere to treat your skin tags and moles.
Going to a dermatologist can be very time-consuming, and it can also be an expensive approach. These pens can allow you to accomplish the perfect solution right at your doorstep. It also saves you the expenses and long lines of visiting dermatologists.
Dermatologists do not recommend these pens for everyone, and they might not be the right choice for everyone. Therefore, if there are any concerns or feel uncomfortable while using these pens, it is best to get it done by a professional. If your skin itches or you are bleeding too much, and if it is bothering you, then you might want to go for an annual checkup.
Buying Guide For Skin Tag Removal Pens
These pens can be very intimidating, and you might want to get them at once. But there are certain things that you should consider before buying the best skin tag removal pen.
Before you buy it, the first thing you should keep in mind is your purpose. You should think about the reason why you are buying it. If you are concerned about your freckles and small moles, you can use pens that are not supremely powerful. The powerful laser pens are used for raised and large moles.
The size of your moles is a huge factor in buying the best skin tag removal pen, as it will determine the type of needles you are going to want for it. Having said that, we are going to share with you some of the things you should consider before buying a skin tag removal pen.
Your ideal skin tag removal pen should have both fine and coarse needles. This is so that you can adjust the needle size as per the size of your moles. It should also have various power and speed settings so that you can adjust it as per your liking. It should also have an LCD screen so that you can view the gear and other settings perfectly. It should also be portable and changeable so that you can use it anywhere and everywhere.
This is especially for beginners who have never encountered a mole remover pen before. It should have easy operation switches and should also have an instruction manual for proper and effective use. The instructions should be very detailed so that you can use them without any complications and difficulties.
The best skin tag removal pen should be able to take care of your moles just with one treatment, especially the small ones. However, depending on the power and strength of your pen, along with the size of your mole, it might take a few more days than usual to take care of your mole. The main takeaway here is that the one you buy for yourself should be effective and give you instant results from the first instant you use it.
The mole removal pens should have adjustable strength settings. It should fall anywhere between three to eight settings. The pens that we recommended in our earlier segment have about 9-speed settings. The pen with the highest setting will penetrate deeper within your skin and get rid of the moles and skin tags quite effectively. The ones with more strength settings can also get rid of dark spots and tattoos and freckles.
While you are looking for a mole remover pen, look for one that is rechargeable. Most of the pens that we recommended come with a removable battery that you can charge and recharge for your use. A one-time charge of these pens normally stay for a few hours, and it can last up to two to three uses. However, the battery life of the pens depends on the power and speed settings and the design and model that you are using.
Needles are the most crucial factor when it comes to choosing your best skin tag removal pen. Most pens typically have both fine and coarse needles so that you can select and adjust as per your liking as well as the size of your moles. The needles, however, vary for each model, and therefore you can look for the needle types that suit your specific needs.
Mole removal pens can not be completely painless. Every pen will give you some amount of pain. However, some pens just cause more pain than others. If you are buying your skin tag removal pens online, you can get some idea of the pain by reading the customer reviews. You can go through these reviews carefully to sort out which device provides what amount of pain and then choose for yourself.
Price is another factor when it comes to choosing your best skin tag removal pen. Most of the pens range from about $30 to $100. When you are paying a good price and buying an expensive device, you can expect to have a good amount of needle, speed, and power setting. These will generally provide you with more effective and instant results. However, that does not mean that the ones with low prices are not worth it. It is just that they will have lesser features and settings available. Having said that, we do not recommend you to go for the expensive options until and unless you are going to use them for larger moles.
Customer reviews can be beneficial if you are buying your devices online. This is because it will give you an affair idea of whether or not the pens are effective for your purpose. These customers are genuine buyers, and they give perfect reviews based on their experiences with the product. Some customers even share pictures of the products. So you can make out for yourself if the device you are going to buy is worth your money or not.
Final Verdict
Skin tag and mole removal pens are handy when removing unwanted moles and getting the perfect skin you desire. Needless to say, you are beautiful just the way you are, with or without moles. But if you want to save yourself the long lines and unnecessary harassment and cost of the dermatologist, then you can go for these pens. They provide more or less the same results as cosmetic surgery and save you your time and money.