Lip balm is something I always have in my bag, and it's more necessary than ever for the upcoming chilly weather. A lip balm is something we tend to ignore until our lips feel dry.
A good lip balm can really improve the quality of your lips over the long run. It prevents chapping and is also a great base for lipstick. Whether you're looking to buy your first lip balm or add to your existing collection, I've got your back with my review today.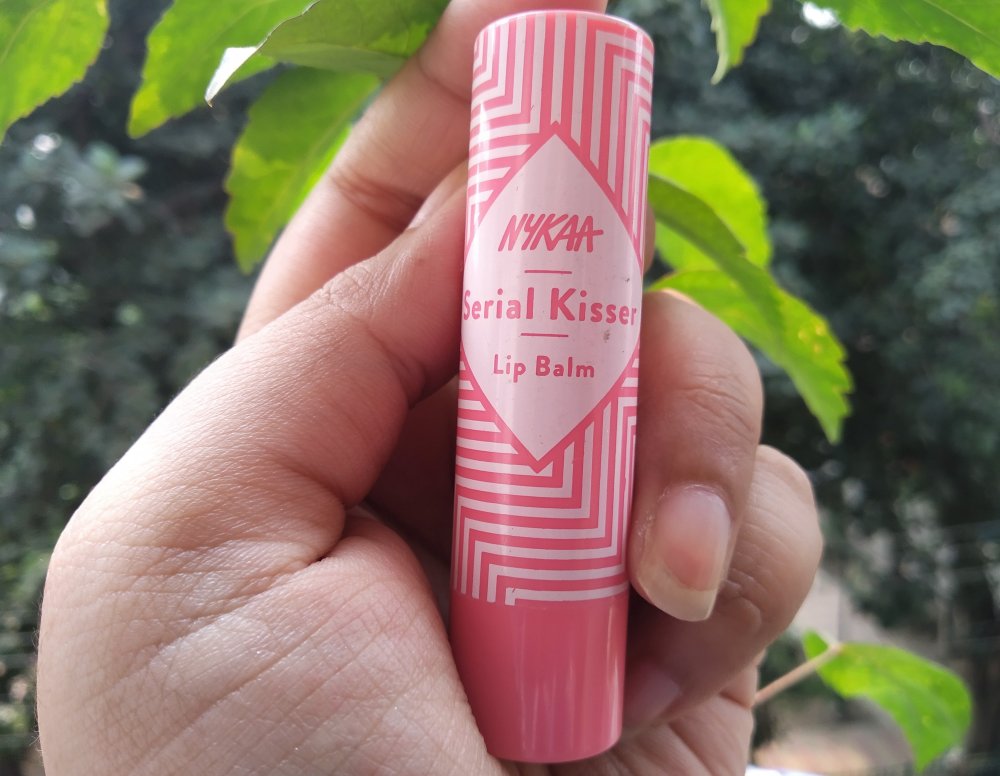 I've been using the Nykaa Serial Kisser Lip Balm in the Raspberry variant for a couple of months now, and today we'll find out if it's worth a try.
About the Product: Say goodbye to chapped lips with Nykaa Serial Kisser Lip Balm which is enriched with Vitamin E and a generous dose of nourishing Jojoba and Almond Oil, this lip balm locks in moisture all day. Once you get your hands on it, we bet you won't be able to live without it. Pamper your lips with the fruity raspberry scent. Gorge on this lip balm on all occasions and add more fun to your perfect pout! 
Price of Nykaa Serial Kisser Lip Balm – Raspberry: Rs. 149/- | Buy it on Nykaa here
Ingredients: Jojoba Oil, Almond Oil, Vitamin E. No other ingredients have been mentioned.
How to use? 
Twist-up the balm and apply directly to lips

You're ready to go now! 
My Experience with Nykaa Serial Kisser Lip Balm – Raspberry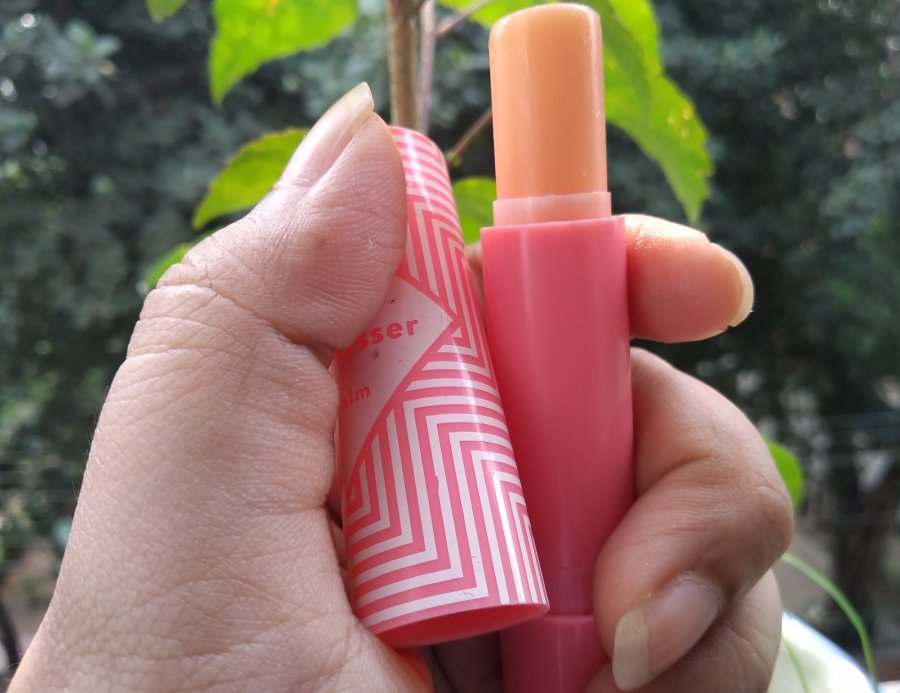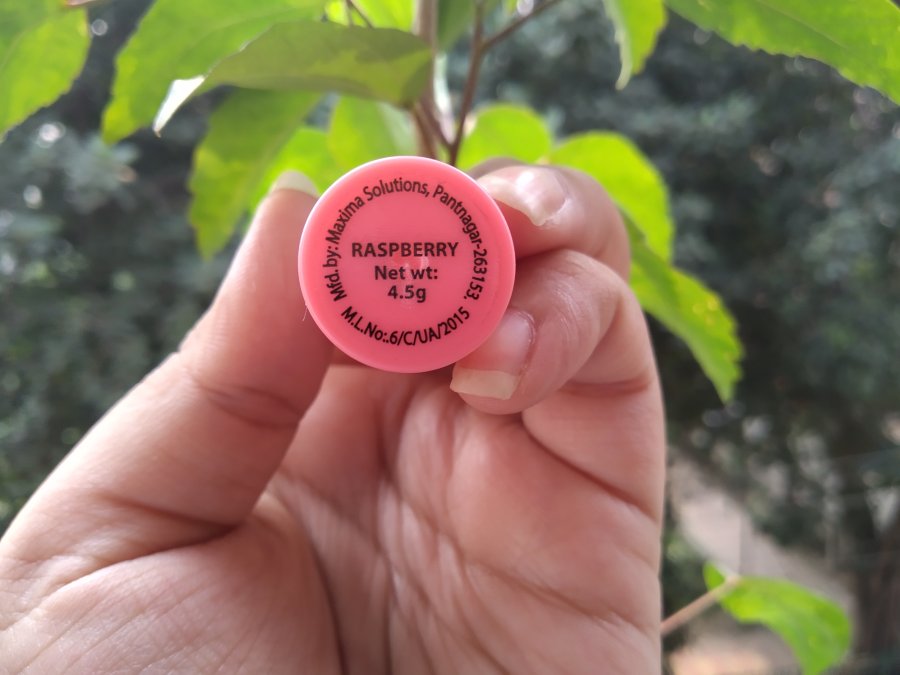 The Nykaa Serial Kisser Lip Balm comes enclosed in a basic lip balm tube. The Raspberry flavor has a pastel pink colored tube and mentions the name of the product. The tube has a pink and white geometric pattern printed on it, and overall the packaging is quite cute and minimal.
This product does come with an outer cardboard packaging which I have sadly lost. The outer packaging mentioned the price, expiration date, and active ingredients.
The flavor of the lip balm is mentioned at the bottom of the tube along with the quantity of the product. You get 4.5 grams of product, which is pretty standard for a drugstore lip balm.
The Nykaa Serial Kisser Lip Balm comes in a regular twist up packaging. This is again something I like because it's more hygienic as compared to a pot packaging. It has a fruity berry fragrance that is not overpowering at all.
The balm looks a light pink color in the tube but on the application, it does not have even the slightest hint of color. That is something I really appreciate because most recently launched lip balms are tinted, and a colorless balm can be easily worn under lipstick.
On application, this Nykaa balm feels buttery smooth and does not tug the lips even a bit. It feels like the base of this product is beeswax, and not petroleum jelly, which is something I really like because beeswax penetrates the lips and moisturizes them from within. On the other hand, petroleum jelly sits like a layer on top of the lips and protects the lips from further dehydration. It does not, however, hydrate the lips. 
It stays on the lips for a fairly long time, at least 4-5 hours. I reapply it twice or thrice a day but mostly out of habit and not because my lips feel dry. It's decently moisturizing. However, like all drugstore lip balms, it won't be effective for very chapped lips. For that, I prefer my Laneige Lip Mask.
Ingredients like jojoba oil, almond oil, and vitamin E are all richly moisturizing in nature. Almond oil and Vitamin E are believed to have lip lightening properties too, but even after two months of usage, I don't feel any such effects on my lips. 
This product is available in 8 fruit-based flavors:
Pinacolada, Blueberry, Strawberry, Green Apple, Raspberry, Pomegranate, Peach, and Grape. However, I can't really taste any 'flavor' in the balm. It just has a fragrance. 
I don't think that this is a lip balm that you absolutely must have, and neither do I have anything negative to say about it. It's a good lip balm for the price and is very much like other drugstore balms in the market. It's not heavy on the pocket, has a variety of fruity variants, and looks cute. If you're looking for a budget-friendly option, the Nykaa Serial Kisser Lip Balm should definitely be on your list. 
Pros:
Cute packaging

Many fruity variants

Non-tinted

Moisturizing

Long-lasting

Budget-friendly

Contains great ingredients

Available online and offline
Cons:
Nykaa Serial Kisser Lip Balm in Raspberry
Final Word
The Nykaa Serial Kisser Lip Balm is very affordable and performs quite decently. The packaging is quite cute, and the hydrating ingredients perform well. The product lives up to all of its claims, and is non tinted which I highly appreciate. Therefore, it gets a thumbs up from my side!