NuFACE is a popular name in the world of microcurrent skincare. While their devices are cult favorites of many, NuFACE skincare is something you might not be familiar with but something your mature skin needs. Even better, estheticians recommend them.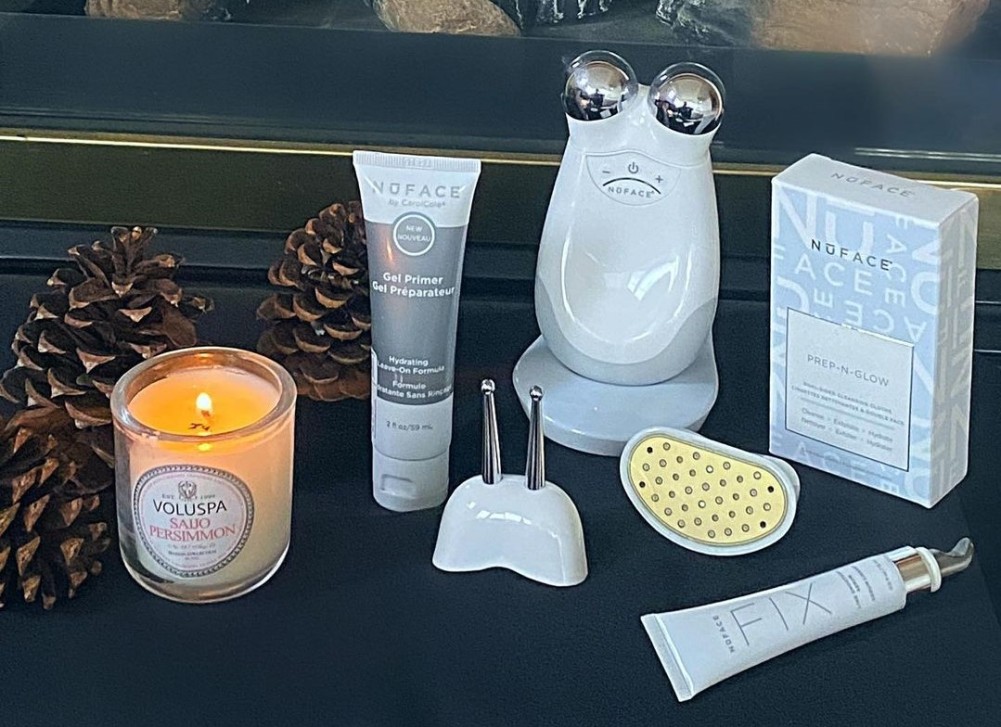 Before we move onto the best of NuFACE skin care, let us know a little about microcurrent skincare.
What is Microcurrent Skincare?
Microcurrent skincare is basically a workout for the face. When combined with a microcurrent device, it gives the best results.
The basic idea of a microcurrent facial is to define your facial muscles, so your skin looks chiseled and lifted. Moreover, it serves as an excellent alternative for botox, as it is a non-invasive facelift treatment.
In salons, a microcurrent facial generally uses two handheld prongs that receive precise doses of energy and penetrates deep into the skin. The facial boosts collagen production in the dermis layer of the skin and erases signs of aging in the topmost layer of the skin.
With the evolution of NuFACE skincare, there are microcurrent products available in the market that enhance your cheekbones, forehead, and mouth, tighten and firm your skin, lift your eyebrows, and so on.
Readers like you help keep The Beautyholic running. When you buy through links on our blog, as an Amazon Associate, we earn from qualifying purchases at no extra cost to you.
The Best NuFACE Skincare Products
If you fancy tight and uplifted skin right at home, these top-rated skincare products will supercharge your microcurrent facial session.
#1 NuFACE FIX Line Smoothing Serum
It is a line-smoothening premium skincare serum enriched with the goodness of iconic ingredients to give your skin a healthy look. The serum is free of oil, alcohol, parabens, sulfates, phthalates, gluten, and fragrance.
NuFACE FIX Line Smoothing Serum
Why we love it?
Contains Hyaluronic Acid that acts as an emollient and retains moisture in the skin
Mushroom extract brightens skin, fades dark spots, evens skin tone
Enriched with Magnesium that increases cell turnover
Gives your targeted skin area like eyes, lips and forehead a brighter, spa-like treatment
What does it do?
The serum recharges your skin with a burst of energy, revitalizing skin with every use. The smart peptides target and smoothen fine lines, wrinkles, smile and frown lines. The result is taut, youthful skin.
How do you use it?
On a clean face, glide the applicator of this NuFACE serum under your eyes, mouth, and forehead.
Combine it with the NuFACE Fix device for the best results.
Move in an upward motion to tighten your skin and sideways to remove fine lines and wrinkles.
Avoid dragging under your eyes.
Tap the excess serum into your skin for added benefits.
Review
The Skin Fix Serum, when used with the NuFACE Fix, gives impressive benefits. The tub applicator is convenient to use as it glides effortlessly on the skin.
After using it regularly, you will notice a visible reduction in the fine lines and wrinkles. Moreover, the serum smoothes the eye area, making it brighter and more well-textured than before.
The texture is amazing – lightweight, non-greasy, and gel-based. It is non-scented and therefore does not irritate sensitive skin.
Overall, the serum is a pick-me-up you can apply anytime for instantly radiant skin.
The only downside is the price which seems a bit more for the quantity provided. However, it is a great investment if you have skin that ages fast.
Best for
This serum ideally caters to aging skin. However, dull and damaged skin can also benefit from it as it contains peptides and energy boosters to revitalize skin.
If you are just hitting your 30s or have already crossed, you can benefit most from the serum as this is when your collagen actually decreases and you notice the first signs of aging.
What needs to improve?
Expensive for the amount provided
#2 NuFACE Facial Hydrating Leave-On Gel Primer
This leave-on NuFACE gel-based primer ensures ideal conductivity while protecting against dehydration to your microcurrent treatment at home.
NuFACE Hydrating Gel Primer
Why we love it?
Hyaluronic acid and phytomoist retains moisture in the skin
Lightweight on skin
The velvety texture glides effortlessly on the skin
Softens the skin
Firms fine lines, smile lines and uneven skin
What does it do?
The leave-on gel primer tones and firm skin for a more youthful glow while protecting skin against dehydration.
How do you use it?
Apply the prime on a squeaky clean face.
Use the NuFACE microcurrent device to gently massage the primer onto your skin.
Massage in an upward motion for taut skin and sideways motion to work on fine lines and wrinkles.
Review
Using this primer with a NuFACE device just provides the right amount of conductivity. Since the brand is founded by women, women are in awe of the product.
The velvety texture of the primer does not get too greasy or slippery for the device to act. It absorbs quickly onto the skin. So if you have oily skin, you need not worry as it won't clog your pores.
Those with excessive wrinkles, stress lines and uneven skin tones can give this primer a try as it can visibly reduce their appearance.
With the regular use of this gel primer combined with the treatment, you may look a lot younger than your actual age.
On the upside, primer is free of oil, alcohol, parabens, sulfates, gluten, and fragrance, making it suitable for daily use.
On the downside, the primer dries too quickly and reapplying losses the conductivity of the device. Moreover, it can irritate the skin so if you have sensitive skin, do a patch test before using it on your face.
Best for
It is ideal for people with dry skin as it contains hyaluronic acid for moisture retention and soothing skin.
What needs to improve?
Dries out too quickly on the face
May irritate some skin types
#3 NuFACE Optimizing Anti-Aging Mist
This is a 3 in 1, lightweight and oil-free mist that activates and energizes your face and body for an entire day's fresh look providing instant results and cumulative benefits.
NuFACE Optimizing Mist
Why we love it?
Contains aloe vera and other botanical extracts to keep the skin hydrated and supple
Hyaluronic acid moisturizes the skin without being greasy
It is in a spray bottle, so it's easy to use
Clinically proven to firm, tone, and reduce wrinkles
What does it do?
The mist hydrates and refreshes the face, giving it a touch of a fresh look. It activates the moisture barrier and keeps the skin hydrated for a long time.
How do you use it?
Spray the mist anytime your skin demands hydration. Pet or leave it on.
or
After you are done with your NuFACE microcurrent session, spray this mist onto your face and neck carry on with your device for more conductivity. Apply it when you want to reactivate your gel.
Review
The regular usage of this mist gives the face a little lift and toned effect. Skin feels smoother and healthier than before, giving you a confidence boost. The texture feels perfect – neither too thick nor sticky.
This mist comes in handy when you want a touch of glow without using makeup. It is travel-friendly and definitely a go-to product for all times.
Apart from making your NuFace device glide faster, the spray helps your gel primer stay moist throughout the session.
Even though it smells good, the added fragrance feels unnecessary.
Best for
This product can be used by all skin types, especially dry ones. Anyone who feels that their makeup getting caky or oily can use it as a quick fix.
What needs to improve?
The addition of fragrance as an ingredient feels unnecessary
#4 NuFACE Prep-N-Glow Cleansing Cloths
The cleansing cloths are actually cleansing wipes that cleanse, exfoliate, and hydrates the skin. The wipes are dual-sided. One side is smooth, meant for cleaning while the other is a little grainy meant for exfoliating. Moreover, if you are wondering, do dermatologists recommend this product? Yes, they do!
NuFACE Prep-N-Glow Cloths
Why we love it?
Has antioxidants that protect the skin from free radicals
The minerals present in it provides radiant-looking skin
Hyaluronic acid locks in moisture
Comes in handy when you are too lazy to wash your face
Ideal for sensitive skin
What does it do?
The cleansing cloths cleanse and exfoliate skin simultaneously while getting you rid of makeup, grime, dirt and sweat for youthful, bouncy skin.
How do you use it?
Take out a wipe.
With the smooth side, gently wipe your face.
With the microdots side, gently exfoliate.
There's no need to rinse your face. However, if you wish to, just rinse with water and then go
about your daily skincare routine.
Review
The wipes are individually wrapped which makes them hygienic and ideal to use during the day or after a workout.
These wipes are multipurpose as they clean, exfoliate and moisturize the skin. Use the smooth side to remove the makeup and after you are done, turn over and exfoliate with the microdots. Your skin will feel polished than ever!
These wipes are large enough to remove your full face of makeup.
The results? Your skin will look soft and glowing. Dry skin may experience some dryness and need a moisturizer while oily skin won't require one.
It is best for exfoliating your face when you feel your face is too congested and in a need of a good cleanup.
And yes, you don't really need a NuFACE device for using these wipes.
Best for
The wipes work great for sensitive skin. You will notice less redness and blemishes post using. Also, these cleansing wipes are truly best for those who love makeup but are too lazy to remove it.
What needs to improve?
Can't truly replace an oil-based cleanser
#5 NuFACE 24K Gold Brighten Gel Primer
This leave-on treatment lifts your face and makes your skin shine. It is clinically proven and developed by estheticians to firm, tighten and tone your face to minimize the appearance of wrinkles. This product is free of gluten, oil, and fragrance.
NuFACE 24K Gold Brighten Gel Primer
Why we love it?
Contains gold and algae extracts that provide optimal facial lift
Lightweight formula that does not feel sticky or greasy
Essential nutrients for hydration and youthful skin
Comes with a brush for easy application
What does it do?
This 24k gold gel primer used along with the NuFACE device reduces wrinkles, provides optimal facelift and rejuvenates the skin.
How do you use it?
Before using this product, make sure to clean your skin and let it air dry.
Brush the gel on your skin and use it with a NuFACE device to get the finest benefits.
Reapply if the gel begins to dry during treatment.
No need to wash your face after applying this treatment.
Review
The equipped brush applicator makes the application mess-free. However, it occasionally gets clogged and when you unclog, a lot of the product squirts out.
The gel glides over the skin like butter, giving you more treatment time. The primer leaves your skin with a subtle glow and a velvety soft finish after application. The glow appears like you just had a professional facial.
With regular use, you will notice firmer skin. Even better, it's fragrance-free.
You can use it even without your NuFACE device for the added hydration. The best part – you don't need to wash your face post-application.
Although the price sounds more for the quantity provided, it is worth the splurge for your microcurrent treatment as a little amount goes a long way for the face and neck.
Best for
This primer is best for dry and mature skin. The gold, algae extracts and peptides can firm and tone your skin, reducing fine lines and wrinkles.
What needs to improve?
Dries out quickly on some skin types
Can irritate some skin types
Applicator brush clogs sometimes
Which devices do these products work with?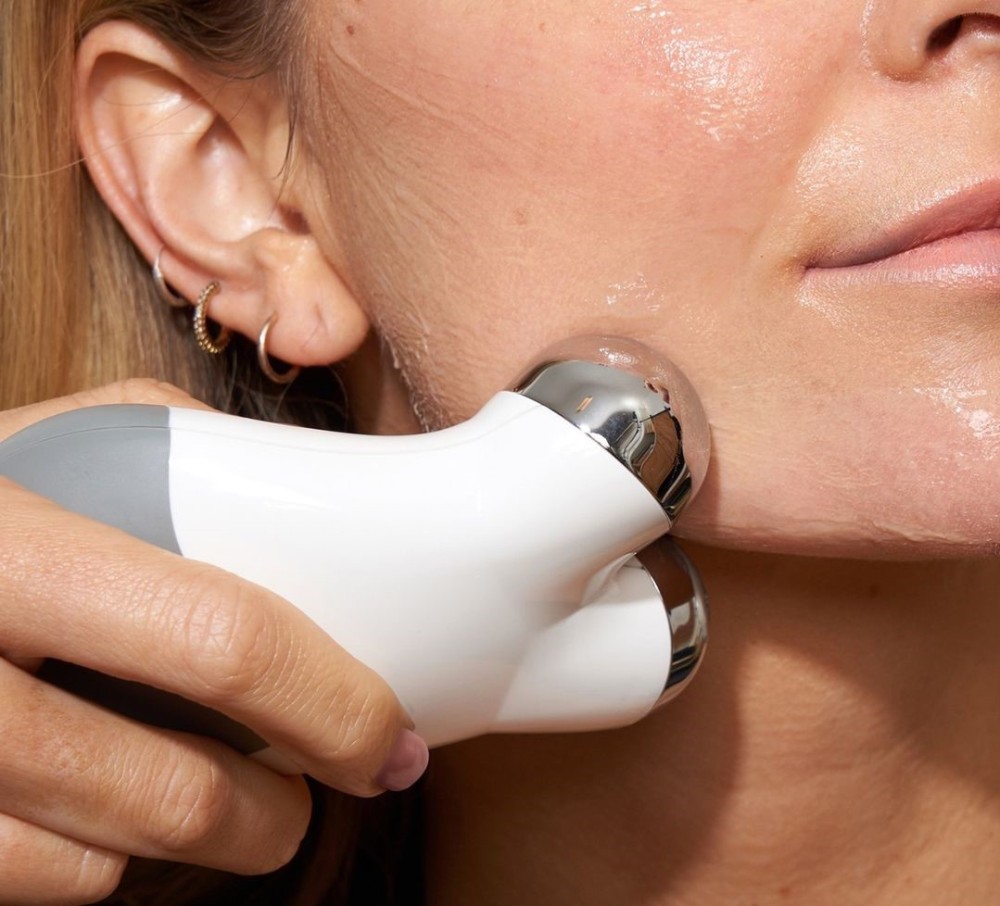 The products work best with NuFACE Trinity, NuFACE Mini, and NuBody. They target the neck, face, and even the entire body to provide a firm and toned silhouette.
If you are wondering where to buy NuFACE skincare products, you can find them on Amazon or their official website.
Can it use with devices other than NuFACE?
You may still want to use the skincare products with a device other than NuFace's. However, these products are specifically formulated to work best with the NuFACE facial toning devices. You get the best results when using NuFACE devices.
When used with other devices, the result might not be so visible, fast, and effective.
How do NuFACE skincare products enhance the microcurrent experience?
Now that we know what microcurrent skincare is let us know how it actually works.
The skincare products help act as a barrier between your skin and the device so that no damage is done to your skin tissues while dragging the device on your skin.
Moreover, these products are specially formulated to act with the device's conducive electric charges that provide optimal benefits to your skin.
If you are wondering, is NuFACE skincare worth the money? The answer is yes, as estheticians recommend it.
Using these products along with a NuFACE device will give you the best results.
Is Microcurrent facial essential to my beauty routine?
Now, if you are asking, what does Microcurrent do, and does your skin need it?
In terms of essentials, the answer is NO. However, if you are looking for brighter, hydrated, radiant, and youthful skin, you should include it in your beauty routine.
Microcurrent does not take much of your time but can provide you with your dream look. If you constantly desire an edgy jawline, pointed nose, and lifted cheekbones, then this can be just the treatment for you.
Plus, it acts as a great replacement for botox and is pretty less expensive than that.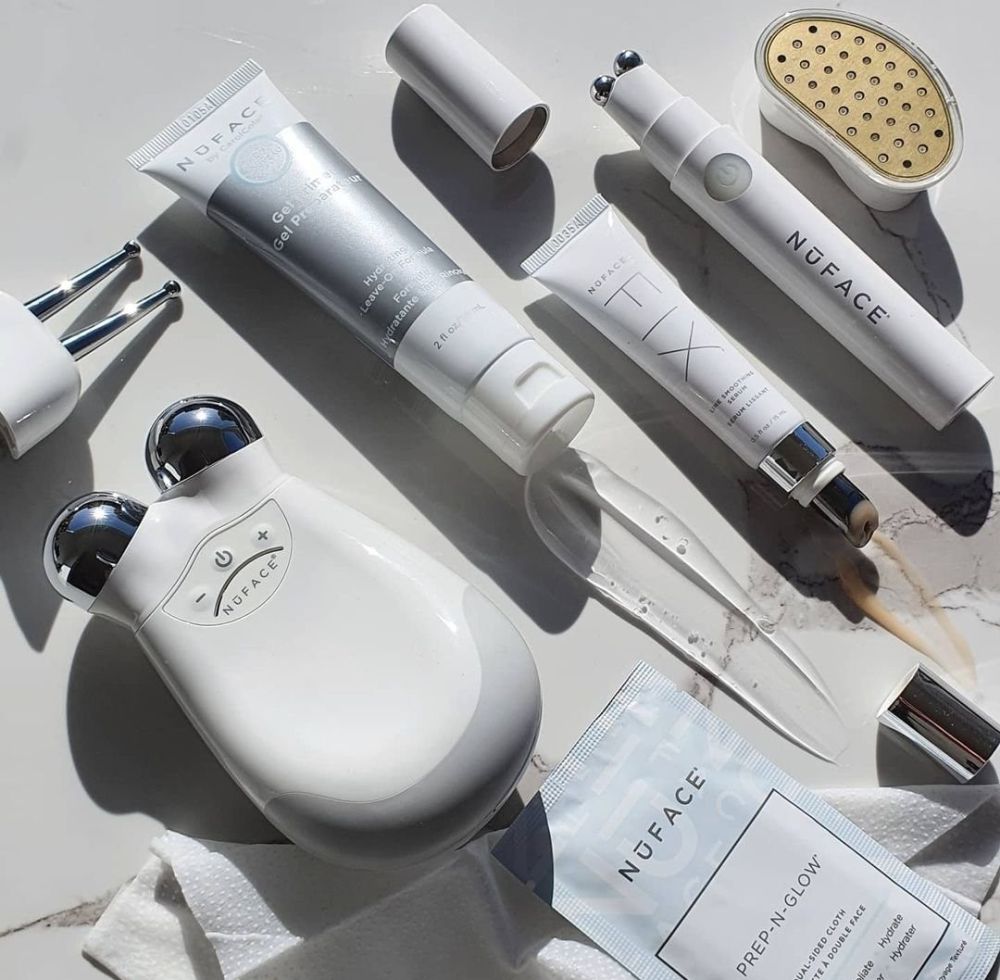 Takeaway
Microcurrent facial treatments are not only done in salons at high prices, but you can also do it at home. The NuFACE skincare products we reviewed for you in this post will help set up your first microcurrent skin routine.
Last update on 2023-12-06 / Images from Amazon Product Advertising API