Matte liquid lipsticks are all the rage in the makeup world right now, and every major brand seems to have its own version. Lakme, India's most loved makeup brand, launched a matte lip color range under its 9 to 5 collection – Lakme 9 to 5 Weightless Mousse Lipstick.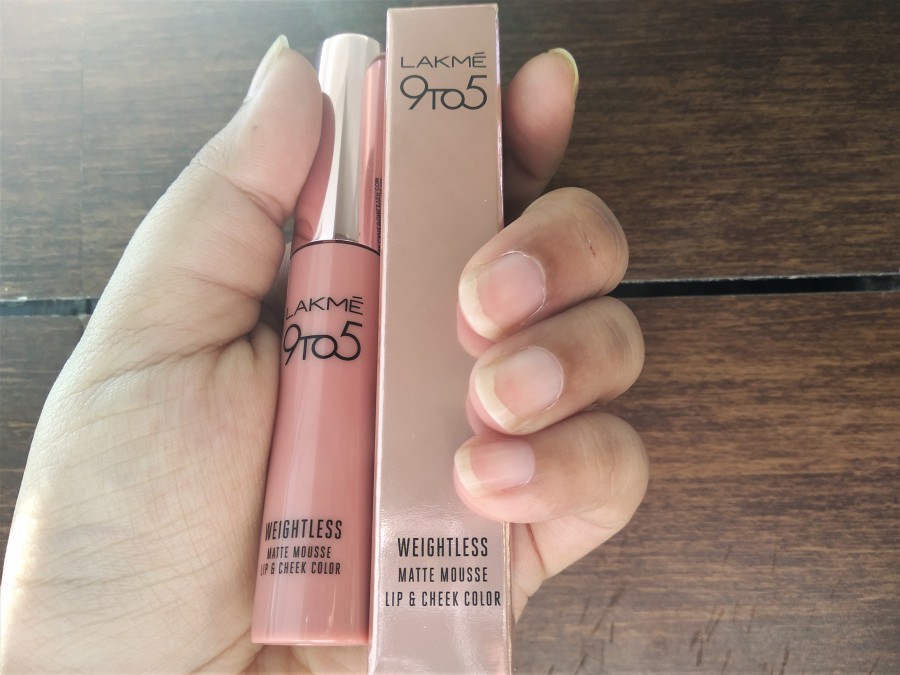 As the name suggests, this collection mainly targets working women and claims to be comfortable and long-lasting.
The Lakme 9 to 5 Weightless Matte Mousse Lip and Cheek Color lipsticks come in an impressive variety of shades.
Apart from the quintessential reds, pinks, and mauve shades that Lakme has, this range has many nudes, which are a breath of fresh air. The colors that appealed the most to me were Blush Velvet and Coffee Lite.
I'm going to be reviewing Coffee Lite today. Lakme has always excelled at lipsticks with shades made to suit Indian skin tones. So does this range hold up to the standards? Let's put it to the test and find out! 
About Lakme 9 to 5 Weightless Mousse Lipstick: Lakme's lip color in a mousse texture is super weightless and can be used as a blush too. They are available in ten vibrant shades that last longer and have a powdery matte finish. Its 2 in 1 formula makes it an instant everyday favorite for the modern Indian woman of today.
Readers like you help keep The Beautyholic running. When you buy through links on our blog, as an Amazon Associate, we earn from qualifying purchases at no extra cost to you.
Price: Rs. 625/- | Buy it at Amazon here
Ingredients: Cyclopentasiloxane, Octyl dodecanol, Polyethylene (Apart from these, Lakme has not provided a complete list of ingredients, either online or on the packaging) 
How to apply? 
Clean and moisturize your lips completely

Apply to lips using the wand

Purse your lips and blend them inside so that the lipstick gets settled down

Dab a minimal amount on your cheeks and blend with your fingers, brush, or sponge. Build on the color if needed till you get the desired finish

You're ready to go now!
My Experience with Lakme 9 to 5 Weightless Matte Mousse Lip and Cheek Color
The lipstick packaging is similar to that of all the products from Lakme's 9 to 5 range. The outer cardboard box is reflective and rose gold. The lipstick tube inside is blush pink and has a metallic rose gold cap. Overall, the packaging is gorgeous.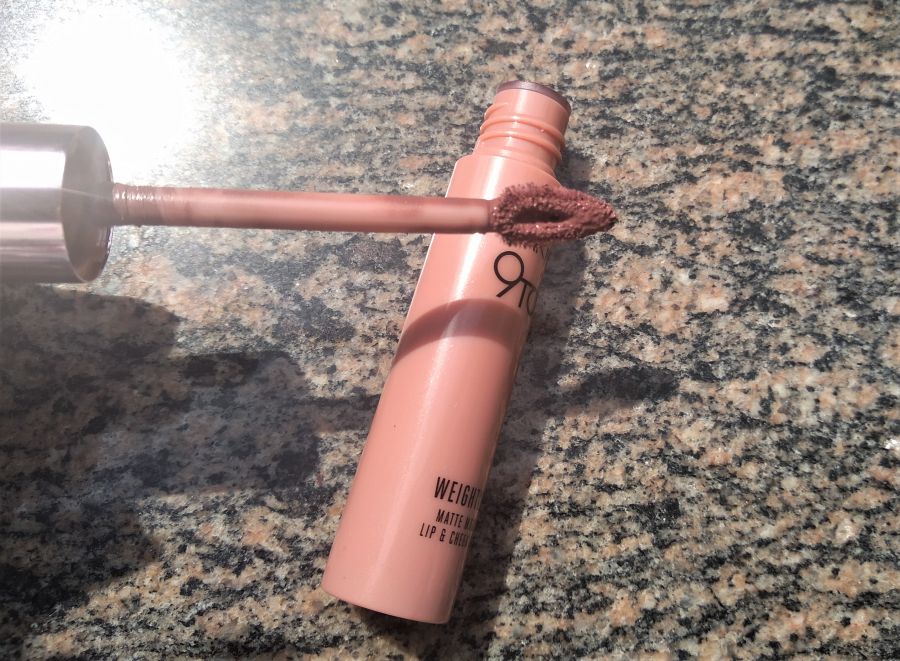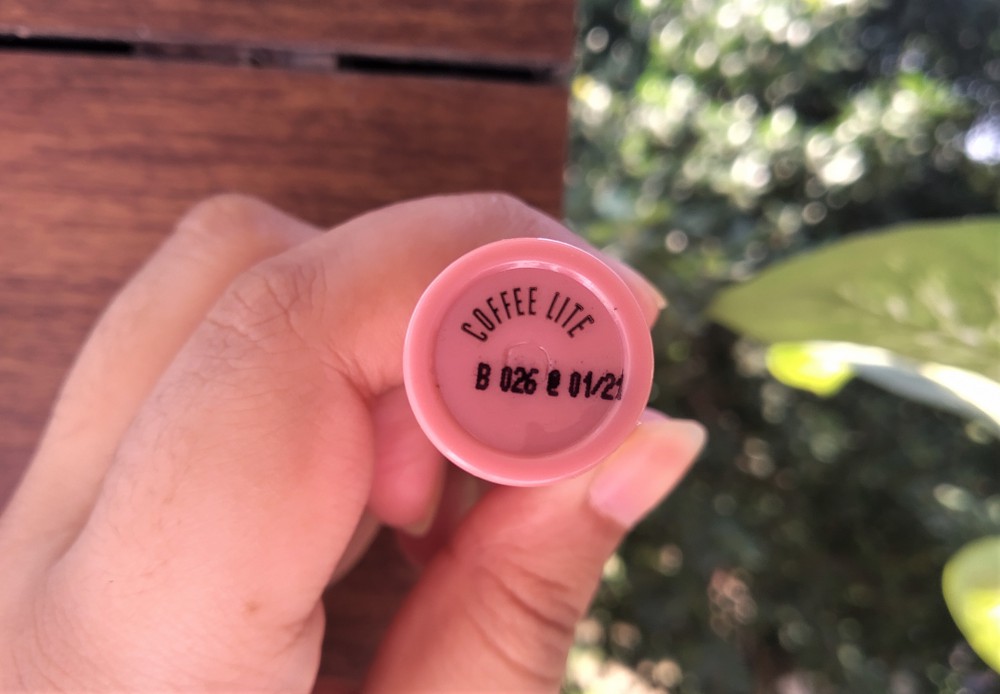 The only downside is that the shade names are mentioned at the bottom of the tube, so if you own multiples, you'll have to check the bottom of the tube every time you use this product.
The wand is teardrop-shaped and of outstanding quality. It picks up enough product to coat your lips in one go. The pointy end allows precise application.
The texture of the lipstick is quite reminiscent of soft matte lip cream. It is thick, creamy, and glides on the lips like butter. However, instead of a soft matte finish, it has a powder matte finish.
The color payoff of Lakme 9 to 5 Weightless Mousse Lipstick is excellent, with high pigmentation. There is no streaking whatsoever. Moreover, the lipstick does not feel drying or uncomfortable. It does not crack or bleed.
This lipstick cum blush sets within 2-3 minutes, and once it sets, it feels like you have nothing on your lips. It does transfer a little bit because the color is very potent. You won't feel the need to reapply for it for 4-5 hours. Also, reapplication is a breeze with this lip color.
The product works equally well as a blush and blends extremely smoothly with no patchiness. The lipstick has a delicious chocolate-vanilla fragrance, which is the cherry on the cake.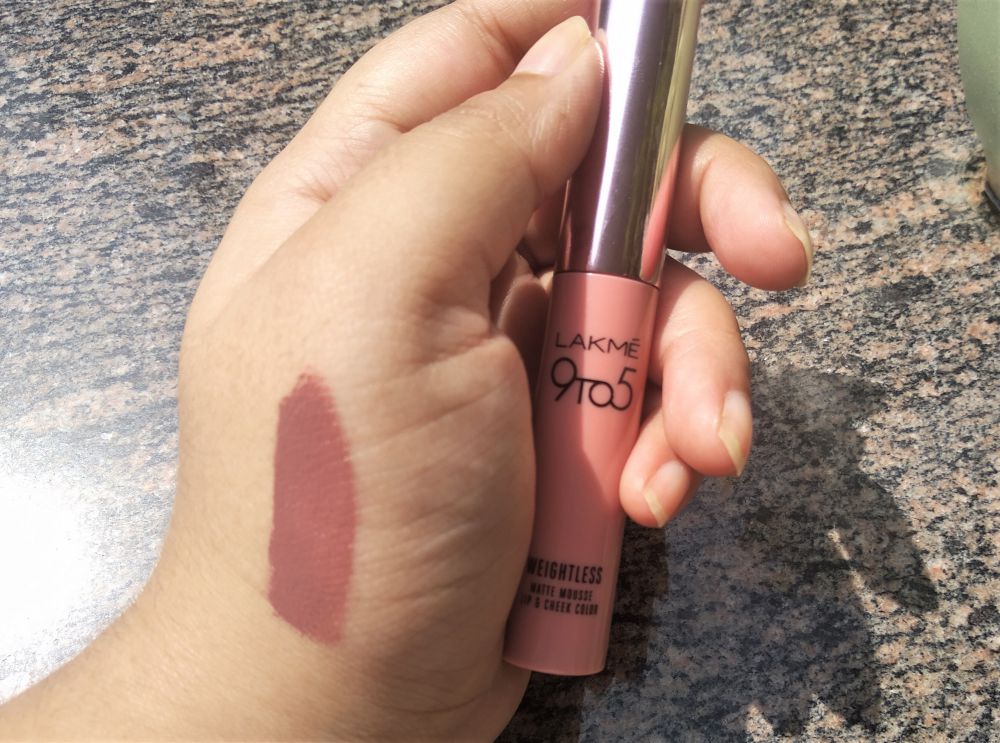 Coffee Lite is a nude shade with a strong mauve undertone and hints of brown. A perfect color for any time of the day, it's a wonderful everyday shade. Coffee Lite looks equally beautiful on all skin tones and is the ideal nude for deep skin tones. However, I feel like this shade doesn't work as a blush for any skin tone. I have tried it on top of my CC cream by Lakme. This product, as a cheek tint, is too mauve to look flattering on the cheeks.
For Rs. 625, it is quite expensive considering that Lakme is a drugstore brand. However, you will get your money's worth with this lipstick because it is exceptionally high quality. Additionally, it's often available at great discounts online, so you can wait for a sale and grab it while it's more affordable!
The best thing about Lakme 9 to 5 Weightless Mousse Lipstick is that it is available extensively worldwide, from all the major online shopping websites to the smallest makeup shop in your neighborhood. So you can try out the product before you decide to buy it. Here's a list of pros and cons to help you make up your mind:
Pros:
Highly pigmented

Non-drying

Ultra matte

Smells amazing
Easy to reapply

It suits all skin tones

Long stay

Blends well as a blush

Easily available online and offline
Cons:
Expensive

Coffee Lite does not make a flattering blush shade.
Lakme 9 to 5 Weightless Mousse Lipstick - Coffee Lite
Final Word
Lakme 9 to 5 Weightless Matte Mousse Lip and Cheek Color has my heart, and Coffee Lite is a lovely shade for every skin tone. It's comfortable, non-drying, very pigmented and long-lasting, which is everything one looks for in a lipstick. I highly recommend it!