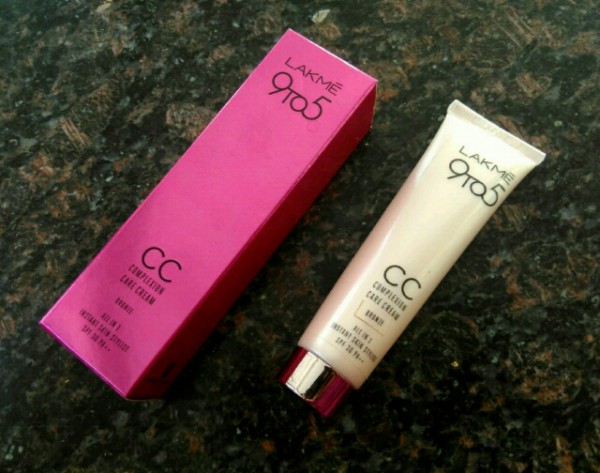 I have forgotten the foundation when there are heaps of BB and CC creams available in the beauty market. I use CC and BB creams because they're lighter than foundations and gives a natural look.
A while ago, I purchased a CC cream after finishing my Pond's BB cream. And I want to review it after using it for so long.
It's Lakme 9 to 5 CC Cream in the shade Bronze. It's available in two shades, Beige and Bronze. The one I chose is suitable for medium to dusky skin tones.
About this Product:
Instantly protects, moisturizes, brightens, evens skin tone, conceals, and freshens. This instant skin stylist brings together all the goodness of your daily skin cream with just the right touch of makeup to give you skin that looks styled by an expert every day.
Readers like you help keep The Beautyholic running. When you buy through links on our blog, as an Amazon Associate, we earn from qualifying purchases at no extra cost to you.
Lakme 9 to 5 CC Cream Bronze Review
I remember using this CC cream for the first time. It was a few years back and I chose the wrong shade of beige, which was way too light for my complexion. It was disastrous.
But when a few months ago, Lakme enhanced its packaging and formula, I wanted to give this a try, and this time, I chose the shade Bronze, which was close to my skin but still a bit lighter. They offer just two shades, isn't that unfair!
This cream comes in a flesh-colored tube with a rose gold screw cap. Its consistency is light and has got a distinct fragrance. I like that it now has SPF 30 PA++, unlike the old version of the product, which has SPF 20. Cream dispenses in less amount to avoid wastage. 
Now here's a catch. Despite having a light texture, it doesn't blend softly into the skin. I dot the cream on my face and then blend, but it feels as if I'm rubbing it on my skin. It doesn't glide like butter on my oily skin, let alone dry skin.
I guess it would be apt for using it in summers where you want a super matte effect. As a matter of fact, It's not hydrating as I expected. I need to use a hydrating moisturizer underneath to avoid dry and uneven patches. It gives an even skin tone with light to medium coverage.
Though it gives a glow to skin and tint too, it might wash out deeper skin tone, making it look ashy. On my dusky skin, it works fine, but I need to be careful with blending. One thing I didn't like is that it oxidizes after 3-4 hours, and skin appears dull afterward.
Pros:
• Has a pleasant fragrance
• Has a light texture that doesn't feel heavy on the skin
• Gives a medium coverage
Cons:
• Isn't moisturizing for dry skin
• Oxidizes after 3-4 hours
• Not an apt shade for deeper skin tones as only 2 shades are available.
Lakme 9 to 5 CC Cream in Bronze
Final Word
Lakme CC cream in Bronze shade gives medium coverage but oxidizes easily. Its matte effect is thumbs up for oily skin but is too drying for dry skin so moisturizing before the application is a must. All in all, I like the tint it gives me and feels extremely lightweight on my skin.
Have you used this CC cream by Lakme yet? What did you like about it?