Under-eye dark circles can be a daily morning nuisance for almost anyone. The pressure to meet the deadlines, exam stress, projects, interview, and everyday stress to be dealt with, isn't a piece of cake for anyone and dark circles appear, just like a morning sun kiss. Dark circles are caused due to lack of sleep, rubbing of eyes, pigmentation, and many genetic reasons. Individuals who don't apply sunscreen are more prone to dark circles accompanied by sunspots.
I am one of those who have the worst sleeping pattern (I prefer burning the midnight oil). But while growing up, I planned to develop a good skincare regime. I tried a couple of under-eye creams but believed me, in my case, a person with dark circles as permanent as moles on the face, nothing worked, and I planned to try something with a strong formulation.
When you have had dark circles for a fairly long period of time, mild formulations either don't show results or might take a lot of time, making you feel as if it is doing nothing to you.
I heard a lot about Kaya Lighten and Smooth Under Eye Gel. Also, to mention it was on Nykaa's FEMINA Beauty Awards 2018, I planned to try it out. I use it with a jade roller as it helps improve circulation on the face and does everything from sculpting, toning, and firming skin. They also help to reduce puffiness and detoxify. So, I was all set to eliminate my age-long friend, my dark circles.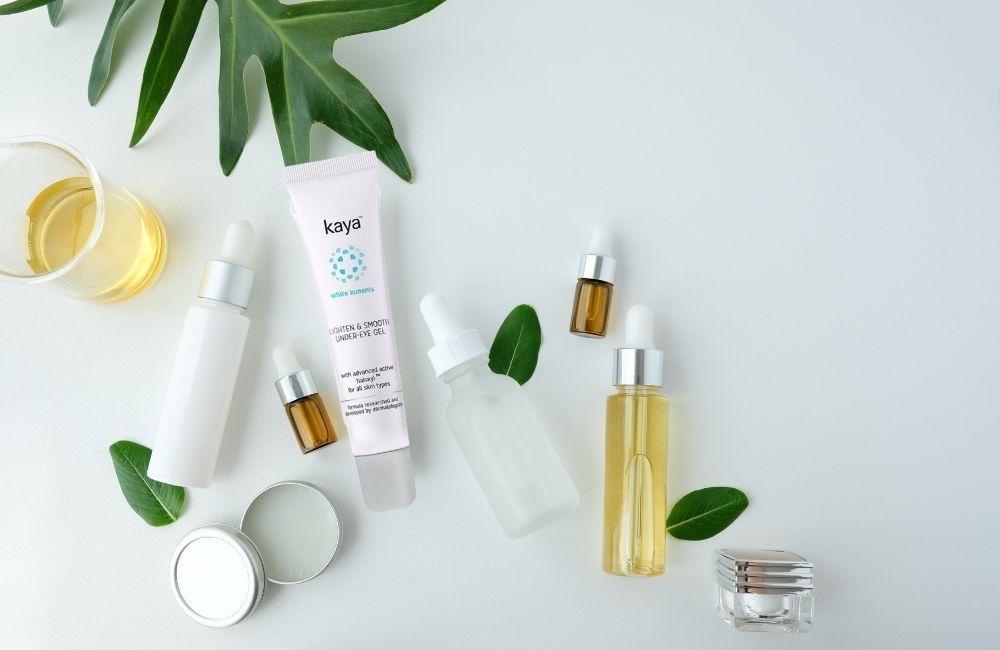 About the Product
Helps visibly reduce under-eye dark circles by dissolving the pigments that cause darkening under the eye
It also promotes firmness and tone of the under-eye skin
Formula researched and developed by dermatologists
Its advanced active HALOXYL firms tones and helps visibly reduce under-eye dark circles
 Haloxyl also helps to reduce under-eye circles by boosting blood circulation and dissolving pigments that cause darkening under the eye
Price: 15 ml | Check Price on Amazon
Ingredients: Aqua, Haloxyl, Propyleneglycol, Diazolidinyl urea, Methylparaben, Propylparaben, Hydroxyethylcellulose, Carbomer, perfume
How to use it?
Post cleansing and toning, apply the gel gently to the area under the eye. Use twice a day.
Or to be more descriptive:
Take a pea-sized amount on the ring finger
Divide the amount between both ring fingers
Gently dab under the eyes
Massage gently in light circular motions
My Experience with Kaya Lighten and Smooth Under Eye Gel
So, like everyone, you tend to have more expectations from a high-rated product. I started using the product with high excitement and hopes, imagining that it will provide me with the results overnight – but that rarely happens ever. Neither did it happen in my case. The next day all I could observe was that the puffiness under my eyes was gone. So candy points for that…That gave me hope, and I used the product over the week. I don't know about the science involved, the ingredient Haloxyl dissolving pigments that cause darkening under the eye, but it worked.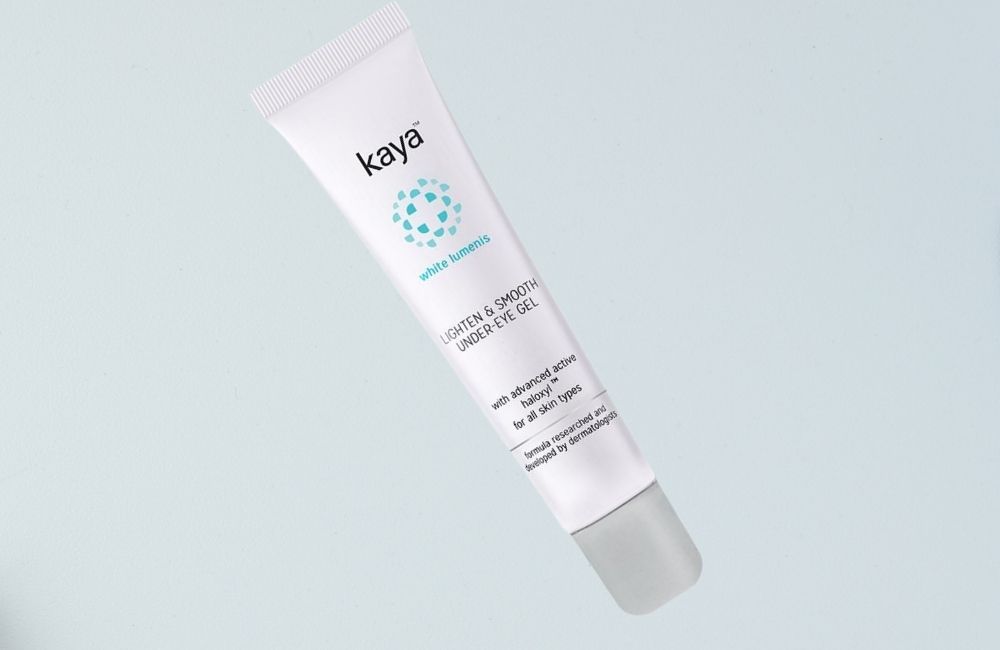 The pigmentation got a tone lighter, and the prominent spots also started to fade away, giving my under eye a bit even tone. My dark circles were not just present under my eyes, but they had a vast territory until my bones. The gel was winning over and limiting the boundaries. The dark patch started to decrease over time, and I saved many concealers too, which was spent in hiding that never-slept-kind of dark circles.
I have been using it for over a month, and I have a little area of the dark circle below my eye left and hoped that also fade away. Its application is very relaxing, but it causes me a bit of irritation while applying. Also, for the price, the quantity is too less. I was way too surprised to see the size of the tube, but it lasted for over a month, and I am still using it.
Pros
Smooth application
Absorbs easily
Reduces puffiness
Helps with pigmentation
Reduces dark circles
Easy to carry
Effective
Cons
Expensive, and you feel like draining your pocket for a little tube
Can cause irritation
Kaya Lighten and Smooth Under Eye Gel
Final Word
Overall, it is a product that can give you promising results. This under eye gel worked great for my under eyes. The permanent patches have almost started to disappear, but the process takes time. It's been one month since I have started using it so, yes, it will take some time. Other than slight irritation, I haven't come across any other issues with the gel, but it can cost you a sum to purchase it. If you are planning to invest in a strong formulation, then just go for it.
Overall, Kaya Lighten and Smooth Under Eye Gel does what it claims. If planning to buy one with a strong formulation to treat your age-long dark circles, then go for it. It is worth the investment.
More Reviews