Fall is officially here, and it is the time to take out your favorite ponchos and get cozy in them. Everyone loves poncho, and the fashion moguls have declared them as the most stylish piece in one's wardrobe.
People usually love poncho because they come in several colors that can be quite appropriate for the chilly winter months and don't cost a bomb.
Those days of bulky and frumpy ponchos are long gone. Now we have pieces that can make you look chic and stylish and keep you comfortable and warm.
So now we will share with you ways about how to wear a poncho. So stick with us till the end to know some tips and tricks.
Why is Poncho a Wardrobe Staple?
Ponchos can be a polarizing item. It can either make or break your overall look. If you wear it the wrong way and you will end up looking humongous and bulky. But if you can style it right, it has the power of taking your outfit to a whole new level. Your poncho can also add a boho vibe to your otherwise classic and bland ensemble.
Ponchos are a major staple in one's wardrobe because they are so versatile and can be worn in so many different ways. Here is a quick tip on how to wear a poncho. You can wear it as a dress, or you can also layer them over your outfits to create a new look.
The world out there does not lack inspiration for several poncho ideas. You can even find celebrities and A-listers bringing up their A-game. If you browse through the internet, you can find several inspirational ideas that will encourage you to find the right kind of poncho for yourself. Your personal tastes can define your style, but there are always some pieces that should be present in any and every women's wardrobe. A poncho is simply one of them and here are some reasons why ponchos are a wardrobe staple.
Ponchos are super comfy and cozy. It is something that every woman will appreciate. As a wardrobe staple, ponchos are both wearable and beautiful. They are effortlessly stylish and can amp up your style game.
Ponchos are inspired by South American traditional clothing. Their feel and texture are almost like a blanket, and this is why they work great in luxurious fabrics and vibrant colors. They are an excellent piece for layering, and it provides a unique and warm coverup.
Ponchos have draped fabric which makes them quite easy to style during the transition months. It also has wide sleeves, which give you the casual to glamorous look without being too loud and over the top.
Ponchos are a great way to add volume and balance to your skinny jeans and slim trousers. They have quite a lot of fabric, so they look pretty put together when paired with skinny jeans and heels. They can give you a very glamorous and chic look.
The versatility of a poncho makes it a great way to add warmth and color to a wide range of outfits.
Since You can style the ponchos in so many different ways, it proves to be a great investment piece.
Poncho Basics You Should Know
Ponchos are a wardrobe staple. They have a great power to transform your bland and boring clothes into something glamorous and chic. Since the oldest of times, ponchos have been in the fashion world, and they have made a massive comeback in the year 2013.
Many high-end designers also include ponchos in their fall and winter collection. Apart from high-end designers, you can also find celebrities spreading their glamour with these exclusive ponchos. There are, however, some basics you should know about how to wear a poncho.
The first thing is to balance the volume. Ponchos are bulky and flowy on the top, and so to manage the flowy fabric at the top, you should pair it with tight-fitted clothes at the bottom.
Ponchos look great with skin-tight jeans, leather leggings, sort skirts paired with tights as the balance put the volume on the top, giving you a more put-together look.
Avoid loose and baggy bottoms such as harem pants, long skirts, and baggy jeans. They make your overall look quite disproportioned which can take away the chic factor from your ensemble.
Keep the top part super simple. You should always find something simple to wear underneath your poncho. A tank top or a simple shirt or t-shirt is a great option.
Avoid wearing top with frills or ruched details; this will make your poncho look lumpy.
If your poncho has an opening for the sleeves, choose a top with sleeve detail. This can make your poncho look even more stylish.
How To Wear A Poncho For Different Seasons
Summers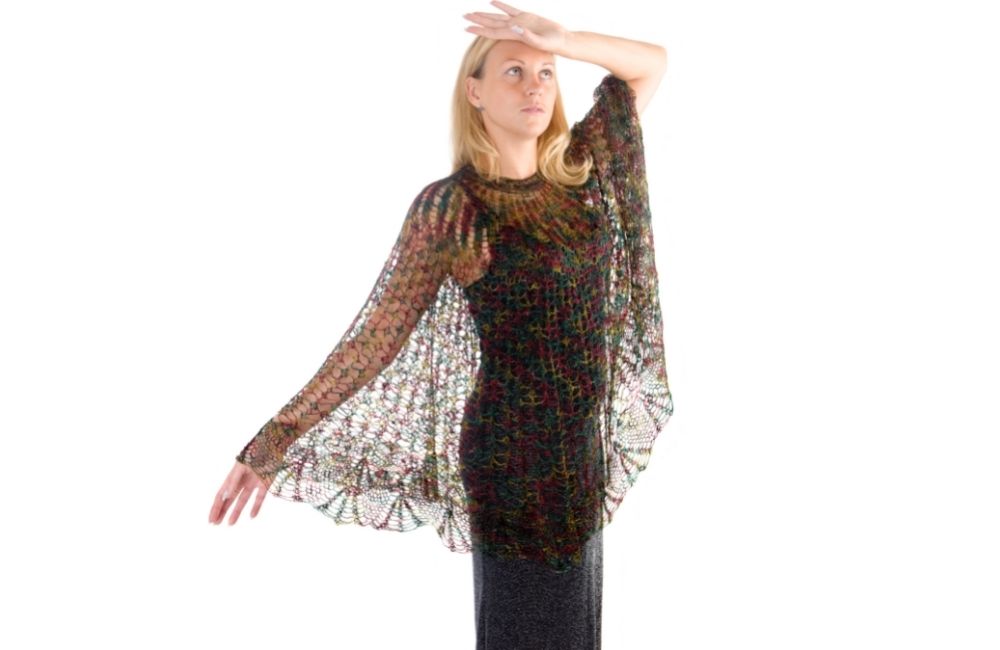 While most of us think that you can only wear ponchos during the colder months, it is not always true. You can also style and wear your ponchos in the summers.
If you ever wonder how to wear a poncho in the summers, here is your answer.
Look for airy and breathable fabrics and select something in light colors. Ponchos can be paired with a cute t-shirt and some denim shorts with some summer accessories.
Pair them with a fitted tank dress or use it as a cover-up when swimming.
Look for stripes or evergreen floral pattern which will complement the maximum of your summer outfits. Also, go for bright and bubbly colors for summer.
Spring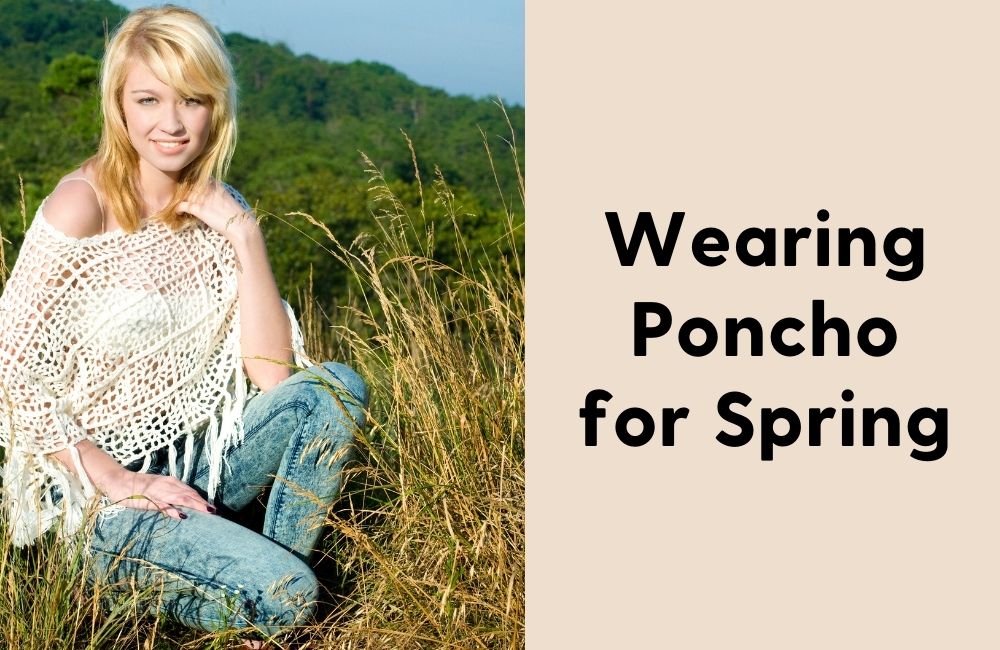 Ponchos can work as great transitional pieces. They are great for not-so-hot and not-so-cold days. While styling a poncho for spring can be a little tricky, it is not that difficult.
You can opt for an open-knit or a crochet poncho and throw it over a casual tee and a tightly fitted pair of denim.
You can also add a poncho with boho prints to asp up your casual outfit.
Use a belt around your open front poncho to cinch in your waist to give a more glamorous look to your outfit.
Ponchos tend to give a very hippie and glamorous look to your spring outfits. Pair your ponchos with some black boots for a more statement look.
Monsoon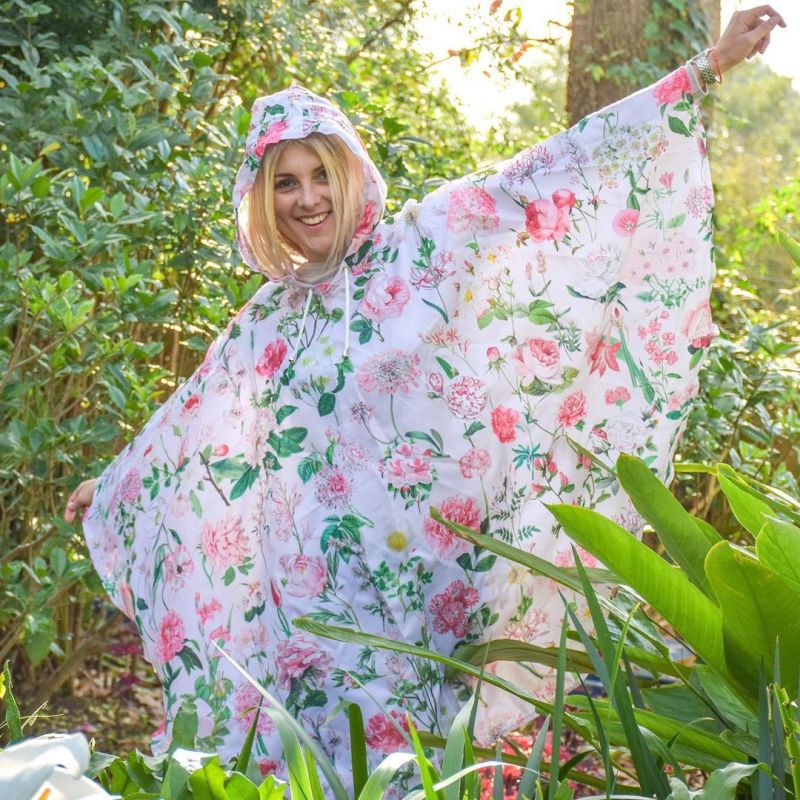 Ponchos are available in a variety of fabrics. One of them is waterproof fabric which makes it a great addition to your monsoon wear. Waterproof ponchos are made of durable material that can withstand even the heaviest of rainfall.
You can use these while going trekking or hiking to woods or hills. Ponchos for monsoon come with a hood which also saves you from getting drenched. So rock this monsoon with a statement piece rather than looking like a sloppy fish.
Fall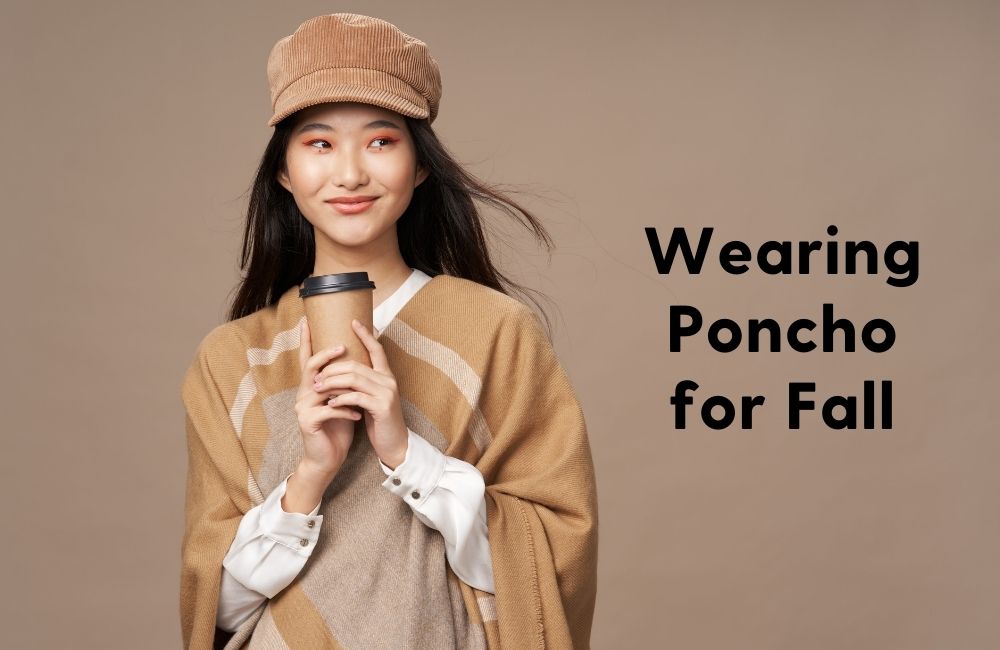 Ponchos are cozy fall wardrobe staples. They never fail you and are versatile during the fall season.
You can opt for a dark-hued poncho and pair it with a nice pair of jeans or leggings, and tone it all down with a nice pair of white sneakers.
If you are feeling a little dressy, then you can pair your poncho with a nice bodycon tank dress along with some thigh-high boots.
For a more relaxed look, you can layer your poncho over your favorite t-shirt and some dark-washed denim along with some flats for a more comfortable and casual look.
Winter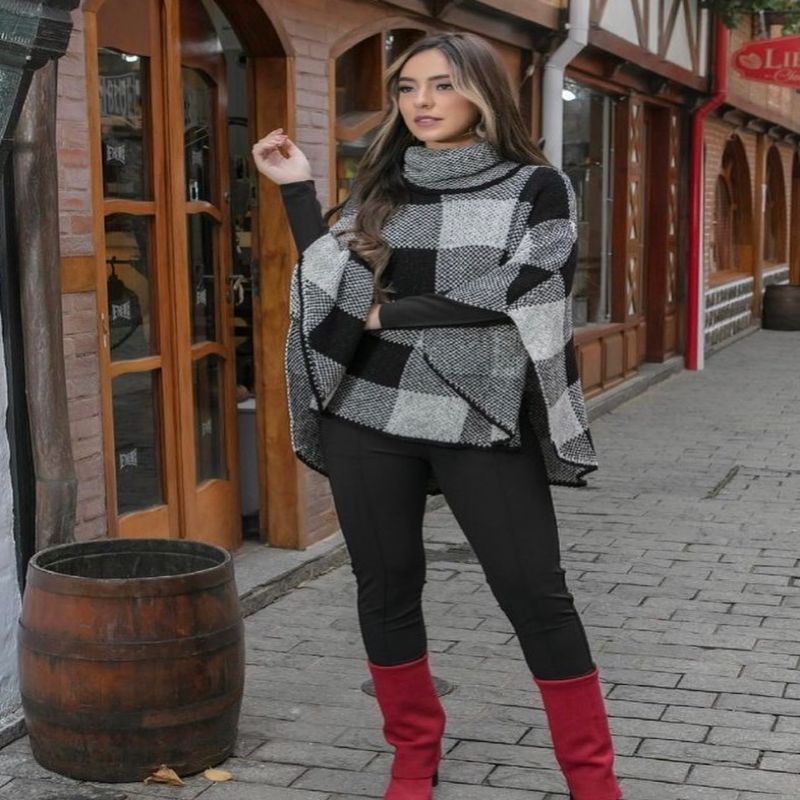 Now coming to the official poncho season. These are made for the winters, and available in a lot of patterns, fabrics, and styles for the chilly winter season. These are a great way to stay warm in style. The major trick, however, is to balance your overall look while wearing a poncho.
You can opt for a draped poncho style and pair it with suede or velvet thigh-high boots for a more put-together look. Similarly, if you are wearing an oversized poncho, you need to pair it with skinny bottoms. Pair it with minimal fashion accessories to amp up the look.
Ponchos are available in several colors. You can choose a more muted color like black or beige or opt for some cool colors like neon, blue, and burgundy. You can also opt for various patterns, such as boho prints or even fringes.
5 Ways To Pull Off A Poncho
Being a wardrobe staple, they can be styled in several different ways and can give you a new different look. Styling and pulling off a poncho can, however, be tricky. There can be so many things that can go wrong if you do not style it right. So to save you the embarrassment, here we bring you some ways to let you know some tips and tricks on wearing a poncho.
Sweater look
For a more casual and relaxed outfit, you can pair your poncho over your sweater. Go for neutral colors while you are layering your poncho over your sweater, and pair them up with suede ankle boots for a more put-together look. You can opt for any style and pattern as long as you feel comfortable and warm in it.
Poncho on top
For a smart and casual office look, you can pair your poncho over a collared shirt. You can match your ponchos over your skinnies and top it off with some ballerinas for a casual yet chic outlook. You can also pair it with leather ankle boots or pumps for a more office-approved look.
Pair up with skinny bottoms
The easiest way to amp up your poncho is to pair it with some leather skinnies. Ponchos are quite billowy on the top, and hence pairing it with skinny bottoms can balance out the entire outfit. Leather skinnies are a great way to modernize casual outfits. You can either go for a monochromatic look from top to bottom and pair it with some unusual color pumps. Or you can tone it down by opting for a more muted-toned poncho along with some black boots.
Fringy-look
Ponchos with flared bottoms can give a very relaxed and 90s inspired vibe. You can opt for a poncho that has fringes on them and something that fits you a little better. Since your bottom is wide and flared, a fitted poncho will even out your look. Complete the look with either leather pumps, boots, or sandals.
Add a belt
Ponchos can be a little oversized, and if you don't like the way it makes you look, you can add a belt to the cinch in the waist. You can wear an oversized poncho over skinny or flared bottoms and add in a belt for a more chic look. If you do not have a defined waistline, then adding in a belt can create the illusion of a narrow waist. You can also wear an oversized poncho as a dress and cinch in your waist with a belt topped off with some ankle boots or thigh-high boots for a more glamorous look.
Clothes And Accessories that Go Well with Ponchos
All you need to know about how to wear a poncho is the occasion you are wearing it for.
Are you going for a relaxed or casual, or glamorous outfit? You can wear a poncho with a simple t-shirt, shirt or even a sweater underneath.
If you are going for a casual look, then you can pair it with your favorite skinny denim along with some sneakers or flats.
For a dressier look, you can pair your poncho with leather skinnies along with some leather or suede boots, pumps, or sandals. You can also wear a poncho over a dress. Opt for a front open poncho and wear a tank bodycon dress underneath it to look chic and sexy. Top it off with thigh-high or ankle boots.
For the summer season, ponchos are great to be worn over shorts. To complete the look, you can opt for anything from sneakers to ballerinas to flats.
As far as the accessories go, it's better to keep it simple. Add in a simple belt for a cinched-in look or a hat for an exaggerated casual look. You can also throw in some pair of sunglasses or a bag to complete your entire ensemble.
Occasions Where You Can Wear a Poncho
Ponchos being pretty versatile, can be worn on all occasions. From casual to work to dressy, you can style it in all different ways.
For a casual outfit, ponchos of a more muted and neutral tone, along with some skinnies or flared bottoms, will look great. Pair it with sneakers or flats, and you are good to run errands.
You can go for a monochromatic look along with some pumps or sandals for a more chic and glamorous look for work. Look for bold colored ponchos for a festive or party look. Pair it with a nice pair of heels or boots to rock the entire look.
Some gorgeous Ponchos that are available at Amazon.com
The Bottom Line
That was all about how to wear a poncho. You can style in so many different ways and pair it with so many different attires to get your desired look. Ponchos are a great statement piece to have in your wardrobe. If you can style it right, then it is practically everything that can make a killer outfit.