It's that time of year again: prom season is right around the corner, and so is the urge to buy the perfect gown.
After all, it's your last chance and the perfect occasion to show the world how great you look, how comfortable you are in your own skin, and make a lasting impression.
But searching the perfect dress can quickly turn into a stressful nightmare, especially when you've left it to the very last minute.
There are many reasons why: money issues, late arrival at school, procrastination, or even an unwillingness to go.
So if you're in need, here's how to shop for a prom dress at the last minute.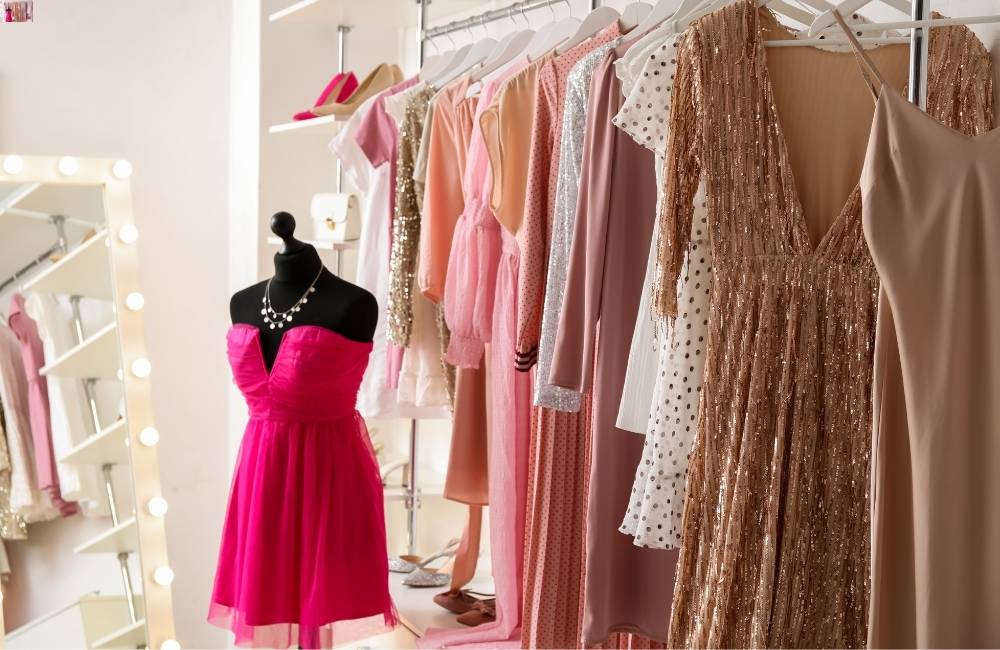 1. Surf the web
You'll find online dozens of websites that will sell you stunning dresses. But, you'll want to check out those with fast shipping that offer some of the best available prom dresses. That's the key to selecting your prom dress online.
The site you choose must specialize in gorgeous dresses and offer the fastest delivery time possible. Make sure their shipping options clearly include next-day shipping. This way, you'll ensure you get your dress on time, and you can either exchange it or have it altered before the prom. This won't take you long.
A dedicated site can also help to inspire you, as there can be a huge selection of dresses to choose from. Seeing them all online will help you visualize yourself wearing one before deciding.
2. Check Local Ads
It's surprising how many dresses you can discover in your area through private ads. Often people don't sell their prom dresses right away, but that means you can scour a last-minute bargain while helping someone out.
The best local adverts will include pictures and sizes. You should, however, keep in mind that size isn't everything. Sizes differ from manufacturer to manufacturer, even though they shouldn't be. Don't worry about what the label says—just make sure it fits you comfortably.
3. Decide the type of dress
If you waited until the last minute, you could still get your prom dress for this special occasion.
Cocktail dresses make for good prom outfits, as they are more informal than a full-length evening gown but still look dressy. You can also wear them to homecoming.
Whether you're looking for formal or semi-formal attire, you want to make sure to take a look at tea-length dresses. Shorter than traditional floor-length gowns, they still provide elegance and formality.
Vintage style dresses are also becoming increasingly popular, as they offer a unique flare that is so rare.
A floor-length dress is excellent if you're looking for a show-stopping, head-turning look.
Royal-inspired dresses are also becoming popular if you prefer not to blend in.
A mermaid style is ideal for creating a stunning silhouette and hugging your curves.
To feel like a princess on your special night, a ballgown dress style is exactly what you need. They are voluminous and dramatic, making you feel like the belle of the ball.
4. Pick the right colors
If you're shopping for a prom dress at the last minute, you need to know what you're after. Basically, you want to know if there is a prom theme or color. The right color code will make you stand out in all the right ways.
Once you know this, consider your own skin tone. If you have a cool skin tone, pick a dress in a blue, purple, or green hue. For a warmer skin tone, go for a dress in gold, orange, or deep red shade. And if you have a neutral complexion, pretty much any color will work!
Obviously, the color and style of the dress need to be something you're comfortable with.
5. Choose Your Shopping Companion Wisely
Unless you're very serious with your date, you're unlikely to be shopping together for outfits. Most people will go with their friends. However, there are two issues here.
First, your friends will probably be more interested in what they are wearing and not what you're looking at. So you can't rely on their advice.
Secondly, if you're at last-minute prom dress shopping, your friends may have already done their shopping and aren't interested in joining you.
In many cases, your mom is the best shopping companion you can get. Unless they're overly critical, they'll give you honest opinions about how you look since they've got your best interests at heart. Plus, they'll be eager to go with you and likely to contribute financially. Involving them helps to build bridges, and they may just know the perfect place to purchase your prom gowns.
6. Remember Your Budget
Shopping for a prom dress can be overwhelming. To get a dress that's the biggest, most expensive, and most stylish can seem like a competition with your friends.
But, the truth is you're buying a dress you're unlikely to wear again, and you won't look better just because your friends look bad.
Wondering how much the average prom dress costs? Around $150 to $650. If you have a specific designer or style of dress in mind, browse websites that sell prom dresses in your price range. Alternatively, you can check consignment shops or online marketplaces like eBay or Poshmark for gently used dresses.
Typically, Macy's, Nordstrom, and Bloomingdale's have a wide variety of dresses in different price ranges if you're open to different styles and designers. Also, check department stores and online retailers for dresses on clearance.
Ultimately, it's all about what you want and what makes you comfortable when choosing a prom dress, last-minute or not.
7. Check the fitting
When looking for a dress, opt for a simple dress that fits and flatters your figure with the correct measurements while at the same time incorporating elements that emphasize your unique shape.
For example, if you have short legs, select a column dress that elongates your frame and shines the spotlight on your long, lean legs. If you're tall, go for a full skirt to accentuate your height and balance the toned muscles in your core.
If your dress needs alteration, make sure to take this into account when choosing a style so you don't end up with an odd-looking dress.
Now, think about your fabric. Avoid fabrics such as chiffon and satin and instead, choose a jersey knit that is breathable and flowing.
8. Pick the right accessories
Adding accessories to a beautiful dress can enhance it but also detract from it. The first step is to consider your overall style. Prom night is a time to look elegant, sophisticated, and glamorous. Accessorize your dress in a way that enhances these characteristics.
Small beaded or sequined accessories are ideal. Jewelry should be subtle, like a thin gold chain, with no large, chunky pieces or patterns that stand out.
For shoes, choose classic designs like pumps, ballet flats, or pumps. Solid colors like black, gold, silver, or pearl white are good choices. Put on some different shoes until you find one you like.
9. Prepare Yourself
When shopping for last minute prom dress, it's normal to feel some pressure to locate the right dress. However, if you set yourself a day, you should be able to achieve it! Start the day with a good breakfast so you'll stay fuelled throughout the day. Getting hungry will likely make you cranky, affecting the decision-making process.
Create a list of websites and local places you want to check out and then work through them step-by-step. Don't be afraid to look at everything. You won't believe how easy it is to locate the perfect prom dress. After all, if you approach it in small steps, you'll be calm enough to see which dress is the right option.
More Last-Minute Prom Dress Shopping Tips
If you still haven't found what you want yet, don't panic! There are still plenty of great dresses this season. Check out department stores, malls, and specialty boutiques. It's always best to try on dresses in person.
When ordering a dress online, carefully read the reviews before you buy it.
Look at the shoulder styles. Popular options include straps, strapless, and one shoulder.
If can't get a dress that fits well, don't be afraid to get it tailored. A good tailor can take a dress that's a little too big or too small and make it fit like a glove.
Be prepared to compromise on some things. Maybe you have to settle for a different color than you wanted or a different style. That's OK! The most important thing is that you feel beautiful and confident in your dress.
Remember, popularity isn't everything! If you don't have a dress that you love, don't be afraid to go out of your comfort zone.
Mistakes to Avoid
Overspending: Spending more than you can afford is easy when you're excited. After all, it's just one night. If you look around, you'll find a beautiful, affordable dress that won't break the bank. When you're on a strict budget, renting a dress might be an option. Many websites and stores offer dress rentals. It's a great way to get the dress of your dreams without going broke.
Leaving it at that: You can love a dress, but if you don't evaluate it, it won't work. Don't just tell your mom, "I really love the dress," or "It's perfect." Instead, tell her, "The dress looks wonderful, and it makes me look slender and graceful," or something along those lines.
Buying the wrong size: And don't buy too early. You may think you're a 12, but when prom rolls around, you're a 10. Buy your dress closer to prom, so there's time for a tailor to make adjustments if needed.
Not picking the right neckline: Not everyone looks good in strapless or sweetheart necklines. When in doubt, try on several different necklines of dresses.
Not comparing prices: If you find a great dress that costs $300, don't buy it unless it's on sale for $200. It's important to compare prices, so you don't end up with a dress you don't love because you paid too much.
Not doing a practice run: Before the night, try on your dress and do a practice run. Walk around in it, sit down in it, and dance in it. In this way, you can make sure your dress is comfortable and that you can move freely in it.
Not having a backup plan: Things happen, and sometimes prom night doesn't go as planned. Having a backup plan helps in case your dress gets ruined or you can't find a date.
The bottom line
Now you know how to shop for a prom dress at the last minute and it's okay! If you know where to look, you'll find plenty of options. You can find beautiful dresses at consignment shops, thrift stores, and online retailers.
After a little work and effort, you're sure to find the perfect dress for your big night that will wow everyone.
Once that's done, you can enjoy your night. It's an experience you'll never forget, so savor every moment. And don't be afraid to check yourself out in a few mirrors. You'll look stunning.
Related Posts