While everyone can benefit from some quality time spent outside, not all of us thoroughly enjoy the outdoors.
For city dwellers, glamping is a welcoming concept. It lets you escape your everyday life and embrace nature for a few days, but you don't have to give up the luxuries you've grown to rely on. If you are lucky enough to go on a glamping trip with friends or family, you may be struggling with what to wear during your time in the great outdoors. 
Here, we'll provide you with a guide on how to dress for your next glamping trip. This way, you'll be dressed appropriately for your circumstances and Instagram-ready all at the same time. 
Ditch Your Sandals
While glamping is a type of luxurious camping, don't expect to sit around all day. By choosing the right footwear, you can be prepared for whatever physical activity your group has on the itinerary. 
Even if you're expecting hot weather, we strongly recommend that you ditch your open-toed sandals. Don't be so quick to pack your closed-toed ones either, as they can be welcoming to insects and leave your feet sore for days.
Instead, opt for a pair of tennis shoes or running shoes. If you can't give up your sandals, consider getting a pair of hiking sandals. Sites like Boot Bomb review this type of footwear, so you'll easily be able to find the most comfortable and stylish hiking sandals in a jiffy. If you aren't comfortable wearing sandals for your entire trip, this site also reviews hiking boots, walking shoes, and other types of footwear meant for the adventurous woman who doesn't want to sacrifice fashion. 
Incorporate Playful Accessories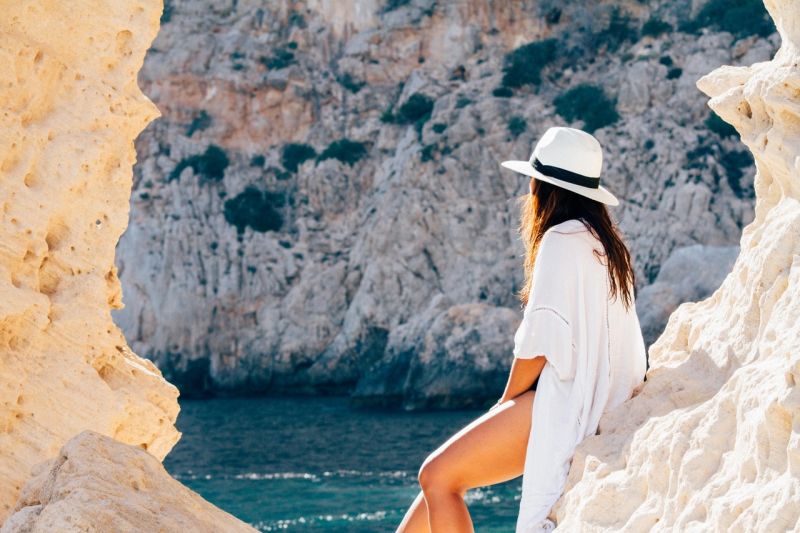 Wearing shiny, dangly jewelry isn't a good idea when you go glamping. It can interfere with the more active parts of your day, including walking and swimming. Plus, you don't want to risk losing them.
While you should leave your Louis Vuitton purse at home, you can still incorporate some playful accessories. A brightly-colored fanny pack is both functional and shows off your vibrant personality. 
You can also pack some headgear to wear, including baseball caps, buckets hats, bandanas, and headbands. Items like these will protect you from the sun's harsh rays, and you'll be able to snap some extra-cute selfies. 
Decide what space you have available in your glamping bag and the length of your trip before going all out on your accessories. Bring along a few diverse accessories so you can switch up your look for every day of your trip.  
Opt for a Two-Piece Bathing Suit
Depending on where you're going, and the time of year, you may plan to be in the water. If you plan on going swimming, canoeing, or another similar activity, definitely bring a swimsuit along. By having one on hand, you won't need to use one of your other outfits as an impromptu bathing suit.
We recommend bringing a two-piece bathing suit rather than a one-piece. A two-piece suit is much more versatile. If needed, you can rock your bikini top and a cute pair of shorts as an outfit on its own, or you can wear an oversized shirt and your bathing suit bottoms on a particularly warm day.
Pack a Casual Campfire Outfit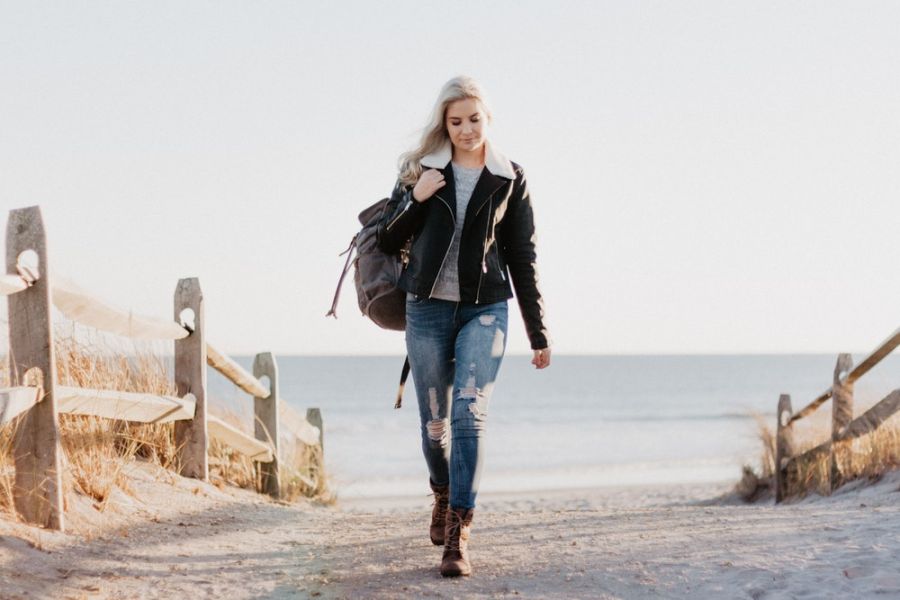 Arguably, the best parts of glamping are the nightly campfires held under the stars. To truly get in the spirit, bring along a few stylish outfits to wear around a campfire. The outfits you choose will depend on the weather of your campsite and your personal style. 
Here are some fun combinations you can try:
Loose boyfriend jeans, a flannel, and some Birkenstocks

Cargo pants, a snug hoodie, and cargo boots

Name-brand sweatpants, a vintage tee, and tennis shoes
Feel free to mix and match these combinations or create an entirely new one to match your style!
Invest in Some Athleisure Wear
While we discussed the right shoes earlier, don't neglect the importance of the right clothes for glamping. Even if you aren't doing 8-mile hikes, you still need clothes to keep you cool and comfortable. Consider investing in some quality athleisure wear, which TheTrendSpotter describes as both "practical and completely fashionable." 
Depending on the level of physical activity you'll be partaking in, you can rock some of these looks:
Crop top with high-waisted shorts

Sporty t-shirt and bomber jacket

A matching sports bra and leggings
These outfits are not only stylish, but they also let you have a great degree of mobility. Opt for breathable fabrics like Merino wool for the most enjoyable glamping experience possible. 
Wrap Up
With these tips in mind, you'll be able to show off your sense of style while being prepared for the outdoor fun that glamping may bring your way.