Himalaya Herbals is one of the most trusted herbal products in the Indian market. I started using Himalaya products a few years back, and right now, I have a complete set of hair, face, and body products from Himalaya. One of my absolute favorites is Himalaya Neem and Turmeric Soap. Let's know more about it in my review.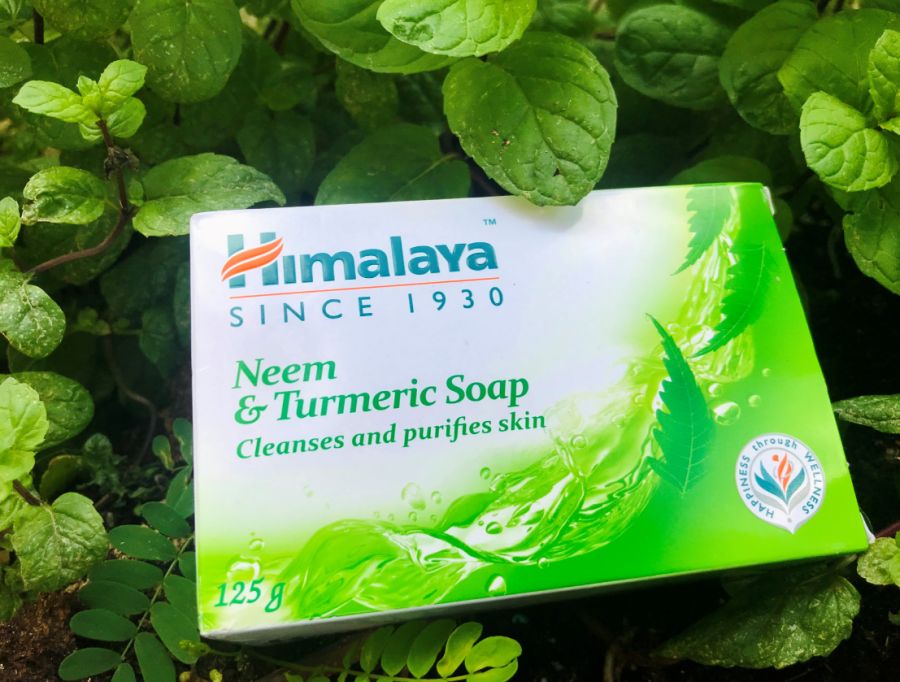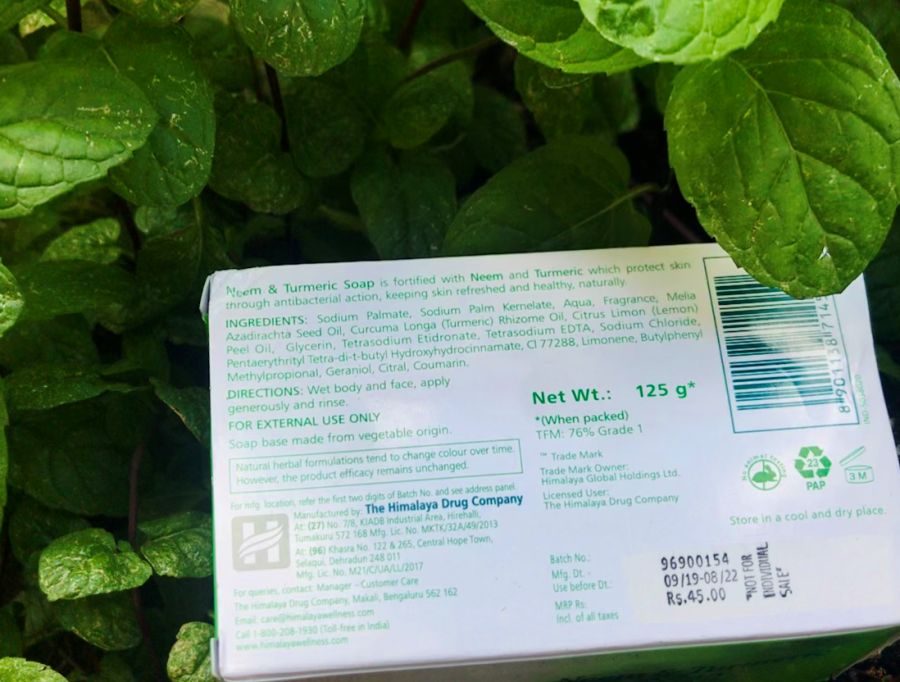 About the product:
Himalaya Herbals Protecting Neem & Turmeric Soap is enriched with oils of Neem that guards skin due to its antibacterial activities; Lemon that refreshes and protects skin due to its antiseptic activities, and Turmeric nourishes, improves complexion and its antiseptic activities protect the skin. Combining all these natural ingredients helps to soothe the skin and protect the skin from any infection.
Anti-bacterial soap

Made with natural ingredients
Ingredients: Sodium Palmate and Sodium Palm Kernelate, Fragrance, Aqua, Glycerine, Cl 77288, Tetrasodium EDTA, Melia Azadirachta Seed Oil, Tetradibutyl Pentaerithrityl Hydroxyhydrocinnamate, Citrus Medica Limonum (Lemon) Peel Oil, Curcuma Longa(Turmeric) Root oil. Soap Base made from vegetable origin.
Price: Rs. 30 for 75 gm and Rs. 45 for 125 gm
Himalaya Herbals Neem and Turmeric Soap Review
Himalaya Neem and Turmeric soap have a dark green color and a rectangular shape. It comes in a white box printed with the product name, ingredients, and features. It does not come in flimsy thin paper packets. It has thick paper packaging, close to cardboard packaging. The soap is enclosed in a thin plastic covering. The double packaging protects the product, but the plastic wrapping is an unnecessary environmental pollutant.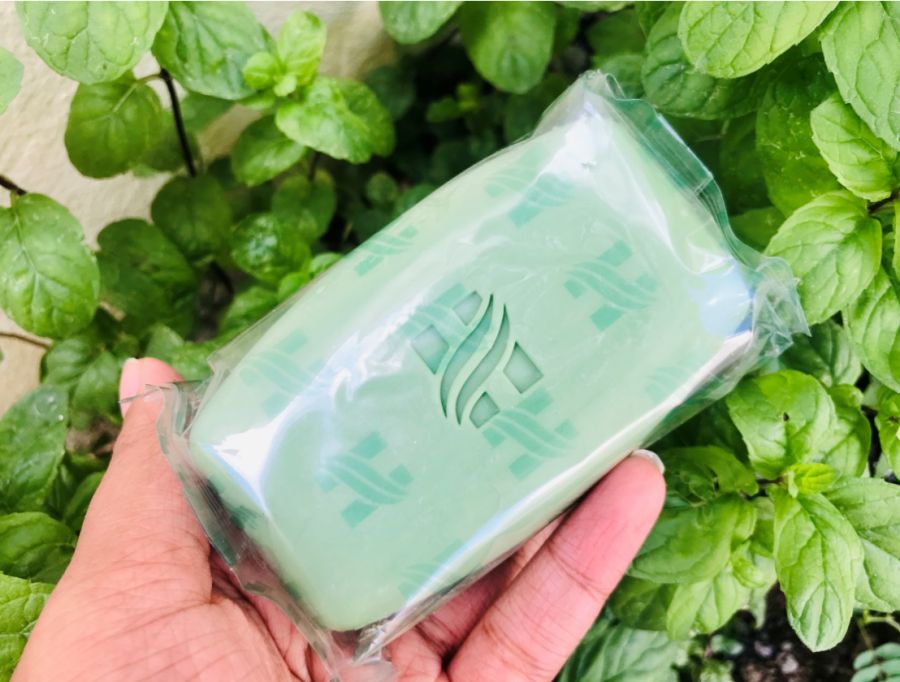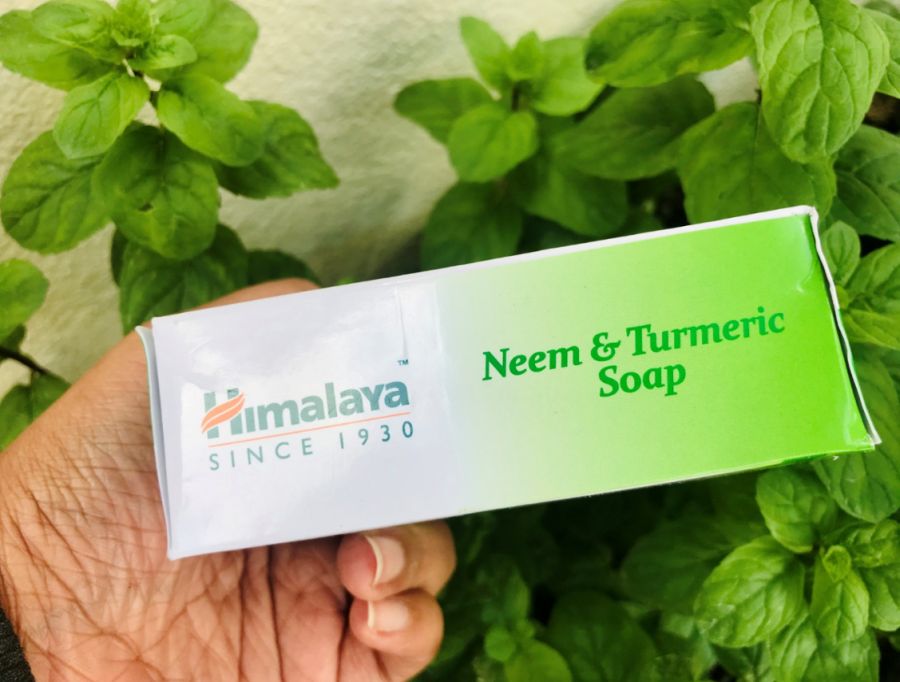 The soap has amazing neem and citrus smell. It does not linger on your body after a wash, but my washroom smells beautiful for 5-10 mins after a bath. It has a shelf life of 3 years and a life of 3 months after opening.
The soap has a number of ingredients that provides many benefits to the body:
Neem: Neem has anti-fungal and anti-bacterial properties that can treat several diseases. It treats acne, blackheads, eczema, etc. In addition, it has anti-aging properties.
Turmeric: Turmeric has anti-inflammatory properties. It helps acne, dark spots, and hyperpigmentation. It prevents dry skin and has anti-aging properties too.
Lemon: Lemon is used in the cosmetic industry for its skin-lightening benefits. It can tighten skin by closing pores and also exfoliates skin to remove dead cells.
Glycerin: Glycerin helps with dry skin, acne and reduces dull skin. Keep skin moisturized.
Note: It does not contain any animal fat, so yay for vegans! 🙂
Himalaya's main claim for the product is that its antibacterial action helps keep the skin refreshed and healthy. With their anti-bacterial and anti-inflammatory properties, Neem and turmeric can help improve the general health of the skin. In case you live in a very polluted environment, it can help detoxify your skin.
I have combination skin of normal and dry and it largely depends on where I'm living at the moment. I used this soap when I was in Bangalore. I read reviews that the soap was drying for some people. For me, while in Bangalore, I did not find it drying. Note, I have normal skin while in Bangalore, and maybe that's why it did not dry out my skin, but it may not be the case in the case of dry skin. In that case, the glycerin doesn't do much benefit.
I use the soap both for the body as well as the face. I do not find it very harsh on my face. However, the decision to use soaps on the face is subjective and is generally not recommended. Since the soap contains neem and turmeric, it can help with acne scars. I did not use it for long on my face to get an actual result. But it did not make my skin dry or cause any breakouts.
The soap lathers very well, but at the same time, does not melt. I used to use pears and dove before this, and it would just melt in your hands. It also meant that I would get through one bar in approximately 3 weeks. I used the Himalaya Herbals soap for more than a month, and it is still not over. The soap also gives a thick lather without slipping out of my hand. The last thing I want is my soap on the toilet floor. 🤢
Also Read: Himalaya Herbals Almond & Rose Soap Review
Pros
Refreshing and detoxifying

Affordable

Easily available in the market

Lathers well and is not slippery

Does not melt

Suitable for normal and oily skin

Fragrant

Not tested on animals

Does not contain animal fats
Cons
May not be suitable for dry skin
Himalaya Neem and Turmeric Soap
Final Word
Himalaya Neem and Turmeric soap helps keep your skin refreshed and healthy. It is an affordable option available in the market. It is very fragrant, cruelty-free and natural. The soap doesn't melt easily but lathers well. I will recommend the product for people with normal to oily skin as there are some claims that it drys out the skin.