What are the best gifts for bloggers you can give to surprise and make your friends feel special?
Since you are here, I'm sure either you're a blogger or someone with a blogger friend looking for some lovely blogger gift ideas and I'm going to help you with that!
Choosing a gift for bloggers can be confusing since you have little idea of what they might want at the moment that they can use for their blog.
Take my word for it – bloggers appreciate practical gifts. Whether it's their birthday, Christmas, or just their special day, the gifts I will recommend will surely be worthwhile.
Before we begin, I'd like to let you know that this post may contain affiliate links, which means, after you purchase some of the products, I will get a little commission at no additional cost to you. Honestly, it helps bloggers like me to maintain the blog and keep you updated with some useful posts.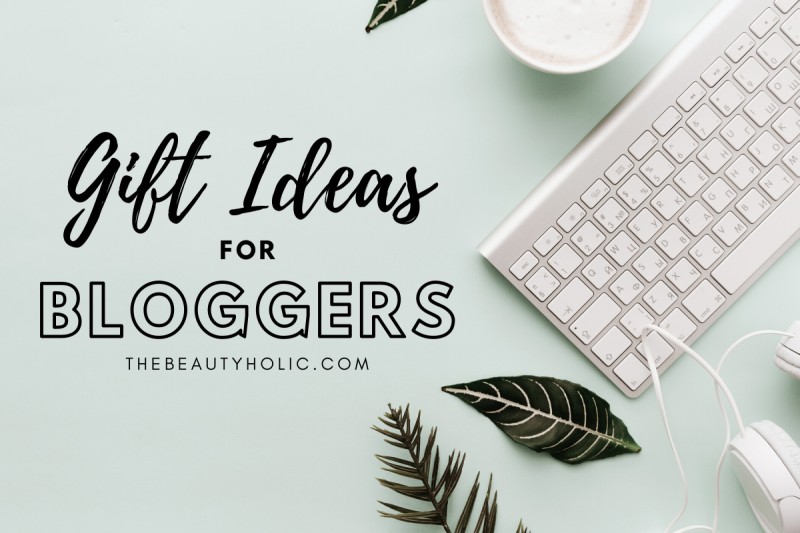 So without wasting any of your time, let's jump into these cool gift ideas for your blogger, influencer, or entrepreneur friend.
#1. A Gift of Blog Hosting
Does your blogger friend use free hosting, or do they complain about how bad their hosting is? Help them shift to a premium one. Every blogger needs great web hosting and there's nothing more helpful than gifting them an opportunity to go self-hosted.
Some trusted blog hosting companies I highly recommend:
BlueHost – Starts from $2.95/month (WordPress.org officially recommends it) – It's a limited offer, and you can grab it here

WPX Hosting

– They transfer blogs for free and also fix technical blog issues at no extra charge – Get it here

A2Hosting

– This hosting provides free migration, an SSL certificate, and awesome support. Also, you can host unlimited websites if you go or the Swift plan.
GreenGeeks – They boast high speed, 24/7 expert support, and great security. Plus, since this web hosting runs on renewable energy, it's eco-friendly.
#2. Inspiring Coffee Mugs
Personalized gifts are everyone's favorite. Everyone loves coffee mugs, and bloggers are no different.
Personalized coffee mugs with quotes can be inspirational or from their favorite movie, or even the lyrics of a song can be overwhelming.
Some of my favorites are She Believed She Could So She Did, Progress Over Perfection, and Believe in Yourself.
#3. Beautiful Stock Images Subscription
When bloggers do not have time to click some good lookin' photos, they rely on stock images.
There are hundreds of websites that provide free stock images, but the premium ones offer more variety. Also, you support the photographers by purchasing their photos. So your best bet would be gifting them a subscription of premium stock images that can make their posts stand out.
You can choose from Adobe Stock or Shutterstock as both are quality stock image platforms.
#4. T-Shirts
T-shirts are also a good option for your blogger friend. If your friend is a fashion blogger, they will love this gift. Even if they are not into fashion, you can do some DIY with the T-shirt or have something personalized, or you can even twin it with your blogger friend to make it more special.
#5. Blog Theme
A theme is the first thing a reader notices when they come across your or your friend's website. Why not gift them a theme that's cutesy and easy on the eye? Pick a theme that is responsive, fast-loading, and easy to navigate. Check out these premium theme providers:
ThemeForest – Offers an abundance of WordPress themes, templates, and plugins that stand out.
Elementor – Claims to be the #1 WordPress theme builder that lets you create your own theme design as per your needs.
Elegant Themes – Uses drag and drop technology to create captivating themes.
#6. Noise Canceling Headphones
Nothing is annoying than trying to brainstorm ideas or write a post in a noisy place.
As a blogger, I find it hard to be creative and work in a bustling environment.
To keep the distractions at bay, I use noise-canceling headphones that block out unwanted background noise and allow my creative juices to flow.
Every blogger deserves noise-canceling headphones in their lives, and what's better than gifting them to them? Also, it lets you only hear what you want to hear, such as music and audiobooks.
#7. Email Marketing Tools
Bloggers care about their subscribers and like to notify them of their new posts. If you know what blogging is, you know list building is an essential part of a successful blog.
There are a bunch of email marketing tools available that help bloggers customize their emails before sending them to make them look inviting.
MailerLite and Constant Contact are practical email marketing tools that let you design and send customized emails, landing pages and grow subscribers.
#8. If They Use Pinterest
Those friends who actively use Pinterest to drive traffic to their blog gift them a year of Tailwind subscription to manage and schedule their pins easily and have more free time for themselves.
Tailwind is an Instagram and Pinterest scheduling tool that suggests the best times to post for engagement and see analytics.
#9. Amazon Gift Card
Who doesn't love gift cards? And who doesn't love Amazon?
Amazon has great gifts and products. Also, it is popular worldwide, and almost everyone uses Amazon. So you can gift them an Amazon gift card because retail therapy is still a thing, right? And nobody ever gets tired of shopping. Select the Amazon Gift Card here to get started.
#10. Amazon Kindle
I am sure you know about Amazon kindle. If your friend is a book blogger or loves reading books, this will really warm their heart.
There are so many different genres of books available on Kindle. You can adjust the light and font as well. You can get it easily on your phone's App store, but gifting Kindle Unlimited will add more value to the gift. Click here to purchase the subscription.
#11. Try Prime Free
With Amazon Prime, you can get unlimited benefits such as orders delivered to you faster, free, and unlimited. Not only that, thousands of TV series and movies and borrow Kindle books with friends.
Not to mention, you will always be rewarded with exclusive gifts. Gift your blogger friend Amazon Prime, and I am sure they will find it worthwhile. Gift them a free 30-day trial here.
#12. Audible
Blogging can be as tiring as any other job. Like other working people, they also have to sacrifice their own time to develop something productive.
For instance, your friend loves reading books, but with blogging, they might not always have the chance to finish their favorite book or even read it. For such a situation, Audible by Amazon can help you out.
Audible lets you select a book and listen to it through audio. You can listen to them while you are doing your other chores.
Audible subscription is available for one month, three months, and six months and even a year. Personally, I would go for a 3-month subscription you can get here to enjoy the features fully.
#13. Wall Decor
Everyone likes decor gifts. Grabbing a nice wall décor can really amaze your friend.  There are so many different wall décor options available online and even in stores.
There are many classics, vintage pieces and also fancy ones on the other side. Check out this awesome collection of wall decors. Choose the one you think will go with your friend's personality and will light up that wall that lies empty.
#15. Cozy chair
Blogging involves a lot of work with laptop and desk work, and it gets tiring. So why not gift a comfy chair to ease their pain.
Comfy chairs are comfortable, yet you can do your work. They give you support but do not cause you back pain. And why not add a little pun to this gift by saying, "I got your back."
#16. Journal
I am a huge fan of journaling. It helps one feel a lot better and lighter.
With blogging, writing things down already becomes a hobby. So why not journal down your feelings, dreams, and things that inspire you, your to-do list.
A journal can be an excellent way to express their feelings and jot ideas and inspirations down rather than locking them up. Check out some nice journals here.
#17. A Work Desk
Along with a cozy chair, a desk is also a priority for bloggers. Blogging requires a lot of desk work to work and keep their essentials. If your friend is just doing their job on a bed or couch, then gift them an amazing desk. This will give them a more professional feel and keep them driven.
#18. A high-quality camera
Whether it's fashion, cooking, and even photography – blogging can be about anything. Everybody knows, for people who like photography, the best gift for them is a DSLR camera.
Even if not a photography lover, blogging requires capturing and sharing high-quality pictures, and that is when a camera plays a huge role.
And let's not forget you can always capture so many memories, so they will always appreciate a camera. Have a look at these best cameras for bloggers.
#19. Books about Entrepreneurship
Your friend is focused on their passion and wants to expand it as a business. If they are business-oriented and have plans about creating a brand for themselves, you can help them by motivating them with books based on entrepreneurship and blogging.
There are so many great books out there, some with real examples of people who started with scratch. This will inspire them to move towards their goal, and they will love it guaranteed.
The Essential Habits Of 6-Figure Bloggers – This book is helpful, especially for beginner bloggers, for a positive head start. It contains real-life examples of bloggers that spill the productive habits that helped them reach a six-figure income.

Influencer: Building Your Personal Brand in the Age of Social Media – Are you or your friend active on social media handles, especially Instagram? This book reveals the secrets of acing as an influencer and keeping your brand alive and speak for itself.

WordPress Explained – A useful step-by-step guide to WordPress through simple tutorials. This book is recommended for those who have little knowledge of the popular CMS and want to create their site perfectly.
#20. Scented candles
Scented candles are so underrated. People often think that they are meant for special occasions, but you can light them anytime you need calmness and a great aroma. Besides being dirt cheap, they are a cute present for someone who needs to unwind and relax.
#21. Starbucks Gift Card
A gift card everybody's favorite, especially when it's from Starbucks. Being a blogger, a good cup of coffee always loosens up my mind. What's better than grabbing a cup from Starbucks? And let us mention that we bloggers sometimes do our work at cafes waiting for our coffee. So a gift card to Starbucks will top you off in their friends' list.
#22. Microphone
If your blogger friend is a vlogger and runs a YouTube channel or creates webinars, they need a good-quality mic. Without the proper gear, they can't make their voice reach out to their audience with clarity. Along with an HD camera, one needs a good recording system, so a microphone will be a thoughtful gift because they will utilize it to the fullest.
#23. A sweet backlink
If you have a blogger mate who writes in the same niche as you do, why not link their blog from yours and share some link juice? Do-follow or no-follow – your choice, but they will definitely appreciate it.
#24. Keyword Research Tool
If your friend is an intermediate blogger and carefully plans their blog posts, they need something to help them decide what to post. Keyword research tools like KWfinder make the task of searching for content ideas simpler. With KWfinder, You can find the most-searched keyword ideas that can help you rank higher in Google. It doesn't cost a fortune and can be extremely helpful in breathing life into your SEO.
#25. A Photo Studio
Blogging involves not only written content but also visual content to keep their readers hooked. Gift your pal a photo studio box they will love to use for their product photography ventures.
I recommend AmazonBasics Portable Photostudio, which is portable and easy to work with. It is foldable and super functional with LED-light integration that helps professionals, bloggers, and product photographers capture polished photos with their phones or cameras.
#26. Laptop Stand
If you don't know already, blogging is no less than your 9-5, just that it's a flexible one.
Bloggers need to put in a load of work and if they work on a laptop, they know that it gets heated after long hours of usage.
With desktops, it is not a major issue, but you are placing them on your lap in the case of laptops, which is a matter of concern. You can get many affordable and lasting laptop stands easily at Amazon here.
#27. Chocolates
Almost everyone loves chocolates. We love buying them, we love receiving them as gifts, but we probably don't like sharing them. With the above-mentioned gifts, if you want to gift them something fun, delish and light, chocolates are a toothsome choice.
#28. Under Desk Cycle Pedal Exerciser
By now, you know that bloggers do most of their work sitting down with their laptops or desktops. While it may sound effortless and relaxing, it's just the opposite.
Sometimes sitting for long hours can be tedious, and the muscles get pumped up, and we experience cramps. So why not gift an under desk cycle pedal exerciser. While sitting and working, you can cycle your way to create good blog posts.
#29. Quality Webcam
Sometimes in blogging, we also have to create videos. For brand deals and advertisements, some reviews and live sessions are carried out in videos. So a decent webcam will be of huge benefit. Good quality gears always make you seem more professional. It is essential when it comes to work-related with social media or any digital work. A quality webcam will be a great investment for your friend.
#30. Touch Screen Gloves
When it comes to blogging, it is essential to work with the best technology. So if they have touch screen devices and the weather is chilly, gift them warming touch screen gloves. Touch screen gloves are specially designed for touch-screen use. Your blogger friend will love this gift because it will protect their touch screen objects while keeping their fingers warm.
#31. Laptop Bag
Bloggers need to carry a lot of things with them: their laptop, good camera, USB drive, chargers for everything, and much more. Gifting them a laptop bag with a good amount of space will save them from the hassle of carrying out multiple bags. They will also feel more confident and productive when they walk out of their homes carrying the laptop bag.
#32. Business Card Holder
A business card holder is a great gift for your entrepreneur friend who loves networking with people. There are great varieties when it comes to cardholders. You can choose a good leather one or something glittery as well. Business card holders help to have all your essential cards together so that you do not have to hunt them down in your purse when needed. They are small and can be easily carried around.
#33. Camera Lens
I will again mention photography and how vital it is to create useful video content. If your friend already owns a camera, then surprise them with a camera lens. A camera lens is one of the best gift ideas for bloggers that they'll appreciate. There are many camera lenses available with various lens options. Gift them one, which is of high-quality and multipurpose. Check out some best and affordable camera lenses here.
#34. Luxury Pens
Planning and writing things down is the habit of bloggers. Although blogging involves typing, any blogger will love a luxury pen. A luxury pen with high value will inspire your friend to write things down more often rather than be too swept away by technology. Also, luxury pens are appreciated so much. Even though they may seem like a simple pen, but people rarely use luxury pens for basic things. They hold on to it for something special, and soon it adds some sentiment to it.
#35. Blog Planner
A blog planner can be one of the most thoughtful and productive gifts you can give to a serious blogger and entrepreneur. It helps you stay organized, plan content, and build your audience consistently.
CREATE Blog and Editorial Planner – It's not your regular planner but a planner specifically designed for your blogging goals. Based on your growth stage, you can choose your priority focus. Not just planning, it also contains forms where you can review and evaluate your tasks.

EPIC BLOG: One-Year Editorial Planner – It's a year-long blog planner full of questions to ask yourself and consider your blog, your target audience, and your plans and goals for your blog. There are 12 blank calendars for you to fill in so you can start using them any month of the year. There are pages to track your income, spending, traffic, and the number of posts you've made, and you can compare it month to month easily.
Still confused about what to gift your blogger friend? Here are some gift ideas that Amazon suggests.
Blogging is a passionate career, and it's amazing to see how people turn their passion and hobby into a real-life job. With bloggers, they have a unique liking and distinct favorites. So when it comes to gifting them something, it can get confusing.
So these were my top gift ideas for bloggers. I have mentioned some essentials for bloggers, while others are something everyone would love to receive as gifts. So I hope you enjoyed going through this blogger gift guide.