Many people dream of having big, full kissers, and it's for good reasons.
Fuller lips appear younger, more feminine, and more appealing. Possibly this is to do with the fact that thin, flat puckers are a common sign of aging. As people age, the volume of their lips decreases, flattening their once-luscious lips, according to research.
Wondering how to get bigger lips? If you answer yes, you're in luck since there are several ways to make it happen.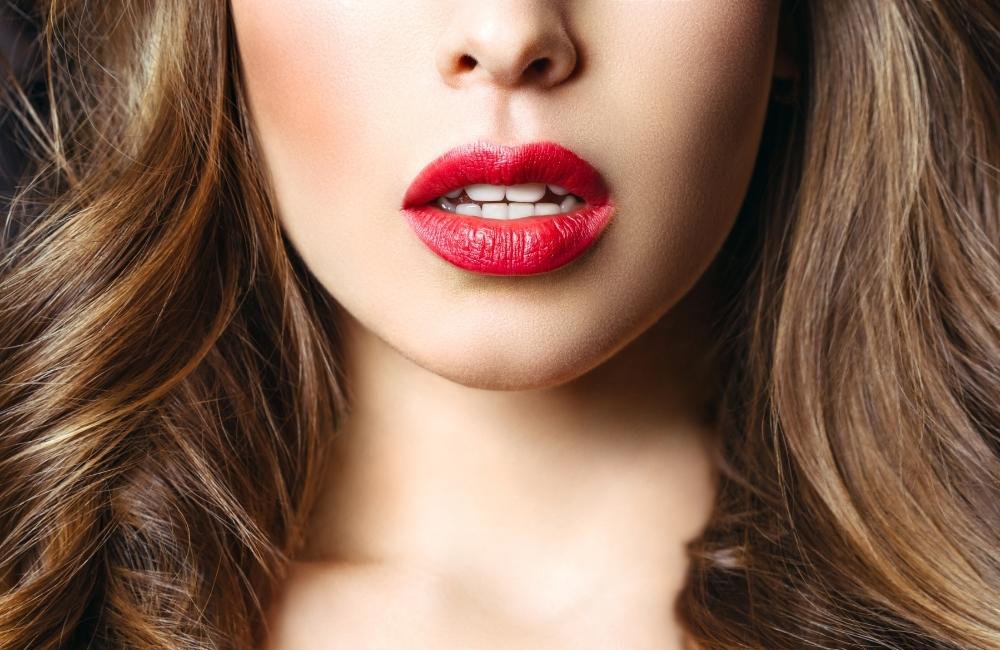 Why is everyone obsessed with fuller lips?
The beauty industry has seen a trend of fuller lips in recent years. Women (and men) of all ages seek treatments and products to achieve luscious puckers.
There are a few reasons why fuller lips are so popular. In some cultures, they represent youth and vitality, while in others, they are symbolic of femininity and sensuality. It is true that the type of lips you have speak volumes about your personality.
Full lips are often associated with actresses and models, who are seen as being youthful and attractive. A study found that women with fuller, bigger lips look younger than their actual age. Researchers also found that those with fewer wrinkles appeared healthier and more hydrated to others.
Additionally, bigger lips can make your face appear more symmetrical. If you have thin ones, adding some volume can help to balance out your features.
Finally, fuller lips just look good! They can add a touch of elegance and seductiveness to any face. Whether you're going for a natural or glam look, plump kissers can help you achieve it. All told, a fuller lip trend looks set to continue.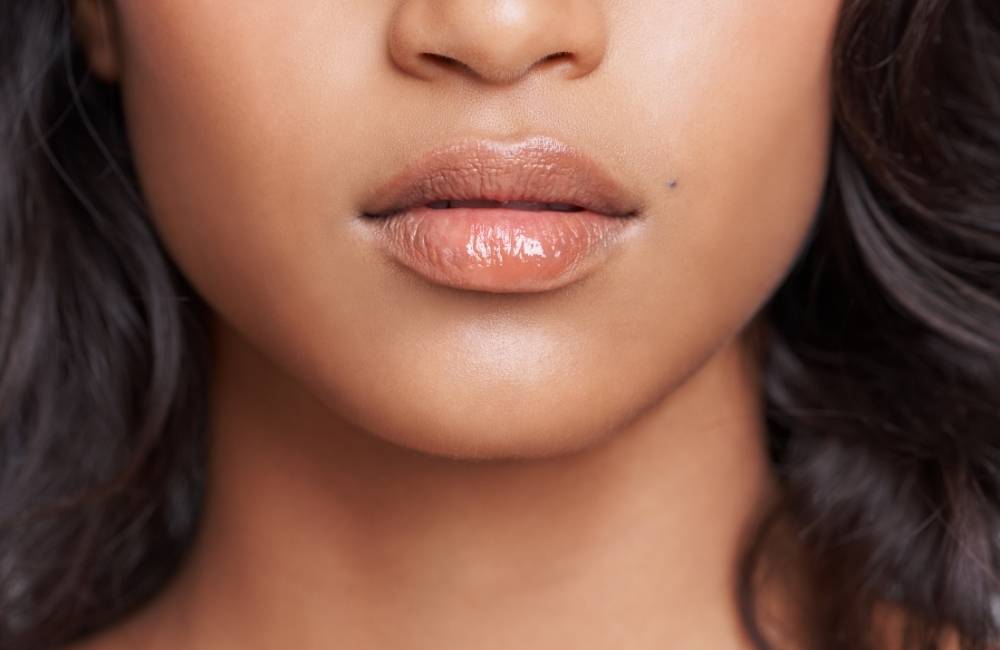 Natural Ways to Get Plump Lips
If you want fuller lips without resorting to expensive lip injections or lipstick, there are some things you can do.
Hydrate
Without proper hydration, lips can become dry, cracked, and chapped.
If you're looking to get a fuller, more voluptuous pout, drink plenty of water every day.
Water keeps your mouth moist, which plumps your lips. Also, the hydration keeps them soft and supple, making them look their best.
Don't skip lip balm
Lip balms are formulated with ingredients like lanolin and petrolatum, which moisturize and protect your lips. The added oils in balms also give a plumping effect, helping to create a fuller look.
Look for lip balms with vitamin E, shea butter, or coconut oil, a moisturizer that can restore elasticity to your lips. And, of course, always use a lip balm that has SPF.
Try some essential oils
Essential oils for bigger lips are one topic that is often overlooked when it comes to beauty and cosmetics. Believe it or not, a few essential oils can help plump up your pout.
Rose oil is known for its skin-softening and moisturizing properties, making it an effective moisturizer. As a natural anti-inflammatory, it can help reduce inflammation and swelling in the lip area.
Peppermint oil is a natural stimulant, which is why it helps to promote fuller lips by increasing blood circulation.
Cinnamon oil promotes the healthy circulation of blood within the lips. Moreover, it has anti-inflammatory and antibacterial properties that can help keep your pucker healthy and infection-free.
Note: it's important to remember to apply these oils to a carrier oil or moisturizer rather than directly to the lips.
Try Gua Sha
When Taiwanese women need a little extra help looking their best, they use the Gua Sha lip-plumping technique.
Apply a thin layer of lip balm or oil to your lips and massage in a circular motion with jade or rose quartz Gua Sha.
The friction from the stone helps increase blood flow and stimulate collagen production, making your lips look more defined.
Not only does the Gua Sha lip-plumping method work, but it's also a great way to relax and de-stress after a long day.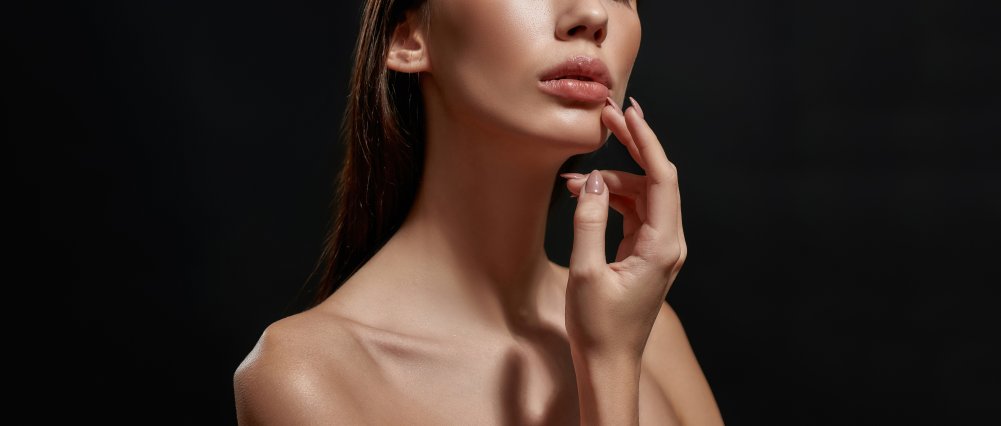 Exfoliate
Exfoliating your lips is a good idea for two reasons. One, it gives them a rosy complexion, and two, it keeps them from getting chapped. But aside from that, exfoliation can also help make your lips appear fuller and plumper.
Exfoliation increases blood circulation. By increasing blood flow to your lips, you can get a more natural tint and a healthier glow.
While applying scrubs to your face and body, don't forget to include your pucker. However, you may need to use a separate product to exfoliate your lips, like a sugar lip scrub to smooth them out.
Wear sunblock
Sunscreen doesn't just keep your skin healthy and youthful – it can make your lips plumper as well!
Using sunscreen will protect your kissers from the sun's UVA and UVB rays, which can cause them to become thin and dry.
Plus, sunscreen keeps your lips moisturized, so they're fuller and healthier.
Here's how to use it: take a pea size amount and slather it on your pout until absorbed. Follow with your lip makeup.
Say hello to shot glass
If you're up for some natural remedies for plump lips, just grab a shot glass.
Start with applying a hydrating lip balm.
Place the rim of the glass around your lips.
Suck in the air gently until you feel a slight suction.
Hold the glass tight over your mouth for no more than 2-3 seconds to
retain the suction.
Repeat the process 3 to 4 times, and those Scarlett Johansson kissers are yours in a flash.
Try Out Lip Masks
If you prefer treatments that don't involve batteries or power, you can consider lip masks.
Lip mask solutions are another way to get smooth, deeply conditioned lips. Sheet masks can help you attain a fuller appearance as they soak your kissers in collagen.
In addition to sheet mask lip treatments, other night lip masks contain collagen peptides, hyaluronan, or other moisturizers that promote fullness by moisturizing your lips.
Make your DIY Lip Plumper
Luscious puckers don't have to cost a fortune. Try these homemade DIY lip plumpers instead:
Cinnamon + White sugar
Combine one teaspoon of cinnamon and one tablespoon of white sugar. Add one tablespoon of olive oil or almond oil to the mixture. Combine all the ingredients well. Apply for 5 to 10 minutes for maximum blood flow, then rinse off.
Cinnamon + Clove + Cayenne
Take a small bowl and add one tablespoon of olive, coconut, jojoba, or sweet almond oil. Combine one-fourth teaspoon each of cinnamon oil, clove oil, and cayenne powder. Combine everything thoroughly, and lightly massage it into your lips in a circular motion. Let it soak for 5 to 10 minutes, and then rinse.
Plumping Gloss
Take your favorite clear or tinted lip gloss. Add three to six drops of peppermint oil and a pinch of cayenne powder. Mix well. Apply this plumping lip gloss anytime to get the lips of your dreams.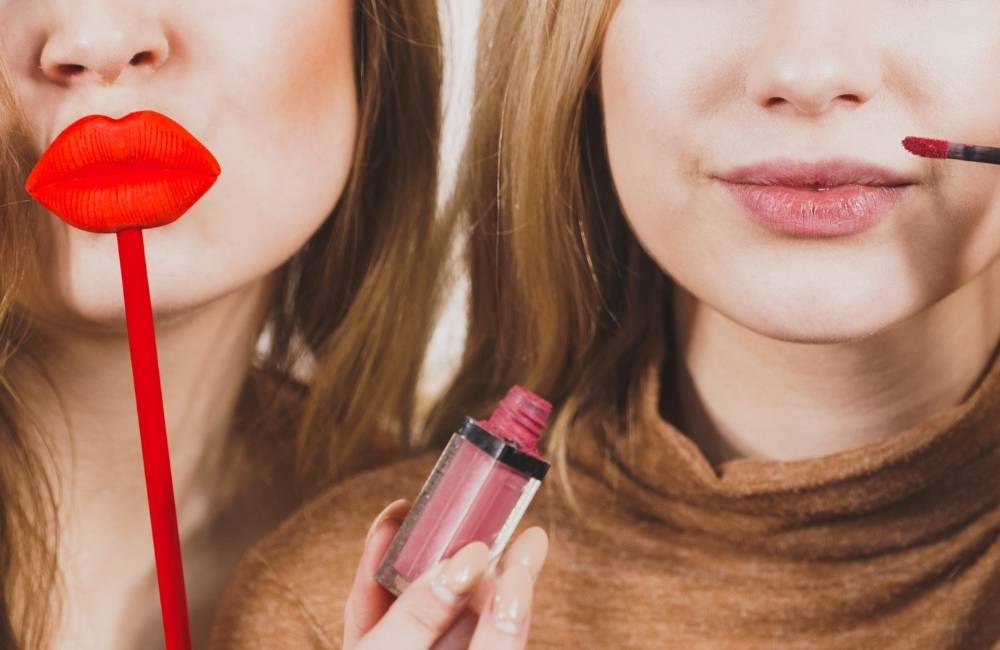 Makeup Tricks to Get Bigger Lips
You don't need to go under the knife for plumper lips since makeup has some simple tricks that work.
Play around with nude lip colors
Using a color close to your own natural lip color gives your lips more definition and fullness. Moreover, nude lipstick minimizes the appearance of any imperfections.
Here are a few of our favorite nude lip colors:
MAC Velvet Teddy: This lipstick is a light beige color that is perfect for creating a natural look. It is also moisturizing, which helps to keep your kissers looking healthy.
NYX Butter Gloss in Peach Cobbler: This gloss has a peach-colored tint that will help to make your lips look fuller. It also has a creamy texture that feels nice on your pucker.
Maybelline Color Sensational in Toasted Truffle: This color is an excellent match for fair skin tones. It comes in a creamy formula that dries to a semi-matte finish.
Some believe that using concealer after lipstick will enhance the plumping effect. So the concealer will help cover any unevenness and make your lips appear more symmetrical.
Use concealer after lipstick
An easy and cheap way to get bigger lips is to line them with concealer after putting on your lipstick.
To create this look:
Start by applying your favorite lipstick.
Once you have applied it, use a concealer that is one shade lighter than your natural skin tone and line just outside of your lips.
Blend the concealer inwards with a brush or your fingers until it is fully incorporated. You can then apply another layer of lipstick on top if desired.
Highlight with lip gloss
Glosses tend to have thinner, more luminous formulas, making them ideal for highlighting and elongating your lips.
All you need to do is apply the gloss to the center of your lips and then blend the gloss outward. A glossy shade will reflect light and make your pout look bigger.
You can also use a lip liner in a similar color to your lip gloss in order to create more definition and shape.
Contour your bottom lip
Contouring isn't just for your face anymore. It's also for your lips.
Whether you're going for a sultry red lip or a glamorous nude lip, contouring the bottom of your lipstick can help your pout look fuller and more voluptuous.
The contour shade under your bottom lip gives the impression of a higher, fuller upper lip.
Start with a neutral, light shade of lipstick.
Apply it with a lip brush to the outer edges of your lips.
Blend it upward with your finger.
Then, brush on a darker shade just beneath the lip line and blend downward.
Finish off the look with a layer of lip gloss.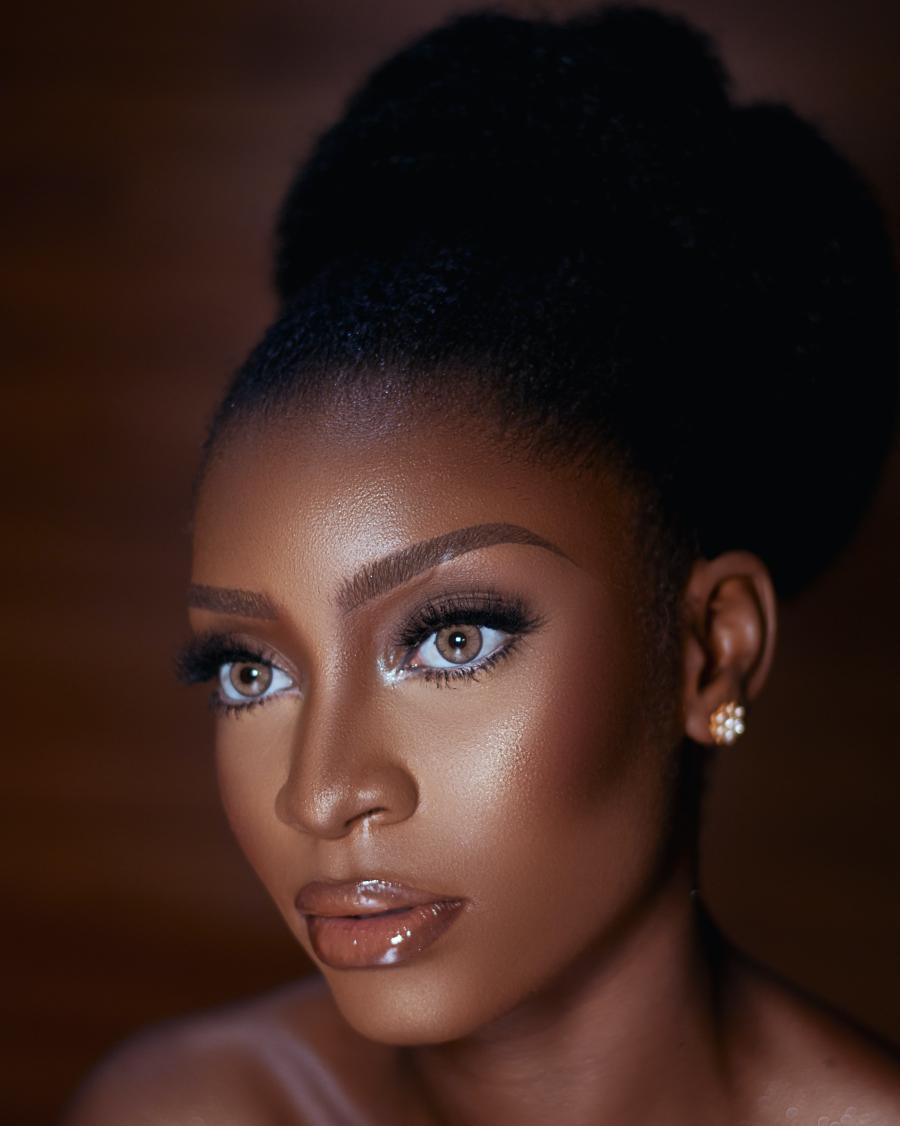 Use two different lip colors
Use a darker shade on the outside corner and a warmer shade on the center part of the lips. Blend the colors for an ombre effect that gives the illusion of a fuller pout.
What it does: the darker shade will accentuate your lip line, while the warmer shade will make the area look fuller.
Use lip liners properly
If used correctly, lip liner can dramatically improve the appearance of your pout.
The secret is to go around the outside border of your lip line and then draw an additional line inside your lips. Follow the natural curve of your lips and avoid creating a dramatic cupid's bow or straying too far off your lip line. Test different colors on your skin to determine what looks best on you, and keep it subtle.
Make sure you don't overdo it because nobody wants to see overlined lips. They may end up looking bizarre rather than plump.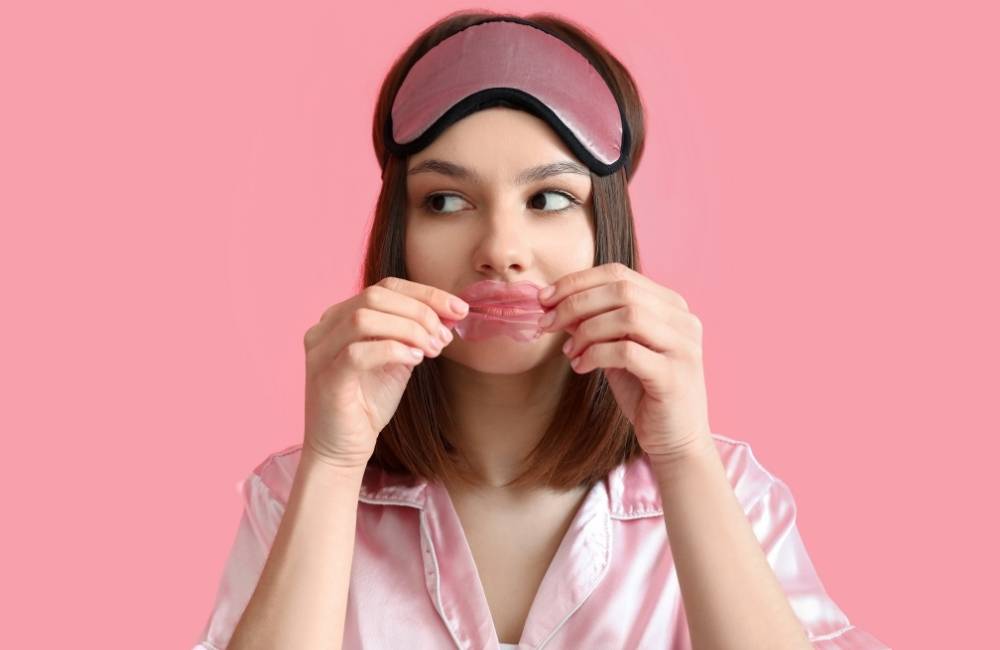 Best Products That Can Help You Get Fuller Lips
Of course, factors like genetics, age, and environment dictate how full your lips are, but with the right products, you can get gorgeous luscious kissers. Here are some lip products to help you achieve a fuller, more voluptuous look.
In the last few years, hyaluronic acid has been popping up everywhere, from skincare to haircare, so it's hardly a surprise that it's also showing up on our lips.
SkinMedica HA5 Smooth & Plump Lip System is proven highly effective with gentle, daily use. The lip plumper targets the lip contours and restores volume, leaving them looking naturally full and lovely.
The smoothing lip treatment smooths and fills in fine lines, giving a plump, smooth appearance.
Take collagen supplements
One study compared lip size in different age groups (one in their 20s, the other over 60 years old). On average, lip volume decreased by 25% between the younger and older age groups.
Take collagen supplements to help your body make more collagen, which will boost your lip's plumpness.
Supplementing with collagen can also help maintain the overall health of your lips, reducing the chances of them drying out and cracking.
If you prefer not to undergo surgical lip augmentation, there's a less risky and less costly alternative to temporarily boost the suppleness of your lips—by using a lip plumping device.
The JuvaLips device stimulates and suctions the lips to increase blood flow, making them flush beautifully with color and size. As advertised, the device works, and the results can last up to ten hours for some, plus it costs less than the other products.
Kylie Jenner is the queen of lip kits, and hers—the Kylie Lip Kit—is one of the most popular. The kit includes a lip liner and lipstick that give your lips a more voluptuous appearance.
The lip liner is especially important, as it helps to define your lips and make them look more natural. The lipstick is also hydrating, essential for keeping your kissers looking healthy and full.
Apply hyaluronic acid serum
While over-the-counter lip balms help repair the lips' moisture barrier, a hyaluronic acid serum is more effective. With added moisture and anti-aging abilities, the serum plumps lips and gives them a healthy, youthful glow.
Plus, hyaluronic acid serum can offer sun protection and other environmental factors that can cause them to dry out and lose their natural shape.
Buxom's Full-On Plumping Lip Polish is a great option for a high-shine, shimmering lip gloss that boldly plumps lips with its tantalizing tingle.
With over a hundred shades, the polish contains vitamin E and peptides to help plump up your pout. Plus, it has a faint peppermint scent that makes it a pleasure to use.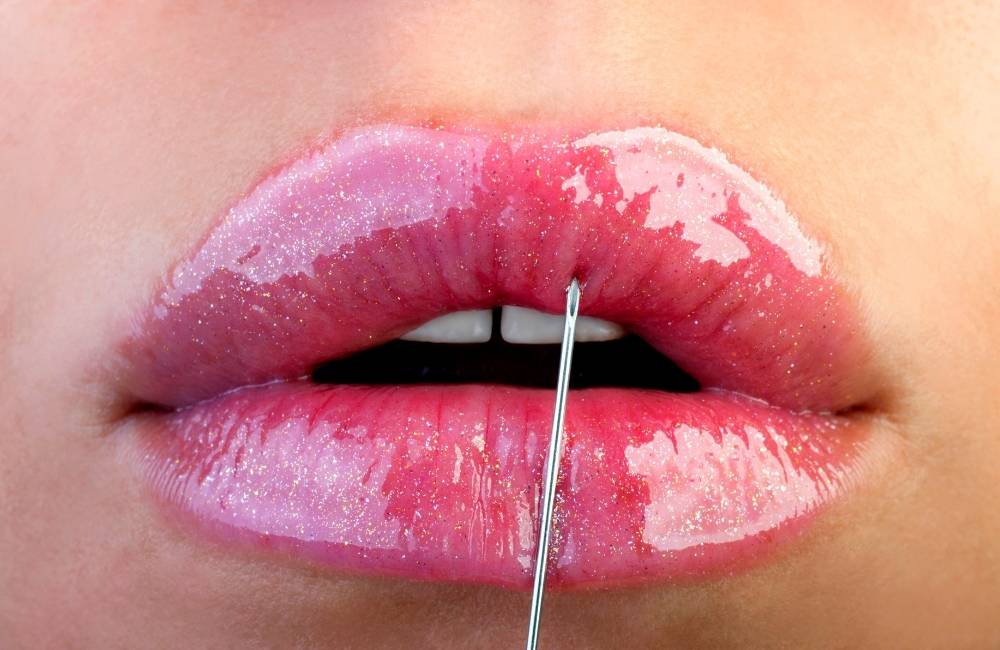 Surgical Ways to Get Bigger Lips
While some people wonder if surgical ways to make lips bigger are worth the risk, most know that bigger pouts are in vogue. Check out these cosmetic treatments that deliver quick results:
Lip implants
Lip implants are an option for cosmetic plastic surgery that enhances the lips naturally. The implants usually consist of silicone and are inserted with an incision made inside the mouth.
Lip implants work by lifting the tissues around the lips, giving them a plump appearance. Unlike fillers, which are temporary, implants are a permanent solution. However, the procedure can be expensive.
Lip lift
Also known as lip augmentation or lip reshaping, it is a great way to get bigger lips permanently. The procedure involves surgically reducing the distance between your nose and your top lip and lifting the tissue around your lips.
Lip lifts typically take about an hour and involve local anesthesia. Some bruising may occur after the procedure, and your lips may feel swollen. With proper care, you can return to work in 2-3 days and resume normal activities within a week. The results are usually quite dramatic, lasting for many years.
Lip Fat Grafting
A fat graft or tissue grafting involves removing fat tissue from other parts of the body and transplanting it into your lips. Typically, these fat tissues are removed from your rear thighs, stomach, or buttocks.
Fat grafting can do a lot of wonders. This involves adding volume to thin lips, correcting deep and broad mouth lines caused by sagging, and filling in and softening marionette lines and deep wrinkles.
The effects of lip fat grafting can last for five to ten years or even longer. However, since the lips are so fragile, there's a possible risk of abnormal outcomes from fat grafting. In addition, the fat extraction will require a minor surgical procedure on another part of your body.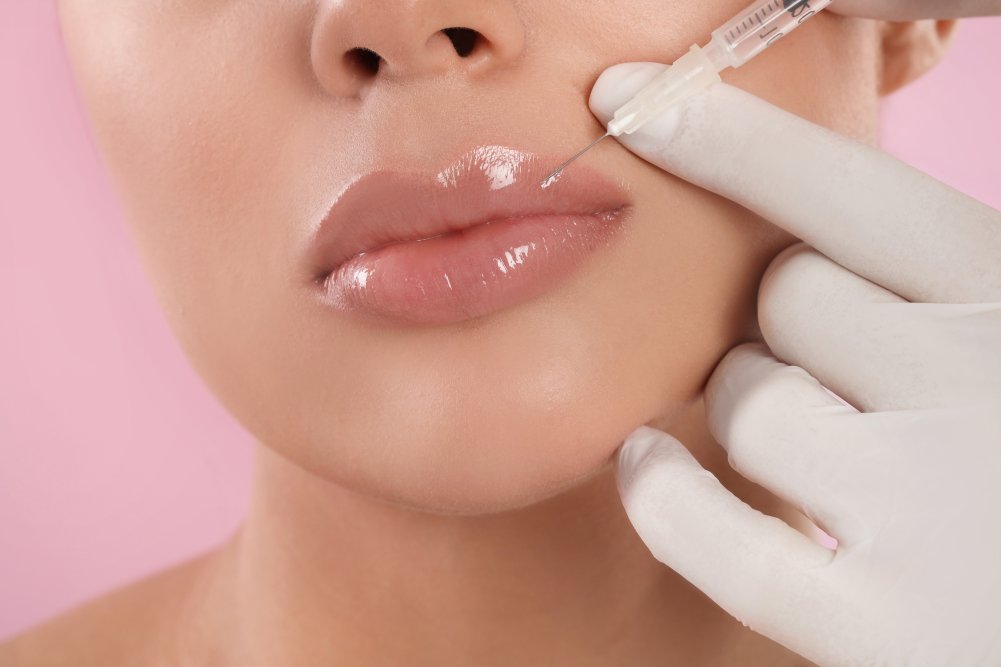 Cosmetic Injections
The use of cosmetic injectables like Botox and lip fillers enhances the appearance of certain parts of the face. These treatments are a popular and effective method of removing wrinkles and adding volume, resulting in bigger lips, plumper cheeks, and softer brow furrows. And they require minimal downtime when recovering.
Safe and easy to use, hyaluronic acid lip fillers are ideal. The most popular injectables containing hyaluronic acid are Juvederm and Restylane since they are reversible.
A medical professional will examine your lips and general facial balance before administering the injection. After that, they'll determine which parts need plumping and enhancing.
If you plan on getting this treatment to get bigger lips, you can check out Find My Cosmetic Injector to find a reliable, board-certified surgeon.
Final Thoughts
There are many ways to get bigger lips—whether they are surgical or non-surgical. While some people choose to undergo surgery, others may opt for less invasive methods, such as using lip plumpers or collagen injections.
If you were born with thin lips but wish they were fuller, the tips above will help you plump them up, give yourself a youthful look, and boost confidence.
To learn more about lip enhancement treatments and to find out which surgical options are right for you, consult with a board-certified plastic surgeon.
Any method you choose, research it thoroughly and consult with a professional before starting the treatment.