Massage, therapy, and music as stress-relieving methods can only take you so far. One way for hair growth that's still effective today is using essential oils.
When shopping for essential oils, it's easy to get overwhelmed: 500-some oils available, each with their own claims, hype, and price tag!
However, with these essential oils for hair growth and thickness, you can ensure that your scalp and hair are in good hands.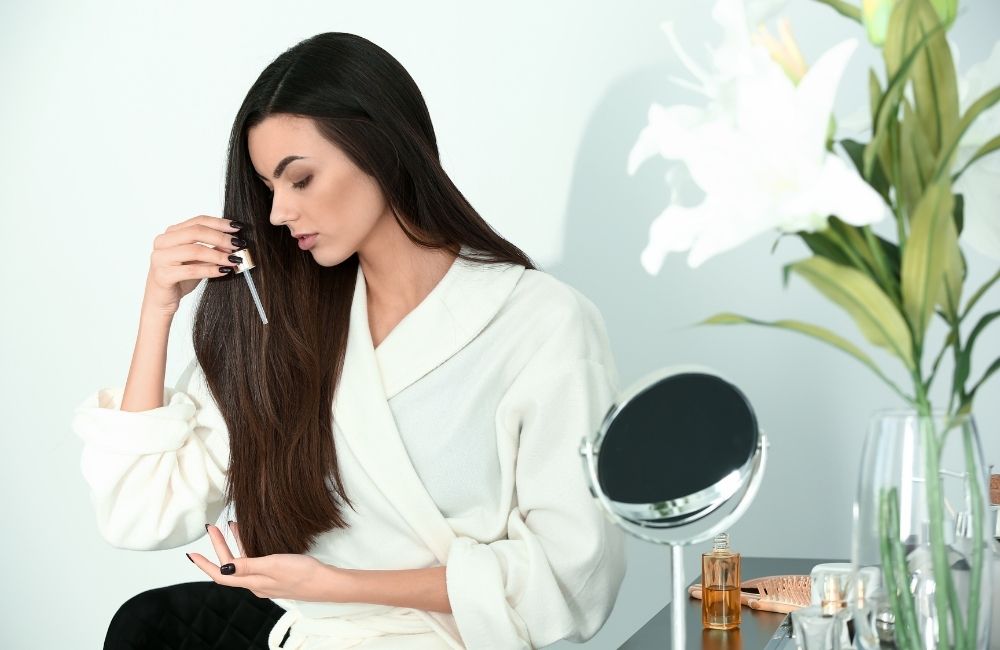 #1 Rosemary essential oil
You can achieve a lustrous sheen and thicken your hair with Rosemary essential oil without paying high salon prices.
A study published in Skinmed found that those with alopecia areata (baldness caused by genetic factors) were significantly more likely to regrow their hair after receiving rosemary oil treatment.
This oil helps stimulate hair growth, promotes hair thickness, and reduces hair loss. You'll also love the smell – it's fresh and relaxing.
How to use it?
Massage a few drops of the essential oil into your scalp for 10-15 minutes.
Alternatively, mix the oil into your shampoo and conditioner and wash your hair for incredible shine and a feeling of well-being.
DIY recipe
Rub a small dab of rosemary oil into the hair. Leave the mixture on the hair for as long as you desire.
You can also mix rosemary oil with aloe vera gel and aloe vera juice which can be applied to the hair and left on overnight or for a few hours.
If you feel rosemary is too strong on its own, try adding coconut or jojoba oil as a carrier oil.
#2 Lavender essential oil
Thanks to its lovely fragrance, a whiff of this oil can help us overcome our Monday blues!
Lavender essential oil fosters hair growth by strengthening hair follicles and reversing hair loss that has already begun.
One of the best essential oils for hair growth and thickness, it contains compounds like linalool, linalyl acetate, and linalyl alcohol that improve circulation by acting together.
With better circulation to the hair follicles, nutrients can flow more effectively through the scalp and hair follicles. This also means the follicles receive more oxygen, strengthening them to prevent hair loss in the future.
Soothing lavender oil does more than just stimulate hair growth: it can also remove dandruff and itchiness.
How to use it?
Blend this oil with your favorite shampoo and conditioner and massage it into your hair. If you do not like mixing oils, you can lightly massage some drops into the scalp.
Whether you want to wash it off or leave it on, both options work well.
DIY recipe
Combine 3 drops of lavender oil with any carrier oil, such as warm coconut or jojoba oil.
Allow the mixture to infuse completely before sealing.
To restore hair strength, you can also combine this with clary sage essential oil.
Rub it on your scalp for 15 minutes before shampooing it off.
#3 Cedarwood oil
Having antiseptic and anti-inflammatory properties, cedarwood essential oil encourages hair growth.
Cedrol, a natural astringent in this hair-boosting essential oil, reduces scalp and hair oiliness. As a result, when our scalps are not overly greasy, hair follicles have more room to thrive. So, it can potentially inhibit oil secretion and reduce hair loss.
Arch Dermatol did a study on 86 patients with alopecia areata. In the test group, four essential oils, including cedarwood oil, were massaged daily, while plain carrier oils were rubbed in the control group.
44% of patients in the test group saw their hair growth improve, compared with the control group, which only had a 15% improvement.
The study found that essential oil hair treatments offered almost 3x better results than plain hair oils.
How to use it?
Use it as a hair mask or mix it with your shampoo. A trick to benefit most from this essential oil is to wrap a hot towel around the oiled hair and let it sit for 30 minutes because the heat speeds up the process.
DIY recipe
Combine 4 tablespoons of cedarwood oil with half a tablespoon of jojoba tree oil and 2 cups of olive oil.
Mix the mixture and apply it to your scalp for at least 45 minutes.
Rinse it out with shampoo.
This blend will encourage thick hair regrowth and thickness.
#4 Lemongrass oil
Known as a good staple in Thai countries, this citrusy essential oil is a hair care essential.
With anti-inflammatory properties, it can help reduce scalp inflammation and promote hair restoration. Balancing the pH of your scalp, it prevents itching.
Additionally, it minimizes dandruff, relieves stress, and boosts hair growth by slowing down hair loss.
Antibacterial at its core, lemongrass oil prevents psoriasis and eczema. You can grow your hair best when your scalp is free of dirt and pollutants.
How to use it?
Spritz a few drops of the oil onto your fingertips and massage it well into your scalp. Use it as a scalp mask between your showers, let it sit for about two minutes, and wash it off with regular shampoo.
Lemongrass oil makes hair shiny and helps reduce dandruff, which is why it works. Growing hair has never been so straightforward.
DIY recipe
Mix 2 tablespoons of lemongrass oil with 2 tablespoons of coconut oil and 2 tablespoons of apple cider vinegar.
Rinse your hair with your regular shampoo first, and then dip your fingertips into the mixture and rub it into your roots.
Leave on for about 20 minutes.
After letting it soak into your scalp, massage it toward the ends of your hair before heading to bed.
Wash off in the morning for fresh, good-smelling, and healthy hair.
#5 Clary Sage oil
The next best essential oil for hair growth and thickness is clary sage, which has a divine scent and instantly lifts your spirits.
Studies have shown that this oil boosts hair growth and relieves stress. Because it's calming to the nervous system, it's great for hair loss from stress, bad diet, medicines, etc.
Clary sage oil promotes scalp health, strengthens roots, and even treats dandruff due to its potent antifungal, antibacterial, and anti-inflammatory qualities.
How to use it?
Apply the oil directly to the scalp. Also, you can add it to shampoos or other hair products to get the same results.
DIY recipe
Mix 4 drops of clary sage oil with 3 tablespoons of castor oil in a small bowl.
Put the bowl with the mixture in a bowl of hot water. It gently warms the hot oil treatment without losing its power.
Massage it with your fingertips, starting at the scalp and working down to the ends.
Put a warm, wet towel over your head and let it do its magic.
Wait 30 minutes, then rinse off using a mild shampoo.
#6 Onion essential oil
The sulfur compounds in onion oil act as a natural fungicide, improving hair strength, shine, and health. Additionally, it can clear up any scalp infections associated with dandruff.
Using the potent oil effectively gets rid of head lice and hair lice.
Onion oil is a powerful remedy for hair growth as it prevents hair loss and premature graying of hair.
How to use it?
We usually disregard this oil because it smells bad or feels sticky, but lavender oil can help smooth out the texture.
You can use onion oil alone or other oils, like rosemary or lavender.
Also, you can put a few drops of onion oil in your shampoo or conditioner.
If you don't like the messy process, buy yourself an onion hair mask.
DIY recipe
Mix 2 tablespoons of coconut oil and 3 drops of onion oil.
Gently massage these into clean hair.
Soak the hair for 30 minutes before washing.
#7 Pumpkin Seed oil
The oil from pumpkin seeds contains linoleic acid, a fatty acid that moisturizes the hair and scalp. It contains beta-carotene and Vitamin A, essential nutrients for healthy hair growth.
Additionally, pumpkin seed oil contains zinc, copper, magnesium, and a vast array of vitamins and nutrients.
Healthy hair follicles require zinc, and a healthy scalp needs copper. Magnesium stimulates the hair growth cycle and retains moisture in the scalp.
How to use it?
Use the oil whenever you want glossy, moisturized hair. Besides, the pumpkin seed oil is compatible with henna and ayurvedic hair oils. Alternatively, you can take pumpkin seed oil supplements or put pumpkin seeds in your diet.
DIY recipe
Mix castor oil, coconut oil, and pumpkin seed oil together.
You can mix 1 tablespoon of rose water with 1 tablespoon of pumpkin seed essential oil and use it as a hair loss fighting mask.
Spray it on damp hair for best results.
#8 Bergamot essential oil
Bergamot oil is one of the most revered essential oils for hair growth and thickness throughout the centuries.
The oil contains substances like citronellal and bergapten, which promote blood circulation in the scalp to prevent dryness. Through this, hair follicles will be able to produce thicker, stronger hair.
Further, because of its antimicrobial activity, bergamot oil helps balance sebum production, improving hair quality.
If you are experiencing hair loss due to hormonal imbalances, this oil can help you repair it.
How to use it?
Those with thinning hair or balding can easily restore hair health with a few drops of bergamot oil in shampoo or conditioner.
DIY recipe
Take a tablespoon of bergamot oil and mix it with two teaspoons of olive oil.
Apply this mix to your scalp.
Follow this routine three times a week for 30 minutes at a time.
#9 Geranium oil
Keratin, a protein that helps strengthen roots, is abundant in this oil, which increases hair production in the process.
Geranium oil is also a natural antioxidant that protects the scalp from free radicals, premature graying, and other environmental toxins.
Moreover, it nourishes your hair, making it look glossy and smell great.
Those with oily scalps may find geranium essential oil helps balance sebum and support healthy hair growth.
Geranium oil is best for all hair types, although high porosity hair might prefer rosemary, lavender, or geranium oil.
How to use it?
You can safely use the oil alone or mix it with other essential oils. Geranium is also a common ingredient in hair masks, serums, and shampoos.
DIY recipe
Geranium oil blends with a wide array of oils such as cedarwood, lavender, rosemary, and bergamot—mix a few drops of it with any essential oil of your choice and massage it into your locks. Let it sit overnight before shampooing in the morning to restore and revive tresses.
If you don't have essential oil, you can heat the geranium petals with olive or lavender oil. The extra dose of unique scent increases the potency of the formula.
#10 Ginger oil
The regenerative properties of ginger oil stimulate blood flow to the hair follicles. This way, hair follicles retain moisture, which facilitates hair growth.
Additionally, the oil has anti-inflammatory properties that can help with dandruff.
Ginger oil may not be clinically proven to benefit hair growth, but it acts as an anti-inflammatory to soothe an irritated scalp, creating a favorable environment for hair growth.
While ginger oil has proven to be effective in combating hair loss, others have not reported success with it. Test it out with small amounts for a few weeks and see if it helps your hair grow.
How to use it?
Put it on your scalp, massage it into your hair, or add it to a hair care product.
DIY recipe
Mix a few drops of ginger oil with two tablespoons of sweet almond or coconut oil.
Leave the mixture on your hair for 15 minutes before washing.
Shampoo as usual.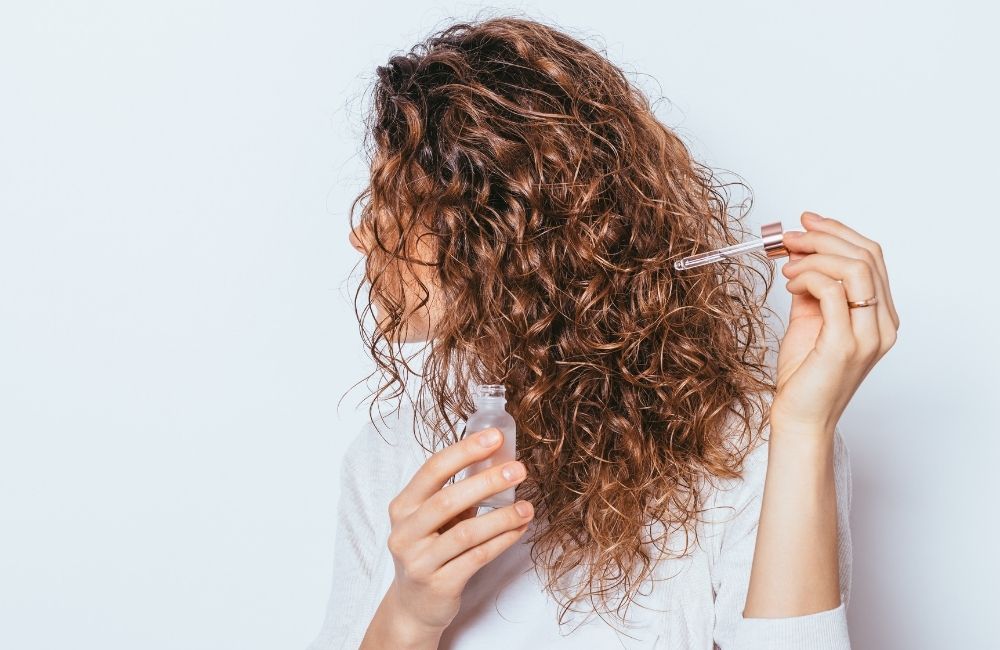 Ways to Use These Essential Oils for Hair Growth and Thickness
Many people use essential oils for their healing properties. In fact, there is now evidence that they can also promote hair growth and thickness. Use these oils in the following ways:
Add a few drops of oil to your shampoo, conditioner, or hair treatment product.
Massage a few drops of oil into your scalp before bed. After letting the oil sit overnight, shampoo and condition, as usual, the next morning.
Add a few drops of oil to your favorite carrier oil and use it as a scalp massage treatment. You may want to warm the carrier oil first to help the essential oils penetrate. Make sure the carrier oils you use are quality ones.
Before using an essential oil directly on your skin or mixing it with a carrier oil, always perform a small patch test on the inner elbow. After a day, if no reaction occurs, you can enjoy the richness of the oil and its stimulating effects.
Rarely, even diluted essential oils can cause allergic reactions. If you experience itchiness, swelling, and irritation, wash the area gently with a mild cleanser and water.
Ideally, you should apply hair growth essential oils before bed. This way, you won't be exposed to the sun right after use.
To be safe, expecting and nursing moms should avoid essential oils until they consult their doctors.
What are the best career oils to mix with essential oils?
Castor oil for regrowth and strength
Coconut oil for shine and softness
Jojoba oil for added nutrients and moisture
Hemp oil for thickness
Olive oil for repairing and restoration
Baobab oil for sun protection
Argan oil for nourishment and moisture
Sweet almond oil soothes the scalp
Grapeseed oil for calming inflammation
Flaxseed oil for tamed hair
Sesame oil for healing
Sunflower oil for repairing breakage and dandruff
Avocado oil for locking in moisture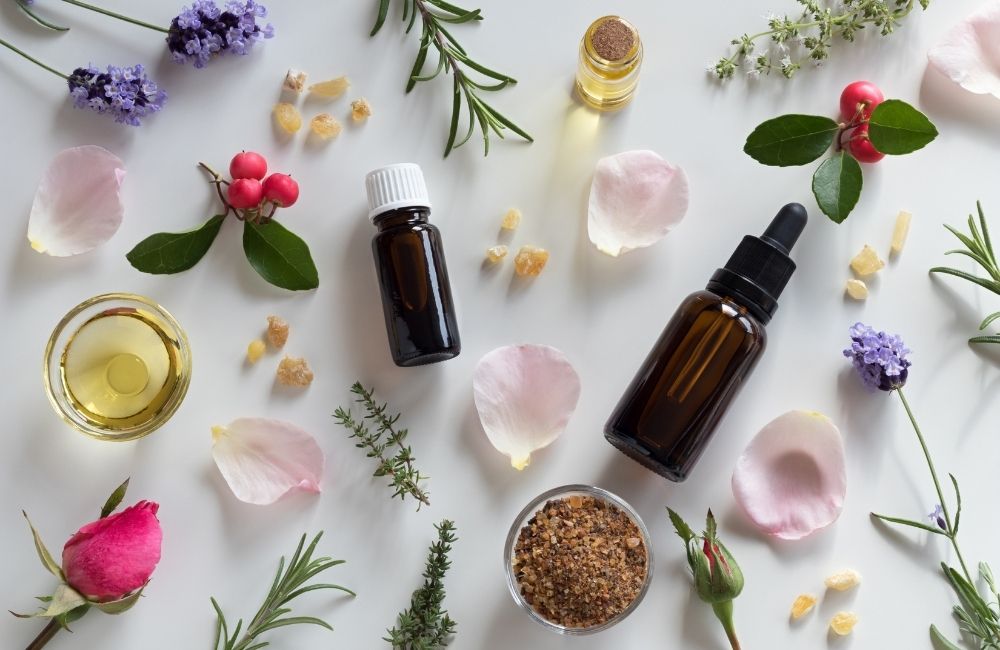 How to Mix Essential Oils for Hair Growth and Thickness
Many people swear by essential oils for natural hair growth. They smell great and have lots of benefits for hair and scalp. Here's how to mix your essential oils properly for hair growth:
First, choose two or three essential oils. Some good options include rosemary oil, lavender oil, and peppermint oil.
Next, mix equal parts of each oil in a small glass bottle or vial. Shake well before each use.
To use, apply a few drops of the mixture directly to your scalp and massage in circular motions. Don't get the oil near your eyes or other sensitive areas.
Don't store it for more than a week, or the oil will go rancid.
The takeaway
As your hair undergoes a lot of abuse and stress regularly, one of the greatest gifts you can give yourself is to help it grow.
Taking care of your hair is half the battle: great hair looks impressive, and it's easy to style. This is where these hair growth stimulating essential oils come to the rescue.
There we go with the best essential oils for hair growth and thickness that actually work!
When you know what essential oil to use for hair growth, you will notice results as soon as you apply them regularly.
The best essential oil for hair growth will not necessarily be the first essential oil you try, so try several until you find one that works for you.