In the ever-evolving jewelry industry, it's always exciting to see what exciting earring designs will be seen in the future.
Next year is only a few days away, and with the world of fashion changing so quickly, it's no wonder that jewelry designers are already looking to the future for inspiration.
Let's look at some of the earring trends we expect to see this year. From unique pearl studs and gold hoop earrings to gold fringe layouts, we will explore the different earring styles that will be taking center stage.
We will also examine the materials, designs, and colors that make up these trends, helping you stay ahead of the game when it comes to choosing the perfect earrings.
So, if you're looking to brush up on your jewelry knowledge, don't miss this one.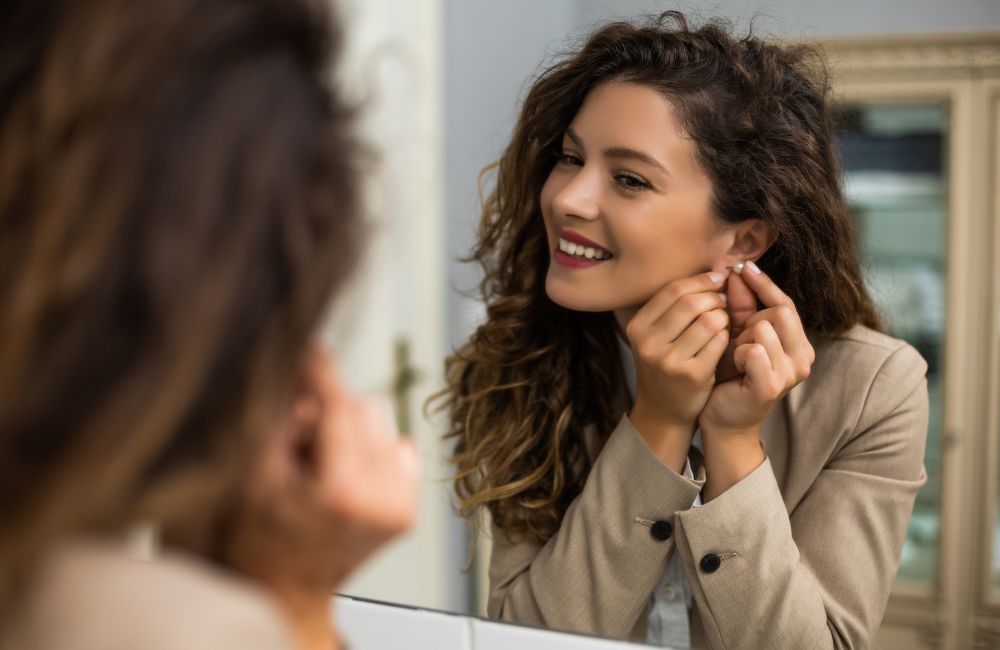 #1 Druzy Studs
Here is the first stake. Coming at an inexpensive price, it is a magnificent contribution to your collection of jewelry. Compared to diamonds, this version of quartz and agate isn't less versatile. You will be amazed at how colorful and sparkling one stone is. Thanks to the natural characteristics of the gemstone, each and every layout will be unique and attract your attention to little crystals on the earlobe, embedded in gold or silver.
#2 Chain Link Drop Designs
The pendant necklace and link bracelet are a great match. You will be able to create your own ensemble based on the detailed online photos and come up with no less marvelous results than if you were shopping in your local store. These distinctive earrings are great in pure gold or silver. If you would like to add more elegance to your image with such a statement, consider pieces that are additionally decorated with gems like cubic zirconia stones — buy the right style at the best prices.
#3 Huggies
There is no reason to expect fashion trends will leave classic solutions behind. A lovely pair of Huggies earrings is a nice and fast touch to any outfit, which makes it more stylish and casual-looking. Contrary to something like chandelier designs, this option is a perfect match to wear almost every day.
#4 Threader Earrings
For those who opt for charming elegance and stay within the budget at the same time, this is the best opportunity. These earrings are super easy to put on. Considering their lightweight nature, you won't feel them and will enjoy your day with sparkling earrings on. Designs with gemstones are certainly ahead of the pack. Don't hesitate to choose something more extraordinary than diamonds. For instance, lavender quartz and colorful cubic zirconia stones will be great design-diversifying tools.
#5 Crescent Moon Drop Pieces
Last but not least important, this pattern will surely catch your eye. Although some people are reminded of cheap solutions made of non-precious metals, their more gorgeous alternatives make a huge difference. Both tender and delicate, they are a wow for any image.
How to Choose the Right Earrings
Earrings make any outfit come alive. But choosing the right pair can be tricky.
First, think about the type of earrings you're interested in. Are you looking for studs or drops? Do you want hoops or dangles? How big do you want your earrings?
Next, consider the occasion. Are you going to an event where you'll want to dress up a bit, or are you going to a more casual outing? Will you be wearing your earrings for hours at a time or just for a few minutes? Considering these factors will help you pick the right earrings.
Finally, think about your budget. Earrings can be expensive, so it's important to find a pair that you'll love and that fits your budget. If you are looking for a great pair at a good price, feel free to try them on a few times before making a decision.
Final thoughts
This list of earring trends isn't complete, and you are welcome to add new and amazing designs of gold and silver earrings literally endlessly. What you need to remember, though, is the right choice of jewelry assortment will definitely be a smart move.