The Internet is full of products that promise to reduce hair fall and increase hair growth. Dermarollers are one of them.
But, what's the point of a dermaroller? Perhaps you've read some of the reviews online about derma rollers, but are they truly effective at treating hair loss?
Do the benefits only apply to hair growth? Your questions might need answers, which is why we are here.
Do derma rollers work for hair loss? Let's discover if they're worth it!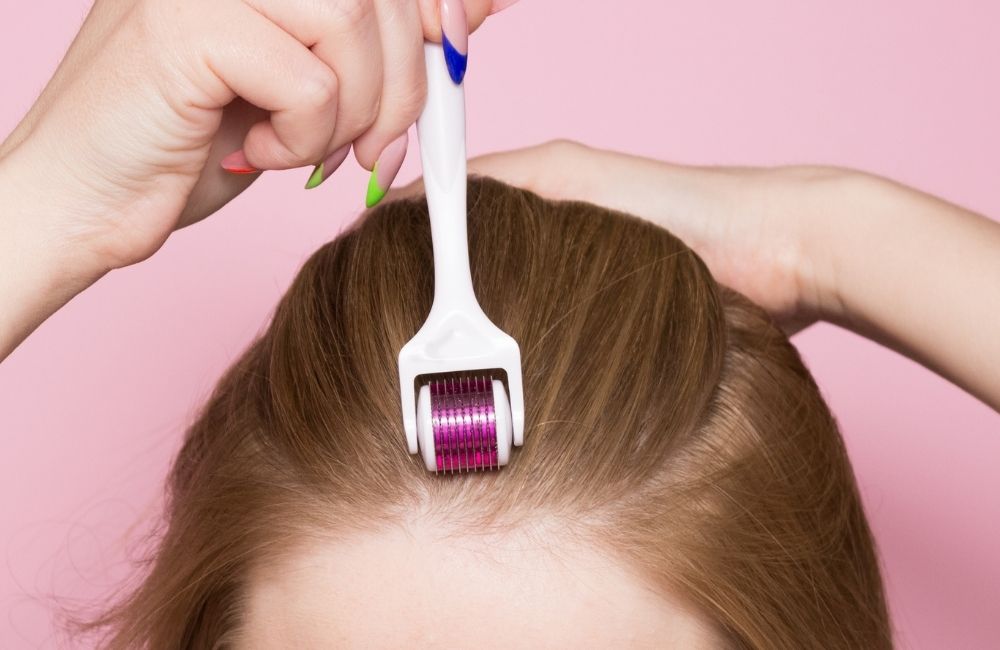 What is a dermaroller?
With its quite satisfying results, microneedling is a fairly new trend that is gaining popularity in the long run.
The dermaroller is a device with tiny, sharp microneedles on the roller on top, which are rolled on the skin to perform microneedling.
The needles may vary in size depending on the product, but their primary purpose is to facilitate healthy hair growth by rolling on the scalp.
The main purpose of dermarollers is to stimulate hair growth and target hair loss, and they do this by stimulating your scalp via tiny pin pricks.
Using dermarollers for scalp microneedling facilitates healthy hair growth by penetrating the sebaceous follicle.
Anyone can use it, and it is available in many different sizes depending on the brand.
A number of products and devices are available that help to promote healthy hair growth, but dermarollers give the best results on your scalp.
Benefits of Dermaroller for Hair
You can benefit from using a dermaroller on your hair in many ways:
There may not be the same benefits for everyone, but the above-mentioned are the most commonly observed ones after using a dermaroller for hair loss.
Do Dermarollers Really Work for Hair Loss?
A dermaroller's main function is to stimulate the scalp, which can increase the rate at which hair grows.
Combining this treatment with other treatments can stimulate hair growth, improve skin health, and make your hair look thicker.
Dermaroller treatment for hair loss offers more than just accelerated hair growth — it protects existing hair while stimulating the growth of new hair follicles, producing thicker, healthier hair that appears fuller.
You can either use scalp rollers as a stand-alone treatment to grow hair or you can combine them with other treatments like Minoxidil to maximize results.
Research shows that using the dermaroller frequently in conjunction with a quality serum, cream, or laser treatment can stimulate hair follicles that are weak or dormant.
The short answer is yes, derma rollers are effective for hair loss.
How Does a Derma Roller Work for Hair Loss?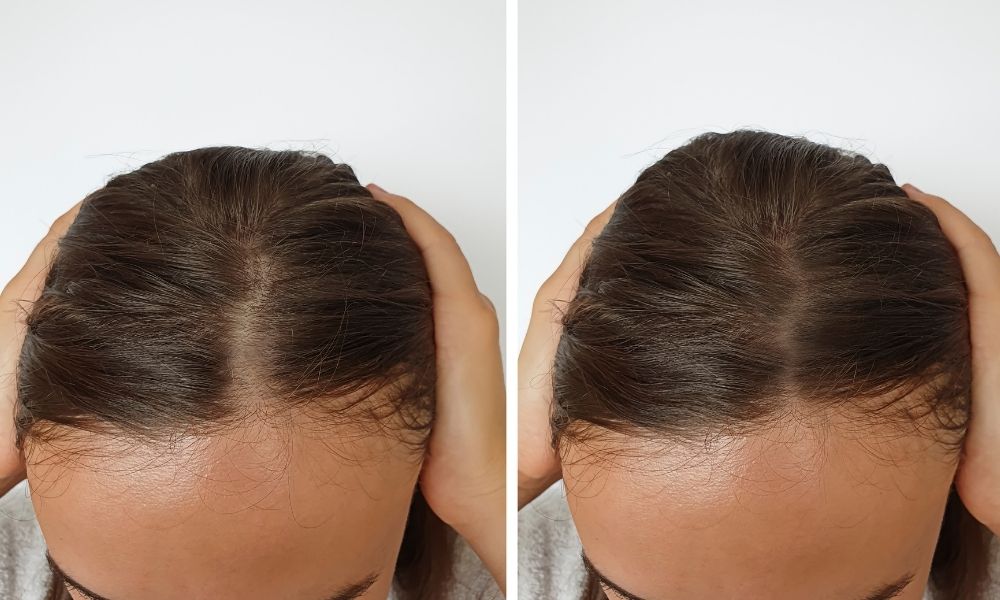 By creating micro punctures in the scalp's dermis, the dermaroller stimulates blood circulation.
Through the top layer of the epidermis, the dermaroller penetrates the skin and reaches the hair follicle. As a result, the skin produces more collagen, which helps grow new hair.
Having the rollers penetrate the skin up to 0.25 to 1 mm allows them to treat areas of the scalp up to 0.25 to 1 mm from the hair follicles. The openings in the scalp enable the body to nourish the hair and encourage it to grow.
With the help of a scalp roller for hair growth, you can improve your hair loss treatment or reduce its severity.
Are they safe to use?
Dermarolling for hair loss is not something to be terrified of if it's done appropriately and the right way.
If you follow the process correctly, the process should be gentle and cause only a slight tugging or pulling of the hair when you roll the areas of your problem.
Here are some tips to keep in mind:
Dermarolling shouldn't be performed on sensitive or irritated skin, thin skin as well as when using hair extensions.
Following dermarolling, you may achieve better results when applying a serum to your scalp.
The use of oil after dermarolling can also improve results. Make sure you let that seep in long enough to soak in properly.
Don't do it more than three or four times per week.
The Ideal Dermaroller Needle Size for Hair Growth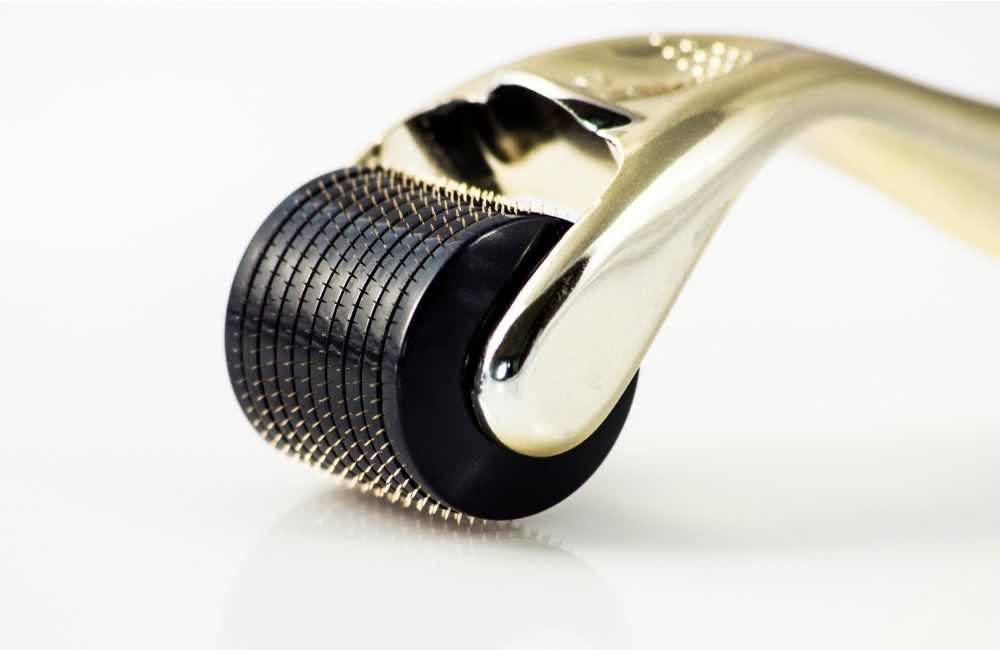 The ideal derma roller size for hair regrowth depends entirely on the level of experience you have with the tool.
The first time you use a dermaroller, it might be safer to use a 0.25 mm needle size if your skin has never experienced any of this before.
When using Minoxidil or any other hair treatment/serum, use 0.2mm to 0.5mm to maximize its absorption.
You can gradually increase the size of the needle up to about 1.5 mm after you get used to these small punctures.
You should always aim for a needle size between .25 mm and 1.5 mm, but the size is entirely up to your scalp needs.
How often to dermaroll scalp?
Some of the people who have been using a Dermaroller have reported an increased hair growth rate of 4-5 inches in just a few months of using the device.
0.2mm or 0.3mm needles are useful with minoxidil/hair loss treatment every other day or every day (start by using every other day, then every day if there are no side effects).
0.5mm needles are suitable for use with or without minoxidil/hair loss treatments 2-3 times a week.
1.0mm needles used without minoxidil are recommended for use once a week to once every two weeks.
Within a few months, dermarolling will restore your hair to the way it looked a few years ago, and some women see improvements even after a year.
Don't overuse either, so start slowly and try to gradually reduce your usage as you see improvements, so you don't end up hurting your scalp more than you need to.
Tips for Buying the Perfect Dermaroller
Using Dermarollers for hair care is a great idea because they provide a way to manage, shape, and sculpt your hair.
We're here to help you choose the best dermaroller for your scalp.
Look at the material of the needles. When the needles are designed to combat hair loss, dermarollers are effective hair treatment. Titanium alloy microneedles are the most effective. These needles penetrate just deep enough in the scalp to prevent hair loss.
If you are a beginner make sure you start with the smallest needle size that is available, and then slowly work your way up.
A curved-handed dermaroller is best. With its curved shape, your derma roller is easier to grip and will let you use it properly. Apply the correct amount of pressure so you don't damage your scalp.
If you have ever had dermarolling done for your hair in an office, then compare the results when you try it on your own and decide whether to stick with that option or change it.
Use other hair loss treatments in conjunction with dermarollers if you want more effective and faster results.
If you have long hair and plan on using a dermaroller for thin hair, consider using a derma stamp instead of a derma roller. Unlike a derma roller, a derma stamp is not likely to snag in long hair. Derma stamps do, however, take more time to use compared to derma rollers, so it is important that you completely stamp each section of the scalp before moving on to the next one.
Check out our guide on the best dermarollers for hair loss.
How much does a dermaroller cost?
On average, the price of an at-home derma roller ranges from $15 to $250. Add-on treatments for hair loss, such as serums, can increase the cost.
The price may seem high for such a small device, but the good news is that it will last you for many years once you buy it.
Can I do DIY at home?
Using a dermaroller can be done at home or even while sitting at your desk.
Simple to use, even beginners can operate the device.
If you decide to go ahead with this procedure yourself, you should always consult your doctor or a dermatologist before proceeding.
When you are a rookie, you may make mistakes, so it is essential to get a reputable product.
As far as serums and creams go, you should be cautious when selecting them, as some might irritate your scalp.
Be sure to clean and sanitize your dermaroller whenever you use it at home. Because it penetrates your skin, you should be responsible for keeping it clean and free of dirt.
How to Use a Dermaroller for Hair Loss
Step 1: Soak your tool in an alcohol solution to disinfect it.
Step 2: Put the derma roller over the area of your scalp where you want to treat hair loss, thinning, or breakage.
Step 3: Over the target areas, roll the device in three directions: horizontally, vertically, and diagonally. Make sure you cover all areas properly.
Typically, derma rollers are combined with essential oils, topical solutions, and hair oils to achieve maximum benefits. The procedure may result in a slight tingling sensation, which is normal. Nevertheless, if you use this device harshly and damage your scalp, see a doctor.
Side Effects of Dermaroller for Hair
These are some of the possible side effects of using a Dermaroller on your hair:
Redness
Rash
Pain
Dryness
Tingling sensation
These side effects are, for the most part, harmless. If they get worse, however, see a dermatologist.
Final Thoughts
We hope that this has answered your question – do derma rollers work for hair loss?
Dermarollers are an effective solution for hair loss that is less expensive as well, so you have plenty of reasons to try them!
To make sure you are getting the best results from derma rolling for hair loss, make sure you take some time to find out what exactly you need to do.