Hair loss is frustrating, we know. Wouldn't it be wonderful if dermarollers could improve your scalp just as effectively as your skin? Fortunately, they do!
To make your life easier, we will list down some of the best dermarollers for hair loss treatment along with the right derma roller size for hair regrowth.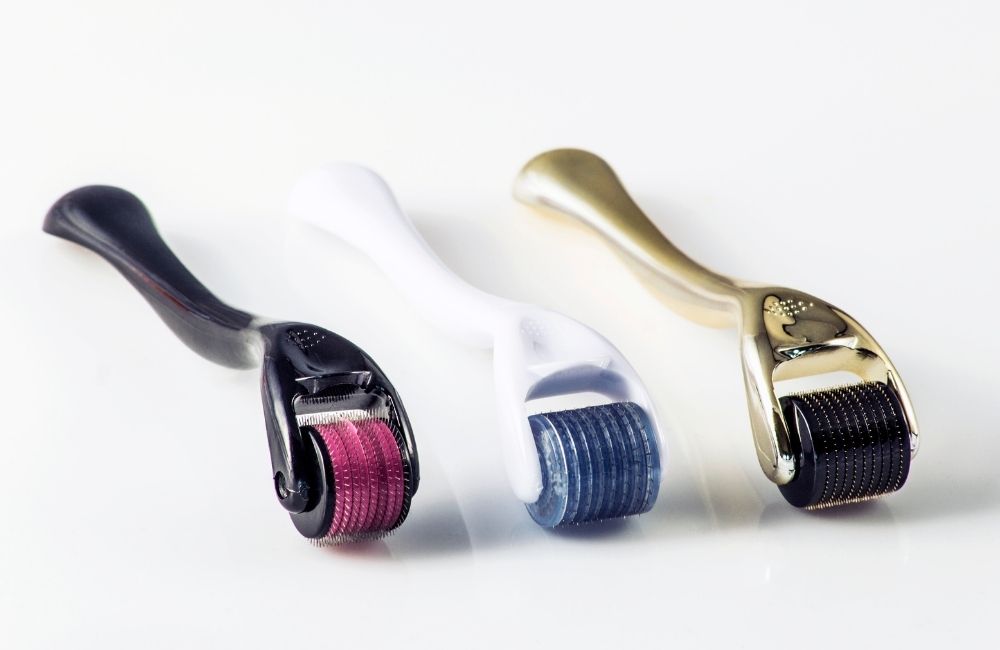 Each of these scalp rollers promotes hair growth, follicular hair production, and ultimately a healthy scalp.
If you want to know more about choosing the best derma roller for hair growth, keep reading.
1. Kiierr Dermaroller MAX Hair Growth Bundle – Best for Hair Thickness and Density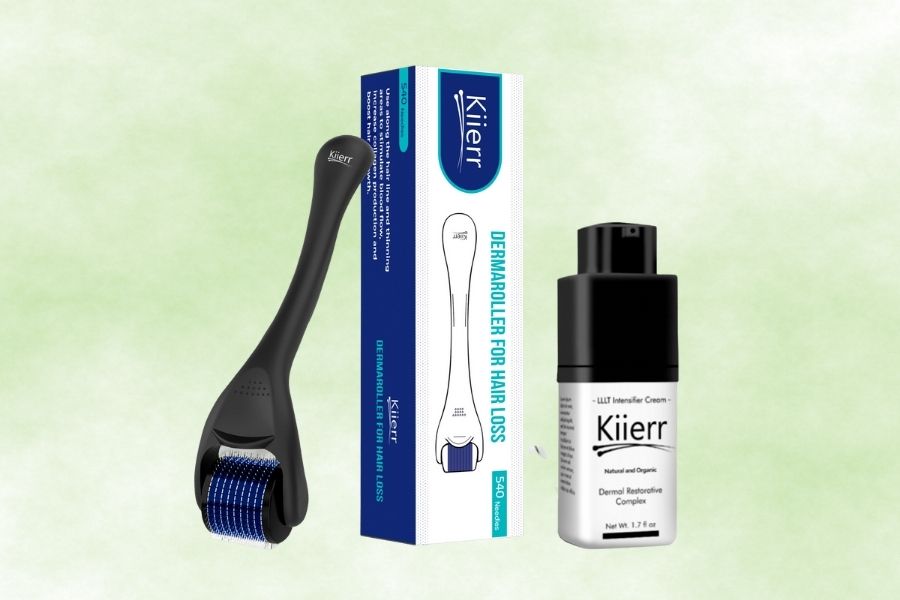 Dermaroller MAX Hair Growth Bundle by Kiierr is a kit for your hair growth that you can carry with you everywhere you go.
Together with the roller, you get a Dermal Restorative Complex Cream that can be used in the morning or at night on your scalp. Besides the use of all-natural ingredients, it is patent-protected, making it totally safe for your scalp.
According to studies, using a Kiierr dermaroller along with topical hair growth solution can result in a 3x increase in hair growth.
Dr. Adam Bodian, an M.D. dermatologist at Great Neck, New York, remarks: "Starting with a healthy scalp will optimize clinical results achieved from stimulatory methods, such as low-level light therapy." Experts recommend the Kiierr Dermaroller for everyone, regardless of their condition.
Combined with LLLT therapy, the product will help to alleviate hair growth issues, such as hair-follicle inflammation or microbial infestation.
This kit is very simple to use; nobody will even know you have used a dermaroller.
Pros
100% drug-free
A proprietary formula to provide healthy skin and follicles
Multi-ingredient formula
Combining the cream with LLLT intensifies the results
Cons
2. Foligain Hair & Scalp Roller – Best for Stimulating Scalp Tissue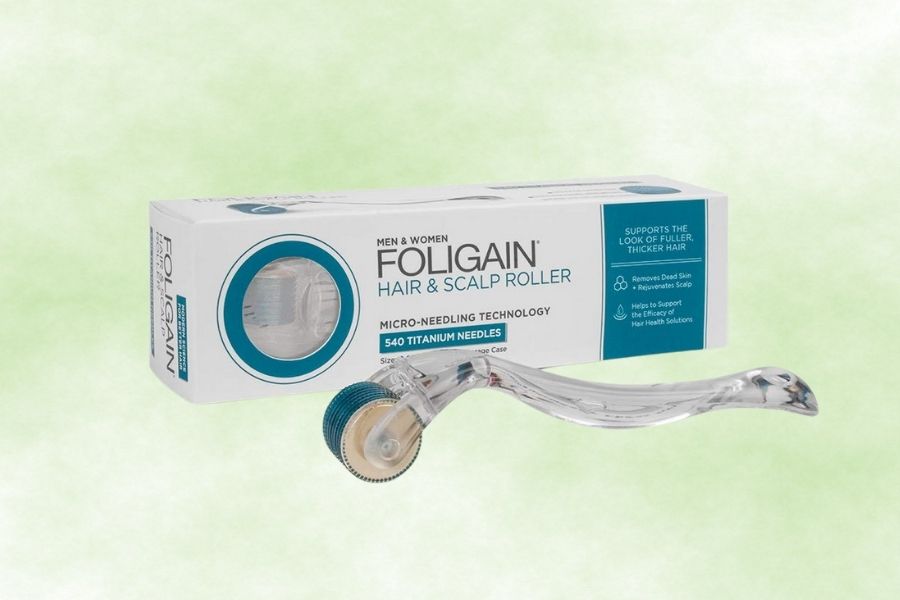 The Foligain scalp micro-needling device is a professional tool that stimulates new growth in the scalp and improves its health.
Since the device's release, millions of professionals, as well as everyday users, have been using it.
Foligain dermaroller comes with titanium needles of 0.25mm, best used for stimulating scalp tissue. With this device, you can feel the needle prick your skin, and you'll also feel it burn a little, but it only lasts for a few seconds.
Foligain Hair & Scalp Roller does not have any side effects.
The treatment stimulates the follicles, allowing your hair to grow at its full potential while protecting against ingrown hairs and hair loss.
When used regularly, it adds volume to the hair and stimulates the scalp. Results are noticeable right away.
Pros
0.25 mm needle for scalp tissue stimulation
Adds volume to hair
Triple action formula for thinning hair
Crossline needle arrangement
Cons
3. Keapure Derma Roller – Best for Maintaining Hair Health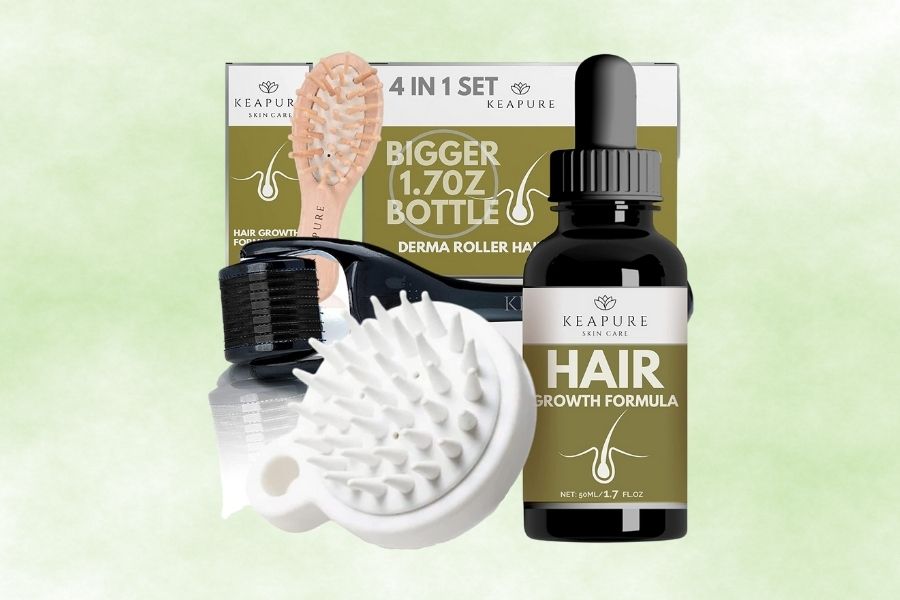 With the Keapure Derma Roller for Hair Growth, many people will never want to miss a derma roller for their scalp.
The dermaroller is made from the most advanced manufacturing technology, resulting in a clean, painless, gentle, and controlled treatment.
Designed specifically for hair growth, this hair roller is made of FDA-approved, medical-grade material that won't irritate the skin.
Along with the dermaroller for hair loss, comes a hair growth serum oil, a shampoo massager scalp brush, and scalp scrubber wood massager.
0.3mm needles rarely hurt and make the scalp absorb serum more quickly. Unlike other hair serums, this one isn't greasy and contains natural ingredients that promote hair growth.
The two scalp brushes stimulate and massage the scalp before and during the shampoo.
After a few weeks, noticeable improvements in frontal alopecia occur, stimulating hair growth in all scalp regions and nourishing the follicles.
As a whole, this kit includes everything for a daily hair growth routine using all-natural ingredients.
Pros
0.3 mm needles that boost hair growth
Stainless steel make
Painless
Two scalp massagers and a serum included
Cons
The size of pins might not be ideal for everyone
4. BeautyBio Scalp Therapy – Best for Improving Receding Hairline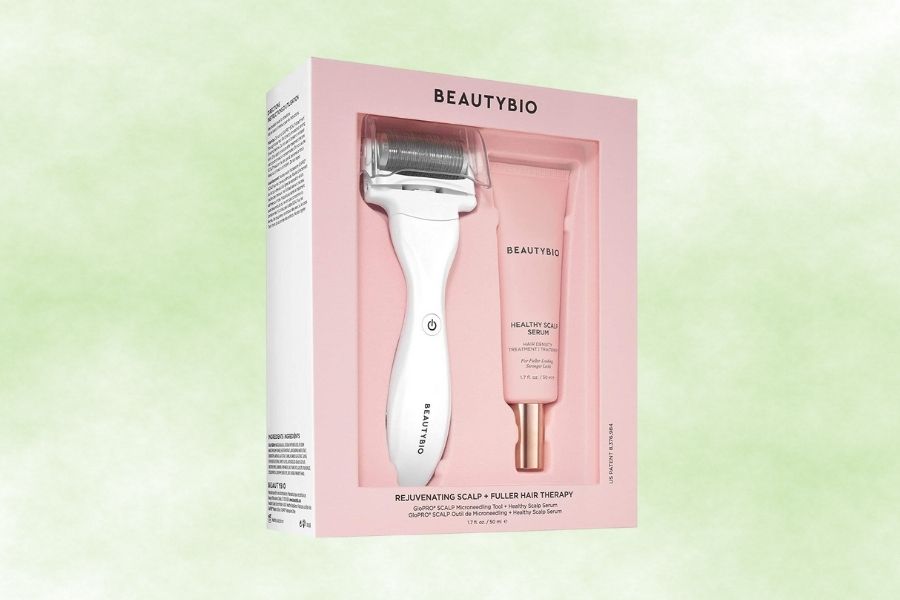 BeautyBio Scalp Therapy's range of products is specifically designed for the purpose of hair care.
This dermaroller for hair loss is made of natural and clinical ingredients, which are clinically proven to help improve the health of your scalp, hair, and skin.
This serum is enriched with 5.5% FolliGRO, loquat leaf, camellia leaf, zinc, rosebay extract, and larch tree extract to enhance hair growth. is clear with no scent. Applying a couple of drops on the areas that you want to treat. Because of the easy application, it sinks into the scalp right away.
After just two weeks of use, the scalp looks clear of build-up with baby hair growing as well as more volume.
The BeautyBio Scalp + Fuller Hair Therapy Set is effective for treating hair damage caused by stress and over-styling, receding hairlines, thinning edges, and patchy hair. In at least three months, you will see that your hair is growing faster.
Pros
Addresses receding hairline
Covers patchiness
Works on colored hair
Serum formulated without harmful additives and preservatives
Cons
The shape might not be apt for all scalp
Pulls hair out if you aren't careful
More expensive than other dermarollers for hair loss
5. Priotone Titanium Needle Roller – Best for Encouraging New Hair Growth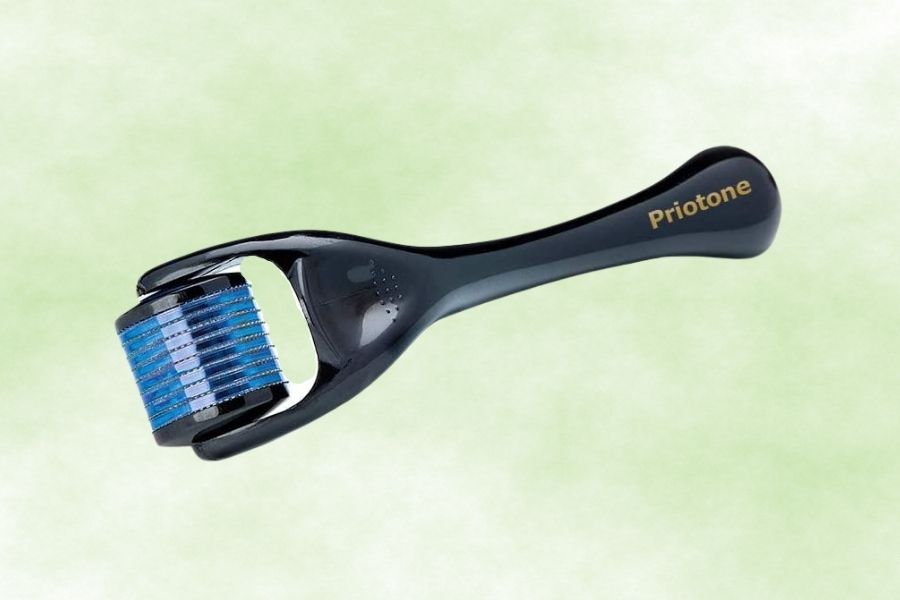 With the use of a suitable needle length, the best materials, and tested ergonomics, the Priotone Titanium roller is specifically designed for home use.
With .25mm needles, the dermaroller can stimulate even dead hair follicles, especially after chemotherapy.
This hair roller has been found to help grow hair in the crown area for someone who has used it in conjunction with Minoxidil. This device is also useful for preventing receding hairlines. Consistently and correctly using it, it helps spur new hair growth.
For those looking for a way to increase their hair growth naturally without spending a lot of money, this dermaroller is a great option.
Pros
.25mm needles
Works great with other hair treatments
Fits both men and women
Works on receding hairline
Cons
Might not work for some cases of hair loss
Do Dermarollers work on hair?
According to the research , it is possible to reduce hair loss, thinning, and breakage by using dermarollers.
The connection between the dermis and hair follicles is well documented, and the dermis is heavily involved in hair development and health.
Whatever you put on your hair or scalp, safety is always a concern.
In the hair care industry, dermarollers have a reputation for being highly effective and specifically designed for scalp use.
If you're experiencing hair loss, or if you want to stop it, it may be worthwhile to investigate your options for hair loss treatments.
While you may find some success with the different treatments and products, you may also find that they don't work.
If you find they don't work, perhaps you'd like to try using the Dermaroller.
How Does Dermaroller Work for Hair Loss?
Dermarollers work by stimulating the scalp. During use, the device pricks the scalp gently to stimulate and promote new hair growth.
Through tiny punctures on the scalp's skin, it activates and regenerates hair cells. As a result, there is more collagen in the scalp, contributing to triggering hair growth. This process is also known as follicle microneedling.
Dermaroller stimulates hair growth by stimulating the hair follicles, but it will not grow new hair.
This technique is safe since it focuses on inducing hair growth in regions where there is hair loss, but the main aim is to stimulate hair growth in areas where hair loss is occurring.
Skin rollers won't cause hair to grow into areas where it wouldn't on its own, and they won't speed up hair loss. Thus, they are effective at stopping hair loss at its earliest stages.
What size dermaroller should I use for hair loss?
Aestheticians recommend a size range between 0.5 and 1.5 mm for your scalp. In terms of hair growth, 0.3 mm is ideal, while .25 mm goes deeper into the scalp for more stimulation. This is what you need if you want to stimulate hair growth.
Having an idea of what size dermaroller to use can be difficult, but this is a good starting point.
How to Use a Dermaroller for Hair Growth?
Make sure your dermaroller is clean by disinfecting it with alcohol. Wipe it dry with a clean cloth.
On a clean and dry scalp, place the derma roller at the edge of where you'd like to target your hair issue.
Slowly roll the device over the area, first horizontally, then vertically, and finally diagonally. The pressure should penetrate the scalp enough to cause a slight tingling or prickling, but not enough to cause pain.
When there is hair in the area, it is best to move in the direction of the hair strands to avoid pulling out hair.
After using the roller, always rinse it in warm soapy water and dunk it in a disinfecting alcohol solution; then, allow the tool to dry.
For hair growth after dermarolling, some people apply serums or oils like peppermint or castor. To increase absorption into the scalp, you can leave the hair oil or serum in overnight.
How often should I use a scalp roller?
Ultimately, it's up to you. Ideally, you should use the dermaroller 2-3 times a week.
However, some of us would be content with just 1-2 sessions per month. If used 2-3 times a week, the device can stimulate hair growth.
Ideally, you should work in a 4-week cycle.
Use the device for two weeks in a row, then take a break and use it for another two weeks in a row.
If you want an effective treatment, you need a good supply of fresh blood flowing through your scalp.
If you use a dermaroller the night before, you will have enough blood in your system the next morning.
Your hair type, as well as the problems you're experiencing, will determine how often you get treatment.
Usually, two treatments are needed per week. When there are hair loss areas, two to three treatments per week are ideal.
How Long Does it Take to See Results?
Depending on the hair issue, it may take between two and six weeks for the dermaroller to produce noticeable results.
Usually, the best results can be seen after around six weeks. Some people, however, are able to benefit fully in three to four months.
Many factors affect how well needles penetrate your skin, including your skin type, rolling technique, and needle thickness.
Ideally, you should try the dermaroller on a small area of skin first before moving to the entire scalp before expecting any major benefits.
Side Effects of Dermarolling Scalp
While using a Dermaroller, you need to be careful to avoid the following side effects:
Scarring and bleeding
Irritation
Scalp swelling and redness
Cuts
Puncture wound
Bruising
An injury to the body
As long as you follow the instructions carefully, you are completely safe.
If you are not confident or experienced about this, you can ask your esthetician for help.
Final Thoughts
The best dermarollers for hair loss not only have quality needles of the right size, but they are also sturdy and fit seamlessly into your budget.
When you receive your device, carefully read the instructions and use it as recommended by the manufacturer.
Moreover, a good dermaroller will only perform at its best if it is well-disinfected, kept clean, and stored properly.
Using rollers plus following a healthy, hair-friendly lifestyle will give you long-term results.