There's something magnetic about a classy woman.
Whether she's in the boardroom or the bedroom, she's a woman with a voice and knows how to stay in the game and come out on top.
Whether it's sharing quotes or giving advice, she always does it with class.
If you're looking for some words of wisdom from some of the most powerful and influential women out there, then check out our collection of the best classy woman quotes and sayings.
From female icons like Oprah and Michelle Obama to modern-day powerhouses like Beyonce and Rihanna, these women know how to make a statement.
So whether you're looking for some inspirational quotes to help you get through a tough day or just seek some wise words from powerful women, these quotes will surely hit the spot.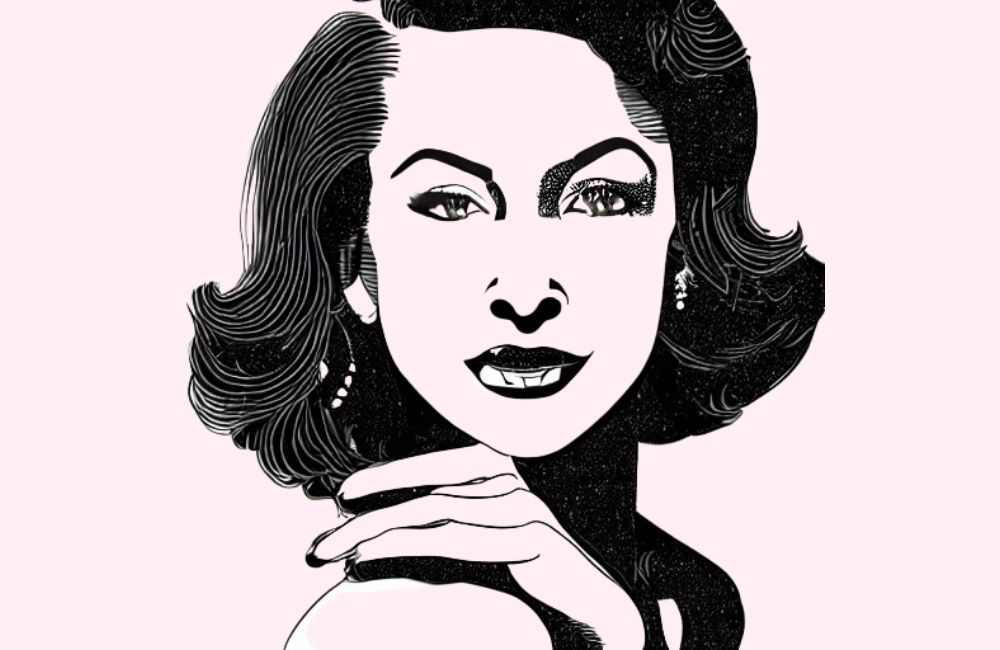 What is a Classy Woman?
A classy woman is one who exudes confidence without being arrogant, who is elegant without being flashy, and who is intelligent without being a know-it-all. A classy lady is someone who is comfortable in her own skin and does not need to put on a show for others. She knows how to have fun and let loose, but she also knows how to be respectful and dignified when the situation calls for it. In short, a classy woman is a complete package – beautiful inside and out.
Characteristics of a Classy Woman
Is it simply the ability to be well-dressed and put together? Though that is certainly a part of it, there is also more to a woman of class than simply being able to check all the labels off a list.
Here are a few things that make a classy person:
Dresses with purpose. Every item in her wardrobe is there for a reason. A stylish and appropriate look is something she knows how to pull off.
Assertive. Voices her opinions without fear. She is articulate and knows how to communicate with others.
Respectful. No matter who they are, she treats them with respect. She knows everyone deserves a fair shot.
A good role model. She sets a good example for others to follow. Those around her appreciate her positive influence.
Confident. She feels comfortable in her own skin. Whatever she sets her mind to, she knows she can achieve.
Short Classy Woman Quotes
1. Women are fabulous, classy, and powerful. We can achieve anything we set our minds to.
2. Elegance is the only beauty that never fades. — Audrey Hepburn
3. A woman is like a tea bag; you never know how strong it is until it's in hot water. —Eleanor Roosevelt.
4. Women are the epitome of elegance and taste. Their hearts are full of intelligence and compassion.
5. It is better to be looked over than overlooked. —Mae West
6. A kind of woman who is strong, beautiful, and amazing is hard to come by.
7. If a man whistles at you, don't respond. You're a lady, not a dog. —Adele
8. Develop enough courage so that you can stand up for yourself and then stand up for somebody else. —Maya Angelou
9. You have to be a woman to know what it's like to be a woman.
10. Perhaps some detours aren't detours at all. Perhaps they are actually the path. —Katherine Wolf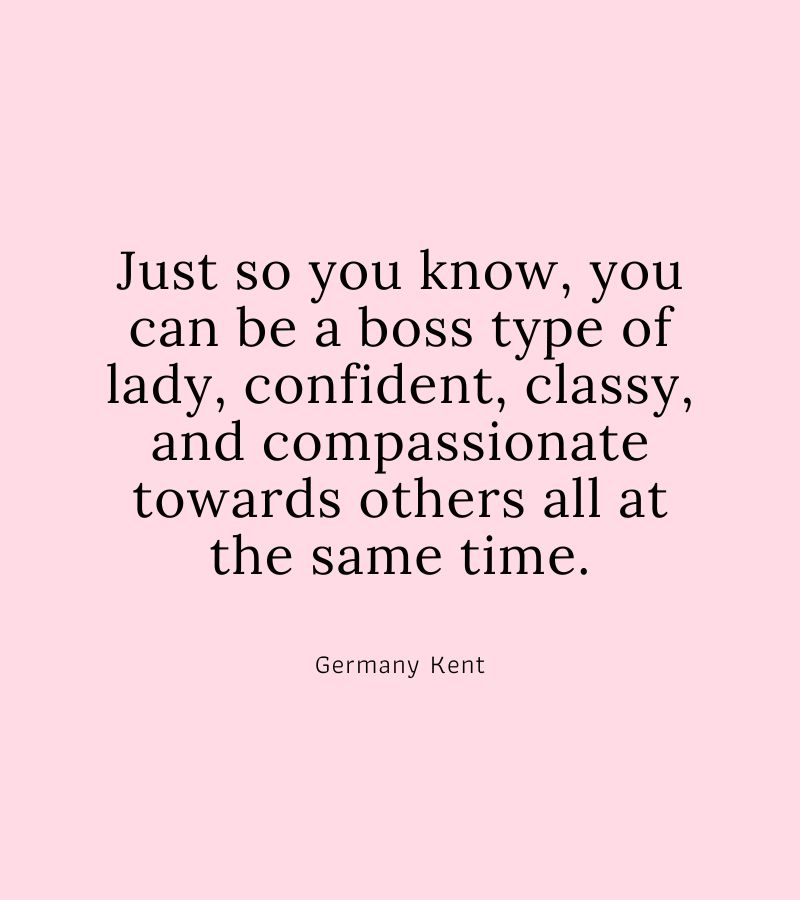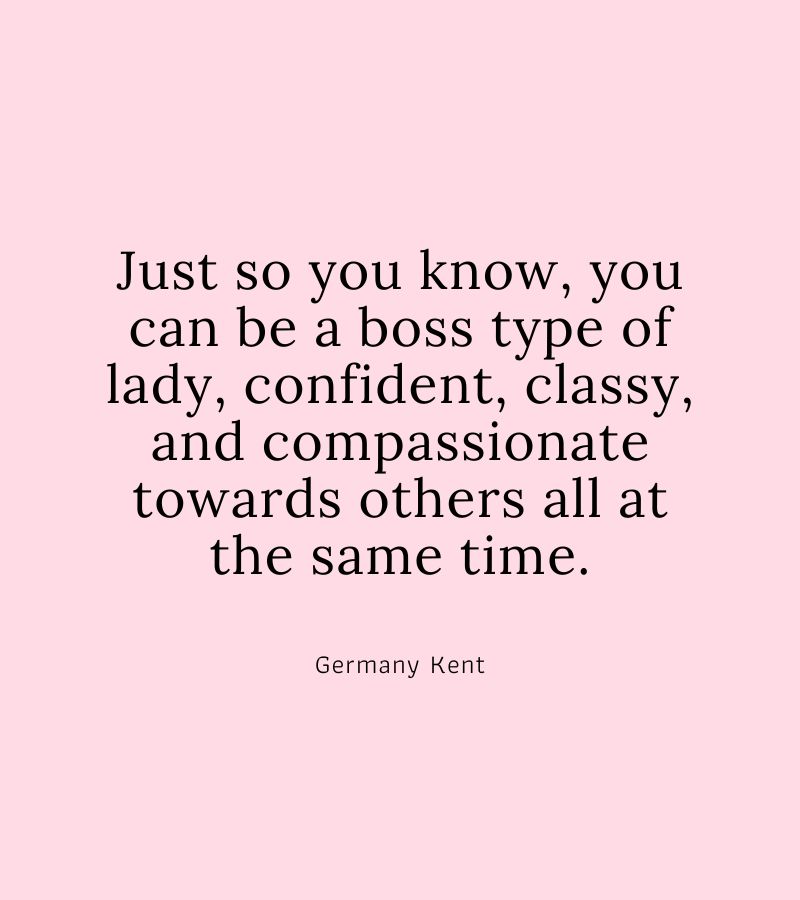 11. She's an old soul with young eyes, a vintage heart, and a beautiful mind. —Nicole Lyons
12. Dignity will only happen when you realize that having someone in your life doesn't validate your worth. —Shannon L. Alder
13. No matter what a woman looks like, if she's confident, she's sexy. —Paris Hilton.
14. I love challenging the status quo. —Sara Ramirez
15. Blessed be she who is both furious and magnificent —Taylor Rhodes (Calloused: a Field Journal)
16. Women who do not enjoy their sensuality seldom have much capacity for enjoyment of any sort. —Lebo Grand
17. I don't believe in putting on airs. I call it like I see it. —Ellen Pompeo
18. Love is not a weak, spineless emotion; it is a powerful moral force on the side of justice. —Bernice King
19. Women have got to make the world safe for men since men have made it so darned unsafe for women. —Nancy Astor (The Viscountess Astor)
20. Just so you know, you can be a boss type of lady, confident, classy, and compassionate towards others all at the same time. —Germany Kent
21. There's nothing wrong with a woman being comfortable and confident. —Selena Gomez
Long Classy Woman Quotes
1. She had a flair for doing things in a very elegant way. At the same time, you felt like you were right there in her living room. She paid attention to people so that she was seeing to it everyone's little needs and egos were met. —Harold Brooks
2. The beauty of a woman is not in the clothes she wears, the figure that she carries, or the way she combs her hair. The beauty of a woman is seen in her eyes, because that is the doorway to her heart, the place where love resides. True beauty in a woman is reflected in her soul. It's the caring that she lovingly gives, the passion that she shows, and the beauty of a woman only grows with passing years. —Audrey Hepburn
3. I don't understand how a woman can leave the house without fixing herself up a little – if only out of politeness. And then, you never know, maybe that s the day she has a date with destiny. And it s best to be as pretty as possible for destiny. —Coco Chanel
4. There is in every true woman's heart, a spark of heavenly fire, which lies dormant in the broad daylight of prosperity, but which kindles up and beams and blazes in the dark hour of adversity. —Washington Irving
5. You know, people want to honor me, and on the one hand, I just don't want to be a poster child; but on the other, I want to do something classy and great, something where the residuals will go to the cause. —Carly Simon
6. As a woman you need to be yourself without reservation. You cannot be anyone else. And in the end, that's the best possible thing you can be.
7. There are so many pressures that are put upon young women. Whatever we can do to alleviate that and help women feel beautiful about who we are inside, which is the only beauty there truly is, is so nice. Let's get down and dirty. Let's be a real girl. —Drew Barrymore
8. Women have to harness their power-it's absolutely true. It's just learning not to take the first no. And if you can't go straight ahead, you go around the corner. —Cher
9. When a woman realizes that she attracts whatever she is, be it sickness, poverty or whatever, she has arrived at her destination.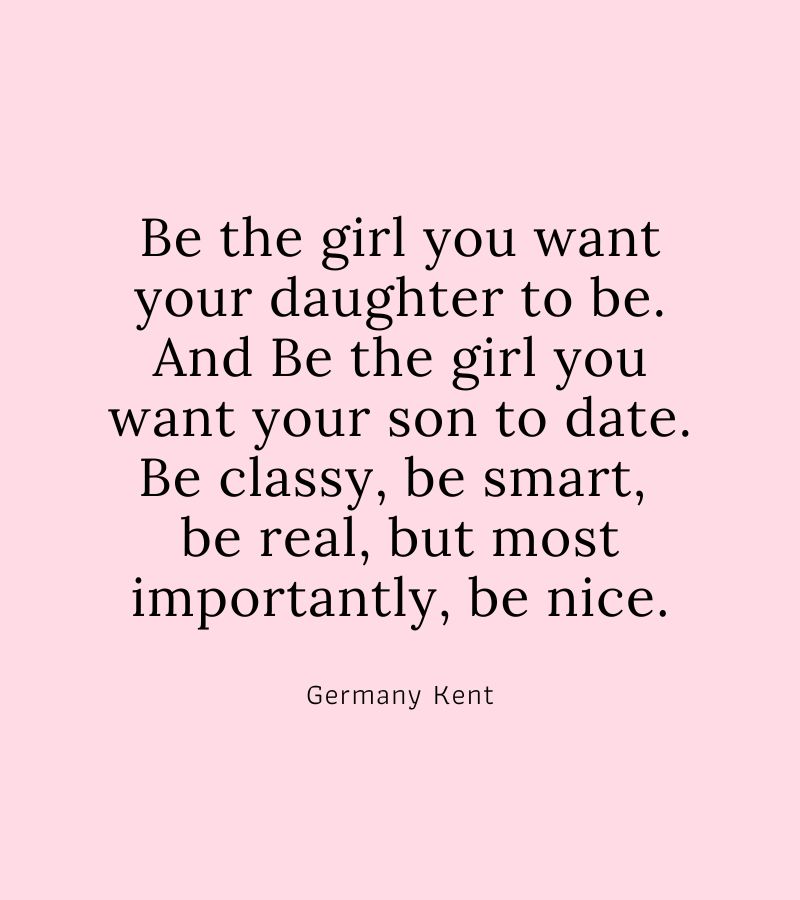 10. I am convinced that most women assimilate their image of beauty from other women. And I think my greatest fault is that I try to be what other people expect me to be.
11. I always thought that people told you that you're beautiful–that this was a title that was bestowed upon you. It's time to take this power into our own hands and to say, 'You know what I'm beautiful. I just am. And that's my light. I'm just a beautiful woman.' —Margaret Cho
12. It's not vanity to feel you have a right to be beautiful. Women are taught to feel we're not good enough, that we must live up to someone else's standards. But my aim is to cherish myself as I am. —Elle Macpherson
13. They [best-dressed women] don't want to look like their daughters. They want their own individual brand of chic. […] The cut and fit must be exactly right, and they are willing to spend hours in the fitting room to make sure of it. They spend money, too. But if any one of them went broke tomorrow, she'd rather choose one perfectly cut expensive dress and make it do for years than buy a dozen cheap ones. —Joan Crawford
14. Be the girl you want your daughter to be. And Be the girl you want your son to date. Be classy, be smart, be real, but most importantly, be nice. —Germany Kent
15. I've had to learn through experiences not to be afraid to fail. You don't know what the future holds for you. You can hope your dreams come true, but you have to be fearless. I don't want to look back and think, 'What if?' —Nastia Liukin
16. My own life has been much more than a fairy tale. I've had my share of difficult moments, but whatever difficulties I've gone through, I've always gotten the prize. —Audrey Hepburn
17. We can win life's trials without losing ourselves. And we don't need to put on earrings or lipstick to prove it. You can win your battles without losing your own personal elegance, whatever that means to you. —Heather Hansen
18. I've often thought it unfair that women are expected to stay at home when there's a fight to be won. If a woman has the strength to bear a child, she can swing a sword as well as any man. —Karen Hawkins
Inspirational Classy Quotes for a Woman
1. The question isn't who is going to let me; it's who is going to stop me. —Ayn Rand
2. There are two powers in the world; one is the sword and the other is the pen. There is a third power stronger than both, that of women." —Malala Yousafzai
3. Feminism is the radical notion that women are human beings. –Cheris Kramarae
4. Champions keep playing until they get it right. —Billie Jean King
5. I'd rather regret the risks that didn't work out than the chances I didn't take at all. —Simone Biles
6. I don't want to be better than you or her or him – I want to be better than I am right now. — Kerri Walsh
7. I believe in being strong when everything seems to be going wrong. And I believe that happy girls are the prettiest girls. I believe that tomorrow is another day, and I believe in miracles. —Audrey Hepburn
8. What would men be without women? Scarce, sir…mighty scarce. —Mark Twain
9. Living well is the best revenge. To smile at the world, to find humor in things and be graceful under pressure.
10. I'd rather be overdressed than underdressed, any day.
11. We might not be able to change our circumstances, but we CAN change our attitude. —Beth Moore
12. I always wanted to be a femme fatale. Even when I was a young girl, I never really wanted to be a girl. I wanted to be a woman. —Diane Von Furstenberg
13. You create beauty with your attitude, you make an impression with your behavior, you make statements with your elegance & scream out with your actions —Sophia Elemara
14. Women must try to do things as men have tried. When they fail, their failure must be but a challenge to others. —Amelia Earhart
15. I am learning every day to allow the space between where I am and where I want to be to inspire me and not terrify me. —Tracee Ellis Ross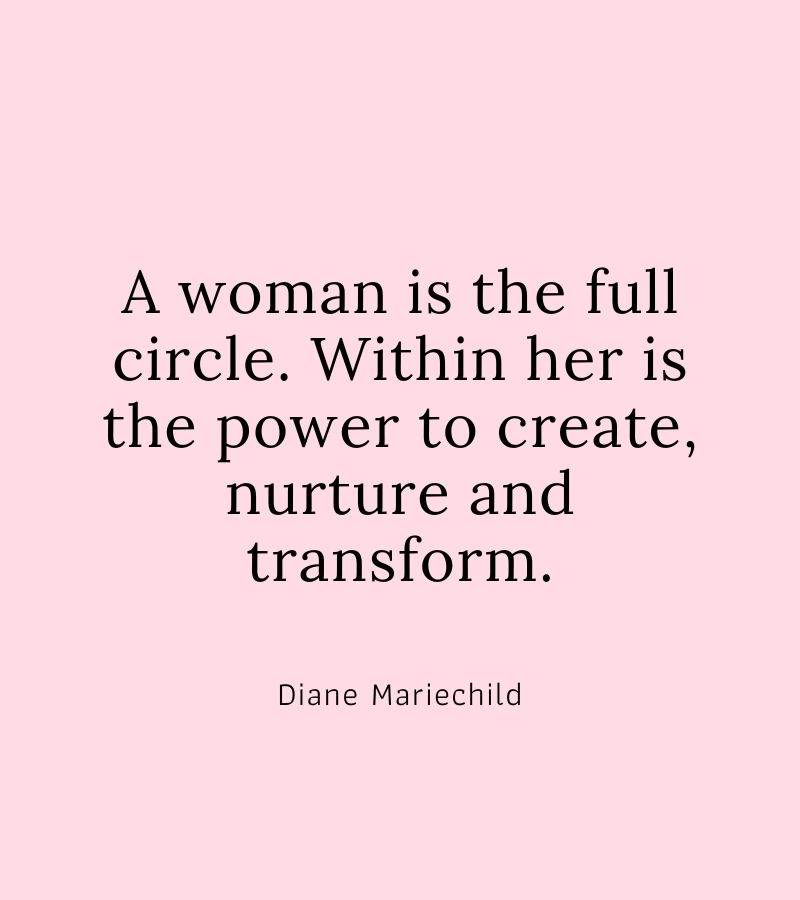 16. A woman is the full circle. Within her is the power to create, nurture and transform. —Diane Mariechild
17. Being jealous of a beautiful woman is not going to make you more beautiful. —Zsa Zsa Gabor
18. There are few women whose charm survives their beauty. —Francois de la Rochefoucauld
19. Women are the real architects of society. —Cher
20. We're here for a reason. I believe a bit of the reason is to throw little torches out to lead people through the dark. —Whoopi Goldberg
21. Elegance is a state of mind. It is how you perceive yourself and therefore it's how the rest of the world sees you. —Jenny Warden
22. My best successes came on the heels of failures. —Barbara Corcoran
23. If your actions create a legacy that inspires others to dream more, learn more, do more and become more, then you are an excellent leader. —Dolly Parton
24. Keep working even when no one is watching. —Alex Morgan
25. Strong women don't have 'attitudes', we have standards. —Marylin Monroe
26. It's a sort of bloom on a woman. If you have it, you don't need to have anything else; and if you don't have it, it doesn't much matter what else you have. —J M. Barrie
27. Elegance is personal, and it's based on your goals and needs. Only you can know what choices you need to make to find your elegance, and those choices will change with time and circumstance. —Heather Hansen
28. One wants to be very something, very great, very heroic; or if not that, then at least very stylish and very fashionable."- Harriett Beecher Stowe
29. I don't do plunging necklines or really short skirts. I try to stay as classy as possible and provide a little mystery. – Kristen Bell
30. You educate a man; you educate a man. You educate a woman; you educate a generation.— Brigham Young
31. A guy wants a classy girl who is smart and has goals – someone that he wouldn't be afraid to bring home to his parents. —Victoria Justice
Classy Woman Quotes For Instagram
1. There is a wolf in every girl.
2. Brains make a woman classy.
3. Make it hot, make it new, make it now.
4. A woman with class is timeless.
5. No girl is me. She may be cute, but she is not me.
6. If you want something said, ask a man; if you want something done, ask a woman.
7. Showing a great amount of skin when you dress up isn't the way to find prince charming. Prince charming likes his gifts wrapped.
8. You don't have to be pretty. You don't owe prettiness to anyone. Prettiness is not a rent you pay for occupying a space marked 'female.
9. The world has a red carpet for any girl who is determined.
10. Here's to strong women: may we know them, may we be them, may we raise them.
11. You are magic, Don't ever apologize for the fire in you.
12. You can never do enough, be too kind, or give it enough love.
13. Feeling attractive is not a conscious choice, it's a natural state of being. – Brigitte Bardot
14. Above all, be the heroine of your life, not the victim.
15. Your clothes should be tight enough to show you're a woman but loose enough to show you're a lady.
16. Classy is when a woman has everything to flaunt but chooses not to show it.
17. I have never met a classy lady before but I bet I can recognize one when I finally see one.
18. The only real elegance is in the mind. If you've got that, the rest really comes from it."- Diana Vreeland
19. The most beautiful women in the world are neither seen nor heard. They appeal through their personality
20. You had the power all along my dear.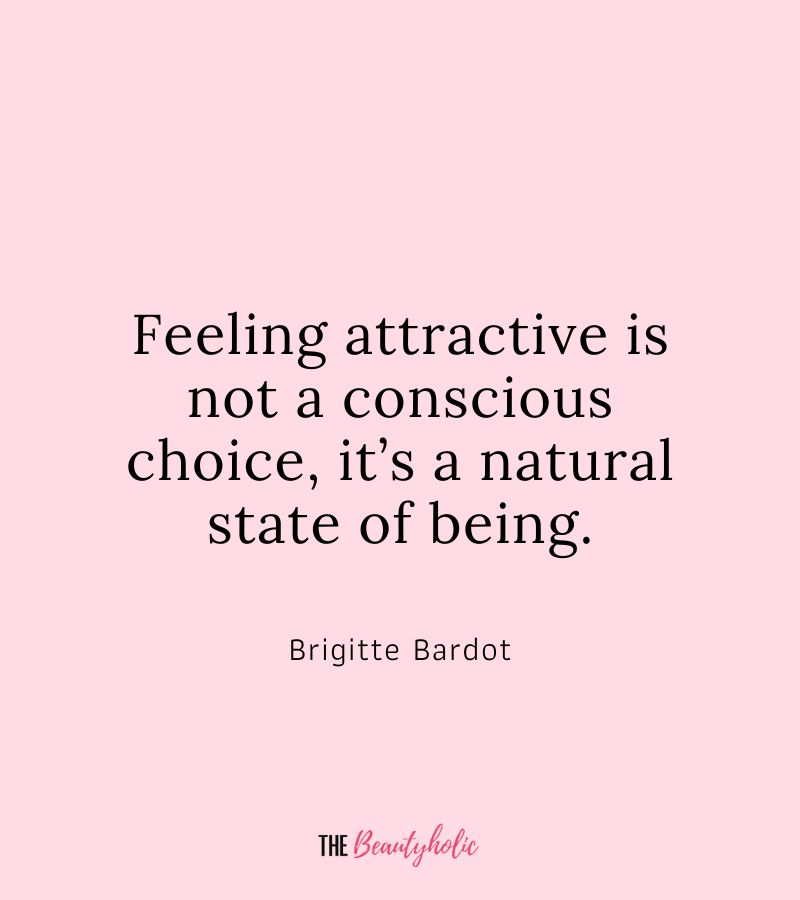 21. Elegance is not just about dressing up, it's about dressing right.
22. If you want to keep your brains, you must dress nicely.
23. Better to be loved for what you are than loved for what you're not.
24. Face the world with a smile, it will give up and smile back.
25. You see how picky I am about my shoes, and those only go on my feet.
26. I bet she has been to places that even you haven't gone before, that's how awesome she is.
27. If you're going to let one stupid prick ruin your life, you're not the girl I thought you were.
28. Think like a queen. A queen is not afraid to fail. Failure is another stepping stone to greatness.
29. Nothing I accept about myself can be used against me to diminish me
30. Well, put some skates on, be your own hero.
31. She is not just full of class, she is fabulous and very kind as well, the perfect combination.
32. Everyone paid attention to her as soon as she walks into the room, that is how her aura is.
33. I like being present in spaces where I am not welcome because you do not deserve to feel comfortable just because you're racist or sexist or small-minded.
34. I encourage women to step up. Don't wait for somebody to ask you.
35. Even though some of you are pretty thin, you all have fat hearts, and that's what matters
36. Before the moon I am, what a woman is, a woman of power, a woman's power, deeper than the roots of trees, deeper than the roots of islands, older than the Making, older than the moon.
37. My mother told me to be a lady. And for her, that meant be your own person, be independent.
38. On Wednesdays we wear pink.
39. And in a gist, a classy lady knows how to behave herself in every possible environment.
40. Only love can save this world. So I stay, I fight, and I give. This is my mission now. Forever.
Fine Quotes about Classy Women
1. I am no bird; and no net ensnares me; I am a free human being with an independent will, which I now exert to leave you.
2. A woman with a voice is by definition a strong woman. But the search to find that voice can be remarkably difficult. – Melinda Gates
3. Beauty is not enough, you must also have the attitude and brain, be your sophisticated self.
4. I'm tough, I'm ambitious, and I know exactly what I want. If that makes me a bitch, OK.
5. Don't let the bastards grind you down.
6. I like my money right where I can see it…hanging in my closet.
7. Of course I am not worried about intimidating men. The type of man who will be intimidated by me is exactly the type of man I have no interest in.
8. We must never confuse elegance with snobbery.
9. I will have my voice: Indian, Spanish, white. I will have my serpent's tongue—my woman's voice, my sexual voice, my poet's voice. I'll overcome the tradition of silence.
10. Women have discovered that they cannot rely on men's chivalry to give them justice.
11. I love to see a young girl go out and grab the world by the lapels. Life's a bitch. You've got to go out and kick ass.
12. I don't do fashion. I am fashion.
13. And really, how insulting is it to suggest that the best thing women can do is raise other people to do incredible things? I'm betting some of those women would like to do great things of their own.
14. Things to remove at the end of the day: your bra, your makeup, toxic people, and limiting beliefs.
15. Adopting the right attitude can convert a negative stress into a positive one.
16. I need you to be careful and efficient. And remember: If I am harsh with you, it's only because you're doing it wrong.
17. A woman without a man is like a fish without a bicycle.
18. Unbothered. Moisturized. Happy. In my lane. Focused. Flourishing.
19. I'm a pacifist. But when the revolution comes, I'll destroy all of you.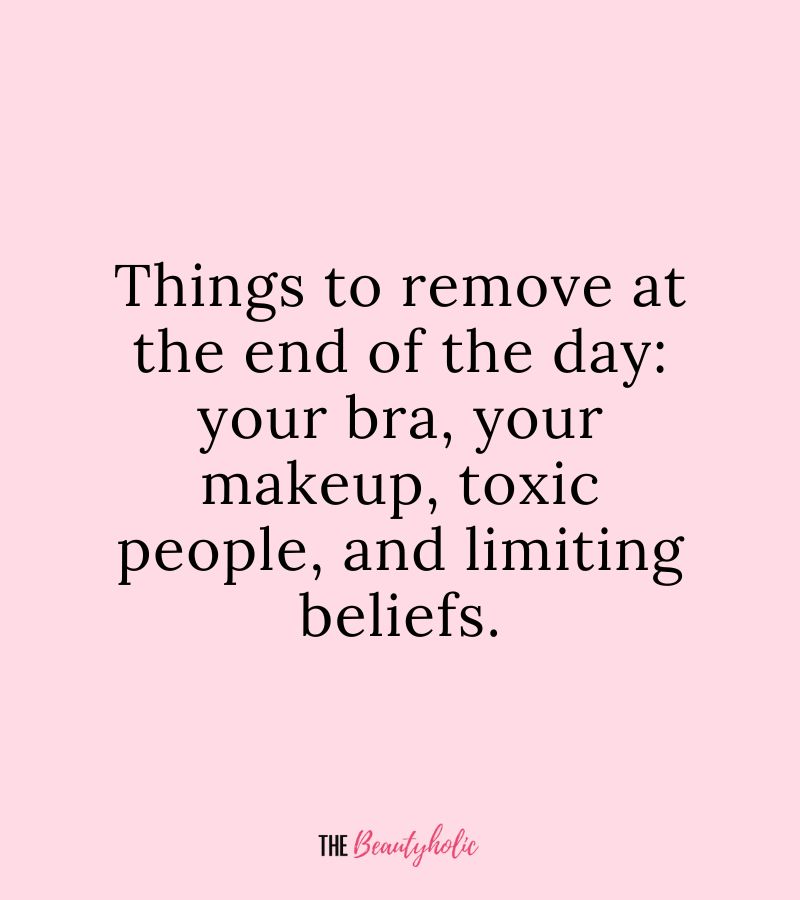 20. I am too intelligent, too demanding, and too resourceful for anyone to be able to take charge of me entirely. No one knows me or loves me completely. I have only myself.
21. It's not my responsibility to be beautiful. I'm not alive for that purpose. My existence is not about how desirable you find me.
22. Be as pissed off as you want to be. Don't hold back because you think it's unladylike or some such nonsense.
23. Men are from Earth, women are from Earth. Deal with it.
24. I don't care about anyone not liking me. You b*tches barely like yourselves.
25. Life's too short to bullshit.
26. I ain't scared of shit. I will always speak on how I feel. I'll be damned if fame and other people have me being a slave to my own thoughts.
27. Stop wearing your wishbone where your backbone ought to be.
28. No woman gets an orgasm from shining on the kitchen floor.
29. He – and if there is a God, I am convinced he is a he because no woman could or would ever fuck things up this badly.
30. I only f*ck with people who are secure enough to be happy for me and hype me up. And I don't want any friends who fall silent during my success.
31. There is a special place in hell for women who don't help other women.
32. I do not want people to be agreeable, as it saves me the trouble of liking them.
33. A lot of people are afraid to say what they want. That's why they don't get what they want.
34. She was free in her wildness. A wanderess, she was a drop of free water. She belonged to no man and to no city.
35. You better realize your worth and stop settling for the bare minimum half-ass sh*t.
36. I have a passion for music, I love music. But I also have a passion for money and paying my bills. I have a passion for music, I love music. But I also have a passion for money and paying my bills.
37. Never get the credit I deserve, if it wasn't for me you bitches wouldn't be heard.
38. Seize the moment, 'cause tomorrow you might be dead.
Over to you…
It's always a good time to celebrate the ladies in our lives! These inspirational classy woman quotes will get you thinking more about what it means to be a woman than simply being labels.
So let these quotes motivate and help you remember that being classy is a culmination of many different things – it's not just about being a woman dressed to the nines So take a read and share these quotes with the girls and women in your life!
Related Posts