Planning a wedding can be overwhelming, but you don't have to let any of the details get in the way of your big day.
The boho theme is one of nature, love, and the uninhibited spirit. Bohemian weddings are known for being colorful, beautiful, and joyful. This also means considering the engagement party, shower, and other events you might be hosting leading up to your day.
Here is a guide to finding the perfect bohemian-themed wedding invitation that will take love to new heights and enchant your guests for years to come.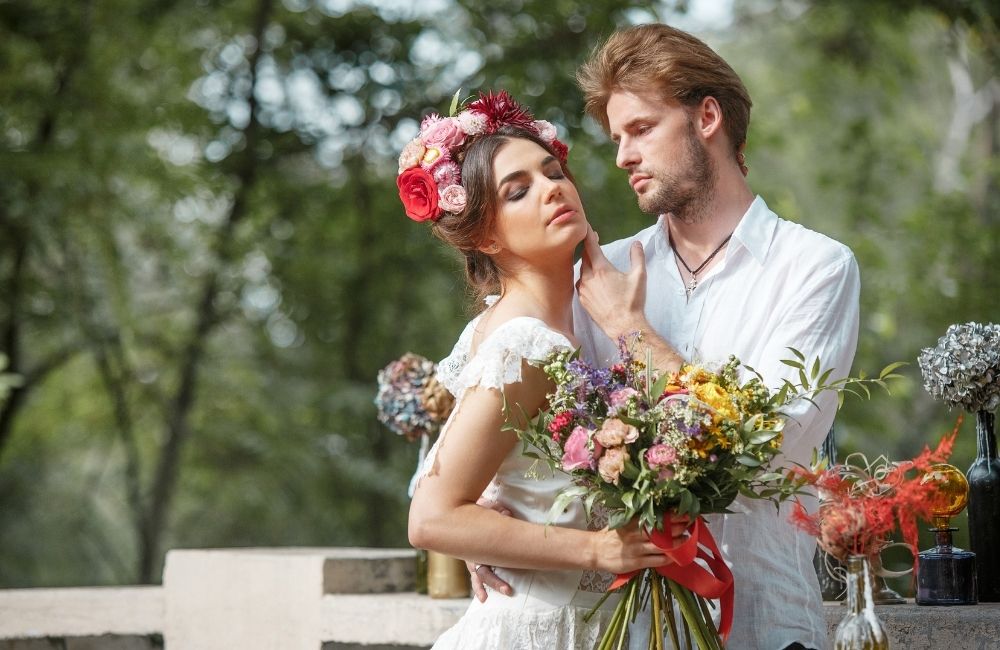 What does a Bohemian-themed wedding invitation look like?
Typically, these weddings are informal and relaxed, with an eclectic mix of vintage and contemporary pieces.
Bohemian wedding invitations are inspired by the free-spirited and carefree lifestyle of bohos. Often, these cards feature fun and whimsical designs, with bright colors and playful patterns. For couples who would like a relaxed, informal way to celebrate their love, these are perfect.
You can used these cards to send invitations or thank you cards after the big day. Also, they make a great souvenir of a destination wedding or elopement.
With these cards, your big day celebrations will be filled with fun and personality!
Now, let's get back to things to look for in your Bohemian-themed wedding invitation!
Choose the right material
Paper, canvas, and wood cards tend to have a more boho feel than those made from synthetic materials. Recycled materials work well, too!
Paper is a versatile option suitable for a variety of styles, from elegant and simple to extravagant and ornate.
Canvas works well for rustic weddings, while wood lends an organic touch.
Whatever material you select, make sure the design of your invitation reflects your hippy theme.
Size is the key
Choose a boho invite card that fits your invitation's scale. If the card is too small, it may get lost in the shuffle. A large invitation might overpower your wedding stationery and detract from the overall look.
When it comes to the actual shape of your boho wedding invitations, you'll want to choose something that is rectangular in shape. This will help situate all of the party details in a formal way that looks great on any invitation suite.
Don't forget the color scheme
Our first step is to decide on the color scheme of your save the date announcement card.
Since we are already looking into the genre of boho chic weddings, simplicity won't work. Choose nontraditional, accent shades, such as teal, purple and green or pink and black.
Being a bohemian is a lifestyle of its own with bold hues, and if you want your wedding card to reflect that, you have to go for a color scheme that will be an accurate representation of your vibrant lifestyle.
The design of your card
Another area where you have to pay an ample amount of thought for your bohemian save the dates is the design of your card.
The best bohemian wedding invitations will have a cohesive look that ties all of the party details together in a stylish and modern way.
Do you want a garden bustling with flowers, displaying their vibrant colors and enchanting your mind with the amount of craftsmanship that has gone into creating one? Or do you want the most masterful abstract spread across the entirety of your card, oozing with class?
Natural materials, such as wood and leaves, are often used in Bohemian-themed wedding cards.
Florals are always popular, but wildflowers are having a moment right now. If you want something unique, try a watercolor design or something with gold foil accents. You can also go with a more trend-forward or minimalist design if that suits your aesthetic better.
Ultimately, it's up to you, but rest assured, there are a ton of options that you can customize to your liking.
Pay attention to the content
While the design has its own importance, you cannot find a substitute for the classy text displayed on your save the date card.
Keep the text simple and heartfelt. Something like "congratulations on your beautiful Bohemian wedding!" will suffice.
Also, phrases like "may your love grow wild and free" or "may your journey be as beautiful as you are" would make the card pop.
Make the fonts pop
People often believe that all bohemian fonts are curly and wispy, but that isn't always the case. These fonts can help set the tone for your celebration:
Brush Script MT
Comic Sans MS
Lucida Handwriting
Sego script
Trajan Pro
Goudy Old Style
Papyrus
Tahoma
Baskerville Old Face
Calibri
Minion Pro
Countless font styles are available, so you just need to choose one that suits your vibe. Make your font earthy and natural by choosing cursive or calligraphy. Also, you can choose fonts that look like brush strokes or handwriting.
Use lively photos
Use outdoor and nature-inspired images. Think greenery—flowers, leaves, trees, and landscapes.
When planning a rustic wedding in the woods, use an image of a flower with lush foliage. For an elegant affair, choose a simple flower image.
A flowery meadow or a sunset over the ocean might be a good choice if you're a free-spirited bride.
Extra tips
You can add boho touches to your invitations in a number of different ways:
Use tassels, embroidery, or feathers to embellish the card.
Lace often indicates a more feminine and romantic style, making it perfect for weddings.
Use wax seals to add elegance to invitations and personalize them with each guest's initials.
Put verses or quotes from famous authors or poets who embody the free-spirited spirit of Bohemia into your essay.
An envelope with a matching design to really set the tone for your invitations.
When it comes to printing your invitations, you can opt for a DIY approach and print them yourself at home, or you can use a professional printing service.
Send out invitations with some extra treats that will set the mood for the big event.
Where to Find Boho Wedding Invites?
Many sources sell boho, modern, and rustic wedding invitations. For handmade or custom invitations, Etsy is a good source. Many stationery stores also sell wedding invitations.
For something truly unique, you may need to purchase a custom invitation or design your own. Earthy, floral and chic boho wedding invite designs are popular themes.
You can also get free boho wedding invitation templates online
Tips for making your invitations stand out
When you're planning a party, invitations make or break the event. If you're looking for modern, gorgeous invitations that will make your party a hit, here are some tips:
Stick to a single motif that's carried throughout the entire invitation. This could be a color, pattern, or even a specific style (like bohemian or vintage).
Use an accent color for a really striking invitation. By adding personality, they will stand out from the rest.
Handmade or custom invites always leave a lasting impression. Whether you're crafty or not, lots of great stuff is on Etsy.
Ensure your invitation selection matches your wedding style, such as a barn or a coastal theme.
Lastly, don't forget to include all the essential information like RSVP info, the date and time of the event, and where it will be taking place. And if you're having a seated dinner, include a map or directions to the venue so everyone can find their way effortlessly
The takeaway
The boho wedding invitation combines tradition with modernity. You want your guests to feel like it's going to be a fun, elegant affair that they're going to love.
Personalized wedding invitations highlight the couple's uniqueness and personalities. Once you have the perfect invite, add some personal touches to make it one-of-a-kind.
Your Bohemian-theme wedding invitation has eternal significance—do not make the mistake of downplaying what that piece of paper stands for.