Blonde bombshells know that finding the perfect mascara can be a real struggle.
Whether you're going for a dramatic look or a more natural finish, the wrong formula won't do your lashes justice.
And for lighter-colored lashes, it can be incredibly challenging to find a mascara that pops without looking too heavy or overdone.
So what is the best mascara for blonde eyelashes? We've got you covered.
Whatever your lash goals, we have the best blonde mascaras to help you get bold, enchanting lashes.
So, get ready to bat those blonde lashes with confidence!
What is the best mascara color for blonde eyelashes?
While both black and brown mascara shades can work well for any occasion, your hair color and skin tone might dictate otherwise.
Got darker blonde lashes? Experiment with deeper shades of brown, like rich chocolate or espresso, to add strength and dimension to your lashes without looking too heavy.
Meanwhile, golden or honey-colored blonde lashes go well with warm brown or caramel shades that add warmth and richness to your beauty ensemble.
For those who want to bring the drama, black mascara is a great option – just be sure to choose a formula that's not too thick or heavy, or it'll look unnatural on your fair lashes.
Now moving onto our top mascara picks:
1. Covergirl Flourish Blast Mascara – Brown
Ophthalmologically tested—great for those who wear glasses or contact lenses.
A blend of avocado, papaya, and coconut oils is used in the formula.
Simple to wipe off with a gentle makeup remover.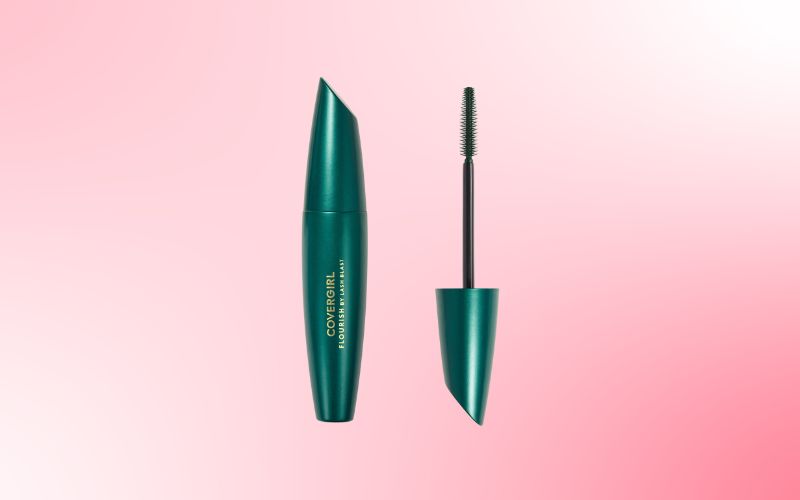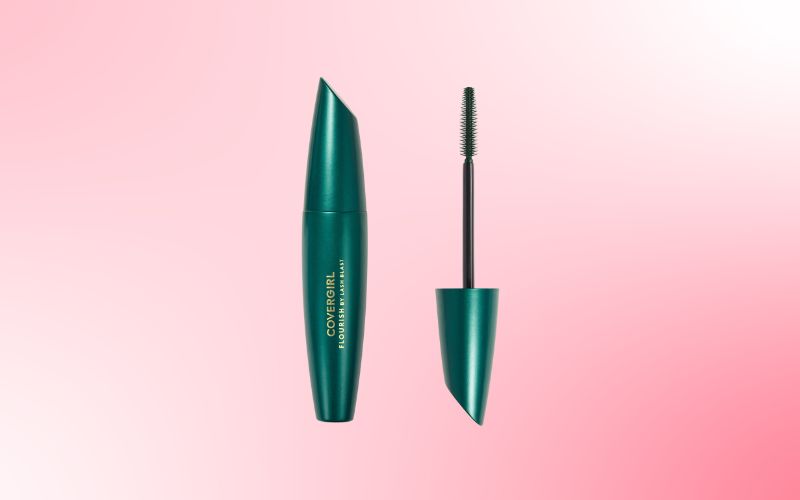 The smooth texture of Flourish Blast Mascara made it an instant hit as soon as it hit the market. People rejoiced over finding the holy grail of lashes.
The formula is so light, so it doesn't weigh down your lashes or make your lids feel heavy. However, it can dry out a bit because of its thin formula. But it's non-toxic and doesn't have a strong scent, which is always a plus.
This gorgeous brown mascara is waterproof and lasts for a solid 12 hours without smudging or flaking. The bristles are neatly spaced, so clumping is not an issue.
And, if you've got oily skin, you know how hard it can be to find a mascara that won't smudge by midday. But this stuff really does stay put.
The coverage is more light and natural, so it's perfect for the day or when you just want a little extra oomph without going full-on falsies.
Removing the mascara is a breeze with an oil-based cleanser—no harsh rubbing or tugging is needed.
2. ETUDE Curl Fix Mascara – Brown
'C Curl Brush' grabs hard-to-reach lashes for a defined curl
Makes lashes look dramatic
A coating effect not only repels water and sweat but also holds curls for a long time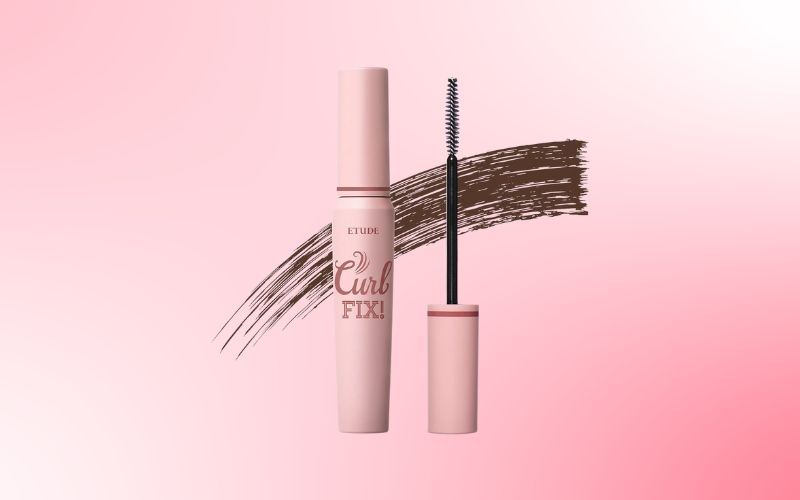 The natural brown color is perfect for blondes looking for something subtle but eye-catching.
The formula of this blonde mascara is one of its best features. It doesn't flake or build up on the brush, even after multiple uses. The second or third coat will make your eyelashes will pop.
This mascara applies thinly, giving your lashes a natural yet noticeable look. And the best part? It maintains 90% of the curl throughout the day, so you don't have to worry about reapplying constantly.
Just be cautious when applying – the formula dries quickly, so make sure your wand has the right amount. Otherwise, your eyelashes may end up clumpy.
Finally, this mascara is a tough one to take off – we've tried micellar and oil-based makeup removers, and it takes some effort. But trust us when we say it's worth it!
So, if you're tired of flat eyelashes and craving the best natural-looking mascara for blondes, try the ETUDE Curl Fix Mascara. Definitely worth it!
3. L'Oréal Paris Age Perfect Lash Magnifying Mascara – Brown
The perfect mascara for mature, blonde lashes
Formulated with conditioning serum and jojoba oil
Gentle enough for sensitive eyes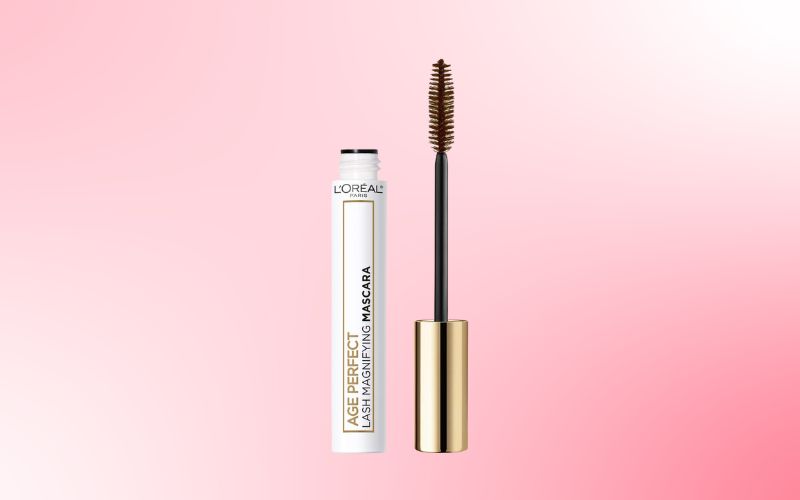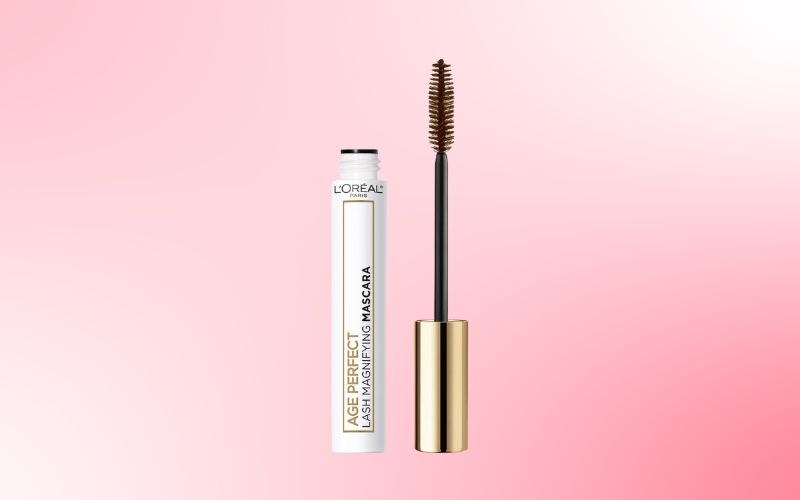 Formulated specifically for the over-50 crowd, this mascara is packed with serum vitamins and minerals to pamper your delicate lashes with the care they deserve. Plus, it has a blend of Jojoba oil and moisturizing serum for a smooth, luxurious lash line. Best of all, you won't have to coat your lashes multiple times to achieve the effect you're after.
The thin brush is ideal for those with thin lashes, making application a breeze. Plus, it doesn't ball up or leave any extra droppings under your eyes. And we all know how annoying that can be!
Now, onto the delivery. You can easily find it at your nearest drugstore, and it's super affordable. The brown shade is perfect for those with lighter eyelashes and will instantly complete your makeup look.
This mascara will give you the perfect finish that won't smudge or cause any redness. Plus, it stays on all day without any issues.
Bottom line? The L'Oréal Paris Age Perfect Lash Magnifying Mascara is perfect for anyone with blonde hair and blue eyes who wants to enhance their lashes without breaking the bank.
4. Just for Redheads Mascara Naturelle – Ginger Red
Cruelty-free, hypoallergenic and smudge-free
Easy to apply
One small swipe leaves your eyes with an impeccable look
Can be removed easily using micellar water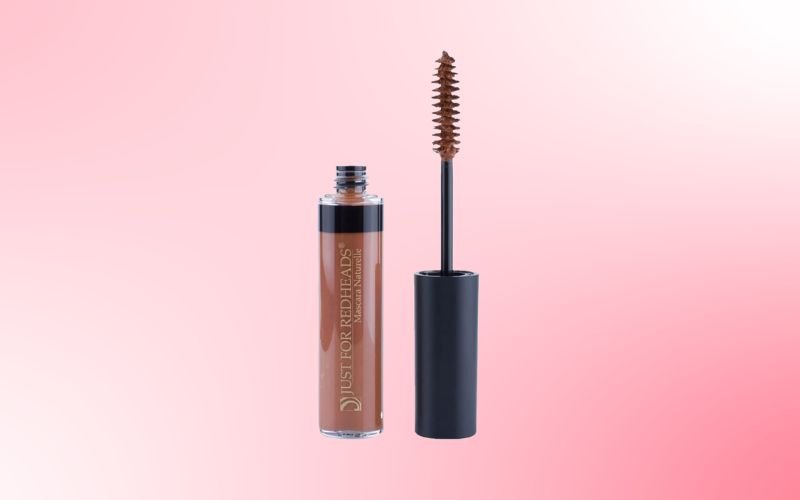 First of all, this mascara is volumizing. You can build it up to your heart's desire, and your lashes will look fuller. Plus, it's smudge-proof and water-resistant. No more worrying about raccoon eyes halfway through the day.
Color is what sets this mascara apart. Ginger Red is a warm red/brown that won't turn black, perfect for redheads or those with pale lashes.
And let us just tell you, this is the best mascara for strawberry blondes. With over 25 years in business, Just for Redheads knows exactly what pale-haired people need.
The texture is different from regular mascara. It's not clumpy, but it is drier. However, it's still effortless to apply and stays on throughout the day. Also, it's easy to remove at the end of the day – no harsh makeup remover is needed here.
5. Perricone MD No Makeup Mascara
Skincare infused with makeup
Ensures lashes a longer, fuller effect.
Perfect for those into no-makeup, bare-faced looks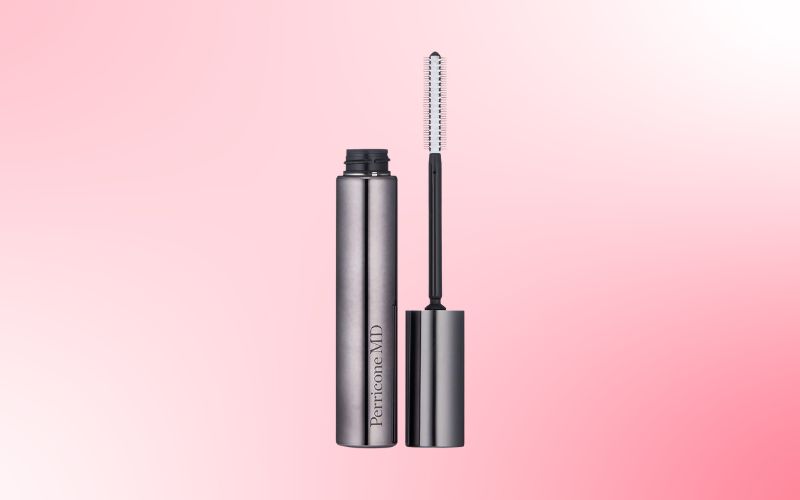 Perricone MD offers the best natural-looking mascara for blondes.
Not only does it comes in a soft black shade that isn't too heavy on fairer lashes, it also delivers a natural appearance.
This mascara's more than just pretty. This is a 2-in-1 lash treatment that gives the appearance of thicker and lifted lashes. A dual-faced brush coats every lash from root to tip for precise application.
We're usually worried about mascara's chemicals being harmful to our eyes. Luckily, it doesn't contain chemicals of concern, which is a plus for sensitive eyes. A bit expensive, but the clean ingredients make it worth it.
This mascara wipes off easily with little to no residue and even comes off with water. Say goodbye to raccoon eyes and welcome natural eyes.
Whether you're going for a subtle, natural look or something more dramatic and intense, this mascara is buildable for all occasions. The only downside is that it may flake sometimes, but other than that, it works well.
So when it comes to the question of what color mascara blondes should wear, the answer is clear – the Perricone MD No Makeup Mascara.
6. L'Oréal Paris Voluminous Brow Balm Volumizing Mascara – Brown
A volumizing mascara that is washable
Formulated with natural ingredients
Paraben-free, mineral oil-free, suitable for sensitive eyes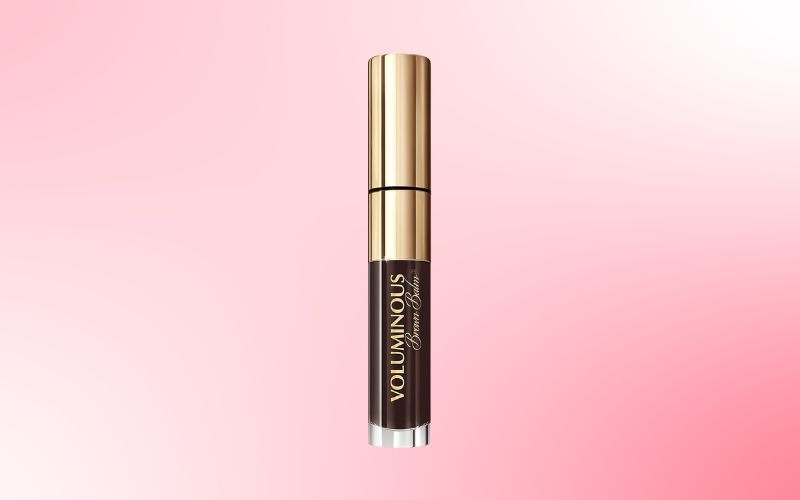 This mascara is the ultimate multitasker – not only does it add volume to your lashes, but it also conditions them with natural origin ingredients. Plus, the flexible brush helps separate and define your lashes, creating the perfect natural look.
Will this mascara work for blue eyes? A resounding yes! This brown shade will make your baby blues pop, giving you the definition you need without being too over the top.
We've all been there, struggling with a wand that just won't cooperate. But this wand glides on smoothly without causing any clumps or smudges.
Speaking of nourishing, this mascara actually feels good on the eyes. Say goodbye to that scratchy, irritated feeling that some mascaras can cause. However, if you have a particularly active day, this mascara may flake a bit.
When removing your makeup, you won't have to worry about any leftover residue. It easily washes completely off with your favorite cleanser.
Last but not least, it lasts a long time. You won't have to worry about constantly reapplying throughout the day.
All in all, it's the perfect drugstore find for blondes with blue eyes. With its natural ingredients, easy application, and lasting power, what more could we ask for?
7. Beauty Junkees Eyebrow Gel Mascara – Blonde
A brow gel and mascara in one product.
Works perfectly well with or without some brow filters.
Formulated without a whole range of harmful chemicals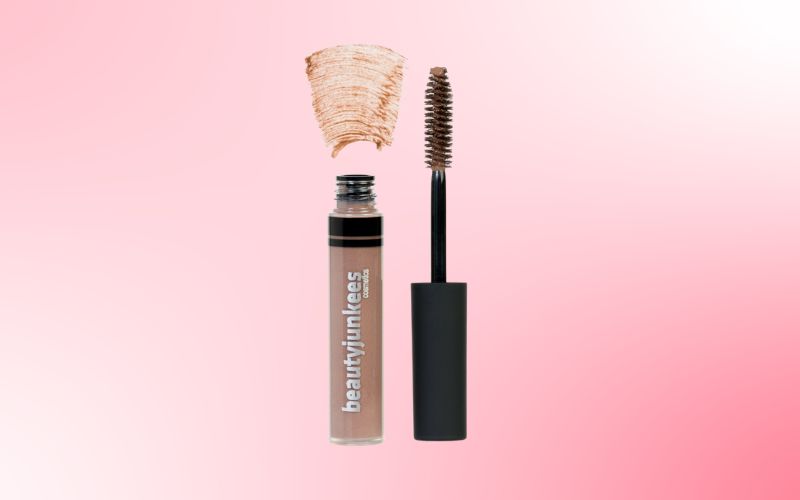 This little gem isn't just for your brows – it's a great blonde mascara for eyelashes too!
The shade is a lovely medium brown that complements both light and dark blonde hair.
Application is a breeze, and you don't have to worry about sticky or flaky residue. It dries down to a nice matte finish. And here's the best part – when it's dry, it's not stiff. It feels pretty natural.
The one downside? It's not waterproof. But don't worry, it stays put all day long. And it'll keep your brows firmly in place without feeling stiff or uncomfortable.
Overall, if you're seeking a natural-looking eyebrow gel mascara for blondies that'll last you all day, Beauty Junkees can't be beaten.
How to Put Mascara on Blonde Eyelashes
We all want full, beautiful lashes to brighten up our eyes. That's where mascara comes in! But are you applying it correctly? Here's how:
Make sure your eyelashes are clean by using a gentle makeup remover. Once prepped, consider using a clear lengthening/curling/defining lash primer for an extra boost.
Grab a good-quality eyelash curler and slowly curl your lashes. This not only makes the mascara application easier, but it also opens up your eyes for a bright, awake look.
Start at the root and work your way up to the tip. If you want a thicker finish, feel free to add more coats.
Use a combination of mascara and eyeliner for a more dramatic look. So go ahead, bat those beautiful blonde lashes!
Tips for Applying Mascara on Blonde Lashes
Select the Right Shade: Opt for brown or dark brown rather than black. While black mascara may overpower lighter hair, earthy shades will compliment it naturally.
Pick the right formula: Mascara formulas differ. Choose a lightweight formula that doesn't weigh down your lashes. Select volumizing or lengthening mascaras since these aren't heavy and clumpy. To prevent smudging and flaking, try a waterproof formula.
Curl Before Applying: Curl your lashes before you apply mascara to make your eyes look bigger.
Wiggle It: Move the wand back and forth at the base of your lashes, then brush upwards to create volume. By doing this, you'll separate your lashes and make them appear fluffy.
Thin is in: Put on one thin coat at a time instead of two to avoid clumping and define your lashes.
Over to you…
With these many top-tier blonde mascaras for your eyelashes and eyebrows, you're bound to find your perfect match. So go ahead and confidently bat those gorgeous, flirty lashes – you're a blonde beauty with all the tips and tricks!