Today, we are going to review a very popular makeup remover by a very famous brand – Bioderma Sensiobio H2O Micellar Water.
So, I always apply my eye-makeup first and then go on with my foundation. I absolutely hate the shimmer particles of the eye-shadow that fall on the face making the whole face look glittery and awkward.
I wanted a makeup-remover that would wipe them off and give me a clear base to work on. Hence for the same purpose, I needed a strong makeup remover so I bought the Bioderma Sensibio H2O Micellar Water. Read on to know how it worked for me in this review.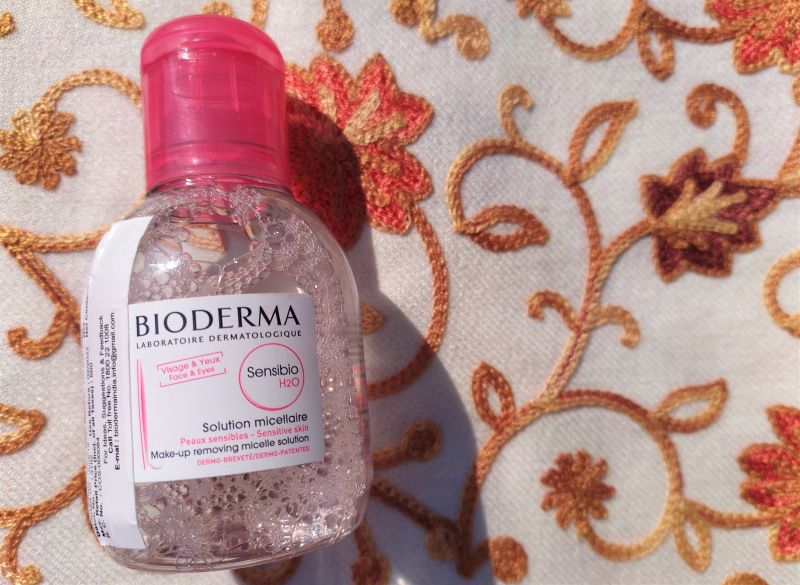 About Bioderma Sensibio H2O Micellar Water:
Going to bed without removing your make up can be the highest level of torture for your skin and using harsh makeup removers can just make things worse. A mild yet highly effective cleanser Sensibio H20 comes from the makers of the best skincare products. Bioderma, through a miraculous formula, has successfully created the Sensibio H20 micelle solution. It effectively removes water-based makeup without being harsh on the skin. The soap-free cleanser is suitable for all skin types as it maintains the skin's natural ph level. Give your skin the beauty sleep it requires!
Fragrance-free formula.
Alcohol-free formula.
High on pH formula maintains skin natural moisture level.
Formulated for sensitive skin hence prevents irritation.
Sensibio H2O guarantees excellent cutaneous and ocular tolerance (tested under ophthalmological supervision).
Readers like you help keep The Beautyholic running. When you buy through links on our blog, as an Amazon Associate, we earn from qualifying purchases at no extra cost to you.
Price: 100 ml of the product retails for Rs. 660/- | Buy it from Amazon.com | Amazon India | Nykaa
Bioderma Sensibio H2O Micellar Water Review
This micellar water comes in a clear plastic bottle with a pink flip cap on the top. The nozzle shaped dispenser dispenses the right amount of product every time.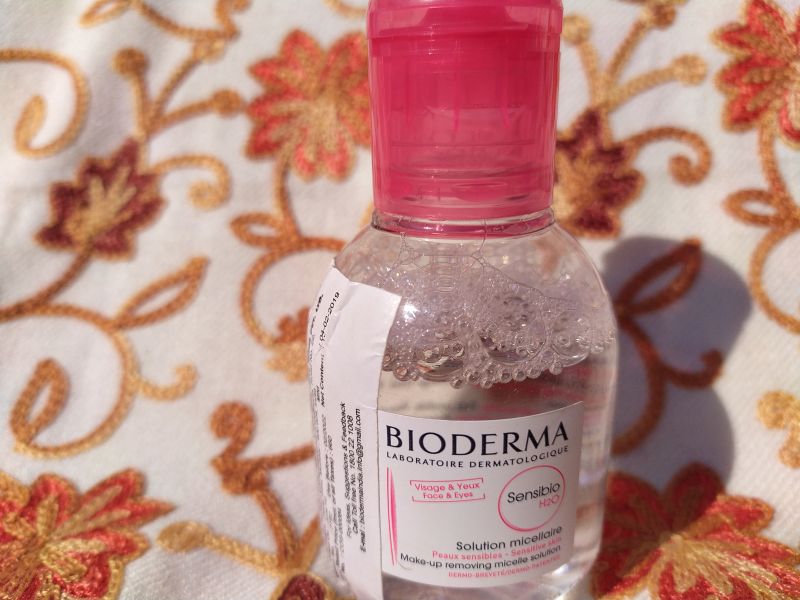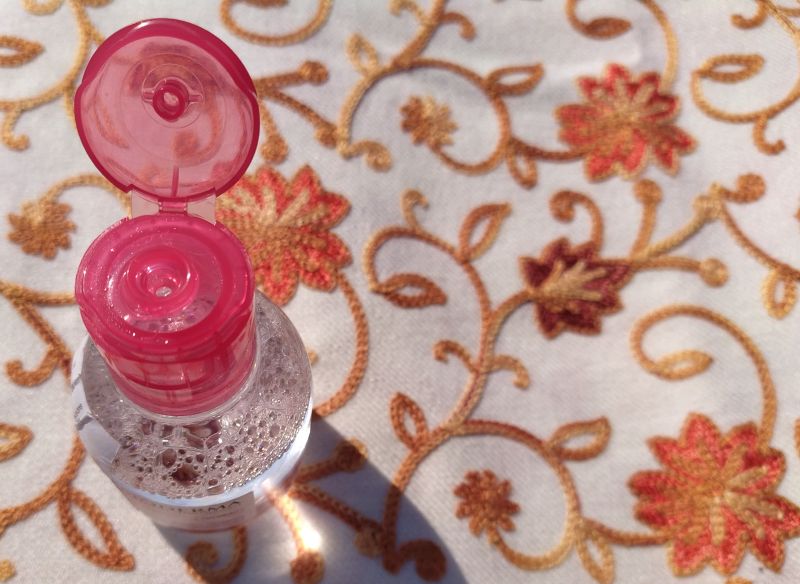 The product leaves behind no particular smell, on the application or after.
The texture of this micellar water is exactly like water. This is my first micellar water so I cannot compare it to any other brand. But wow, this micellar water is just amazing, it gives a nice cooling sensation on application.
I generally take my handkerchief and soak it with this micellar water then hold it on my eyes for almost 30 seconds each. Then I wipe my entire face and lips with the other side of the handkerchief and wash my face with the clean and clear face wash.
And Voila! my face was entirely clean and no residue was left behind. The glitter eye-shadows, the matte lipstick, the Benetint, my foundation, setting powder everything was wiped off clean.
My Maybelline Volum Express Hyper Curl Mascara (Washable) also came off very easily. I never even wiped my lashes separately or anything.
A thin layer or a small part of my eyeliner got left behind a few times though I could not blame it on the micellar water because most of the times I was too tired to hold the handkerchief in place for more than 20-30 seconds and then that leftover eyeliner came off very easily with the face wash.
The micellar water is also excellent for correcting makeup errors like I mostly use it to correct my eyeliner I take some of the product on a small eye-shadow brush on one side and apply it on the messed up part then wipe it off with the other side of the brush.
This product works very effectively for correcting purposes and I absolutely love how faultless and on point my makeup looks after.
Another good thing about this Bioderma Sensibio H2O Micellar Water is that it does not leave behind any kind of residue or oily or dry or itchy or burning sensation on the face.
Although one thing that did happen was that I used the micellar water on my lids where I had accidentally messed up my eyeliner. So my eye-shadow had also got wiped off, time was really less so I immediately re-did my makeup and after applying my eyeliner and everything.
I felt a burning sensation on my lid for like 15-20 seconds. Though it was gone completely after that and no damage was done to my lid at all.
But my face even gets a burning sensation from applying Pond's Light moisturizer. So, I suppose this won't be a problem or a major con for the majority.
Though one thing that I absolutely loved about this product is that while I was correcting my messed up eyeliner a drop of it fell in my eye like directly in my eye and I got so scared that this makeup remover has gone in my eye and I am going to go blind. I panicked for about 2-3 minutes then immediately rushed and washed my eye with cold water though this micellar water stayed in my eye for about 2-3 minutes it did no harm. After washing my eye I felt nothing odd and was absolutely okay.
Pros:
Travel-friendly.
Great for sensitive skin type.
Hygienic and easy to use dispenser.
Safe to use for sensitive noses.
Works as an amazing makeup error corrector.
Wipes off makeup very effectively.
A little amount of product will go a long way.
Leaves behind no residue.
Great for all types of skin – oily, dry or combinational.
It has a texture that is very comfortable to work with.
Cons:
That slight 15-20 seconds of burning sensation which I only felt when I applied makeup immediately after the micellar water, though it did no damage and faded off in seconds. (But my face even gets a burning sensation from applying Pond's Light moisturizer, so keep that in mind)
Bioderma Sensibio H2O Micellar Water
Final Word
This micellar water truly lives up to its hype and brand. It is easy to use, effective and pampers your skin as well – what more could you ask for from a micellar water. So, I think that the formula is really sensitive and soft, which is great compared to the super effective makeup removing results it provides. You should definitely try out this amazing product.
Have you tried this Bioderma Sensibio H2O Micellar Water? Let me know your views in the comments below!