A makeup remover is a must-have in any makeup junkie's kit. We all are well aware of the ill effects of leaving your makeup on for way too long, or worse, sleeping with your makeup on.
Even if all you wear on the daily is a little compact powder and some blush, you should take your makeup off every day before going to bed. Not doing so can lead to early signs of aging, clogged pores, acne, and just unhealthy skin overall.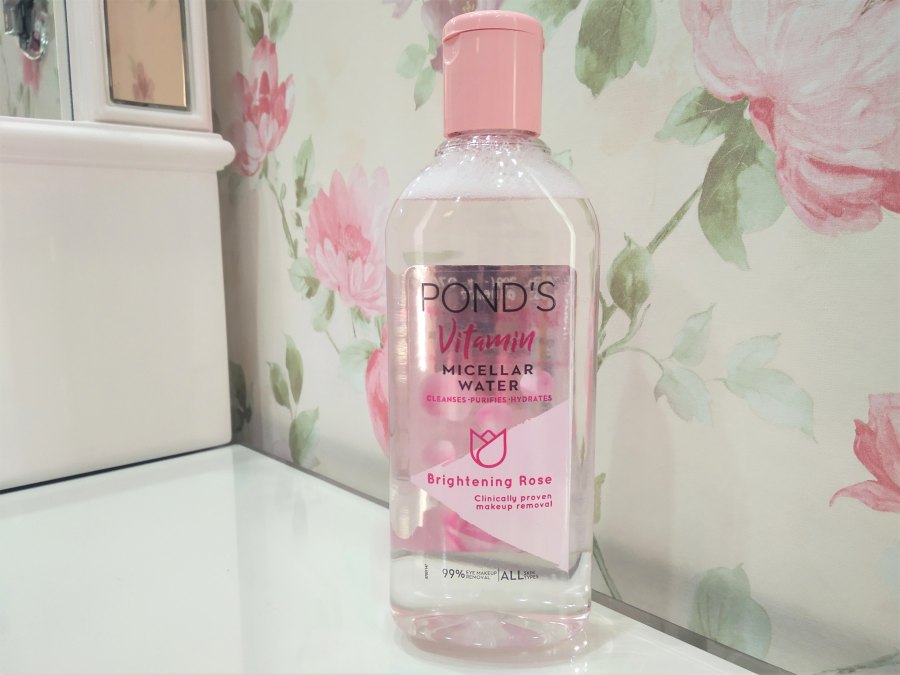 Micellar waters are an efficient way of removing makeup. Unlike the earlier makeup removing solutions, micellar water is believed to be less harsh on the skin while still getting the job done. Pond's recently stepped into the micellar water game and dropped 3 variants of micellar water – rose, charcoal, and aloe vera. I recently got my hands on the Pond's Vitamin Micellar Water in Brightening Rose variant. Let's find out how it performs.
About the Product: Pond's vitamin micellar water is a refreshing cocktail of micellar water, 5 essential vitamins (vitamin A, B3, B5, C, E) and organic French roses to deep cleanse away makeup, dirt, impurities, sunscreen. The world's first-ever micellar water range supercharged with the power of vitamins.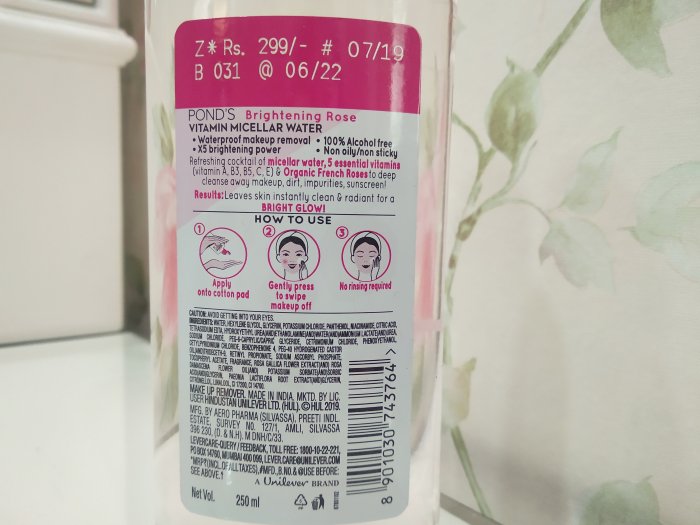 Each swipe has cleansing micelles that capture and gently lift dirt, impurities, and even waterproof makeup and 5 essential vitamins A, B3, B5, C, and E that nourish and rejuvenate to leave you with glowing bare skin. Removing makeup isn't the end.
Women go to great lengths not to show their face after removing makeup, as it lacks the glow that makeup gives, Pond's Vitamin Micellar Water removes the makeup but also gives back the glow to your bare skin so you can (bare) face the world with confidence. So, face it. Life doesn't have to suck. It does not have to mean shame, embarrassment, or going into hiding. Instead, with the Pond's Micellar Water, you get the confidence to face your true self. Even after you have taken your makeup off. Because like they say, if you have got it, flaunt it. And the Pond's Vitamin Micellar Water makes sure you have got that glow.
Readers like you help keep The Beautyholic running. When you buy through links on our blog, as an Amazon Associate, we earn from qualifying purchases at no extra cost to you.
Price: Rs. 125/- for 105 mL & Rs. 299/- for 250 ml | Buy it on Amazon or Nykaa 
Ingredients: Water, Hexylene Glycol, Glycerin, Potassium Chloride, Panthenol, Niacinamide, Citric Acid, Tetrasodium Edta, Hydroxyethyl Urea (and) Ethanolamine (and) Water (and) Ammonium Lactate (and) Urea, Sodium Chloride, PEG-6-Caprylic/Capric Glyceride, Cetrimonium Chloride, Phenoxyethanol, Cetylpyridinium Chloride, Benzophenone-4, PEG 40 Hydrogenated Castor Oil (and) Trideceth-9, Retinyl Propionate, Sodium Ascorbyl Phosphate, Tocopheryl Acetate, Fragrance, Rosa Gallica Flower Extract (and) Rosa Damascena Flower Oil (and) Potassium Sorbate (and) Sorbic Acid (and) Glycerin, Citronellol, Linalool, CI 17200, CI 14700
How to Use?
Apply onto a cotton pad

Dab and swipe the cotton pad across your face to remove makeup
My Experience with Pond's Vitamin Micellar Water
Pond's Vitamin Micellar Water comes in color-coded packaging. The Brightening Rose variant has an appropriate blush pink packaging, which is quite nice to look at. The pink cap closes quite securely and makes the product safe to travel with. This product is packed in a transparent plastic bottle, so you can see how much you have used. All the details regarding the ingredients, the date of manufacture, etc. have been mentioned on the bottle itself. There is no outer packaging.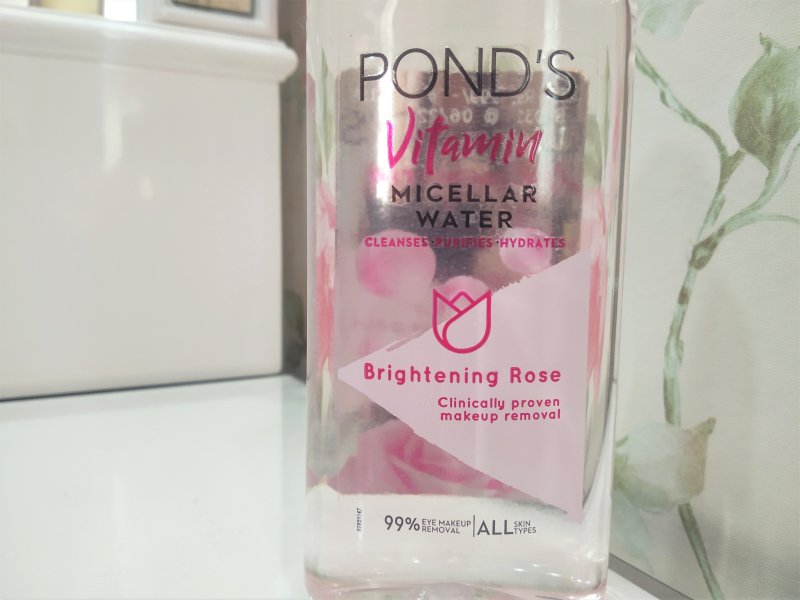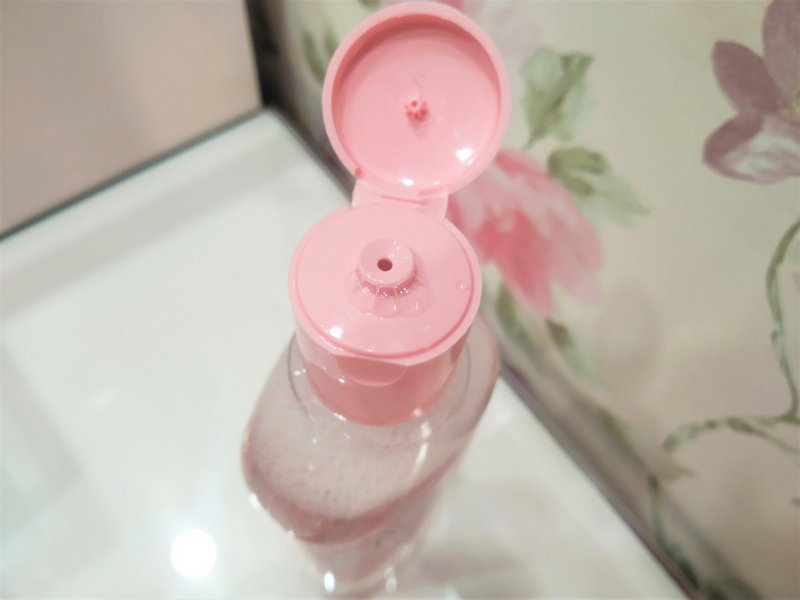 In the bottle, this micellar water looks pink in color, but it is actually completely colorless. It does have a rose-like scent to it, but the fragrance seems very artificial. It definitely does not smell like roses. However, I must confess that I do enjoy the scent of this product, and it is not unpleasant at all. It is neither strong nor faint, and I would recommend folks with sensitive skin to do a patch test before using this micellar water.
The nozzle of this product dispenses an adequate amount of product, and all you need to do is tilt the bottle on to your cotton pad. You actually do not need a lot of micellar water to remove light makeup, which means that a little goes a long way with this product. Personally speaking, all I wear on an everyday basis is blush, eyebrow pencil, and lip color. I require just one cotton pad soaked with a few drops of the Pond's micellar water to remove all of this. For heavy makeup, more quantity is required. It also efficiently removes dust and pollution. After using this product, my face feels neither greasy nor dry.
However, contrary to the claims of the brand, I do think that washing the face with a cleanser is a must after using the product. In fact, you should definitely wash your face after using micellar water, no matter the brand. Micellar water has micelles, or tiny molecules, of surfactant suspended in it. The micelles are what break down makeup. Not cleansing your face after using micellar water is equivalent to leaving soap on your face. Moreover, products like primer and foundation do tend to get into the skin, so thorough cleansing is needed to effectively remove them, and just micellar water cannot do the job.
I think that the Pond's micellar water is a perfect budget-friendly makeup remover. It looks pretty, does the job well, smells nice, and if you're bored of your Garnier micellar water, this is a really welcome change. Moreover, it is easily available online and offline.
Pros:
Sturdy packaging

Affordable

Easily available

Removes makeup effectively

Neither greasy nor drying
Cons:
Pond's Vitamin Micellar Water
Final Word
The Pond's Vitamin Micellar Water does pretty much everything micellar water is supposed to do. The Brightening Rose variant looks and smells lovely. It's reasonably priced and effective. I recommend this and will certainly repurchase it!