Koreans are renowned for their beautiful, healthy, and glowing skin and hair, so it's no wonder why so many of us are looking to their haircare products to help us achieve the same results.
But with so many shampoos on the market, deciding which one is best for you can be overwhelming.
That's why we've rounded up the top Korean shampoos to help you find the perfect product for your hair needs.
From natural ingredients to deep cleansing formulas, these shampoos will surely help you get that coveted Korean hair you've dreamed of.
Keep reading to find out the best Korean shampoos to get your tresses glowing!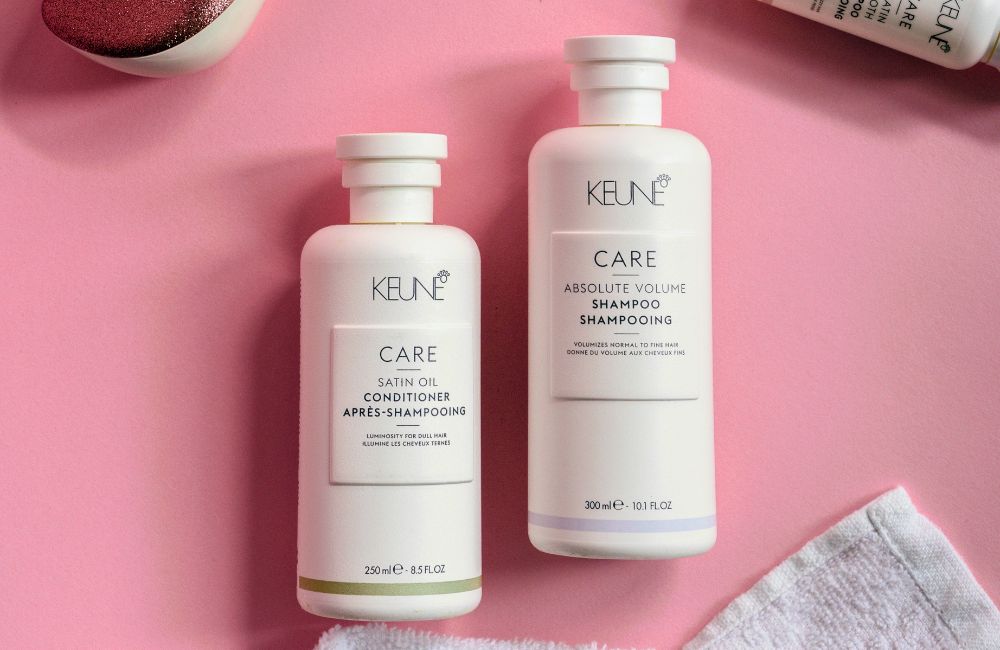 What makes Korean shampoos so unique?
Have you noticed that Korean beauty products are all the rage these days? But did you know that Korean companies aren't just focused on cosmetics and skincare? They're also making big waves in the shampoo game!
What sets Korean shampoos apart is that they use a lot of herbal ingredients like ginseng, green tea extract, and honey, which makes the products top-notch quality.
It's not just about getting the job done, though. Korean shampoo formulas are way gentler on the hair because they're free of harsh ingredients like parabens and sulfates, meaning they won't strip your hair of its natural oils. As a result, they're often less irritating on the scalp.
Plus, they don't just target the hair – they concentrate on the scalp, which helps solve long-term hair problems.
And let's not forget about the ultimate goal here: to have luscious, shiny, bouncy hair like the Koreans!
Now we'll look at some Korean shampoos for different types of hair. They're all available on Amazon!
1. Ichikami Smooth and Sleek Shampoo and Conditioner
Japanese research went into developing Ichikami Smooth and Sleek shampoo. The brand claims that the product gives tangle-free hair that's no longer dry and brittle. Use it with Ichikami Smooth and Sleek conditioner for best results.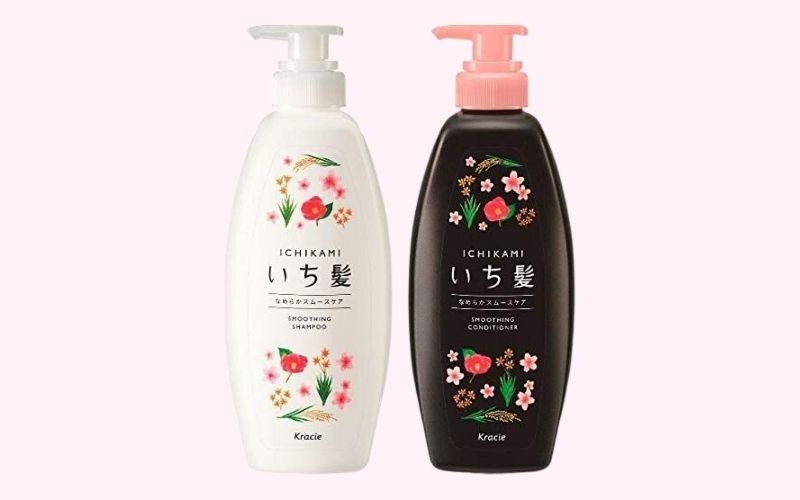 Why we love it
If you're looking for shampoo and conditioner that will give you silky smooth hair and prevent damage, here it is! You'll love this dynamic duo that also works wonders on damaged tresses. Oh, and did we mention you'll smell amazing? Imagine walking through a field of flowers! Plus, your scalp will feel so soft, and your hair won't feel dry at all.
Pros
Cherry blossom smells really floral
Very well lathers – you only need a little bit
Gives you soft, silky hair without stripping the hair of its essential oils
Highly moisturizing
Sulfate, silicone-free
Cons
Not paraben free
Not readily available in stores
Highly scented – not good for those who don't like fragrance
Best for: Dry, dull hair, frizzy hair, straight hair
2. Daeng Gi Meo Ri Ki-Gold Premium Hair Care System Shampoo
Voted as the number one Korean herbal shampoo, The Daeng Gi Meo Ri Ki-Gold Premium Hair Care System Shampoo strengthens hair follicles to improve scalp health. As a result, it reduces hair loss and gets rid of an itchy scalp.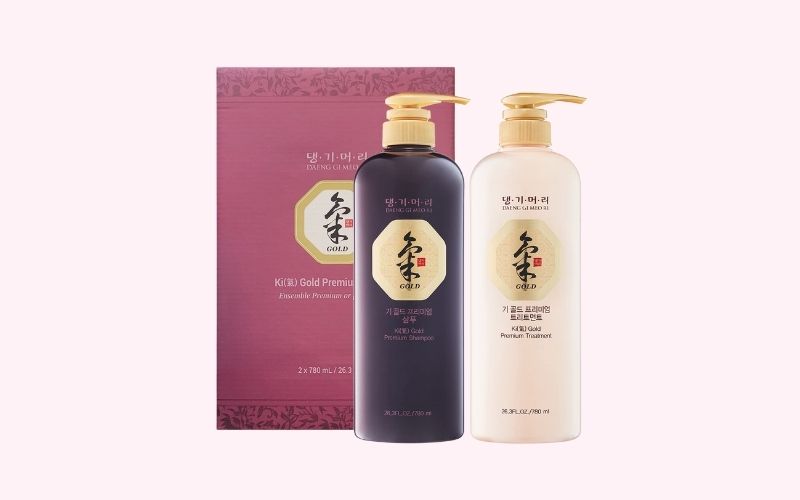 Why we love it
The shampoo contains a whopping 11 medicinal plants and a healthy dose of pure Ginseng extract! And not just any ginseng, but the Korean variety that nourishes hair roots, promotes hair growth, and boosts blood circulation. That's not all, though – it also works beautifully as a treatment for dandruff and itchy scalp. And as an added bonus, Ceramides work to lock in moisture and repair damaged hair.
Pros
Strengthens and nourishes hair follicles
Provides shiny, bouncy hair
Boosts hair growth and reduces hair fall
The best Korean shampoo for hair loss
Cons
Strong herbal fragrances might not be for everyone
Not suitable for color-treated hair
Contains sulfates
Best for: hair fall, dry, itchy scalp, dandruff issues
3. The Trust TS Shampoo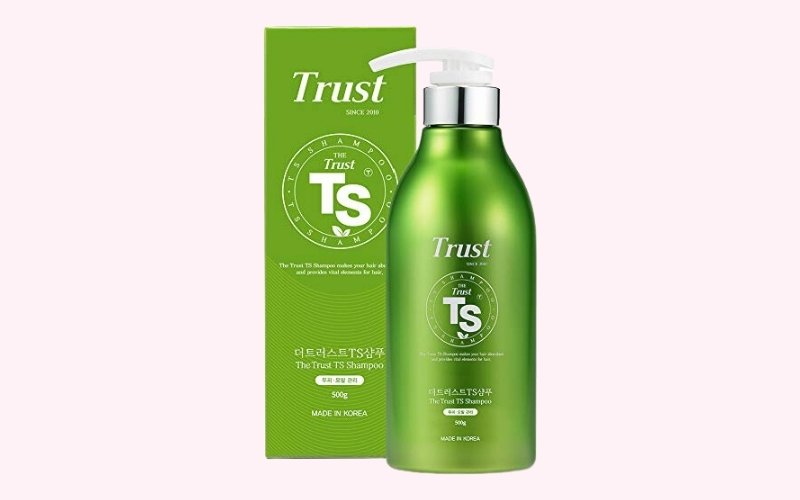 The natural ingredients, vitamins, and biotin in this shampoo will repair your hair and add thickness. Ginseng root, citric acids, niacinamide, and other key ingredients address thinning hair. It's primarily formulated to fight hair loss and increase overall hair growth.
Why we love it
It's a blend of all sorts of great natural ingredients, like ginseng and some essential nutrients (think niacinamide and zinc) that can really do wonders for your hair. Not only will these natural ingredients help to hydrate and smooth your locks, but they'll also give them a glorious little sheen. Don't forget the biotin! This gem is high in protein and can work wonders for thinning hair. Why not give your hair the luxury treatment it deserves and pick up a bottle today?
Pros
Provides thick, healthy hair
Paraben and silicon free
Reduces dandruff and thinning hair
Specially formulated for severe hair loss
Cons
A strong citrus aroma
Expensive
Contains sulfates
Results may take a while to appear
Best for: thinning hair, hair loss, oily scalp, suitable for all hair types
4. Kundal Sulphate Free Moisturizing Shampoo
The Kundal Sulphate Free Moisturizing Shampoo is a paraben-free, natural shampoo. It breathes life back into chemically treated and damaged hair. It's one of the best Korean shampoos for hair loss.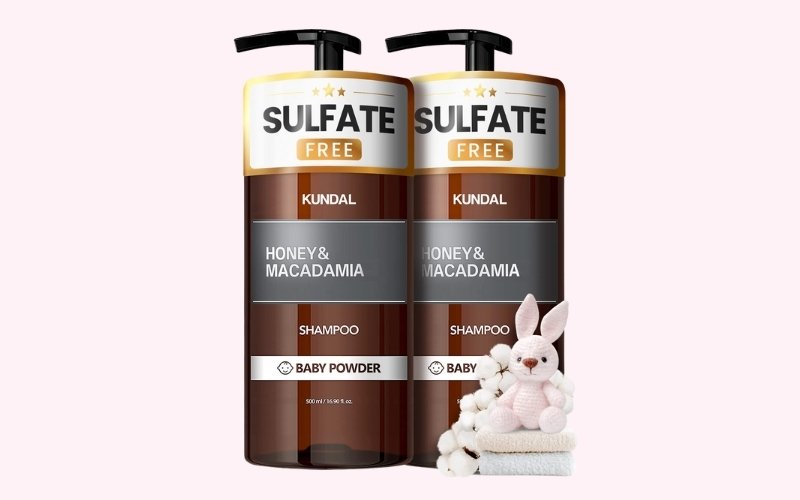 Why we love it
Did you know that this magic shampoo bottle has not one, not ten, but 46 natural ingredients and oils?! It's true! We're talking honey, macadamia (one of our favorites), and much more. This fabulous concoction will leave your hair hydrated and oh-so-silky-smooth. And the cherry on top it's pH-balanced, so no harsh chemicals here! Contains coconut surfactants to keep your hair healthy and happy.
Pros
Controls frizz and hair breakage
Helps repair chemically treated and damaged hair
Paraben, sulfate, and silicone free
Moisturizes the hair by sealing the cuticle
Cons
Watery formula
Not suitable for those with a nut allergy
Best for: frizzy hair, colored hair, curly/wavy hair
5. Mimosu Rice Water Shampoo
Mimosu Rice Water Shampoo is a vegan shampoo bar on the list. A gentle cleansing agent, coconut oil nourishes your hair strands and cleanses your scalp. Other oils include olive and argan oil.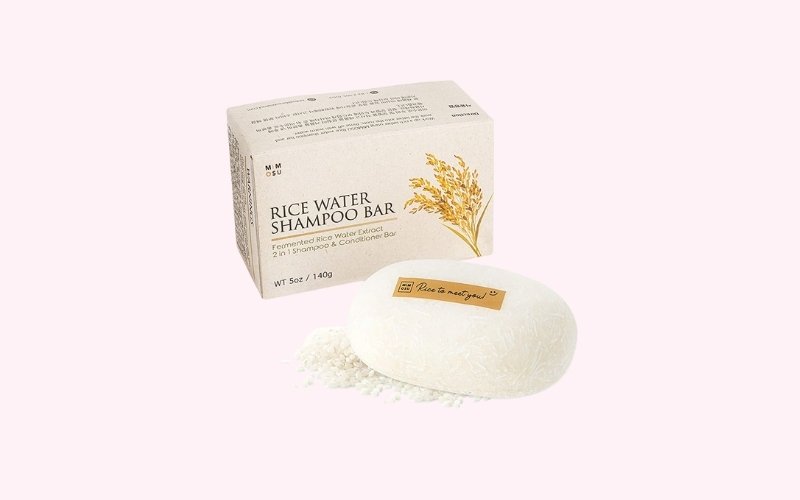 Why we love it
Rice water is great for growing healthy hair. It's so popular among Korean and even some Indian ladies who swear by its magic when it comes to creating silky, glowing locks. And that's not all it does! Rice water is also known to give hair a boost by making it grow faster and stronger while promoting long locks at the same time. Simply amazing, right?
Pros
Shampoo and conditioner in one
Reduces plastic waste
Rice water-based formula has been shown to enhance hair texture and promote hair growth.
Cons
May strip the color from colored hair
Low porosity hair might not be suitable, as it may overdo protein
Can be drying for hair
Best for: damaged hair, dull hair
6. RGIII Hair Loss Clinic Shampoo
A shampoo enriched with red ginseng and other natural ingredients prevents hair loss and improves hair thickness. Clinically tested, it reduces hair thinning and promotes volume and thickness by reducing breakage.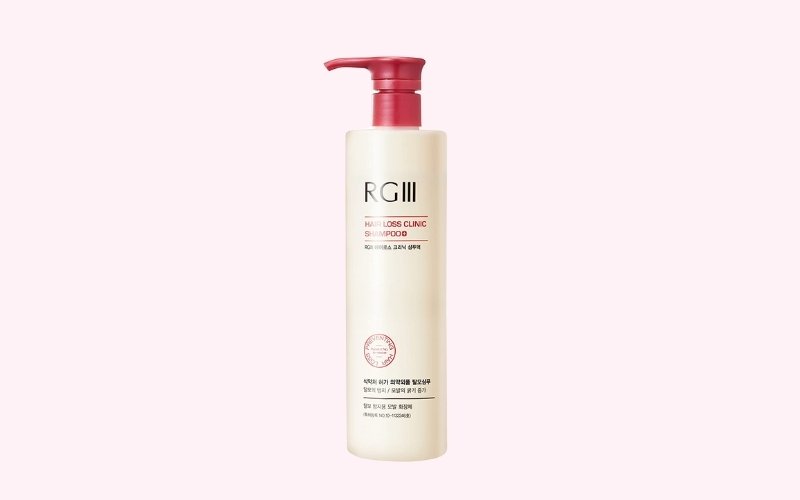 Why we love it
Red ginseng transforms your hair game like no other ingredient! With the help of this shampoo, you can have the strongest, most voluminous locks ever. But wait, there's more! Not only does it promote growth and strength, it even fights off pesky dandruff. What's more? Korean Ministry of Food and Drug Safety approved the shampoo, so you know it's high-quality. Rather than settling for limp, lifeless hair, why not try this thickening and volumizing shampoo?
Pros
Free of parabens, gluten, and cruelty
Safe for chemically treated hair
Thick, healthy hair that's less prone to thinning
Cons
Some people may not enjoy the smell of ginseng
A little hard to find
Best for: all hair types, thin and breaking hair, dandruff
7. Scapes Untold Beauty Apothehair Scalp Care Shampoo
The Apothehair Scalp Care Shampoo promotes the deep cleaning and strengthening of the scalp. This hair care product is formulated with 9 traditional Korean ingredients, including ginseng, camomile, green tea, and many more.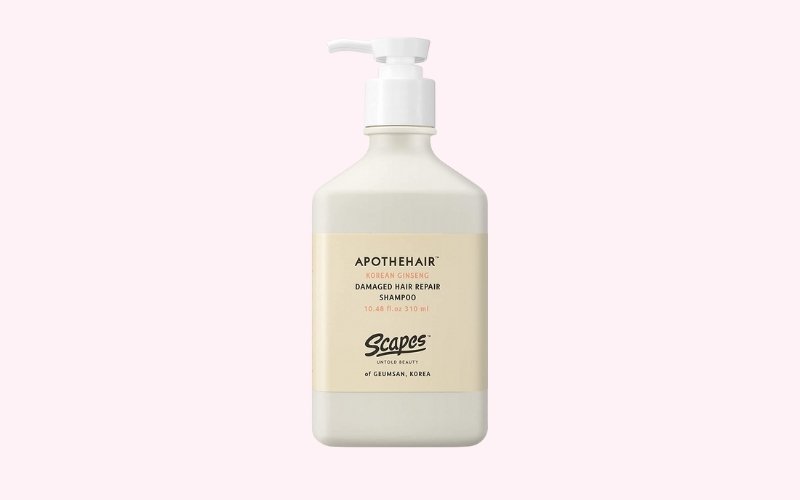 Why we love it
This Korean shampoo for damaged hair gives your hair the right nutrients to prevent breakage and hair fall, and it also strengthens your roots and promotes blood flow in your scalp – the perfect combination for luscious locks! Plus, it's a superhero when it comes to rejuvenating and transforming damaged hair. Moreover, it deep cleanses the scalp, clearing out any excess oil or product buildup and leaving your scalp squeaky clean.
Pros
Smells amazing
Boosts hair health
Gets rid of product buildup by deeply cleansing the scalp
Cons
Expensive
Doesn't clear dandruff thoroughly
May not suit all skin types
Best for: an oily scalp, brittle hair, curly hair
8. Amos Professional True Repair Shampoo
Amos Professional True Repair Shampoo was developed by real hairdressers to meet the needs of real customers. The shampoo gives you smooth, soft hair by nourishing damaged, dull hair. CMC complex formula, Camelia Japonica seed oil, and Cuticle Care help with frizzy hair.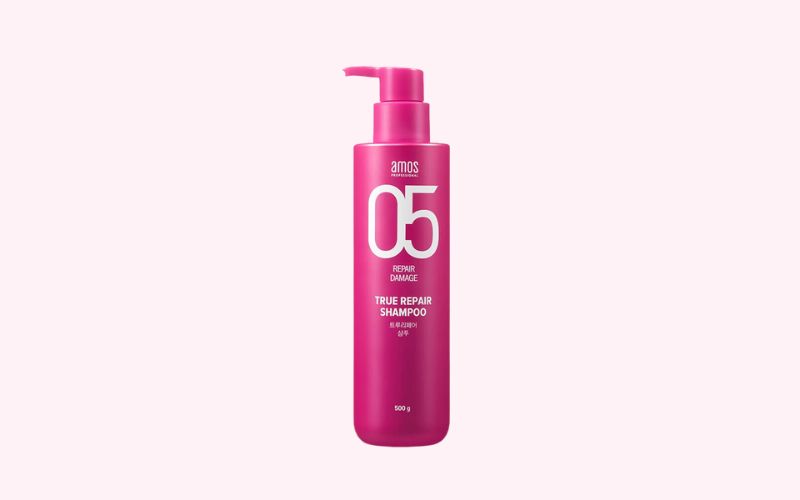 Why we love it
The unique CMS complex formula helps your hair bond at the roots and reduces hair fall. Plus, it's packed with camelia japonica seed oil and cuticle care oil to hydrate and nurture your strands, leaving them heavenly soft and easy to style. And let's not forget about that dreamy salon-level scent that'll make you feel like a million bucks. Say goodbye to frizz and hello to fluffy, gorgeous locks!
Pros
Rebuilds damaged hair
Helps with hair loss as well as moisturizing
Lathering foam helps prevent split ends
Cons
No chemicals or allergens
Comparatively fewer natural ingredients than other brands
Best for: curly hair, tangled hair, damaged and dull hair
9. TS Perfume Shampoo
A great Korean hair growth shampoo that adds anti-hair loss complexes clinically shown to stimulate deep hair growth and prevent breakage and hair loss. It's made with organic ingredients and doesn't have silicones, parabens, SLS, or SLES.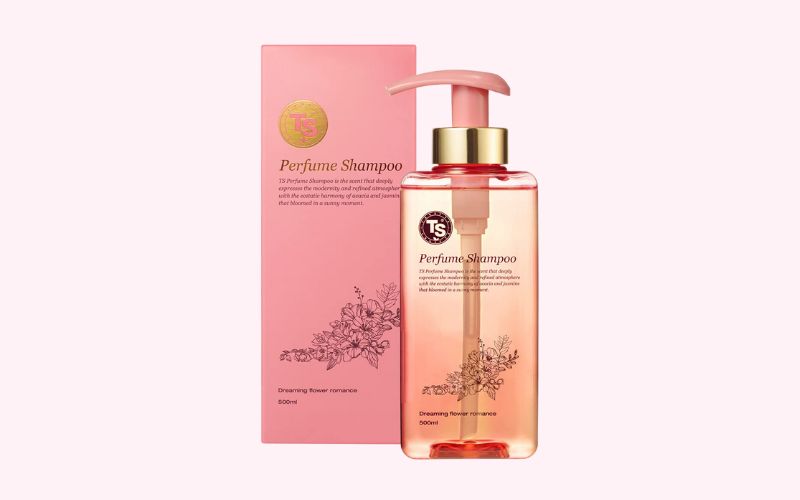 Why we love it
This TS Shampoo is designed to promote healthy hair and restore volume. With 54 natural ingredients, it works wonders for your scalp and leaves your hair smelling like a beautiful garden. Plus, they've skipped the sulfates and silicones, so no worries about your hair drying out. The shampoo also contains salicylic acid and niacinamide, which soothes an irritated scalp and helps produce keratin.
Pros
Contains a blend of natural ingredients
Reduces itching and irritation on the scalp
Hydrates and thickens hair
Cons
No parabens
Overly perfumed
Best for: thinning hair, itchy scalp, weak hair
How to Choose the Right Korean Shampoo
Consider your hair type. If you have oily hair, you might want to try a clarifying shampoo with tea tree oil or charcoal. For dry hair, nourishing shampoo with coconut oil or argan oil could do the trick. For color-treated hair, there are plenty of Korean shampoos designed to protect your color. Look for a shampoo with keratin or natural proteins to strengthen the hair shaft and prevent fading.
Check the ingredients list. Korean shampoos often contain ingredients like tea tree oil, camellia oil, rice water, and ginseng, which nourish the hair and promote hair growth. However, some popular Korean shampoos will still contain fragrances, parabens, and other harsh chemicals, so read the label carefully.
Check the formula. Shampoos have different formulations depending on your hair's needs. A protein-based shampoo fortifies and strengthens hair, while a moisturizing shampoo hydrates and soothes it. Clarifying shampoos remove buildup and excess oil so hair feels fresh and clean. Anti-dandruff shampoos contain ingredients that fight dandruff, itching, and irritation. So, pay attention to the formulation to find the best Korean shampoo for your hair.
Bottom line
Unlike other shampoo brands, Korean ones repair your hair root or follicles rather than just give you temporary relief. The best part? You'll notice a difference immediately! These products will give you shiny and smooth hair that East Asian women adore.
The sheer number of natural ingredients they use makes them so special. Some of them even boast over 50 natural ingredients that address a whole host of hair issues, like an itchy scalp and hair loss – all naturally.
The only downside? They can be a bit tricky to find and can be more expensive than your average drugstore find. But hey, if you're willing to put in the extra effort (or the extra penny), they're totally worth it.
Next time you want to replace your shampoo bottle that isn't working as well as heavily chemical-laden, do think of picking up one from this list of the best Korean shampoos!