Have you ever thought of using a vegetable or fruit as your night cream? I have a fantastic DIY for you that includes a deep red colored vegetable – beetroot.
This beetroot night cream, which we will prepare together, looks like a beautiful bright red-colored gel. It looks more like a raspberry puree or jam. OMG, I should stop now (I'm drooling).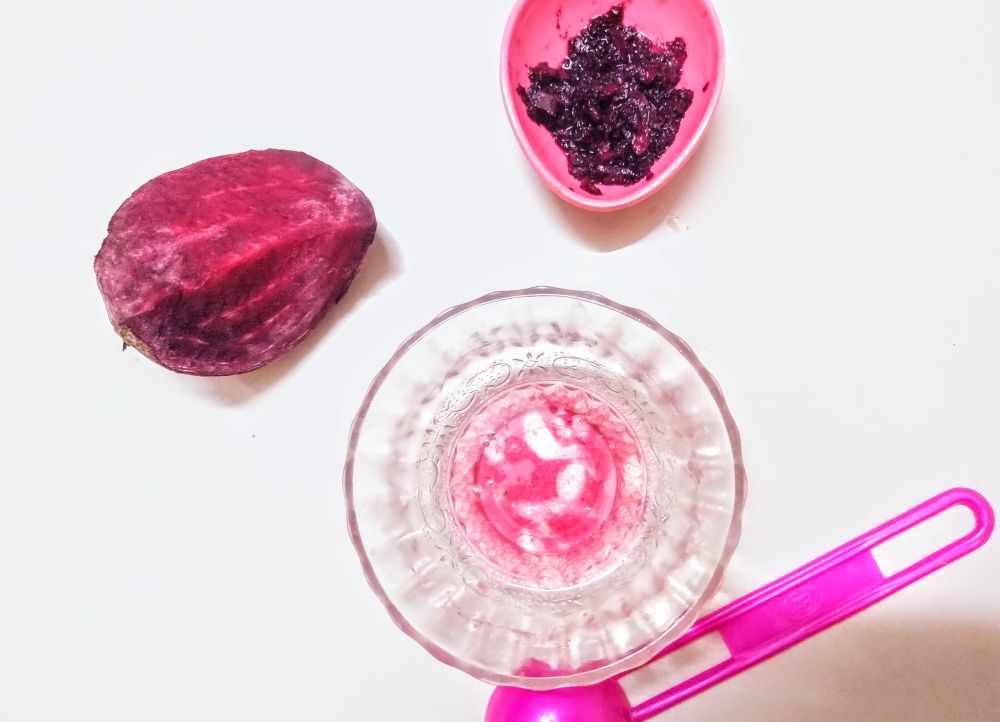 Let's get started now.
What do you need?
Beetroot juice: 6 tbsp
Beetroot paste: 1/2 tbsp
Aloe Vera gel: 2-3tbsp (I use this one)
Almond oil: 2-4 drops
Vitamin E capsule: 1 (optional)
Glycerine: 1/2 tbsp (optional)
Benefits of the Ingredients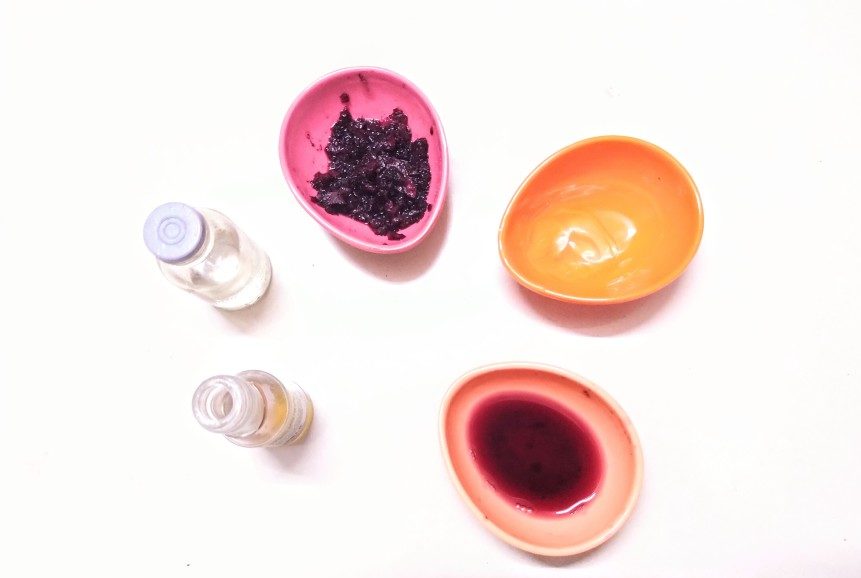 Beetroot
Beetroot benefits for the skin are endless. It's loaded with antioxidants and vitamin C in it that helps to improve the skin tone. Beetroot protects the skin from aging – prevents fine lines and wrinkles. It reduces skin pigmentations. It has beta-carotene, vitamin E, and various other nutrients to keep other skin problems away.
Aloe Vera gel
Needless to say, aloe vera has antioxidants, enzymes, vitamins A and C. It has anti-inflammatory properties that keep the skin pimple-free and prevents the growth of acne or breakouts. It treats sunburns, and acne marks too. Aloe keeps the skin hydrated for a longer time.
Glycerin
It works as a deep moisturizing agent that locks in deep hydration to the skin. Glycerin prevents skin from drying out.
Almond oil
It has vitamin E that helps to brighten and moisturize skin. The antioxidants and enzymes in it help keep the skin glowy, spotless, and healthy.
Vitamin E capsule
It works as a preservative to keep your night cream fresh for a few days. Apart from that, it helps treat acne scars, reduces pigmentations, and makes the skin soft and smooth.
Steps to Prepare the Beetroot Night Cream
1. Take the beetroot and blend it to make a smooth paste. Drain the juice into another container.
2. Add the 1/2 tbsp of paste in a bowl with 6 tbsp of beet juice.
3. Put 2-3 tbsp of aloe vera gel to it.
4. Add 2-4 drops of almond oil.
5. If you have dehydrated and patchy skin, use a vitamin E capsule or else skip the step (Cut and put a vitamin E capsule into the mixture). You can also use 1/2 tbsp of glycerine if required.
6. Give the mixture a good stir and cover the lid. If the mixture gets a bit runny, you can keep it that way or use more aloe vera gel.
7. Store it in the fridge for a whole day. You can see the thick consistency after few hours or a day. The paste will now look like a gel-based cream.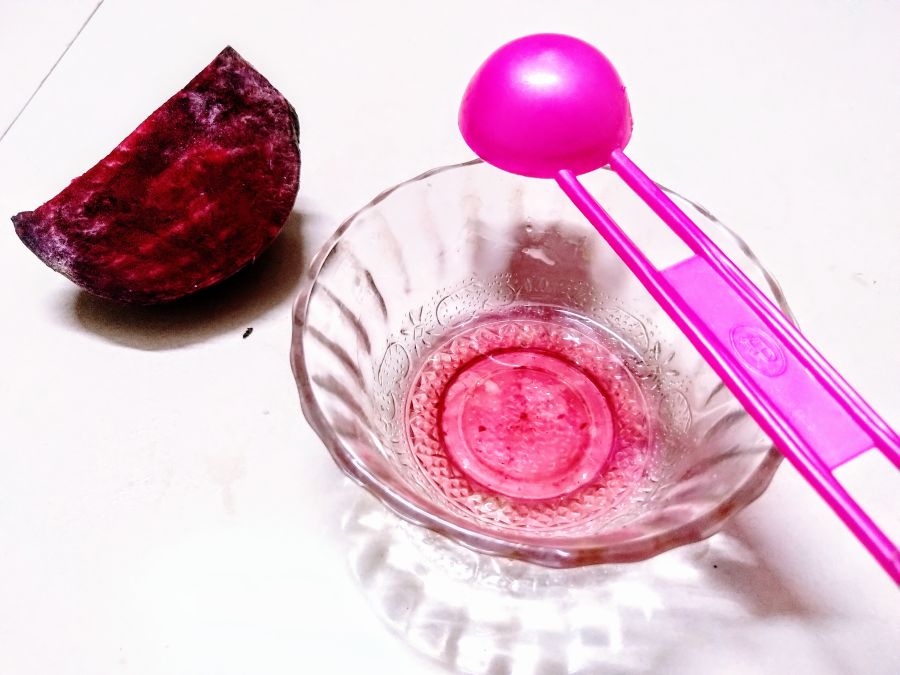 How to use it?
As it's a night cream, you have to use this at night. Apply a thick layer of it when you are done with your night rituals.
Apply your under-eye gel, then put on your night serum (if you use one) and let it sit on your skin for a while. Then apply this night cream on your face and neck as a daily moisturizer and leave it overnight. Wash it off in the morning with your mild face wash.
Use this night cream daily before bed, and you will notice the difference in 15 days. You will have smooth, spotless skin.
Benefits of beetroot for skin
Gives a perfect smoothness to the skin.
Helps to keep the moisture content for longer periods.
With regular use of this cream, it gives perfect glowing skin.
Especially in winter, this cream works best on the skin.
Helps to give a perfect texture to the skin by preventing dryness and dullness.
Prevents wrinkles, fine lines, and age spots.
Gives an even tone to the skin and helps to reduce darkness and patchy skin.
Works as a barrier for the skin from toxic pollutants.
Helps in blood circulation and gives a pinkish glow to the face.
Prevents breakouts on the face.
Reduces the acne marks and pigmentation on the skin.
Do's and don'ts
Measure the proper amount of each ingredient given on the above list. Use accordingly.
You can skip the ingredients that you're allergic to.
Do a patch test first before using anything on your skin.
Don't use much glycerine, or it makes the skin bit patchy.
Don't use too much almond oil or vitamin E capsule (oil). It makes pimples appear on the skin.
Overuse of oil in the night cream may make the consistency bit thinner.
Use it properly on your face and neck.
Avoid using on cuts and burnt skin.
Avoid applying it to your under-eye area.
Use the required amount on the skin, or it may make your skin greasy.
The takeaway
Finally, I would like to say that this is an everyday moisturizer. You can use this gel-based cream every night on your skin. I have been using this night cream for the last 4-5 months on alternate nights and have experienced excellent results.
I have also recommended this to one of my friends who had uneven skin tone and many dark patches on the forehead. Eventually, she has a natural glow on her face and much fewer spots on the forehead right now. I have made two more extra jars today for my cousins. They have been using this beetroot night cream for the last two months and have asked me for refilling. Incredibly, I have received great feedback from them in just two months.
This beetroot face cream is quite simple to make and, at the same time, affects the skin. So, why are you waiting for? Just go for it and share your experience with me in the comments.