Yves Rocher Sensual Eau de Toilette in Bourbon Vanilla has been my signature scent for the past two years. It is one of Yves Rocher's best selling scents.
Yves Rocher has been known for creating some beautiful fragrances over the past few decades. The scents the noses of the company have created are affordable and high-quality.
Yves Rocher caters to people of all tastes – whether you like earthy, flowery, sweet or spicy scents – they have it all for you.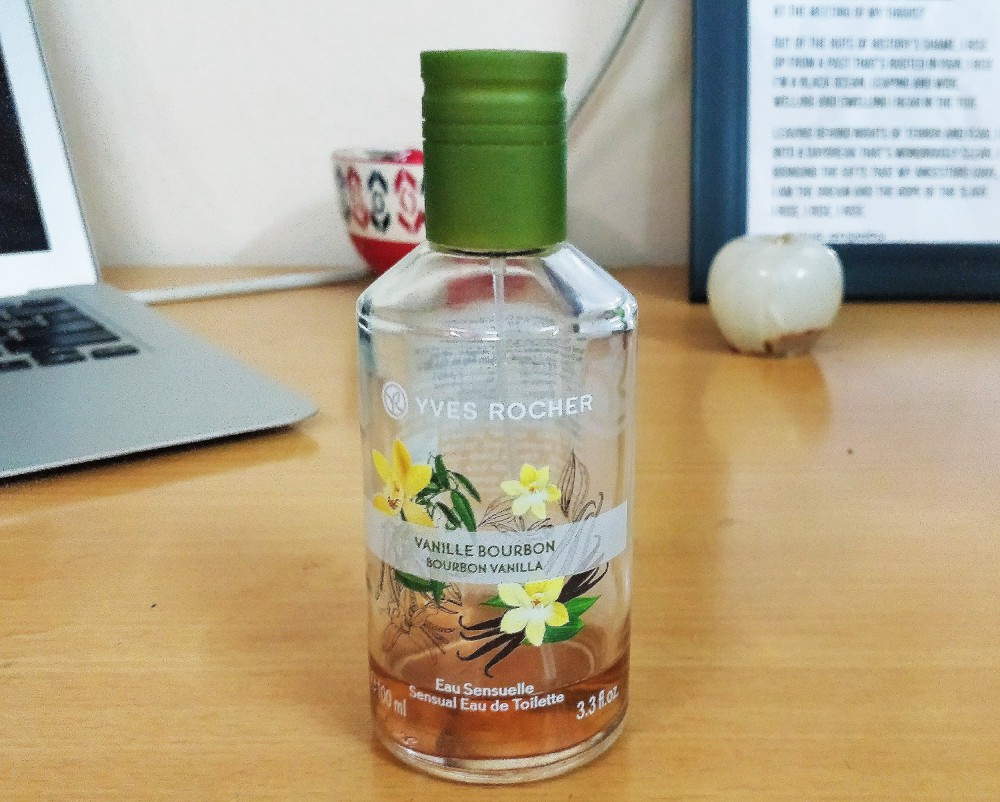 The following are the notes of Yves Rocher in Bourbon Vanilla:
Top Note – Citrus (Most probably a lemon or bergamot)
Middle Note – Bourbon Vanilla
Base Note – Bourbon Vanilla
Price: Yves Rocher Sensual Eau De Toilette in Bourbon Vanilla is priced at RS. 900 online. You can buy it at department stores like Shoppers Stop and Lifestyle in India.
Yves Rocher Sensual Eau de Toilette Bourbon Vanilla Review
Yves Rocher is a French brand which is known to cater to people who are looking for affordable prices, high performing scents and replicas of high-end perfumes. Hence, the only place the brand stands back in delivering is packaging.
Yves Rocher Bourbon Vanilla comes in a modest 100 ml transparent glass bottle with an olive green plastic cap. The packaging doesn't stand out in any way – it is simple and minimalistic.
The back of the round bottle shows the information, ingredients, manufacturing details, expiry date, etc. The bottle also lists the ingredients in French.
This particular scent is a powdery vanilla note with a citrusy twist. The perfume has only one base note as per the ingredients – concentrated extracts of Bourbon Vanilla. However, I smell it quite differently.
On the first spray, it smells tangerine and citrusy – almost like a lemon custard pie. After the scent dries down on the skin, the vanilla stands out and smells more like cookies and cream. You have to keep in mind that scents smell different to different noses. The perfume smells different on everybody after it mixes with their skin chemistry.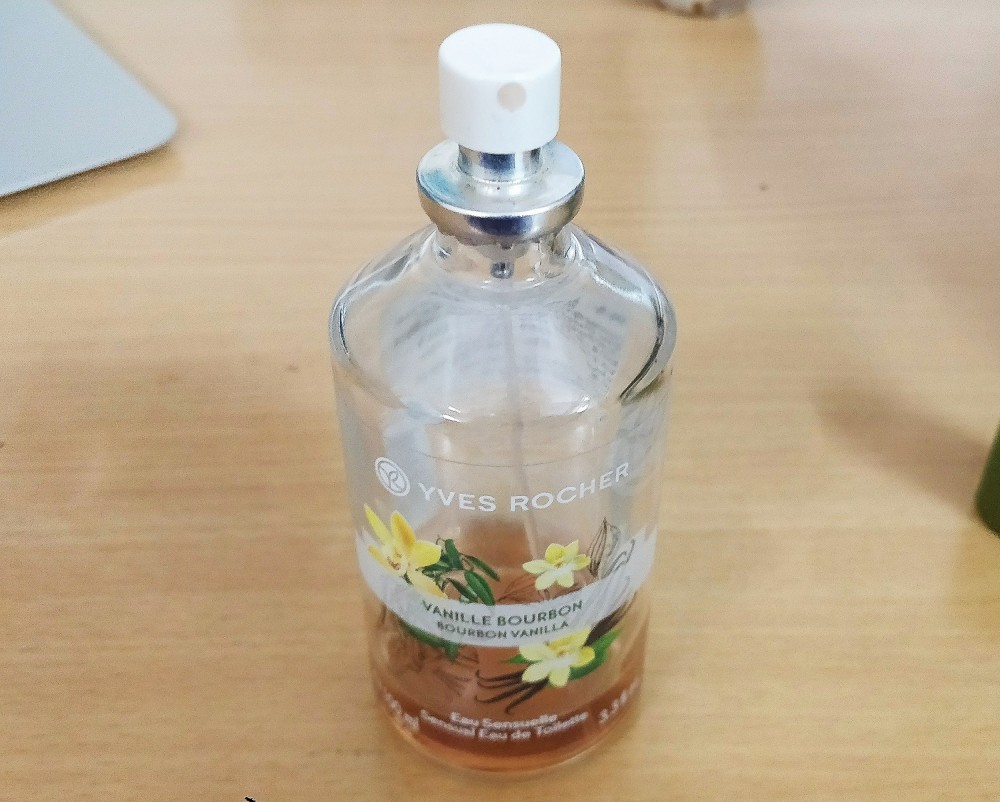 While most people think that sweet scents go better with a colder climate, I think this particular scent would work well even during summers because of the citrusy twist. The scent not only make you feel cozy and warm – but it also soothes and energizes you.
Bourbon Vanilla is a type of vanilla which typically comes from the farms of Madagascar. In comparison to typical creamy vanilla, Bourbon Vanilla has high vanilla content and has a strong boozy scent. This type of vanilla gives an intoxicating twist to the perfume.
Yves Rocher Bourbon Vanilla doesn't qualify as a strong perfume – it is mild, soft and durable. It has good sillage and longevity. Most of the smell fades away after 4-5 hours – what remains is a sweet and boozy vanilla scent. On my skin, the perfume acts more like a skin scent and lasts for 7-8 hours. It can last longer on clothes (approximately 10-12 hours). I can sometimes even smell the perfume on my clothes the night after.
Yves Rocher also has an entire line of Bourbon Vanilla bath and body products – a body shower gel, body oil, body lotion, hand cream and lip balm. I owned a 250 ml bottle of Bourbon Vanilla body lotion. It smelled exactly like the perfume version. It especially works great when you use the products to layer the scent on your body. This increases the longevity and projection of the fragrance.
Yves Rocher Sensual Eau de Toilette - Bourbon Vanilla
Final Word
Yves Rocher in Bourbon Vanilla is a sweet and intoxicating perfume with the right about of booziness and powderiness. It works best as a skin scent than as a strong perfume. It has excellent longevity and projection. You can wear this perfume throughout the year.