Most of us have all been at home and work, which doesn't help drive us to get dressed. You might be working in our sweatpants because what can be more comfortable than a pair of sweatpants?
Apart from that, some people have been working from home for years and already know how to look like a boss babe.
If you're looking for some inspiration, here are some sassy WFH ideas and recommendations that you can try out as your work from home wear and look fashionable plus professional at the same time!
What is Work From Home aka WFH?
Work from home, as it suggests, is working from home. All you need is your laptop, phone, and a room for yourself, and you are good to go!
Whether you were working from home already or started just now, taking your fashion sense up a notch will always make sure you are driven, excited, and professional for work.
What Should I Wear to Work From Home? Our Top Recommendations
If you are in a dilemma about what you should be wearing for a video call with a colleague or a web conference, then here are some WFH wear ideas to dress for the home that can help you dress up like a boss lady.
Readers like you help keep The Beautyholic running. When you buy through links on our blog, as an Amazon Associate, we earn from qualifying purchases at no extra cost to you.
Tops
These trendy tops will sort your dress up woes:
Tunic Blouse Tie Knot Shirt
These are some comfortable shirts that you can pair up with either your denim jeans or your leggings. They are comfortable as well as stylish. They come in different colors, so you have a wide variety of options to choose from for your work from home outfit.
An Elegant Shirt
These are all-purpose collared blouses you can wear on a pair of classic black jeans or black pants to give it a more professional look. These are comfortable as well as classy. This shirt will provide you with a complete professional and elegant look.
Mama Bear Batwing Sleeve Sweatshirt
By the look of it, you can imagine how comfortable and warm these tops would be! They are made of cotton, so even though they look warm, you wouldn't feel hot in them. They are comfortable and decent for the work environment. You can pair it up with your jeggings or ripped jeans to give you a more fashionable look.
V-Neck Blouse
If you want to get an indo-western look, then these blouses are a great option to add to your work from home wardrobe. You can wear them on your jeans or with your leggings and pair them with some oxidized silver danglers. It is comfortable and stylish as well as professional.
Bell Sleeve Mesh Blouse
These tops come in different vibrant colors so that you could feel the summer vibes with these tops. These go well with your jeans, and you can add little accessories to go with it, like rings or a simple bracelet. These look decent as well as fashionable to wear at a weekend video conference.
a Fuzzy Wrap-Me-Up
This cute wrap-me-up top is comfortable and warm, with a cute hood attached to it. It goes well with jeans and jeggings. They are perfect to wear when you feel lazy and don't feel like dressing up. They would make you look well put in front of your colleagues, and you would, in turn, feel comfortable in these.
7. A Minimalistic Tunic Shirt
It works great for a casual WFH day when you can't decide what to wear.  You can never go wrong with a tunic shirt that looks classy. Made of chiffon fabric and designed elegantly, you can pair it with any formal bottom or leggings.
Bottoms
Boot-Cut Yoga Pants
You can pair these yoga pants with some nice elegant blouses to go with. They look like professional pants but are way more comfortable. They come in different funky patter, so you could mix and match them to create a new look.
Comfy Casual Pajama Pants
What can be more comfortable than a pajama? These pajamas come with very funky designs, and you can wear them while casually while working at home. They are fashionable and comfortable.
Relaxing All-Day Pant
These are professional-looking and comfortable pants that you can also wear when you go to the office or work from home. They look elegant and classy. You can pair it with any of your chic blouses to complete the look.
Oceanside Pant
These pants are fashionable and will give you the feel of sweatpants. They are a little funky, but you can pair them with a tank top and a summer coat.  They look decent and are a great option as work from home wear.
Knit Palazzo Pant
Who doesn't love palazzo pants? They go well on everything and every occasion. You can pair it up with a nice, classy white blouse and a nice hairstyle to go with. You can complete the look with some accessories and look elegant even while working from home.
Jumpsuits
Classy Romper Playsuit
A very classy and elegant-looking jumpsuit/romper which comes in different eye-pleasing colors. These look very professional and stylish. They are also very comfortable and are perfect as an at-home outfit.
Casual Jumpsuit with Pockets
This jumpsuit not only looks comfortable but is also comfortable when you wear it. It looks funky yet fashionable and gives you a very "work from home" feeling. It is casual but decent enough to wear while you work from home.
Off Shoulder Long Romper
This romper looks very classy and elegant. You could even wear it when you plan out a hangout with friends, and it is another excellent work-from-home wear option. Apart from this, it is also very comfortable.
Insulated Overalls
These rompers are very comfortable to wear. You can pair them up with a long sleeve tight top, and you will be good to go. They are very decent to wear while working from home.
Denim Casual Embroidery Boyfriend Jumpsuit
An adorable and funky option to wear while working at home. It comes with different colors and designs to choose from. They are very comfortable to wear as they fit loosely on the body and very trendy too!
Dresses
Who says you can't dress up for WFH? You definitely can! You just need to pick dresses that are sophisticated and look work-appropriate.
Striped Pencil Dress with Belt
This looks very chic and is one of the best options to wear while working at home. Apart from looking elegant, it looks very professional too. You can pair it with some dark color summer coat to complete the style!
Flowy Shift Dress
We all love shirt dresses since they are so comfortable to wear. When you are feeling a little lazy to dress, you can always rely on this one. It looks cute as well as very decent to wear while you have a video conference while at home!
Bell Sleeve Mini Dress
Another very chic dress to wear while working from home. You can pair it up with some accessories like a golden single chain necklace or some rings. It is very stylish, and this dress is also very much in trend these days as it gives a lovely summer look.
Cute A-line Dress
You can tell that it is a perfect dress to wear for work from home by its look. It is exquisite in looks. You can pair it up with a watch, some rings, and earrings to complete the look.
What Clothes Go Well With Work From Home?
Working from home in no way stops you from trying out new styles. You can always mix and match styles to wear while you work from home. Being at home gives you an opportunity and time to do just that!
Here are some ideas that can help you style your outfit for the next day to wear at work-from-home:
Leggings: they are the best and a very comfortable alternative to wearing jeans. You can wear them under any nice top, and they will look just fine!
Pajama Shirt: Yes! You can wear a neat pajama shirt while working at home. They are comfortable as well as they can look very decent too.
Sweatshirts: Everyone's all-time favorite clothing to wear! Sweatshirts are comfortable and decent to wear while you work from home.
Plaid shirts: Always comfortable and professional plaid shirts never fail as a clothing piece. They give you a geeky look if you pair it up with your glasses setting a nice professional atmosphere.
Sweatpants: Another favorite clothing item in our wardrobe. They are comfortable, and you can always wear them while working at home!
Casual half-sleeve shirt: You can pair these up with your denim, and they would never fail to create a professional environment around you.
Jeans: A pair of denim goes with everything! You can pair them up with an elegant blouse or with your plaid shirt, and they will never disappoint you.
Shirt dresses: Shirt dresses are comfortable, and if you could find a belt to go with it, it can turn out to be a great outfit idea for work-from-home.
Work From Home Style Tips
If you are still confused as to how to dress for work from home, then here are some tips that could help you set your outfits: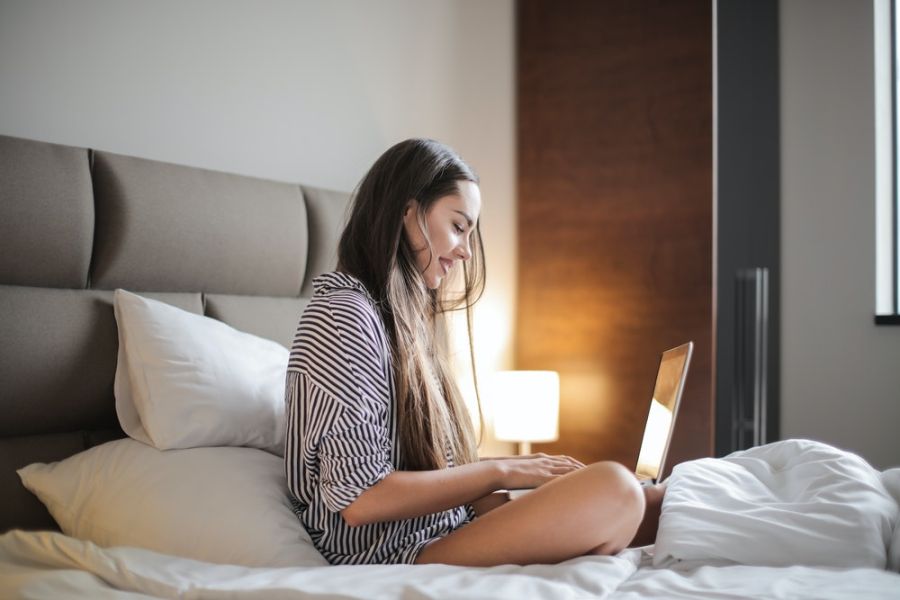 Cozy and Casual
Most of your colleagues wouldn't pay attention to what you are wearing since the priority is to get the work done. Dressing up can be useful for your mental health, no doubt, but keeping it cozy and casual can help you look decent yet save your time and energy so that you can spend it on your work.
Dress according to your mood
Some days you might feel lazy and wouldn't want to dress up, and some days you could be the fashion idol in the group of your colleagues. It is always good to dress according to your mood because it will give you an idea of your ideal style.
You might not get time to find that since you would go to the office, so now is the right time to find your style. You could try to mix and match. That is how you could discover your unique style!
Add colors
As it is said, colors are pleasing to the eyes, and hence, you should always try to add vibrant colors to your outfit. Having bright colors in your outfit can help you boost your mood. Here is how you can add colors that could help in boosting your mood
If you are wearing a dark color, you could add neon-colored accessories to make your outfit look vibrant.
Mix and match dark colors with bright colors.
You use bright lip colors if you don't want to add more colors to the outfit.
Dress to succeed
While working from home can be challenging for most of us to adjust, dressing up can help set out schedules and adjust our time like our daily routine.
Dressing up might help you be a little stress-free and help you get back to your routine. It can help you feel put together and would help you work comfortably.
Working from home gives you time to decide what you could wear. If you feel lazy and don't feel like working, you can always dress up, and it will help you schedule your day better.
It is not always necessary to wear something classy to look good, a nice dress or a complete professional attire. You can always style your sweats in a way that can help you look presentable in front of your colleagues and your boss.