I am particularly selective about my makeup brushes. As, I tend to do a natural, skin-like – makeup, I use minimal brushes. But the ones I do use are very selective and for the purpose only.
So, that is what we are going to review today, it is a powder brush by one of the most popular and affordable brand in India – 'Wet n Wild'. My motive for buying this brush was that whenever I applied the face powder using the compact pad it got very targeted and picked up a large amount at the beginning and overall looked very heavy.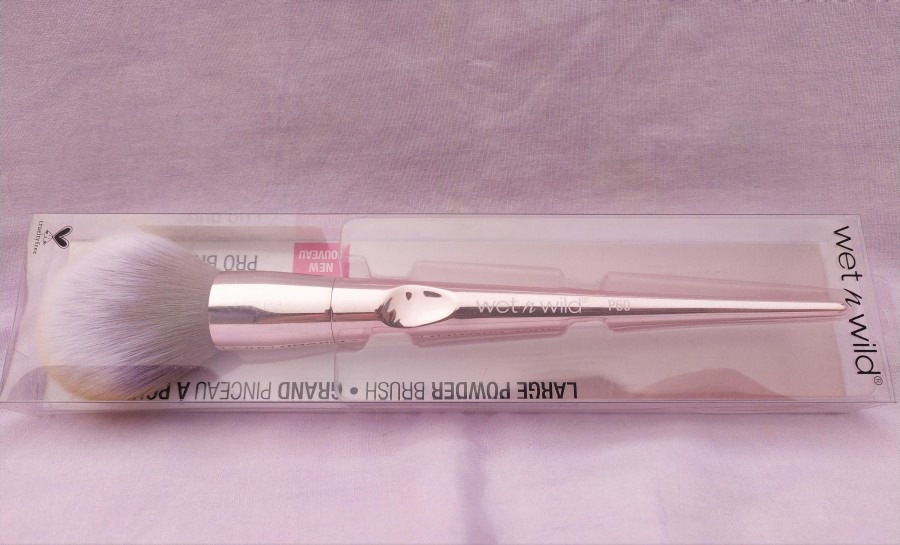 So, I needed something that would give me just a flush of the setting powder all over the face just to set my makeup and make it look packed, so I got it this brush for the purpose. Read on to know how the Wet n Wild Pro Brush Line – Large Powder Brush fared me.
About Wet n Wild Pro Brush Line – Large Powder Brush: Introducing Wet n Wild makeup brushes collection to help you do your makeup in the right way, perfectly soft and smooth!
The Wet n Wild pretty and plush powder brush helps blend your loose or pressed powder into the skin instead of sitting on top of it! It's comfy in your hand, with a nook for your finger to rest that gives you total control.Ultra-soft and densely packed synthetic bristles.No animals were harmed in the making of these brushes. Ergonomic handle for a comfortable hold.
Readers like you help keep The Beautyholic running. When you buy through links on our blog, as an Amazon Associate, we earn from qualifying purchases at no extra cost to you.
Price: The brush retails for Rupees 899/-  | Buy it on Amazon here
Wet n Wild Pro Brush Line – Large Powder Brush Review
The brush comes packed in a plastic, transparent case. The brush, first of all, is really pretty and does not look cheap at all.
The body of the brush is pinkish in tone and metallic in look. And has an easy to grip thumb dip. The bristles are black and white in color.
The bristles of the brush are said to be "Two-toned synthetic Polymax fibers that mimic the consistency of natural hairs". The hair of the brush does feel really soft to touch.
Your product is going to stain bristles of the brush, but it is nothing to worry about you can just wash it off easily.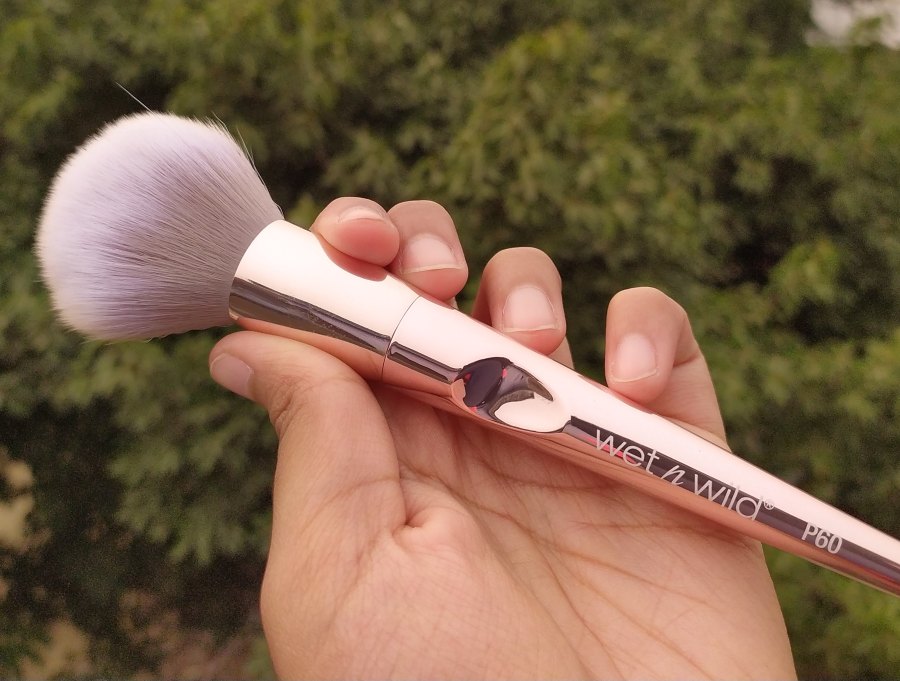 The Wet n Wild Pro Brush Line – Large Powder Brush is indeed pretty large and fluffy. It can pick up exactly the amount of product that you want like more or less.
The top, slight round shape of the brush allows the application of the product on the bridge of the nose and certain other similar areas and angles.
The brush can be used to apply compacts, blush, bronzer, and setting powder. I use it to apply my compact as mentioned earlier for a natural, light look.
The brush does not absorb up any of the products which is a huge yay! because some brushes do that and cause a lot of trouble.
The brush feels amazingly soft and light on the face. And it solves my purpose truly, that is it gives an even, perfect wash of color to my face.
The brush spreads the product very lightly and evenly on my face. Blending it in pretty well with a few strokes. So that my compact looks natural and not all cakey and layered up.
And also I have experienced no shedding until now.
I bought the last year, so that is really good too. Just make sure to keep it safe and use it properly and the shedding will be minimal.
The same thing goes for bronzers and blushes and more such powdery products that are needed in lesser quantity to add that glow to the face.
This brush is made for such products trust me.
Pros:
The brand claims that it is "Cruelty-Free, Gluten-Free, and Vegan".
Beautiful, chic looking design.
Easy to hold and work with.
It has really soft bristles.
Minimal shedding.
Picks up the amount of product you want.
It does not absorb the product.
Gives a beautiful, even wash of color and glow to your face.
The shape of the brush ensures easy application.
Cons:
A bit costly.
Cannot target smaller areas.
The brush won't give you a perfect concealing effect just a wash of color.
Have you tried the Wet n Wild Pro Brush Line – Large Powder Brush? Let me know in the comments below!
Wet n Wild Pro Brush Line - Large Powder Brush
Final Word
In all the brush is really nice and works amazing for its price tag. If you need an even wash of color, don't think twice and go for it. However, if you want a brush for small, target areas that require actual blending then this brush is not going to work. It is in the name of the brush, a large powder brush. A big fluffy brush for powdery products. At first, I did not think it will make my powder sit but the brush is somewhat dense but to my amazement it makes the product sit really well. So, in a line, if you want a large, fluffy but somewhat dense brush this Wet n Wild Pro Brush Line – Large Powder Brush is one of the best ones out there.