Deciding how to do your makeup when you're a wedding guest can be quite a challenge.
Because You want to look good and really good, plus you need to make sure you don't end up making a makeup blunder and be remembered for it for years.
Keep this in mind, and you need to do well-balanced makeup as you don't want to look like you are trying to outshine the bride.
If you are struggling to pick the perfect makeup look for the day, then relax! We've rounded up the five best makeup looks to nail the wedding guest look!
Basic rules to follow
• Find a foundation that is only 1-2 times lighter than your actual skin color. Going more lighter won't look good at all. The color should blend in your skin and brighten the face. Don't get tempted to look fairer as it looks really, really bad!
• Use false lashes – since it's wedding makeup, you definitely need falsies to add some drama to your eyes, plus the eyes look fuller and bigger.
• Highlight like a pro – Indian weddings are all about glitter, shine, and sparkles. You need a warm golden or any colored highlighter to shine bright like a diamond
• Don't forget your nails – match your nails with your outfit. Matching nails gives an extra polished effect and are classy.
Makeup Looks for Indian Wedding Guest
Bold red lips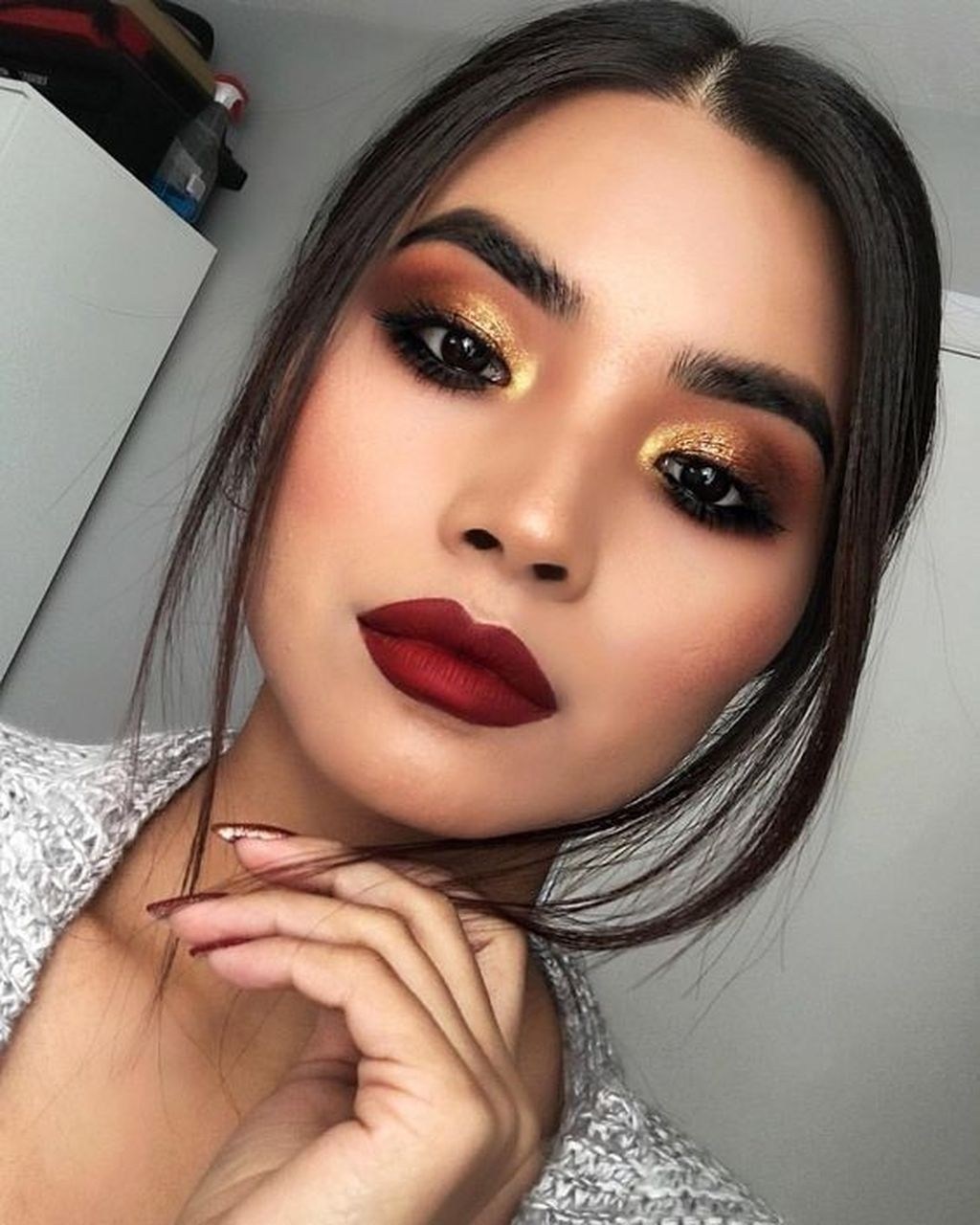 To get this look, start with a primer foundation and use a concealer on the under eyes and other required areas of the face.
Next, use a compact powder all over the face.
Fill in your brows using a makeup brush. Remember not to go extra dark.
You need a bronzer to contour the nose, forehead, and cheekbones.
Outline the lips using a red lip liner and fill in the lips with deep red lipstick.
Now use a brown eye shadow all over the eyelid. Use a golden shimmer eye shadow on only half of the eyes and the inner corner of the eyes.
Apply kohl on the lower eyelid using a brush to get the smokey eye look. Use a highlighter on the nose and cheeks. Use glittery nail polish on your nails and you're done!
Muted Rose makeup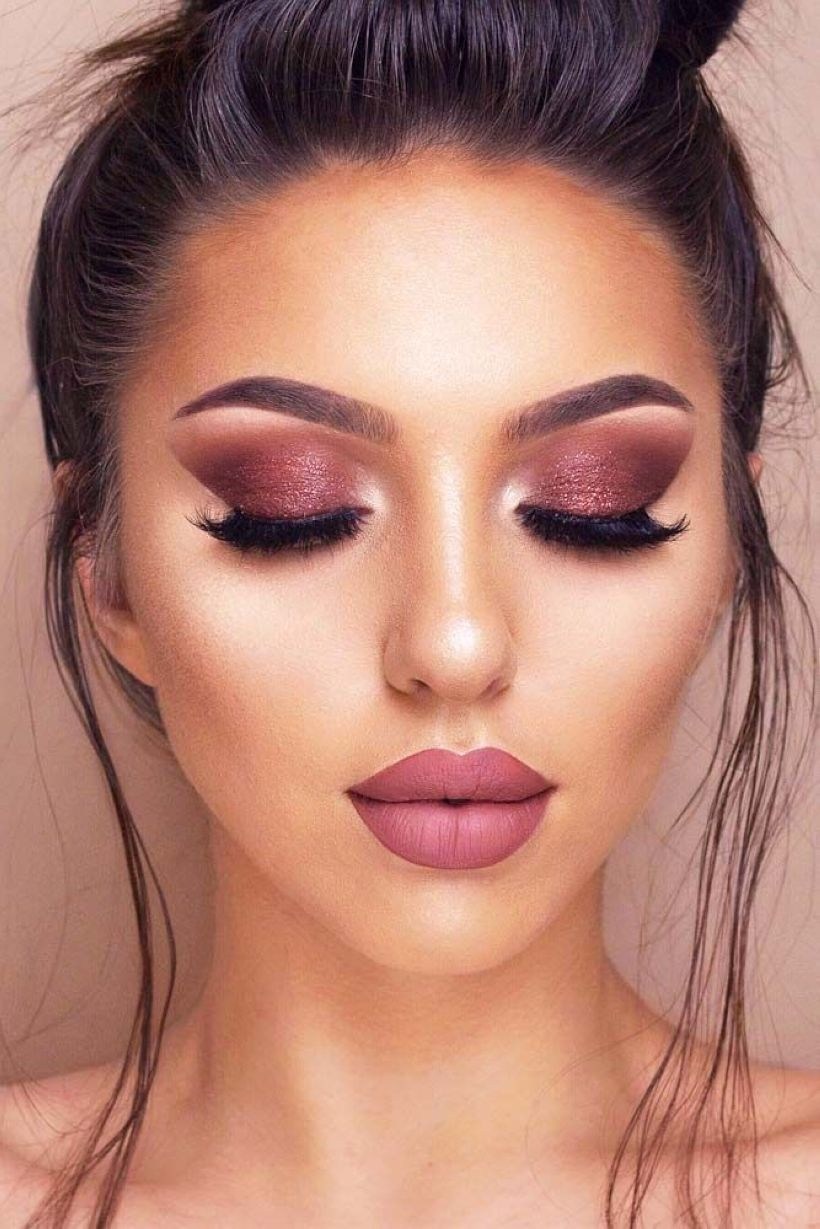 Starting with primer-foundation-concealer, compact powder, contour the forehead and cheekbones and nose.
Fill in your brows with a dark brown color and outline with a concealer/foundation to highlight your brows.
Use a highlighter and apply it to the center of the nose and cheekbones.
Apply a cello tape to get that clean effect and remove it very slowly after the entire eye makeup is done. Use a warm nude shade on the upper eyelid, including your brow bone.
Take a darker brown shade and blend in the crease and browbone. Use a muted Plumy shade on the eyelid leaving the brow bone area. Now use shimmer on the upper lid.
Lastly, apply false lashes and top it up with some generous amount of mascara. Find a matching lipstick and start by outlining your lips.
Don't go extra as you don't want to look like you pretend to have bigger lips. Applying a lip liner will give your lips a bigger appearance. Fill in with the lipstick and you are done!
Warm sunny makeup for an ethnic look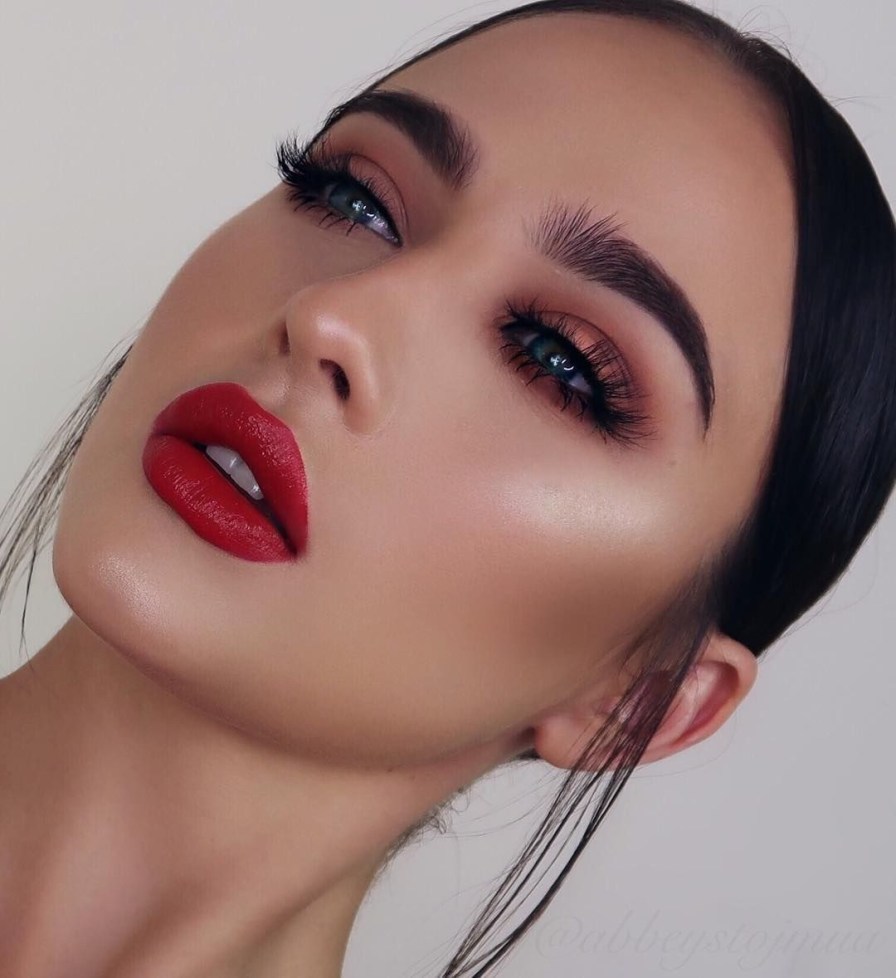 Begin with primer-foundation-concealer and compact powder.
Take a warm colored blush as your lips are already red as using pink-red shade won't flatter.
Use a black shade from your eyebrow kit and fill in your brows.
Apply concealer to outline your brows.
Use a white or a light eyeshadow all over the upper eyelid. Using a light-colored eye shadow as a base allows other colors to pop.
Now use a peachy shade on the crease and brow bone. Apply the same color on the lower lash.
Use a shimmer on the Center of the lid. Apply kohl very lightly on the lower lash line. Apply false lashes and apply two coats of mascara.
Bright makeup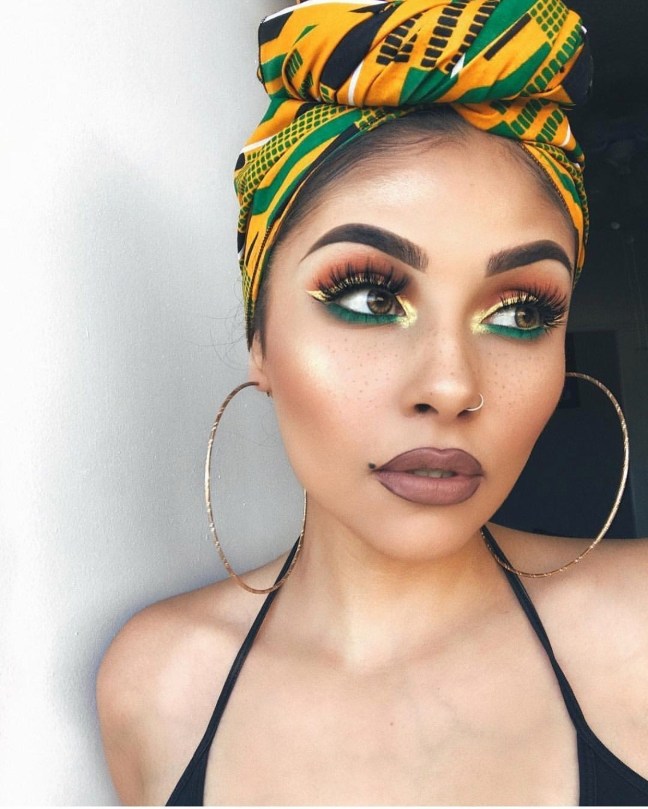 This look is for someone for is brave and courageous and loves to play with colors! Many won't even like it, and if it's your thing, then it's for you!
Start by your basic steps cleanse the skin, primer-foundation-concealer-compact powder.
Fill in your brows using black color. Always use a makeup brush to achieve natural-looking fuller brows. Use an old pen or a toothpick to apply false freckles on the nose and cheekbones.
Use a brown-colored blush and highlighter for a glamorous effect.
Now comes the eyes. Start with a light base color. Now apply a dark brown-peachy shade to achieve the color in the picture and use it on the upper lid and brow bone.
Use a subtle yellow color on the upper lash line and make a wink. Use the same shade on the inner corner of the eyes. Use a greyish-brown shade on your lower lash line.
Next, apply a dark green shade on your lower lash line.
Use Kohl very lightly on the lower and upper lash line.
Apply a brown lip liner to outline the lips and fill in with brown lipstick. Apply false lashes and finish it off with mascara.
Nude Lips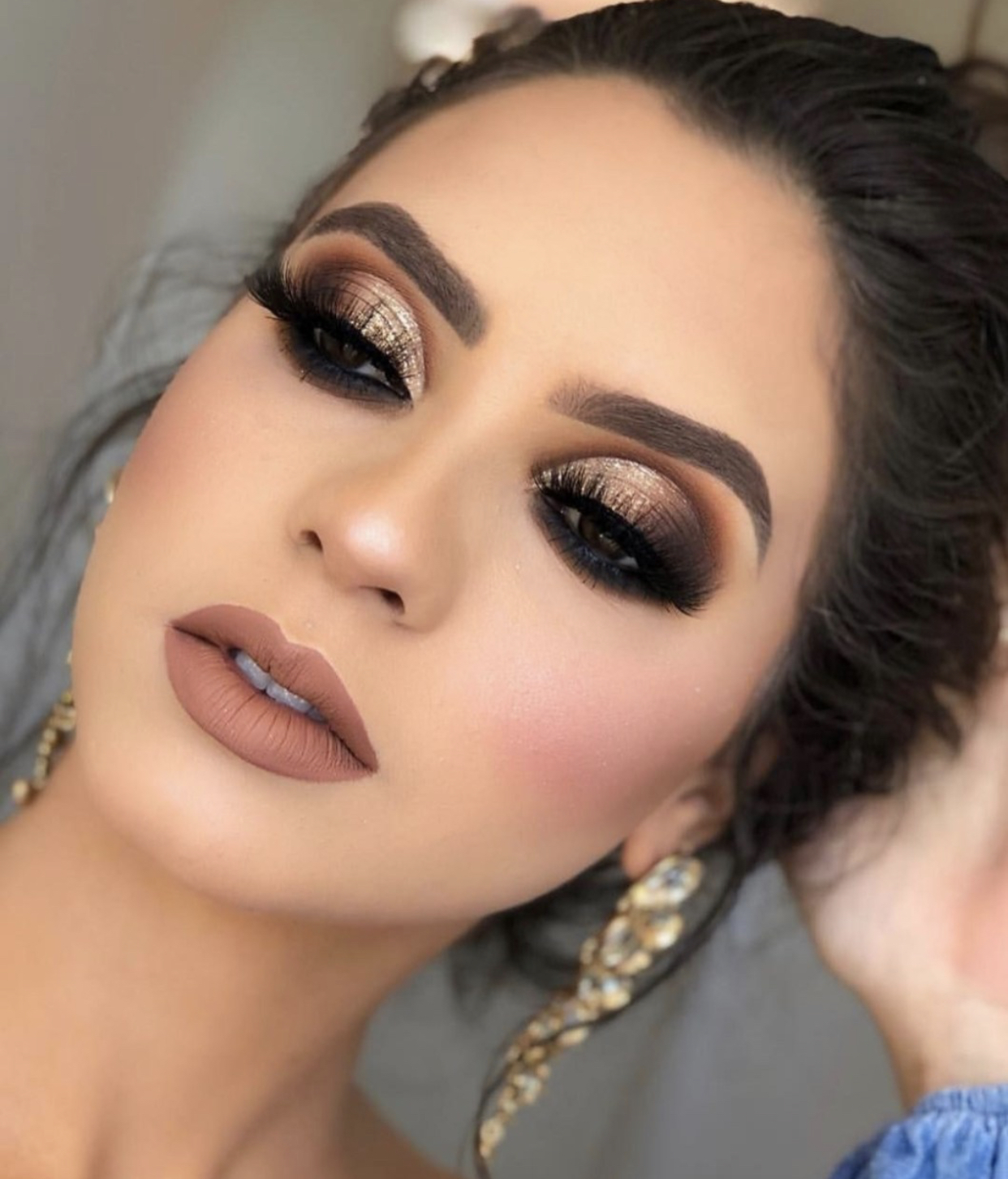 Love brown lipstick? Then this look might win your heart!
Start on a cleansed skin and apply primer-foundation-concealer.
Contour the nose, cheekbones and forehead and jawline for a sharp look.
Apply a soft pink blush on the apples of the cheeks. Apply some shimmer on the cheeks and middle of the nose.
Fill in your brows using a black shade from your eyebrow kit. Start your eye makeup with a light base color, apply a peachy brown color all over the eyes till your brow bone.
Use concealer only on the eyelid giving a round shape. We're doing this to get that HD effect like the picture. Now mix black and brown shades and apply them to the ends of the eyes. Use a light shade on half of the eyes. Use the shimmer only on the half of the eyes, leaving out the dark area.
Take a gel eyeliner and apply it to the upper lash line. Now apply a brown shade on the lower lash line. Use a black shade and apply using a brush. Now use kohl onto the waterline.
Stick on fake lashes and apply mascara. Outline the lips using a brown lip liner and fill in the lips using matte brown lipstick.
Let us know your favorite Indian wedding guest makeup look from the list. I hope you rock the wedding look!