I don't know if you have noticed it or not, but a pleasant fragrance turns as many heads as a pretty outfit or a classy handbag. Exquisite perfumes add more depth to your outfit. Having a pleasant smell makes you more attractive.
So, how do you smell beautiful? My recommendation for you: Versace Yellow Diamond Perfume. My first bottle of Versace Yellow Diamond was a birthday gift from my parents. The first whiff itself put me in a trance; it was intoxicating.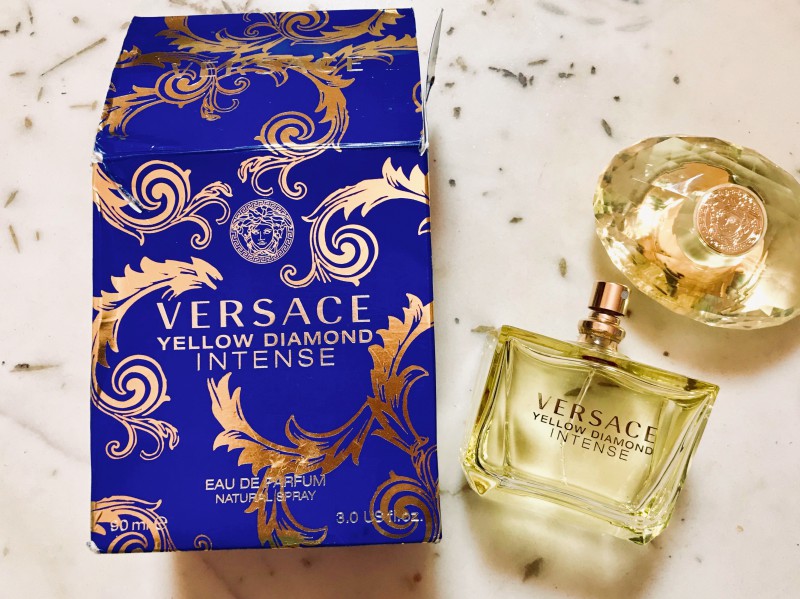 About the product:
Versace Yellow Diamond a luxury fragrance by Versace. Pure as sunlight, an extraordinary bright hue that radiates with a fiery intensity, sparkling the way that only a diamond can. A captivating and voluptuous fragrance of true female, confident in her charm, in harmony with the unmistakable glamour of Versace. This airy floral fragrance enchants with its Mediterranean refinement of sparkling Bergamot, Citron of Diamante, and noble Neroli, with the captivating addition of irresistible and attractive accents of Pear Sorbet. The heart celebrates intense and glamorous femininity, which expresses itself with creamy and velvety facets of Jasmine petals and Osmanthus, together with precious notes of Orange Blossom and Freesia. The sensual and enveloping dry down is based on deep and vibrant tones of Amber Wood and Palo Santo, enriched by the voluptuous notes of Benzoin and sparkling and seductive Musk.
Readers like you help keep The Beautyholic running. When you buy through links on our blog, as an Amazon Associate, we earn from qualifying purchases at no extra cost to you.
Price: $$ | Buy it from Amazon US or Amazon India
Ingredients: ALCOHOL DENAT. (SD ALCOHOL 39-c), PARFUM (FRAGRANCE), AQUA (WATER), ALPHA-ISOMETHYL IONONE, BENZYL SALICYLATE, BUTYL METHOXYDIBENZOYLMETHANE, BUTYLPHENYL METHYLPROPIONAL, C.I. 17200 (RED 33), C.I. 19140 (YELLOW 5), CITRAL, CITRONELLOL, ETHYLHEXYL METHOXYCINNAMATE, ETHYLHEXYL SALICYLATE, GERANIOL, HEXYL CINNAMAL, HYDROXYCITRONELLAL, LIMONENE, LINALOOL, PROPYLENE GLYCOL.
Versace Yellow Diamond Intense Perfume Review
Versace is one of the most luxurious brands in the world, all the way from Italy. It released the Yellow Diamond as a follow-up to its Blue Diamond and Pink Diamond in 2011. It has hence become a customer favorite (mine, especially!).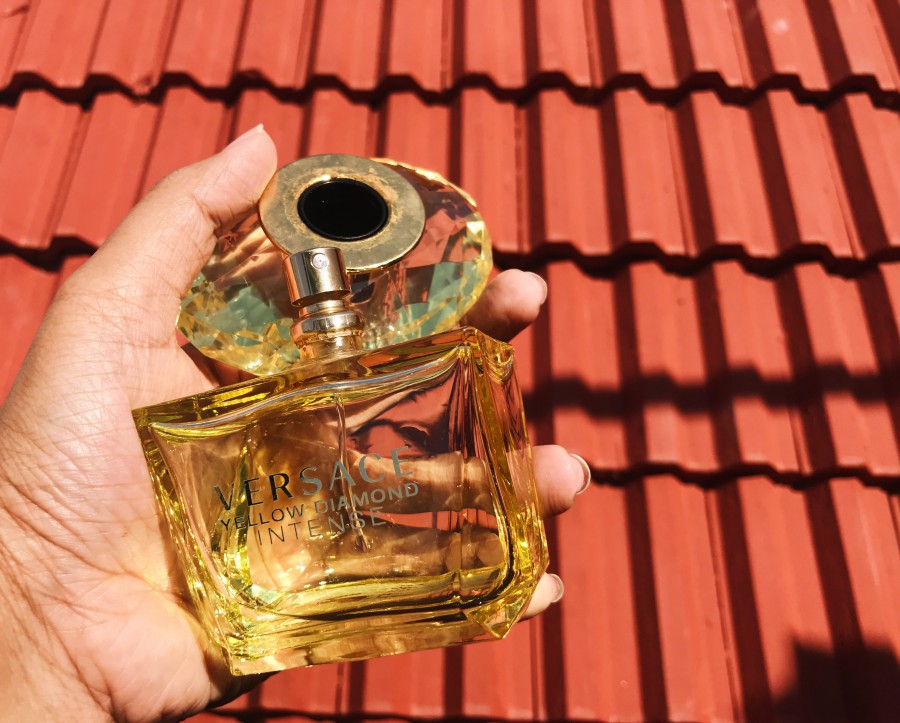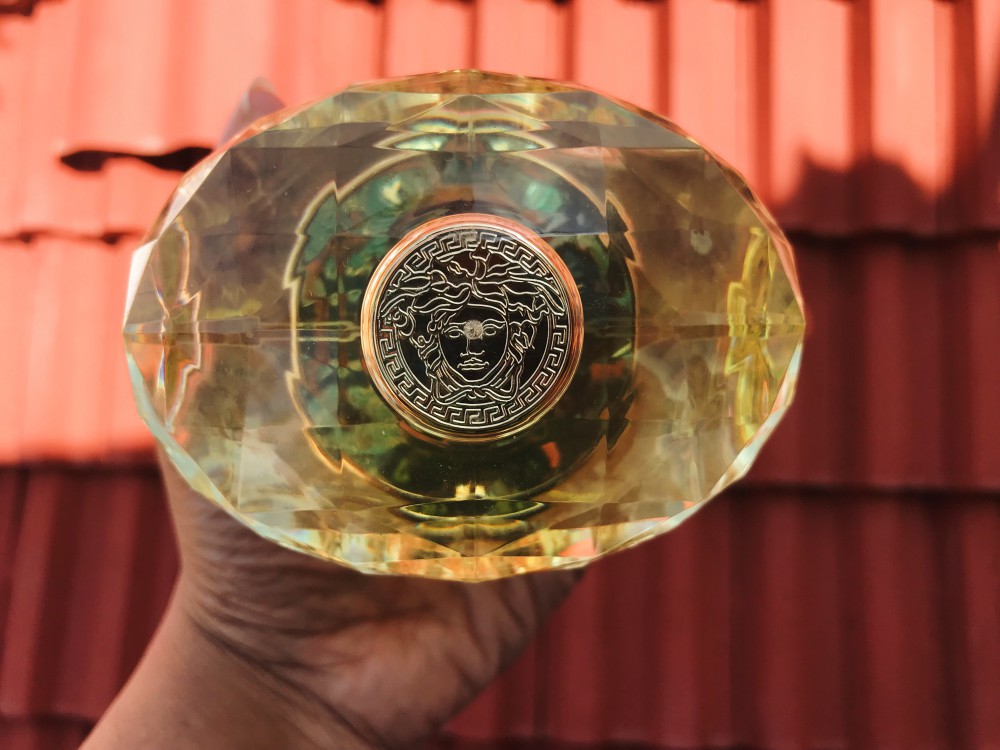 The perfume smells of florals and citrus. The base is made of palo santo, musk, and amber wood. The heart notes are nymphaea, freesia, orange blossom, and mimosas that give the perfume its beautiful floral hint. The top notes are citron from diamante (a citrus fruit from the town of Diamante), pear sorbet, neroli (essential oil from the blossom of bitter orange tree), and bergamot (a fragrant citrus fruit). They all bring in their dominant citric smell.
The mix of citric and floral notes gives the perfume a feminine touch. You smell spring, with the flowers blooming in the garden and the fruits growing on the trees. The perfume expresses a sense of happiness and grandeur.
The product is available as eau de toilette (Yellow Diamond) and Eau de parfum (Yellow Diamond Intense). The latter has a stronger scent than the original version. This is because Eau de parfum has stronger oils than its alternative. So, if you opt for a stronger and lasting smell, do note to choose the Intense version.
The perfume bottle and box is an art in itself. The bottle is a clear glass that is a bright yellow. The bottle shines as bright as a diamond itself. The top, though flat, is designed to represent a well-cut diamond. The cap is embossed with the original Versace logo in gold, and you can barely get your eyes off Medusa painted in gold. The perfume nozzle is also gold in color.
The bottle comes encased in a paper box that has another sturdier paper casing inside. The second casing holds the product in place and keeps it intact. The product is, however, heavy. Hence not exactly travel-friendly. Also, since it's entirely glass, it can shatter if you drop it even once. I had a lucky save once, but that might not be the case always!
The packaging of the original Yellow Diamond is the same yellow as the bottle. I use the Yellow Diamond Intense, a contrasting bright blue (same as the packaging for Blue Diamond). The packaging is printed with ornate flowers in gold. The bottle and packaging express what it aims for well: the epitome of beauty and elegance.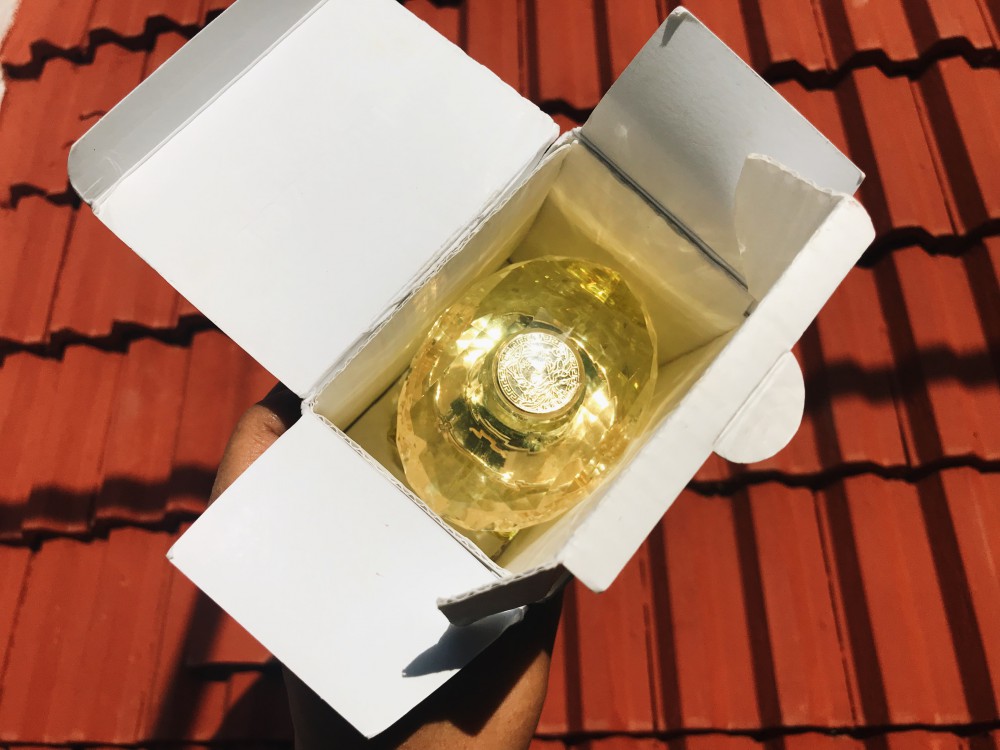 I love the fact that the perfume lasts for an extremely long time. The original Yellow Diamond lasts for a couple of hours before you need to retouch it. But the Yellow Diamond lasts for DAYS! I have worn the perfume on my clothes, put it in the cupboard, taken it out after a week, and I still get the scent from my clothes (a little subdued, but undoubtedly present). This is because of its Eau de parfum, which, as I mentioned, has stronger oils.
At the same time, note not to spray on a lot. Because it has stronger scents and that base notes are wood-based, the flavor can get too bold and won't smell as pleasant as the intended smell if you spray on considerable amounts.
The only flaw is the hefty price tag. Being an international luxury brand, Versace charges a high price for almost all its products, including its perfumes. The smallest bottle of merely 30 ml sells for Rs 3400. Because of the exorbitant amount it charges, it might be difficult to make it daily wear unless you are ready to splurge. After all, it's luxury for a reason.
Medusa is a Greek mythological monster with venomous snakes for hair. Anyone who gazed upon her turned to stone. Gianni Versace chose the Greek mythological figure of Medusa for this very reason: once you fall in love with her, you never go back. Versace has incorporated this very idea behind its Yellow Diamond Intense perfume. Once you try it, you will want it forever.
What does luxury smell like to you? For me, it's a bottle of Versace Yellow Diamond or Bloom by Gucci. Let me know your choices in the comments!
Pros:
Smells refreshing and feminine

Stays on for a long time

Concentrated formula that you need only a need to use smaller quantities
Cons:
Versace Yellow Diamond Intense Perfume
Final Word
Versace Yellow Diamond Intense is an all-time favorite for me. It is the right amount of splendor and elegance. The scent lasts for an incredibly long period of time. It is a perfect mix of citric and floral notes. But the only thing holding me back from using it often is the price. The perfume is a perfect fit for someone who loves to smell amazing irrespective of the price.