This summer, I've got badly tanned and looking for remedies and products to work on my skin. So I'm trying out various skincare regimes, products that can reduce my pigmentation. And since I'm so impatient, I look for those which provide quick results. While browsing online, I stumbled upon this serum called Vedic Line Fairness Blend, which claims to clear out blemishes and even out skin. After using it for more than a month, I thought of reviewing it. Let's hop on!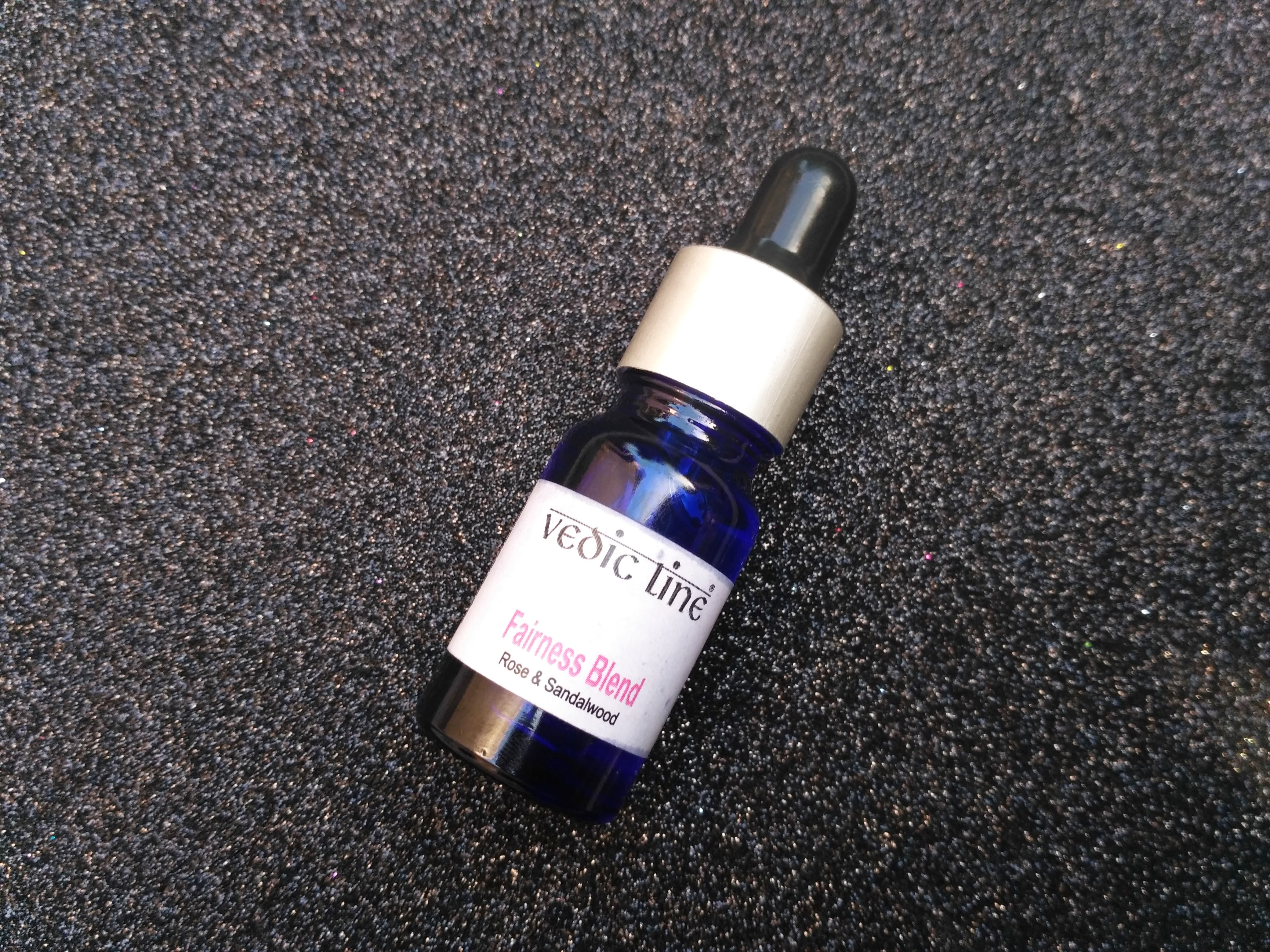 About the product: Get rid of those blemishes, and gently even out your skin with a formula that contains the goodness and gentlemen of nature, blended with precious herbs, to give your skin the flawlessness it deserves. Vedic Line Fairness Blend contains a blend of Rose & Sandalwood essential oils. It's 100% natural & free from preservatives.
Price: Rs. 150/- for 10 ml
Shelf Life: 24 months
Ingredients: Rose and Sandalwood essential oils
Vedic Line Fairness Blend Rose & Sandalwood Review
I was going through the products available at Nykaa, and this lil' bottle caught my attention. As I looked through the reviews, it seemed like a lightweight, effective serum that gave positive results. Since it was inexpensive and I was looking for a serum for my tanned skin, I quickly ordered it.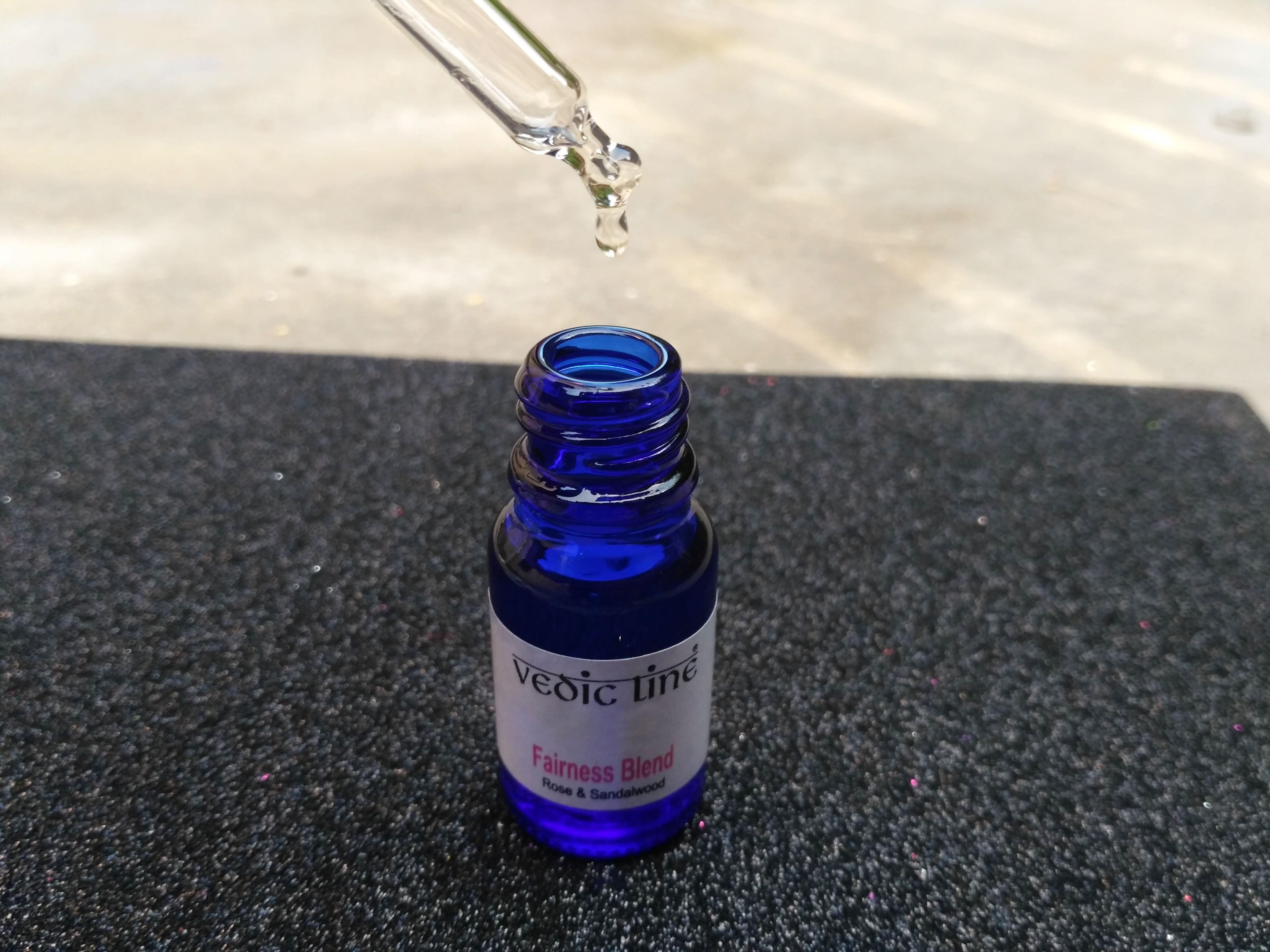 Vedic Line Fairness Blend is packaged in a white and pink cardboard box and housed in a dark blue colored glass bottle. It has a dropper that dispenses the serum. It turns out to be a facial oil which is a blend of Rose and Sandalwood essential oils. I usually take 2-3 drops of this facial oil and massage my whole face with a light hand. Since my skin is oily, my face looks like a shiny disco ball after applying it. After few uses, I figured out that I need to use 2 drops. Being a facial oil, it still isn't too heavy in consistency and is towards the runny side. It has a strong fragrance of sandalwood, which might bother extra sensitive noses. It takes few minutes of massage to get fully absorbed.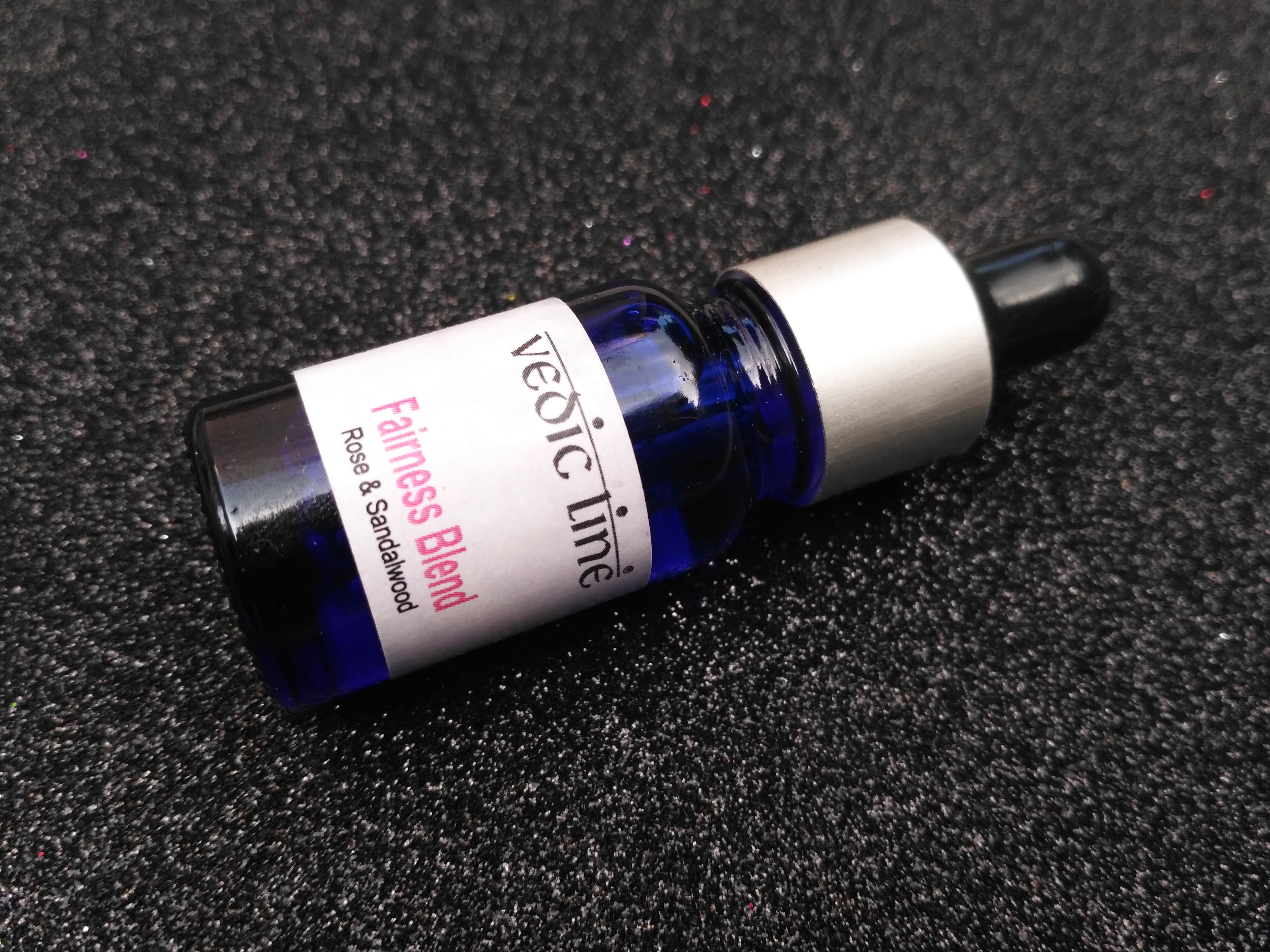 After application, it gives my face a plumped and glowing look. My skin looks even-toned and moisturized. I don't need any moisturizer after applying this facial oil. Oily skin and facial oil are debatable topics as oil on oily skin lead to breakouts (obviously a myth). So far, it didn't break me out, so it'll suit every skin type. I've been using this for over a month, and it has made my skin soft and supple when I wake up in the morning. Though I didn't see any major difference in my pigmentation, it still brightens up skin with regular use.
Pros:
Hydrating facial oil

It leaves the skin soft and supple

Brightens skin with regular use

100% natural

Free from preservatives
Cons:
Didn't make any difference to pigmentation
Final Word: All in all, this serum is rich and hydrating to the skin. I like how it makes my skin super smooth and soft when I wake up in the morning. With regular use, it brightens up the skin. I expected it to work on my pigmentation, but sadly it didn't. So, if you're looking for an affordable facial oil that provides hydration and glow, you can go for this. There are other variants available too which target different skin issues.
Rating: ⭐⭐⭐
 Have you used this facial oil by Vedic Line? Any recommendations for oily skin? Please share in the comments.