Popularly used in Victorian error, the corsets were originally designed in the 15th and 16th centuries.
Catherine De Medici was the lady who brought the use of the corset into vogue. Corsets fall into the category of undergarment, which helps women reduce their waistline. They lift up the bustline and give an impression of a long, lean torso.
Corsets are often made of comfortable fabrics that have breathability to make their wearer comfy in the garment. The fabrics commonly used to make corsets are cotton, velvet, leather, brocade, satin, mesh, and lace. Out of this, cotton-made corsets are most popularly preferred due to their wearers' comfort.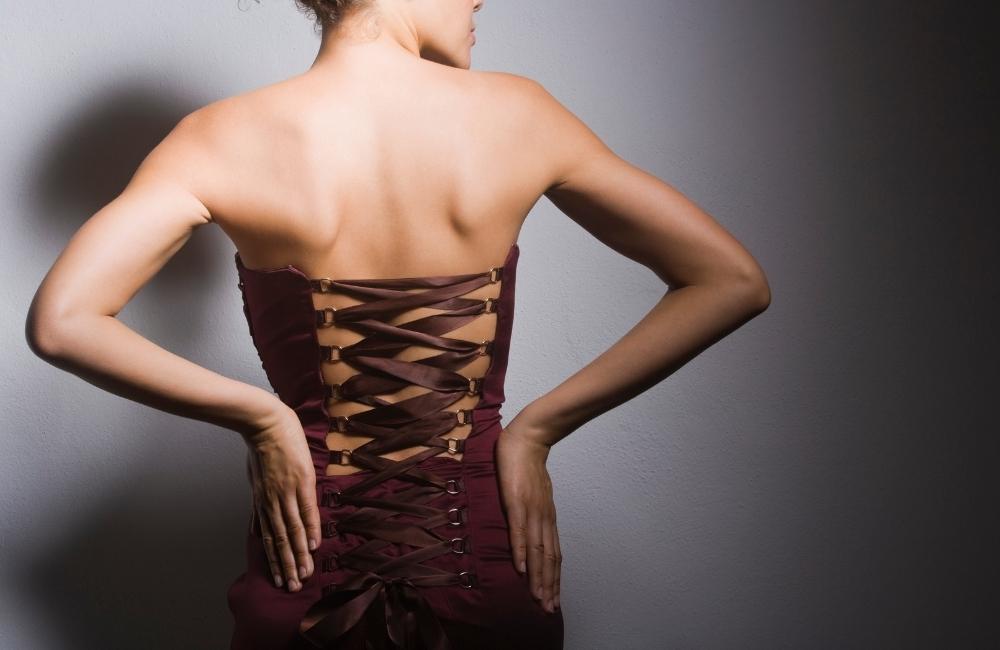 While the corsets witnessed the zenith of their popularity in the Victorian era, the fresh trend of corsets was reintroduced to the market with the release of the film Marlin Rouge in 2001. The film featured several costumes with corset characteristics.
In present times, corsets are celebrated as a self-esteem tool that helps women highlight their shapes and curves and allow them to be confident in their costumes.
If you are wondering what a corset is, then here's a good corset guide that can help you with all your corset-related queries. Corsets these days are worn by celebrities on red carpets, brides on their wedding day, and women on prom and other formal events.
The fashion of corsets has evolved with time, and now corsets are available in a variety of designs, fabrics and feature many chic details like beads, rhinestones, chains, spikes, and studs. The corset evolution has also made the availability of plus-size corsets possible in the market.
Corsets are of various kinds, but the most popular types of corsets are:
1. Underbust Corset
As the name explains, these corsets start right under the breast and extend till the beginning of the lap.
For beginners who are new to the corset fashion and are venturing into the trend, black underbust corsets are always recommended. Black corsets otherwise also make one look elegant and edgy.
Those who are already into corset fashion can go for more bold corset designs and fabrics like leather and PVC corsets.
Underbust corsets can be worn both as a supporting undergarment or as a fashion accessory, depending on the fashion preference of the wearer.
If you think of utilizing your corset as a trendy fashion accessory, wear it over your dress. This will not only highlight your curves but will accentuate your entire look. Though underbust corsets don't support your breast, they do wonders in manipulating your curves and rendering you an hourglass figure.
The main advantage of an underbust corset is its versatility. You can style a simple cotton underbust corset in a thousand different ways and with thousands of outfits.
To style your underbust corset classically and traditionally, wear it over a white or black frilly shirt. If you wish to experiment with your looks and throw a signature fashion statement, you can also wear your underbust corset over a printed tee or a casual tank top.
2. Overbust corset
Overbust corsets start under the arm and extend to the above hips. The overbust corsets prove splendidly helpful in lifting up the breast, reducing the waistline, and rendering excellent support to the back.
Very similar to an underbust corset, you can also wear these corsets both under and over the clothes.
These corsets can also be worn alone, which makes them versatile pieces of clothing. When worn alone, you can always style the overbust corset with a pair of skinny jeans or tightly fitted leather trousers.
What further adds to the versatility of the overbust corsets is that they can be worn both as casual wear or elegant date-night wear.
Overbust corsets and black corsets render you a desirable hourglass figure, and when styled with a pair of high-heels, these corsets make you look gorgeous and ensure you make quite a few heads turn.
Also, with the availability of plus-size corsets in the market, the trend of all kinds of corsets has gained popularity.
3. Bustier
Compared to overbust and underbust corsets, bustiers are more comfortable corsets as they gently shape the waist and lift the breast.
Bustiers are traditionally worn under the clothes to give an impression of an alluring lingerie look.
You can wear bustiers in a variety of everyday settings and formal events. You can wear them under a leather jacket, blazer, jeans, and skirts to throw some stunning style statements.
For a comfier and more casual look, one can also wear a bustier top alone with a pair of jeans or a skirt. Bustier tops are ruling the vogue for quite a while now, and they also allow you to look modern, edgy, and in style.
Bustiers are typically a combination of bra and shapewear. While bustiers are often confused for corsets, they are quietly different from corsets. Corsets provide an hourglass cinch in the waist of the wearer, bustiers don't.
Bustiers usually come with unique details like bow and lace. Bustiers are also worn with halter stockings with garters and with G-strings. These features often go missing in corsets.
4. Waspie
Waspies are similar to an underbust corset but only shorter to them. These are practically a wider belt that sits around the torso of the wearer to pull in the waist.
Waspies are mostly treated as a fashion accessory worn over dresses and shirts. They are also known as waist training corsets and are also effective in bringing a permanent reduction in the waist size of the wearer.
Waspies also help in bringing a modern twist to your otherwise classic dress. Wear them over your dress and complete your look with a pinup hairstyle and a flower. Waspies, when worn as a fashion accessory, can make you look gorgeous for a formal event or a wedding.