Hi, gorgeous! In recent years, my preferences for beauty products have entirely changed. What worked for me before, doesn't work for me now. I made a little shift – tossed away chemical-filled and animal-tested products and started looking for cruelty-free skincare products. I came across a product called Priveda CICA night cream and got impressed by its claims and especially, natural ingredients.
So I got it, started using it, and now I'm going to share my experience with you.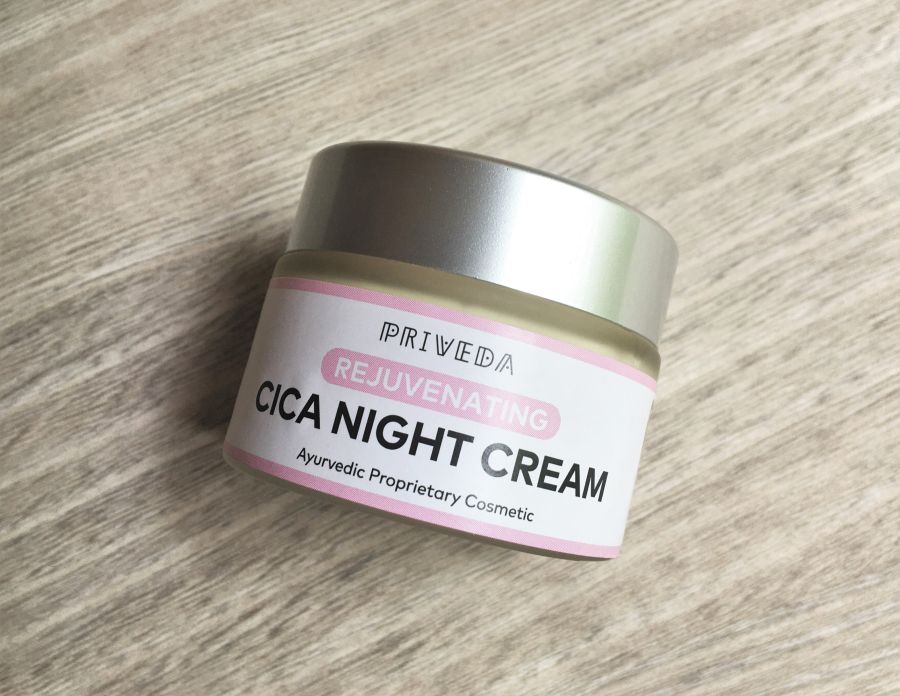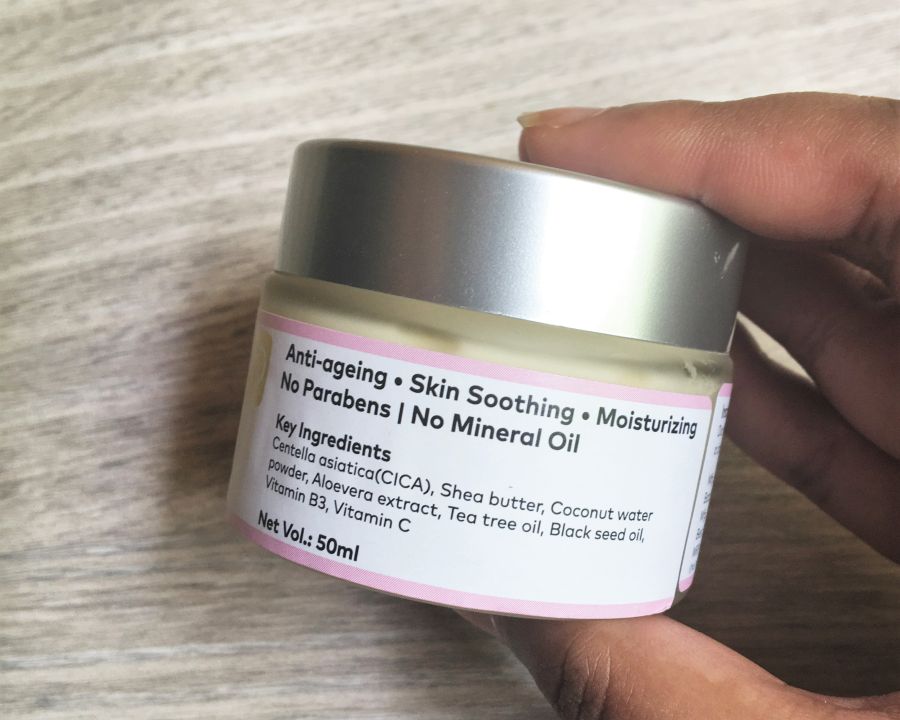 About the product: Cica improves circulation as well as the regulation of collagen and skin tissue. By incorporating Cica into your daily skincare regimen, you'll be supporting your skin's underlying structure; therefore, fending off the signs of aging – wrinkles, fine lines and loss of firmness.
Readers like you help keep The Beautyholic running. When you buy through links on our blog, as an Amazon Associate, we earn from qualifying purchases at no extra cost to you.
Price: INR 599/- | Check it out here on Amazon
Ingredients: Centella Asiatica Extract (CICA), Rose Hydrosol, Shea Butter, Coconut water powder, Aloe Vera extract, Vitamin B5, Vitamin B3, Colloidal Oatmeal, Pearl Powder, Allantoin, Avocado Oil, Rice Bran Oil, Bisabolol, Glycerine, Rosehip Seed Oil, Pomegranate Seed Oil, Vitamin C, Green Tea Extract, Aloe Vera Extract, Hyaluronic Acid, Vitamin E, Frankincense Essential Oil, Sweet Orange Essential Oil, Preservative, Perfume, ECO.
My Experience with Priveda Rejuvenating CICA Night Cream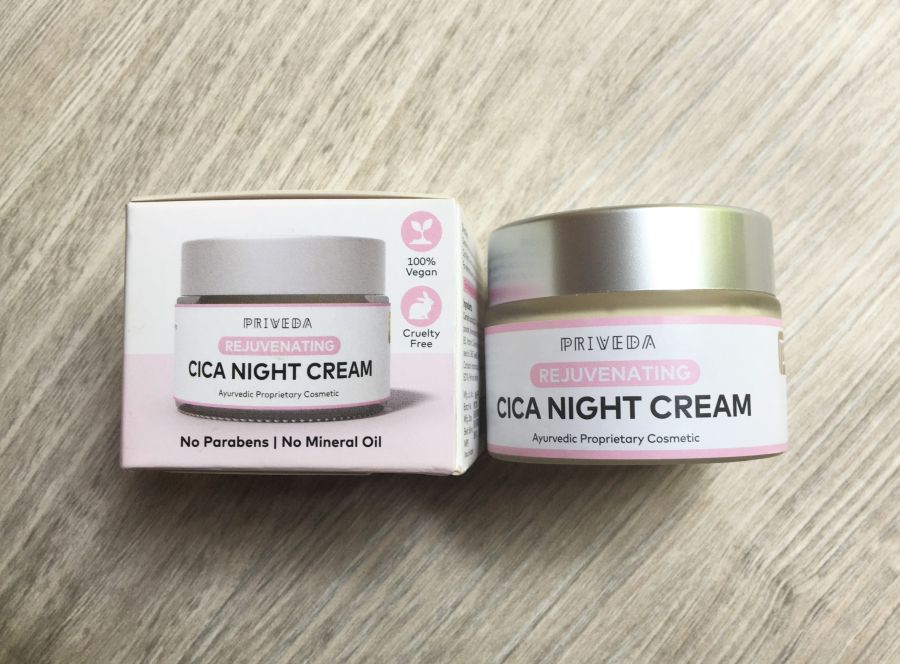 This anti-aging night cream comes encased in cardboard packaging. It is a glass jar with a silver aluminum lid and a plastic cover inside to protect the cream from outside contamination. I like the packaging since it looks luxe and classy.
I love the fact that this cream is PETA-certified cruelty-free, 100% vegan and doesn't contain paraben, chemical fillers, or mineral oil.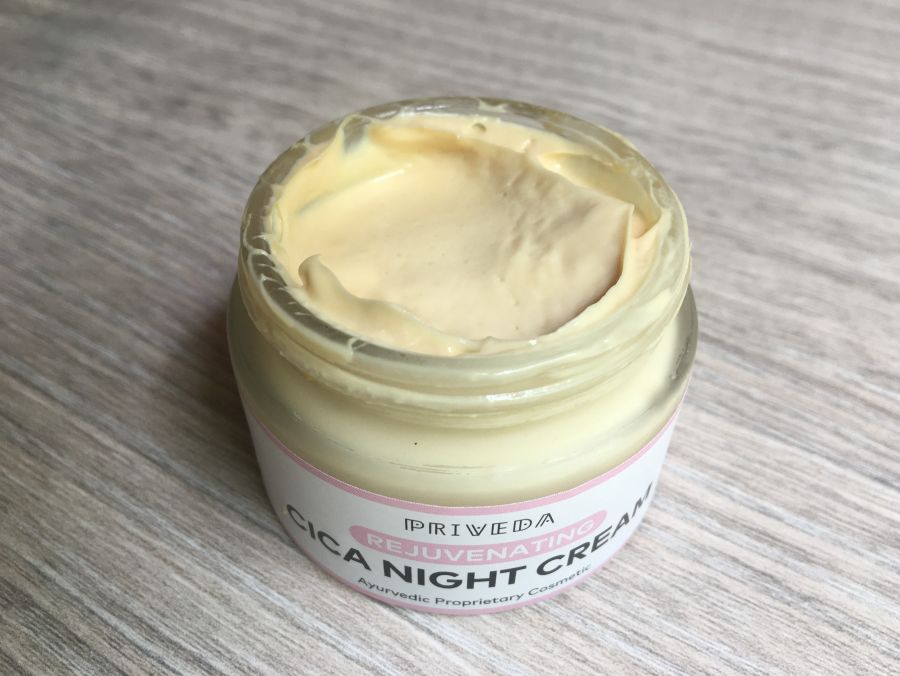 The consistency of the night cream is smooth and creamy and the fragrance is faintly herbal and nothing close to overpowering. It glides on the skin like butter!
How do I use it?
Wash my face with a deep cleanser
Apply my Pixi Glow toner
Apply a little bit of serum
Once the serum absorbs, I dab a little bit of the Priveda Cica night cream on my finger and dot it over my face
Massage on my skin in circular motions until it absorbs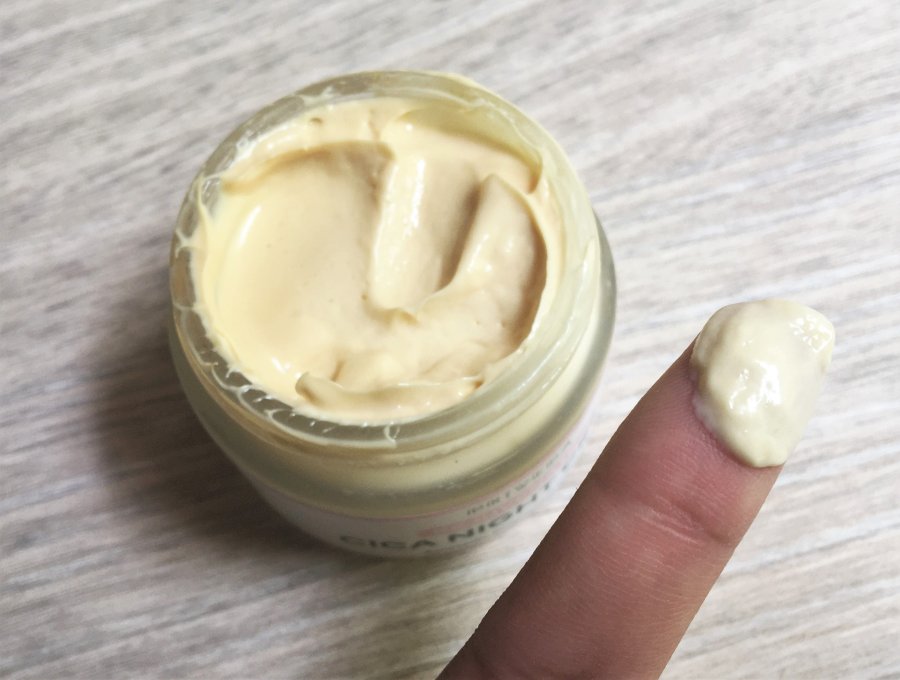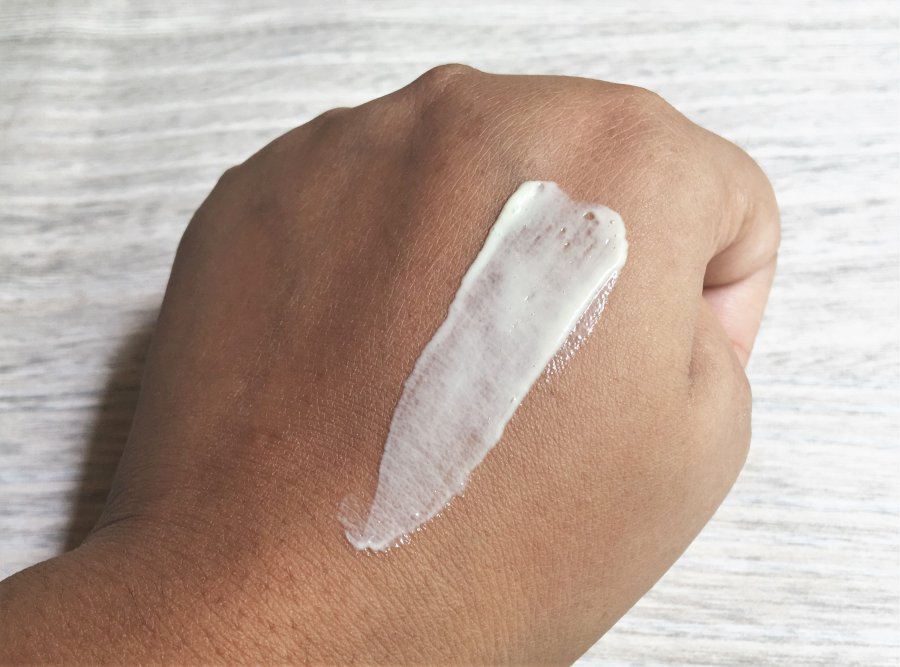 After the initial application, the cream leaves a white cast on my skin. But after a while, it settles down. I have oily and acne-prone skin and I find the cream a bit heavy on hot and humid days. So I think this night cream will suit normal to dry the best and for oily skin, normal weather will be the perfect time to use this cream. Also, it didn't irritate my skin or caused any breakout which is rare.
It hydrates my skin for the night. When I wake up after applying this night cream, I notice firm and healthy-looking skin and I don't feel like washing my face because of how it smoothes my skin.
Coming to the anti-aging part, I'm in my mid-twenties and know that it's time to start including anti-aging products in my skincare routine. Priveda Cica night cream contains hyaluronic acid and vitamin C, which are effective ingredients in fighting aging. It feels comfortable on my skin and nourishes it. So with regular use, you can expect firmer and healthy skin.
Pros:
Has a nice, herbal fragrance
Makes the skin look healthy after application
Hydrates skin deeply
Skin looks awake in the morning
Cons:
Price is a bit on the higher side
Priveda Rejuvenating Cica Night Cream
Final Word
To sum up, although the price is a bit on a higher side, this night cream is perfect for those who want glowing skin along with moisture. I am impressed with the ingredients and I use it every night to wake up with soft skin. If you have dry to normal skin, Priveda Cica night cream is going to be your holy grail!