When I heard about hair-softening oil, I purchased it immediately. It was also because I did not have a pre-shampooing product to soften my hair. I was intrigued by the product, the packaging, and the hype.
Read on to find out if the Parachute Advansed Aloe Vera Enriched Coconut Hair Oil lived up to its claim and my expectations.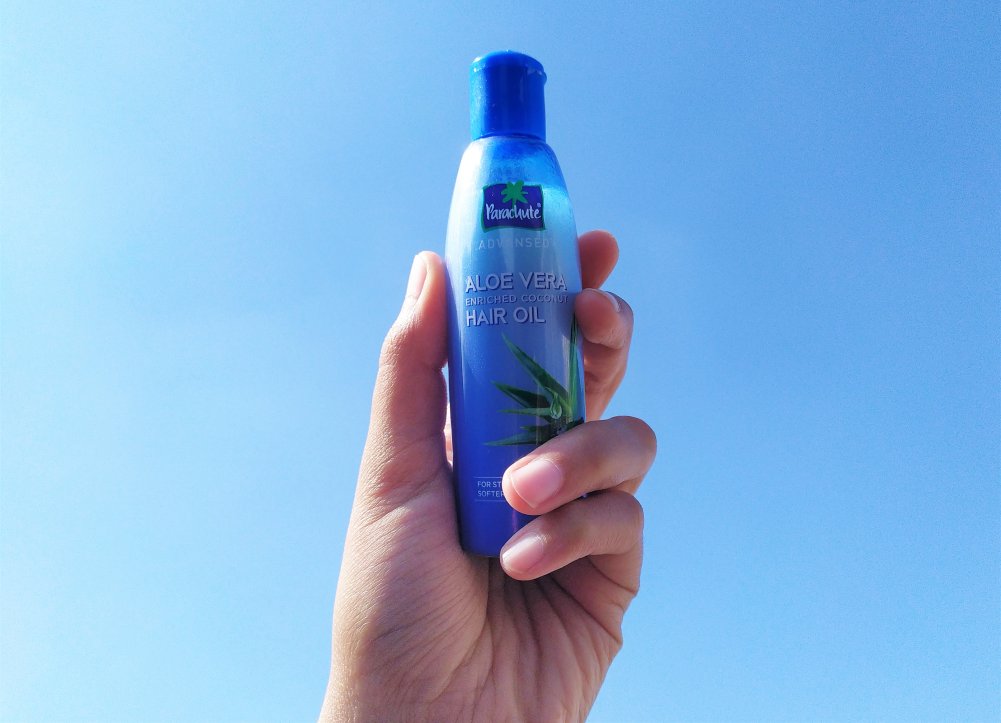 About the product: Aloe Vera infused Coconut Hair Oil from Parachute is the first time the goodness and magic of Aloe Vera combine together. The benefits of Parachute Advansed Aloe Vera Enriched hair oil are many:
Strengthens, softens, and silkens hair.
With Coconut Oil and Aloe Vera, the product provides long-lasting nourishment.
To get the best results, regularly massage the scalp and apply from the roots to the tip.
Price: 75 ml of product retails for Rupees 39/- | Click here to purchase it on Nykaa
How to use it?
Apply a few drops of this oil to open and tangled hair.
For 10 minutes, give your hair a nice, light massage.
Let your hair absorb all the goodness for 4 to 5 hours.
Wash it off with shampoo.
If you want the best results, apply Parachute Advanced Aloe Vera hair oil a night before washing it off the next morning. The hair oil will then have the time to penetrate deep into the roots of your hair and nourish it from within.
My Experience with Parachute Advanced Aloe Vera Enriched Coconut Hair Oil
Parachute's Oil comes in a transparent blue color bottle with a blue flip-top cap. I like the packaging because it is so attractive. Additionally, the bottle's cap seals tightly, making it a convenient travel companion.
The fragrance is similar to that of parachute oil, but stronger. Following application, the smell will linger in your hair but will fade away as soon as you wash it away.
This oil has a very light texture and has no color. It instantly softens the hair and does not cause the scalp to feel heavy or weighed down.
To make my hair soft and shiny, I usually apply the oil before a function or event. About two days before I apply this oil liberally throughout my entire head of hair.
In addition, even when I put a lot of it on my hair, it's light. Besides, I always use mustard oil so trust me I can tell the difference in the heavy feel.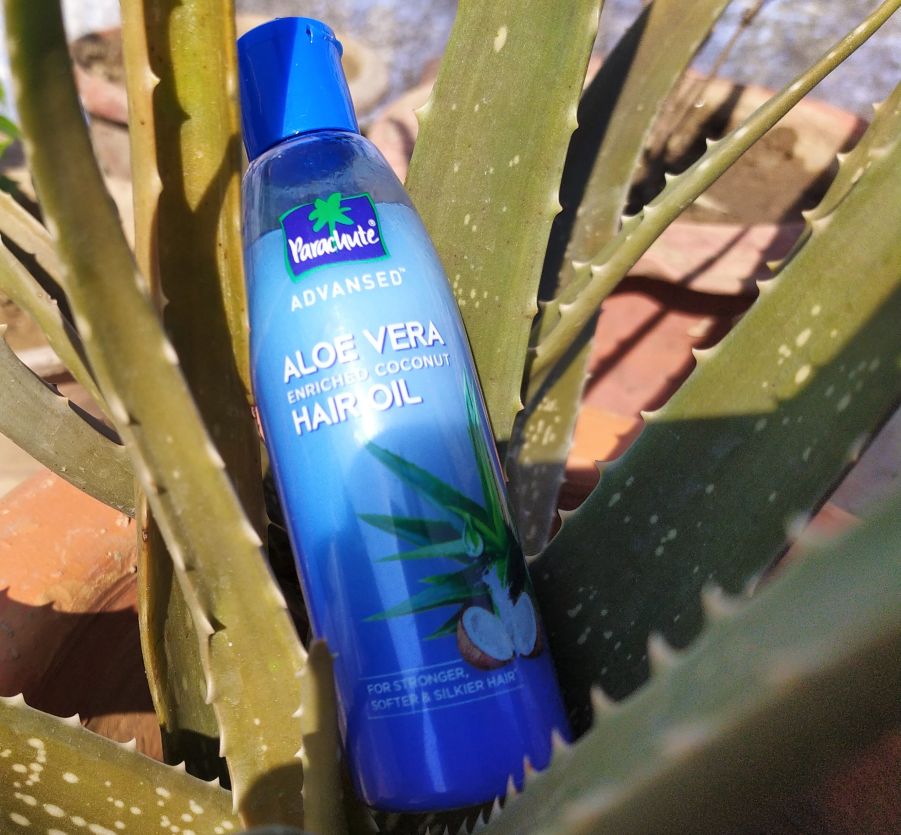 I like how Parachute Advansed Aloe Vera Enriched Coconut Hair Oil is neither sticky nor greasy when compared to my regular mustard oil.
Oil spreads easily on application. After applying the oil, my hair is soft and shiny immediately. My hair soaks up the oil completely.
I then wash my hair and the oil comes right off after a few washes.
Considering that my hair is naturally shiny, I cannot speak to its ability to add shine. Even so, the oil didn't fully transform my hair, but did make it more manageable and soft. I was able to curl my hair easily, keeping maximum frizz at bay.
With my long, thin hair, I applied 8-10 drops of this oil onto wet hair and my hair became greasy. Despite being softer and more manageable, my hair had a non-fresh appearance — not exactly oily, but perhaps dirty. (They could not open properly)
Using this oil as a serum can be tricky for someone like me who has thin hair. There is always a chance, however, to give it a try and see for yourself because each type of hair reacts differently to products.
Pros
Travel-friendly
Chic and attractive packaging
Light and non-sticky in texture
Easy to apply
Washes off easily
Softens and manages hair noticeably
Provides easy styling of hair
Avoids frizz to the maximum
Availability
Budget-friendly
Cons
As long as the oil is in the hair, its scent will linger (sensitive noses may get bothered by it, though the fragrance is pleasant)
I noticed no change in my hair fall after using it
There are mineral oils in it
Parachute Advansed Aloe Vera Enriched Coconut Hair Oil
Final Word
Parachute Advansed Aloe Vera Enriched Coconut Hair Oil is a product from a trustworthy brand and is worth trying out. The reason it's not my favorite is that it contains mineral oils, which I don't like. My mustard oil comes from the seeds of the mustard plant, so mineral oil is not an option. Using that regularly is not something I recommend or would ever do. I think it's simply harmful.
Several hair oils exist out there, on the shelf, that add softness and shine to hair. You can also find better or similar results with chemical-free and natural hair oils.
It's okay to apply mineral oils to your hair to make it ready for a formal event every once in a while, though. However, if used regularly, it can harm your hair.
Having reviewed the Parachute Advanced Aloe Vera Enriched Coconut Hair Oil, you can try it out if you like this type of oil.
Are you trying this aloe vera enriched coconut hair oil? Please let me know what you think in the comments below!