Having items set up on a dressing table might get messy after some time. The dressing table might also be small for keeping all your cosmetics. This is where Door Makeup Organizers come into play.
Over-the-door Makeup Organizers are the best way to keep your makeup and other stuff well organized. They don't take much space and hang perfectly on your doors or even walls. They also come with a long mirror so you could see your outfit and figure out if it is the right one to wear or not.
Having an over-the-door makeup organizer will help you set your accessories in a much-organized way as it comes with different shelves and side hooks, and shelves attached to the door of the cabinet where you can keep your brushes.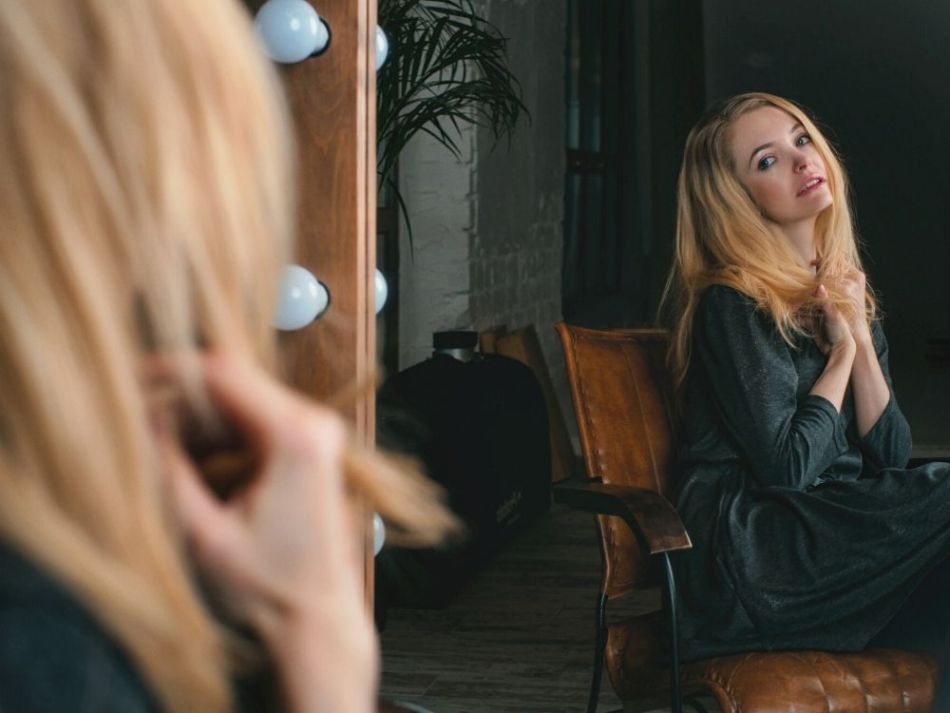 If you are confused about which brand to choose while buying a Door Makeup Organizer, then here is a list for you to choose from!
Best Over The Door Makeup Organizer Cabinets
Readers like you help keep The Beautyholic running. When you buy through links on our blog, as an Amazon Associate, we earn from qualifying purchases at no extra cost to you.
#1. Abington Lane Over The Door Makeup Organizer
Sale
This beautiful and elegant over the door makeup organizer will make your room look more classy and neat at the same time. It comes with LED lights in the interior, which makes it look pretty and will help you find your accessories in the dark. It comes in a gorgeous oak color that complements your interior as well.
The users have been saying how well it stores a large number of cosmetics and how well it goes with the interior. It also comes with instructions that are easy to understand, and the parts don't come in jumbled, so you know how to assemble the cabinet.
It keeps you from all the mess by neatly organizing your cosmetics. You can not only put it on your doors but also attach it to your wall. It also comes with velcro to keep it from swinging off the door. It is solid and sturdy so that it won't break that easily. It is a piece of great furniture to have if you have a small apartment or live in dorms.
#2. Giantex Cabinet
This is very beautiful and elegant over the door organizer cabinet. It comes in exquisite black color and is made to store all your jewelry, accessories, and cosmetics. This, too, comes with a full-size mirror so you can see how your jewelry goes with your outfit.
This piece of furniture is not flimsy at all, according to the users, and keeps your jewelry organized. You can also put your perfume bottles inside this cabinet and several other makeup items. It holds a lot of jewelry and looks amazing as well.
Also, it is easy to assemble and is very reasonable in price too. It doesn't take too much space and fulfills your need for organizing your makeup and jewelry well. The black interior and white LEDs make the jewelry look more beautiful and make them shine beautifully. You can also give it as a present.
This cabinet doesn't take much space and gives your room an exquisite and classy look too. It also comes with a pair of keys so you can lock it and keep your jewelry from kids.
#3. AOOU Over the Door Jewelry Cabinet
This is a stunning cabinet with a soft board where you can place your earrings and have special shelves for your cosmetics and perfumes, moisturizers, and put scarves and sunglasses in it.
What's even better is that the full-view mirror is frameless, giving the cabinet a unique and elegant view. It comes in a beautiful white color with LEDs installed on the inside. The door of the cabinet is a swing shut door.
The users say that it stores everything very perfectly and looks nice on the door too. The cabinet comes assembled, and you only have to attach the arms and hang it anywhere you like. The price is cheaper for the storage space it provides. It helps you organize all your jewelry and has lights in the slits where you can put your rings.
This cabinet is like an all-rounder where you can put everything, from jewelry to accessories like scarves and sunglasses, as well as your cosmetics!
#4. Twing Cabinet Armoire
This another beautiful option to choose while buying over the door organizer cabinet. It has a beautiful design and complements rather makes your room look much more pretty. Also, it comes with a personal lock to keep your accessories safe. You can mount it either on the door or on the wall. It comes in a white color that goes well with any interior.
According to the users, it is effortless to assemble this cabinet. This cabinet fits everything from jewelry to perfume to your cosmetics. You can put it on a wall and stays put firmly away from the reach of your kids, keeping your things safe.
This cabinet comes with two mirrors. One on the outside, it is a full-sized mirror and a small mirror on the inside. It helps you to choose your jewelry as well as looking in the mirror at the same time.
The inside mirror helps you to choose jewelry easily rather than opening and shutting the cabinet door repeatedly to look at yourself in the mirror.
Also, it comes with instructions that are easy to understand and helps you assemble your cabinet easily. This cabinet is made of quality products, and hence it is very sturdy and solid. You can also paint it to make it go more with your interior, but that's a personal choice.
#5. Luxfurni Mirror Over-the-Door Cabinet
LUXFURNI LED Light Jewelry Cabinet Standing Mirror Makeup Lockable Armoire, Large Storage Organizer w/Drawers (white, L)
It has 130 earring slots to keep all of your earrings well organized. It has 24 hooks for long necklaces and 12 for bracelets
Has 79 LEDs that light up whenever you open the cabinet door
Has a net bag with a zipper attached to it so you can put your compacts, blushers, and eye shadows in it securely
Comes with a pair of keys and a lock to keep your belongings safe from your kids
Has drawers in the lower section of the cabinet so you can keep your hair rollers or makeup brushes in them
Has shelves in it to keep your sunglasses, watches, and nail polish in a well-organized manner
Affordable
This beautiful cabinet comes in two colors – white and espresso. It has a ring holder, and the slits are fitted with LEDs that glow up when you open the door. It has shelves for every accessory. You can keep your jewelry, your cosmetics, watches, and much more inside this cabinet.
It goes well with your interior, too, and gives your room an upgrade making it look more elegant and classy and helps you organize your accessories in a very tidy manner.
It also has four storage shelves where you can put your sunglasses and other accessories.
According to the users, it comes fully assembled, so you just have to attach the hooks and mount it on whichever place you feel convenient doors or walls. You can store about 84 rings in the slits provided in the cabinet and other makeup items in the dividers under the mirror.
It has a lot of space so you can keep a lot of stuff in there. You don't have to worry if you have a lot of makeup items or accessories. This cabinet has got ample space for your belongings to fit in perfectly. It sits perfectly and firmly on the door and doesn't take much space in the room. It doesn't restrict the door from shutting.
It makes a great present. It is very sturdy and solid and made of good quality material. The mirror is lighted, which requires AA batteries for the LEDs. It has Velcro in the back, so it doesn't slam or swing on the door or wall.
#6. Nicetree LED Mirror Cabinet
Sale
If you are annoyed with how messy your bathroom or dressing table looks like with all your accessories and makeup items, then this is another cabinet option for you to choose from.
You can store a lot of your accessories and cosmetics. It comes in exquisite white color and is environment friendly. It has different slots for different items so that you can organize them accordingly.
The users of this product love this cabinet as it stores many accessories and looks very pretty too.
Has around 108 slots and 36 earring holes, 78 ring holders, two hanging rods, 24 hooks for your necklaces and bracelets, four storage shelves and two drawers, and three removable boxes.
The full-length mirror helps you get a better view of your whole look. The mirror is unframed, so it gives the cabinet a more classy look. The lock also keeps your belongings safe. You can mount it on your door or your walls.
It makes you organize your accessories more neatly, and hence your bathroom or dressing table would no longer look messy. This cabinet's quality is great, it is solid, and it won't break that easily.
#7. Songmics LED Jewelry Cabinet
This cabinet takes up a little place in your bedroom but has ample space for your accessories and cosmetics! It comes in a beautiful white color, and you can hang it either on your door or your wall.
You can even customize it by painting or adding little personalized touch-ups. It has an effortless look and adds warmth to your bedroom or anywhere you place it.
It comes in different sizes, and also it comes with a stand too, so you can also keep it in one of the corners of your room if you don't want to hang it on the doors or walls.
The users love this cabinet as it provides a lot of space to keep your belongings. They love how you can customize the cabinet as you did to your locker in high school.
The cabinet is also lightweight and makes a great present. It is sturdy and solid, and you could adjust it to your height very easily. It is also easy to assemble and gives a lovely look to your room.
It will store all of your jewelry, and you wouldn't have to worry about the mess it made before you purchased this cabinet.
It is suggested to take the batteries out if you are not using the cabinet enough and not place this cabinet in a wet/damp place.
#8. Cabidor Classic Behind The Door Cabinet
Cabidor Classic | Behind The Door | customizable | Medicine, Bathroom, Kitchen Storage Cabinet
Easy to install as well as very quick to install too
The process of installing does not damage your door
The cabinet is safe and concealed yet easy to access
You can customize this cabinet according to your preference. You can color it, add more shelves, etc
The materials used for making this cabinet are of great quality, and hence it makes this cabinet safe and solid to use
Fits in small places and is slim yet tall
Has a large capacity and holds a large number of items
This cabinet is designed so that it fits in even the smallest corner of your house, but it does not mean it has less storage capacity! It provides you with an ample amount of storage to keep your belongings. It comes in a neat white color and is customizable. You can use it not only for your accessories and cosmetics but also to install it in your kitchen and bathroom to keep wine bottles or handwash soaps!
The users love how it stores not only accessories but other items as well. You can use it in your kitchen to store sugar, salt, tea, and coffee bottles, as well as in the bathroom to store body wash or toothbrush, or towels. You can add or remove shelves or adjust them to your convenience.
What's better is that it doesn't damage your door in the process of installation. Its slim look makes it much easier to fit in places like a bathroom.
It is sturdy and solid and gives a lovely look at whatever place you install it while having your stuff organized and kept neatly in it.
#9. Quanyou LED Jewelry cum Makeup Cabinet
This is another very classy over-the-door cabinet to have at your house. It has stunning blue LEDs installed at the top of the cabinet, which would light up when you open the cabinet door. You can hang it on your door or mount it on your walls. It comes in a wood-finished white color, which gives a little vintage yet modern look to your room.
It has ample space to fit in all your accessories and your makeup items. It doesn't have any paint used on it, so it has a longer life. It is a must-have for every chic woman!
The users love how neatly and beautifully it stores all the jewelry and cosmetics and that they don't have to look for their belongings at any other place in their homes.
It is easy to hang and comes all assemble, so all you have to do is to hang it wherever you like it to be mounted. It comes with a lock and a magnetic closure. The lock keeps your belongings safe from your kids, and the magnetic closure helps keep your belongings put in place securely.
Benefits of Using Over The Door Makeup Organizers
As pretty as they look, they come with several benefits too! Here are some of the benefits of using over the door makeup cabinets.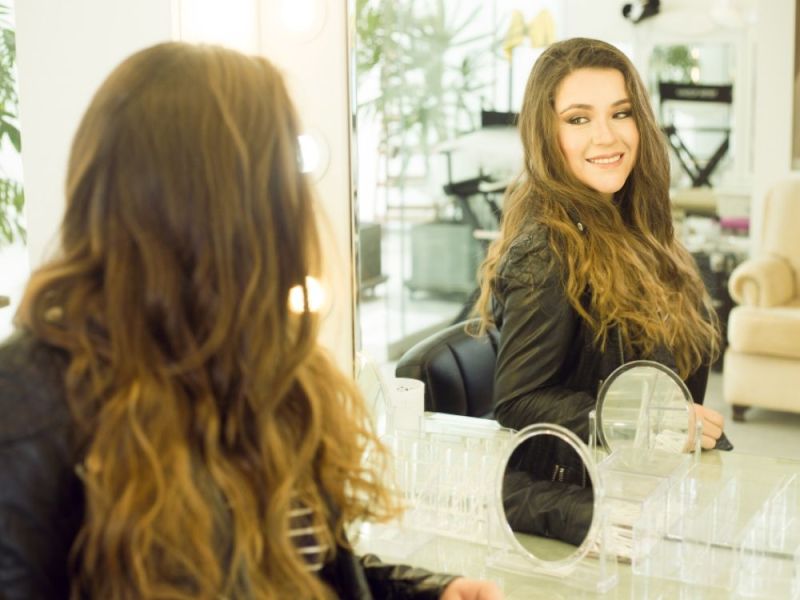 The first benefit is it doesn't take up much space! It has an obvious benefit that it does not take space like your dressing table. All you have to do is mount it on the door or the wall, and that's it. You wouldn't bump into it at night, or your room wouldn't look small because of its presence.
You can always customize your cabinet to your preference. You can color it or remove a shelf to place a family photo frame etc. You can also add lights to it on the outside or the inside. You could draw small designs on it to give it a more funky look. You can customize it to make it match your interior. You could try out different styles to customize and make it look more pretty and fit for your style. You could also paint some words on the cabinet's sides to give it a very aesthetic look that will complement your room too!
Using what you might forget
We all know we do have some amazing stuff always stashed at the back or forgotten at someplace of your house, which you find when you organize your stuff. Having a cabinet will help you keep all your product together, and hence you would also use those products which you might have forgotten that they still exist in your collection.
These cabinets will make your room look more clean and neat by helping you organize your accessories or your jewelry. It helps in letting you keep all these things together so you could use them often.
You would have no regrets after purchasing these cabinets as they look beautiful, enhance your room's look, and mainly help you organize your cosmetics and accessories elegantly and securely.
These cabinets come in so many different styles and are made from so many different materials that give you a wide range of options to choose from. You find a perfect cabinet for your room, which goes well with your home interior. For example, you can buy an antique or vintage set of cabinets to fit in with your rustic home décor, or you could also go for a very modern look to fit in with your modern home décor.
Apart from being customizable, these cabinets don't take up much time, and most of them come assembled already, and all you have to do is mount them on your doors or walls. Hence this makes it very easy to install and saves a lot of time for you.
Types of Makeup Organizers
Here are some other types of makeup organizers that can also be used for organizing your accessories and makeup:
Under-mounted sink cabinets
Vanity cabinets
Floating cabinets
Free-standing cabinets
Bathroom Cabinets
Cabinets with Mirror
Wooden cabinets
Glass cabinets
Marble cabinets
Laminated cabinets
Cabinet with a table and stool set
Two-piece cabinet set with a hidden mirror
Cabinets with drawers
Vintage cabinets
Modern cabinets
Stool and desk cabinet with bulbs
Tall corner cabinet
Corner cabinet
Having a makeup cabinet is a must-have for every woman. These over the door makeup organizers are very reasonable to buy and are of good quality; hence they are solid and reliable. You can use them for a long time too.
After you buy these cabinets, it will be easier for you to store your accessories and makeup. The best thing about them is that you wouldn't lose any makeup item or accessory, and they will be secured when placed in these cabinets and away from damage.
These cabinets keep your belongings safe, and your room tidied up and enhances your room's look, and give it an upgrade, making it look more pretty.
These cabinets do not take up much space, so you wouldn't have to worry about bumping into them in the dark or if these cabinets make your room look smaller.
They also make a great item to give as a gift. They are lightweight and easy to install, so it doesn't take much time to install them in your room.
All in all, apart from diamonds, these over the door makeup organizer cabinets are also a girl's best friend since it keeps all of their favorite accessories and expensive makeup items securely in one place without having the risk of losing any one of them. So if you are confused about how to organize your makeup, this is what you need!
Last update on %last_update% / Images from Amazon Product Advertising API