A vanity table with items set up might get messy over time. Plus, it can be too small for all your cosmetics. The perfect solution is a door makeup organizer.
Over-the-door Makeup Organizers help you organize your makeup and other items. They take up little space and can be hung on your door or wall. There is also a long mirror so you can see your outfit and decide if it is the right one to wear.
A cabinet makeup organizer will help you put your accessories in order, because it is equipped with shelves and hooks on the side, a brush holder attached to the door, and other features.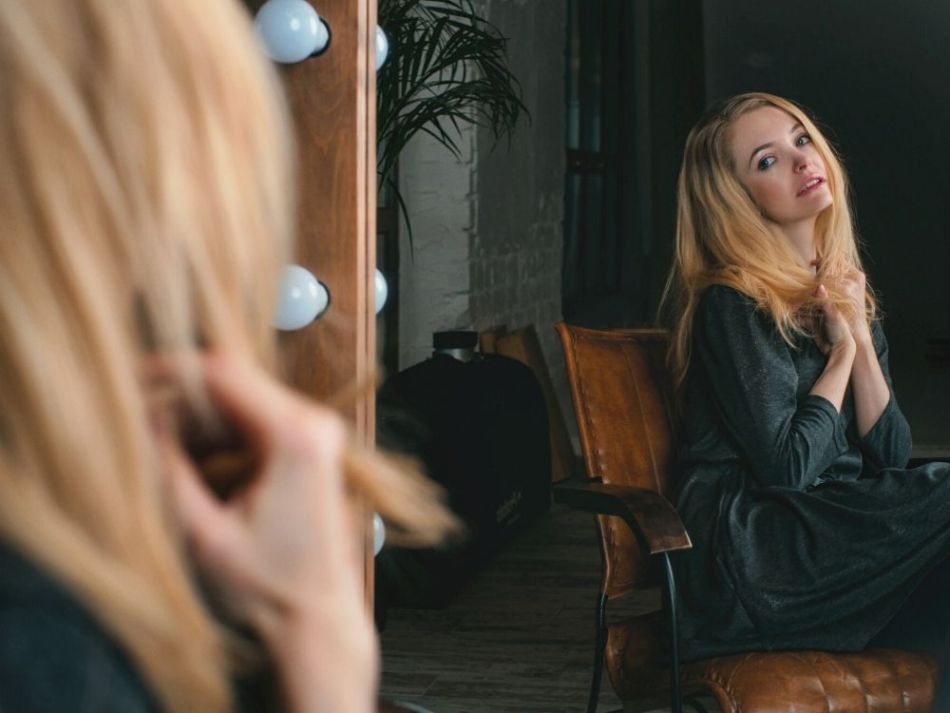 If you are confused about which brand to choose while buying a Door Makeup Organizer, then here is a list for you to choose from!
Best Over The Door Makeup Organizer Cabinets
Readers like you help keep The Beautyholic running. When you buy through links on our blog, as an Amazon Associate, we earn from qualifying purchases at no extra cost to you.
#1. Abington Lane Over The Door Makeup Organizer
This beautiful and elegant over the door makeup organizer will make your room look more classy and neat at the same time. LED lights illuminate the interior, making it attractive and making it easier to find your accessories in the dark. It comes in a beautiful oak color that will complement your interiors.
You can store a large number of cosmetics in it, and it complements the interior very well. There are also simple instructions and the parts don't arrive jumbled, so you know how to assemble the cabinet.
Organizes your cosmetics neatly, saving you from all the clutter. Not only can you install it on your doors, but you can also attach it to your wall. Velcro is also included to prevent it from swinging off the door. It is sturdy and won't break easily. A piece of furniture like this is great for those who live in dorms or have small apartments.
#2. Giantex Cabinet
Giantex Wall Door Jewelry Armoire Cabinet with Full-Length Mirror, 2 LEDs Lockable Large Storage Jewelry Organizer with 47.5'' Mirror, Makeup Pouch, Bracelet Rod, Jewelry Amoires with 2 Drawers (White)
There are 15 LED lights in the interior, which light up when the door is opened, and a personal lock
With two smart hooks, you can hang it on any door without damaging it
Contains a mirror tray on the inside. So the front mirror gives you a full view, while the inside mirror helps you with your makeup
Features several shelves for cosmetics and jewelry
Made from strong wood, it's durable and solid, so you can use it for a long time
Dimensions (inches) are 52 x 17.3 x 5.8
Over the door makeup organizer cabinets like this one is stylish and elegant. It comes in exquisite black color and is made to store all your jewelry, accessories, and cosmetics. This, too, comes with a full-size mirror so you can see how your jewelry goes with your outfit.
Despite its size, this item of furniture is sturdy and keeps your jewelry organized. Inside the cabinet, you can also put your perfume bottles and some other makeup items. The cabinet looks great and can hold a lot of jewelry.
Aside from being easy to assemble, it's also very affordable. This small makeup and jewelry organizer doesn't take up too much space and does the job well. The black interior and white LEDs make the jewelry look more beautiful and make them shine beautifully. It's also a nice gift idea.
Your room will look exquisite and classy with this cabinet that doesn't take up much space. Moreover, it comes with a pair of keys so you can lock it and keep your jewelry from kids.
#3. AOOU Over the Door Jewelry Cabinet
An amazing storage cabinet with a soft board to place earrings, special shelves for cosmetics and perfumes, moisturizers, scarves and sunglasses.
Plus, the frameless full-view mirror gives the cabinet a unique and elegant appearance. It comes in a beautiful white color and is fitted with LEDs. The cabinet door swings easily shut.
Everything is perfectly organized and it looks nice on the door as well. The cabinet comes assembled, and you only have to attach the arms and hang it anywhere you like. You get more storage space for a lower price. The slits in which you can place your rings have lights that help you organize your jewelry.
The cabinet serves as an all-rounder where you can store everything, from jewelry to accessories such as scarves and sunglasses, to cosmetics as well!
#4. Twing Cabinet Armoire
A beautiful over-the-door organizer cabinet is another attractive option. These cabinets have a nice design that enhances the look of your room. Furthermore, they have a lock for you to keep your accessories safe. You can mount it either on the door or on the wall. It is white, so it matches any interior.
Assembling this cabinet is a breeze. All your jewelry, perfume, and cosmetics will fit in there. You can mount it on the wall and it will stay firmly in place, keeping your things safe from your kids.
This cabinet comes with two mirrors. One on the outside, it is a full-sized mirror and a small mirror on the inside. While choosing your jewelry, you can also look in the mirror.
By using the inside mirror, you don't have to open and close the cabinet repeatedly to look in the mirror to choose jewelry.
You'll also receive easy-to-understand instructions for assembling the cabinet. The cabinet is made of a quality material, so it is very sturdy and solid. Also, you can paint it to make it match your interior more, but that is a personal choice.
#5. Luxfurni Mirror Over-the-Door Cabinet
LUXFURNI LED Light Jewelry Cabinet Armoire, Standing Mirror Makeup Lockable Large Storage Organizer w/Drawers (White)
With 130 earring slots, you can keep all of your earrings in order. It has 24 hooks for long necklaces and 12 for bracelets
Each time you open the cabinet door, 79 LEDs light up
Contains a net bag that has a zipper so that you can secure your compacts, blushers, and eye shadows inside
Comes with a pair of keys and a lock to keep your belongings safe from your kids
Features drawers for keeping hair rollers or makeup brushes in the lower section of the cabinet
A well-organized shelf for sunglasses, watches, and nail polish
Budget-friendly
You can choose between two colors – white or espresso. It has a ring holder, and the slits are fitted with LEDs that glow up when you open the door. There are shelves for every accessory. The cabinet holds jewelry, cosmetics, watches, and much more.
Additionally, it looks great in the room and makes it look more classy while organizing your accessories in a very neat manner.
It also has four storage shelves where you can put your sunglasses and other accessories. The unit comes fully assembled, so all you have to do is attach the hooks and mount it where you feel most comfortable – either on a door or on a wall. The cabinet holds about 84 rings and other makeup items inside the dividers under the mirror.
Since it has a lot of space, you can keep a lot of stuff in there. Having a lot of makeup items or accessories is not a problem. With this cabinet, you will have ample space for everything. On the door, it fits perfectly and firmly without taking up a lot of space. The door can still shut without any problems.
It makes a great present. It is very sturdy and solid, and is made of good quality material. LEDs light up the mirror, which requires AA batteries. The Velcro in the back prevents it from slamming or swinging against the wall or door.
#6. Nicetree LED Mirror Cabinet
Sale
There is another cabinet option for you to choose from if you're dissatisfied with how messy your vanity looks with all your accessories and makeup items.
There is room for a lot of cosmetics and accessories. The white color is exquisite and it is eco-friendly. Each compartment accommodates a different item, so it is easy to organize.
Aside from storing many accessories, it is also visually appealing. Features 108 slots and 36 earring holes, 78 ring holders, two hanging rods, 24 hooks for necklaces and bracelets, four storage shelves and two drawers, and three removable boxes.
The full-length mirror provides a better view of your entire appearance. Having an unframed mirror gives the cabinet a classier appearance. Having a lock makes things more secure. Mount it on your wall or on your door.
The accessories will be organized more neatly, and your bathroom or dressing table will no longer look cluttered. This cabinet is well-made, solid, and will not break easily.
#7. Songmics LED Jewelry Cabinet
The cabinet takes up a small amount of space in your bedroom, but it has ample room for your accessories and cosmetics! With its beautiful white color, you can hang it both on the door and on the wall.
You can even paint it or add little personalized touches if you want. Adding warmth to your bedroom or anywhere you place it, it has an effortless look.
Besides the different sizes, it also comes with a stand, so you can place it in one of the corners of your room if you don't want to hang it on the door or wall.
The cabinet provides a lot of space to keep your belongings. Their favorite feature is being able to customize the cabinet, like their high school locker.
The cabinet is lightweight, making it an ideal gift. You can easily adjust the height with this sturdy and solid organizer. As well as being easy to assemble, it gives your room a lovely look.
All of your jewelry will be stored in this cabinet, and you won't have to worry about the mess it made before you bought it.
Taking the batteries out of the cabinet if you don't use it enough is recommended, as is not placing the cabinet in a moist/wet area.
#8. Cabidor Classic Behind The Door Cabinet
Cabidor Classic | Behind The Door | Adjustable | Medicine Cabinet, Kitchen Cabinet, & Bathroom Storage Cabinet
Easy to install as well as very quick to install too. The process of installing does not damage your door
The cabinet is safe and concealed yet easy to access
You can customize this cabinet according to your preference. You can color it and add more shelves.
The materials used for making this cabinet are of great quality, and hence it makes this cabinet safe and solid to use
Fits in small places and is slim yet tall
Has a large capacity and holds a large number of items
With this cabinet, you can fit it into even the tiniest corner of your house without sacrificing storage capacity!
You have an ample amount of storage to keep your belongings. It comes in a neat white color and is customizable. Besides using it for your accessories and cosmetics, you can also use it to keep wine bottles or handwash soaps in your kitchen and bathroom!
It stores not only accessories but also other items. Store sugar, salt, tea, and coffee bottles in the kitchen, and body wash and toothbrushes in the bathroom. You can adjust the shelf height or remove it completely to meet your needs.
Better yet, it doesn't damage your door in the process of installation. Due to its slim design, it can easily fit in places like a bathroom.
Having your things organized and kept neatly in the cabinet makes it a lovely addition to any room where you install it.
#9. Quanyou LED Jewelry cum Makeup Cabinet
This is another very classy over-the-door cabinet to have in your home. When you open the cabinet door, the stunning blue LEDs on top of the cabinet will light up. The wood-finished white color offers a vintage yet modern look to your room.
There is plenty of room for all your makeup and accessories. The paint isn't used on it, so it has a longer lifespan. A must-have for every stylish lady!
All the jewelry and cosmetics are neatly and beautifully stored, so you don't have to rummage around for your belongings.
All you have to do is hang it wherever you like. It comes assembled, so you don't have to do anything but hang it. It comes with a lock and a magnetic closure. Your belongings will be kept safe from your kids with the lock, and the magnetic closure will keep them securely in place.
Benefits of Using Over The Door Makeup Organizers
Their looks aside, they offer several benefits as well! Here are some of the benefits of using over the door makeup cabinets.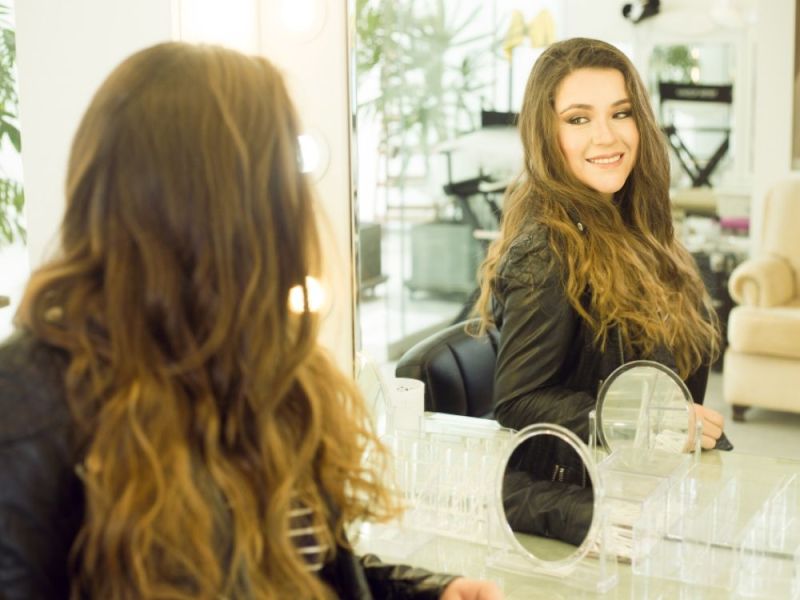 Unlike your dressing table, it does not take up space. All you have to do is mount it on the door or the wall, and that's it. You wouldn't bump into it at night, or your room wouldn't look small because of its presence.
Customizing your cabinet is always an option. You can color it or take out a shelf so you can install a picture frame. Adding lights on the inside or outside will also be possible. If you want to give it a more funky appearance, you can draw small designs on it. You can also customize it to fit your décor. You could try out different styles to customize and make it look more pretty and fit for your style. To give it a very aesthetic appearance, you can also paint some words on the sides of the cabinet!
Using what you might forget
You know you have some amazing stuff stashed away or forgotten somewhere in your house, but you only find it when you organize your stuff. If you have a cabinet, you will be able to keep all your collection together, as well as use those products you may have forgotten you own.
Your room will look more organized and neat when you organize your accessories or jewelry in these cabinets. You can keep all these things in one place so you can use them conveniently.
Once you purchase these cabinets, you will have no regrets as they look beautiful, enhance the look of your room, and, most importantly, help you organize your cosmetics and accessories elegantly and securely.
You can find cabinets made from so many different materials and in so many different styles, giving you a wide choice. There is a perfect cabinet for your room, which matches your home's interior perfectly. For example, a vintage or antique set of cabinets would fit in well with a rustic décor, while modern cabinets would fit in with a modern décor.
Apart from being customizable, these cabinets don't require a lot of time to install, and most of them come assembled, so you only have to mount them. As such, it is very easy to install and saves you a lot of time.
Types of Makeup Organizers
Here are some other types of makeup organizers that can also be used for organizing your accessories and makeup:
Under-mounted sink cabinets
Vanity cabinets
Floating cabinets
Free-standing cabinets
Bathroom Cabinets
Cabinets with Mirror
Wooden cabinets
Glass cabinets
Marble cabinets
Laminated cabinets
Cabinet with a table and stool set
Two-piece cabinet set with a hidden mirror
Cabinets with drawers
Vintage cabinets
Modern cabinets
Stool and desk cabinet with bulbs
Tall corner cabinet
Corner cabinet
Everyone needs an over the door makeup organizer since they are reasonably priced and are of good quality, durable and reliable. Furthermore, they are very long lasting.
With these cabinets, you will be able to store your accessories and makeup more easily. With these cabinets, you won't lose any makeup items or accessories, and they will be protected from damage.
Your belongings will be safe in these cabinets, and your room will be more arranged, and more pretty, and your belongings will be well-protected.
As these cabinets do not take up much space, you won't have to worry about bumping into them in the dark or if they make your room look smaller.
All in all, these over the door makeup organizer cabinets are also a girl's best friend since they keep all of their favorite accessories and expensive makeup items in one place without having to worry about losing any of them. So, if you were wondering how to organize your makeup, this is what you need!
Last update on 2023-10-01 / Images from Amazon Product Advertising API