Lipsticks are never really enough, are they? No matter how many of them we buy, there is always one left to be added in your makeup stash. And with those tons of brands out there, we always get confused and often buy something that we may regret later. And, today I am going to review a lipstick from a very famous brand in India named 'Nykaa'. This lipstick is called Nykaa So Matte Lipstick in Cranberry Sangria and is from the Very Berry Collection of Nykaa Lipsticks.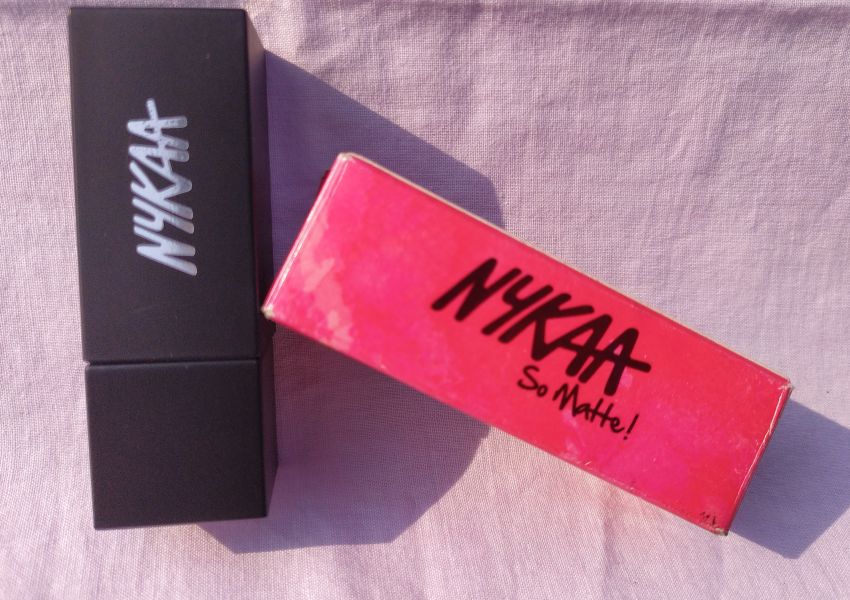 About Nykaa So Matte Lipstick Cranberry Sangria: You've got a new favorite matte lipstick! The creamy, long-lasting texture gives you pout-worthy lips in one stroke. It effortlessly glides on your lips, giving you a gorgeous soft matte finish. Pucker up and party with our delectable matte lipstick. Muah!
The plush, pigment-rich formula
Intense color pay-off
Smooth texture
One stroke application
Luxurious, effortless glide
Soft matte finish
Why should you make it yours?
Unlike its chalky peers, this cruelty-free and the high-pigment formula is infused with Vitamin E for a soft, cushiony, and flexible finish. The unique formulation ensures that your lips stay comfortable, colored up and matte-smooth all day. Another bonus: These vivid, full-coverage hues are hand-selected and named by our In-house Nykaa Panel, just in time for the festive season. The best part, they're super affordable so you can go all out and buy the whole range.
Price: 4.2 gm of product retails for Rupees 399/-  | Buy it here
My Experience with Nykaa So Matte Lipstick Cranberry Sangria
This lipstick comes in a pink cardboard box, which is pretty sturdy, for I still have my lipstick enclosed in the box after so many months.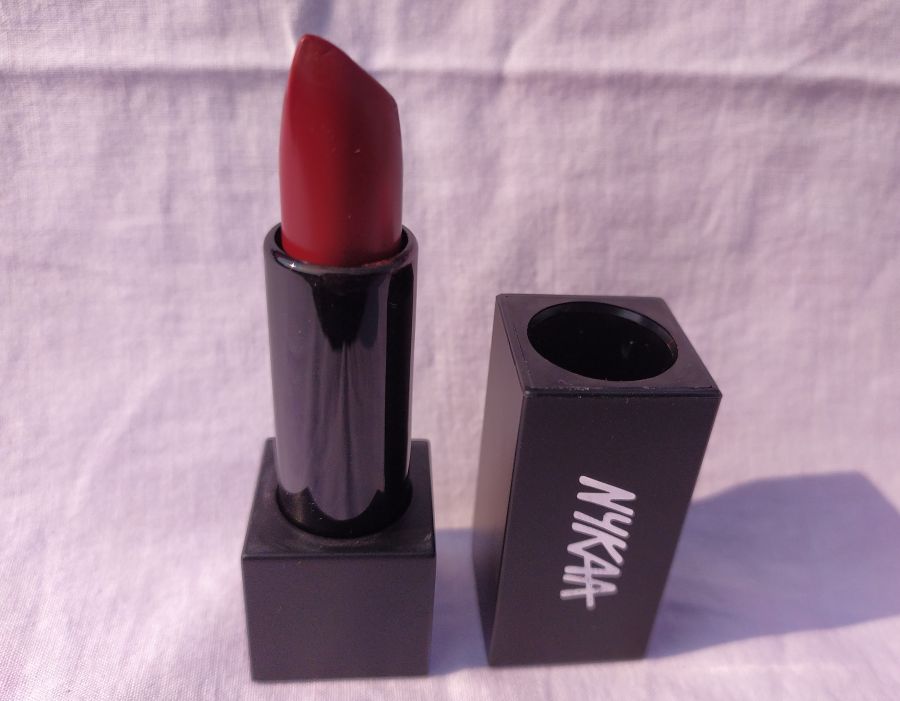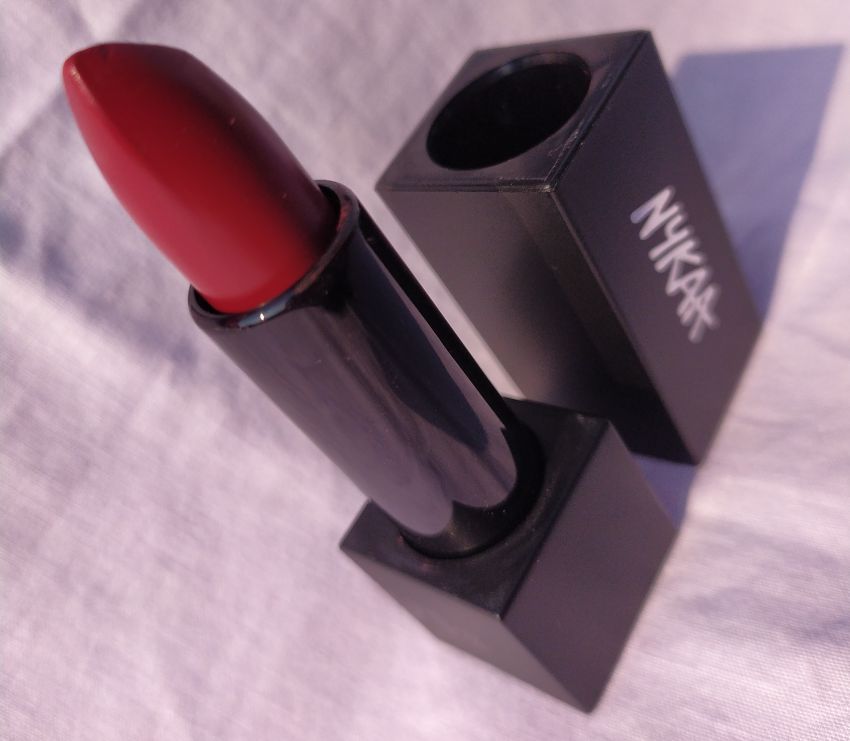 Inside the box is a black bullet style lipstick. The cap shuts in with a magnetic attraction. And overall, the packaging of this Nykaa Lipstick looks stylish and flaunt-able.
It is also sturdy and travel-friendly.
When the lipstick is twisted out, it gives off a sweet, vanilla fragrance that fades off after application. So, sensitive noses need not bother.
The texture of this lipstick is creamy matte, and it glides on your lips like a dream, like really soft. And if you want, you can make it matte by dusting some setting powder on it or by using a blotting paper.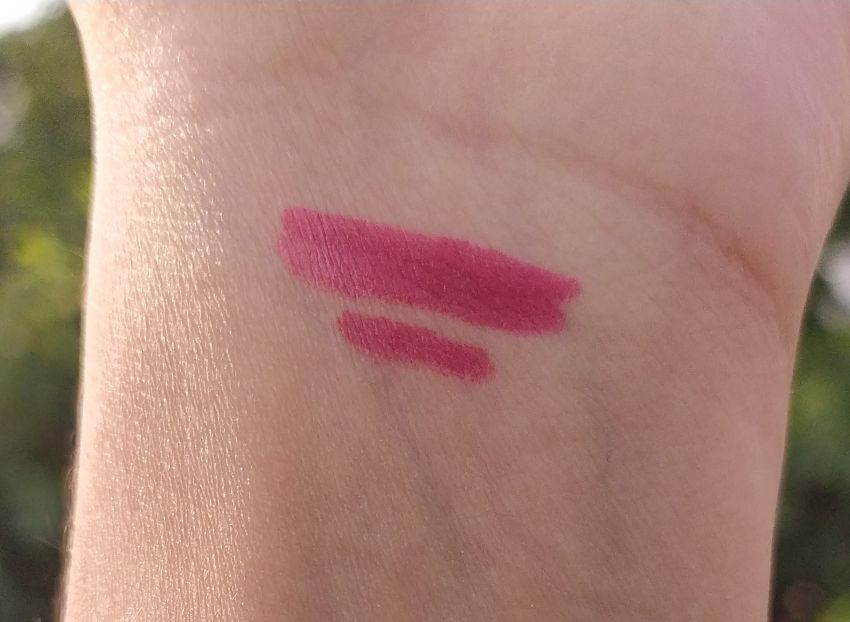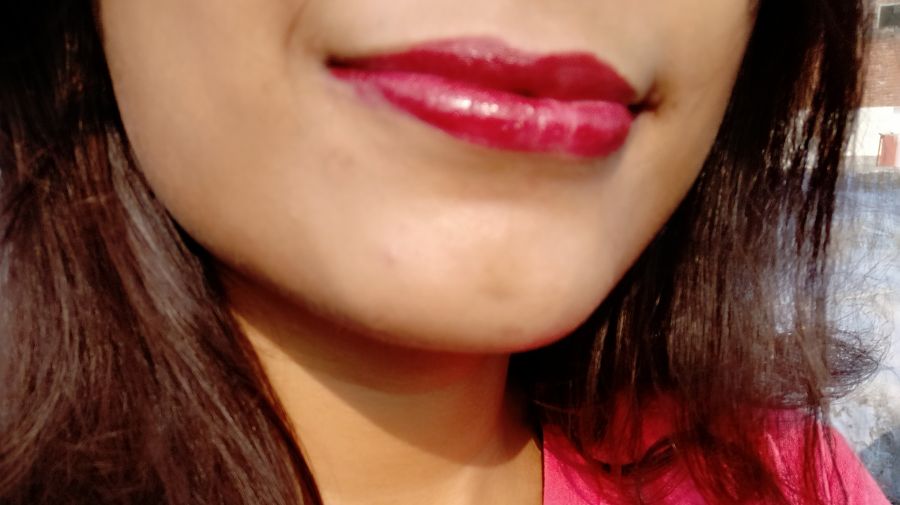 Now, this lipstick has a wonderful mauve berry shade. This particular shade looks flattering on all skin tones. Trust me, this shade looks drop-dead gorgeous when applied, and anyone can rock this bold shade.
The shade's pigmentation game is solid. You get a maximum color payoff in just one swipe.
The formula of this lipstick is very moisturizing. It never feels heavy, no matter how many times you layer it. It also does not bleed after application.
This shade instantly brights up the whole face and changes the entire look. And it is so wearable like there are many lipsticks that we just buy and don't use because there shade is not that much wearable, but this shade is simply gorgeous. Also, the creamy matte formula glides on the lips like a dream, and there is also an option of making the lipstick matte so you can wear it as per your wish.
The lipstick also has a good staying power and non-bleeding texture. It does transfer but isn't the lipstick amazing to be left out for this con. I highly recommend this lipstick and suggest you buy a mini one if you are still not sure. You will not be disappointed.
This Nykaa So Matte Lipstick Very Berry Collection – Cranberry Sangria 17 M, stays put for a good 4-5 hours and even after leaves a pretty tint so touch-ups needed are minimal.
The lipstick does transfer because of its creamy matte formula.
Pros:
Very stylish and chic packaging.
Travel-friendly.
Stays for 4-5 hours.
It has a moisturizing formula that does not feel heavy.
The shape of the lipstick makes it very easy to apply it perfectly.
It is a very gorgeous and ravishing berry shade.
The shade will suit all skin tones.
Has a bang-on, one-swipe pigmentation.
Even after the lipstick fades, it leaves behind a pretty tint.
It can be made matte as well.
Perfect for dry lips beauties.
Cons:
Transfers on cups and glasses
Have you tried this Nykaa So Matte Lipstick in Cranberry Sangria? Let me know in the comments below!
Nykaa So Matte Lipstick in Cranberry Sangria
Final Word
I totally love this lipstick and always keep it in my makeup bag. In fact, I love all of the Nykaa lipsticks this is an amazing brand that can be trusted and bought from. All of there products are high quality and very standard in their performance. I, in particular, am a Nykaa fan. Also, this Cranberry Sangria shade is really stunning and the best part is that it can be pulled off by any skin tone beauties.