I am a person who is too protective of skin, especially when it comes to hands. As my skin is very sensitive, so I have to take care of my skin like a baby. I have been using Johnson's baby lotion since my childhood. Either I used Johnson's baby lotion or the almond oil as suggested by mom.
But I always had a problem carrying the lotion with me because the size of the bottle is very big and it was risky to carry oil as it might get spill all over my bag and which makes both the things impossible for me to carry with me in my bag. So, one day I was browsing through the Nykaa app and I came across Nykaa Hand & Nail Creme in Peony & White Lily. I thought to give it a try and here is my review on it.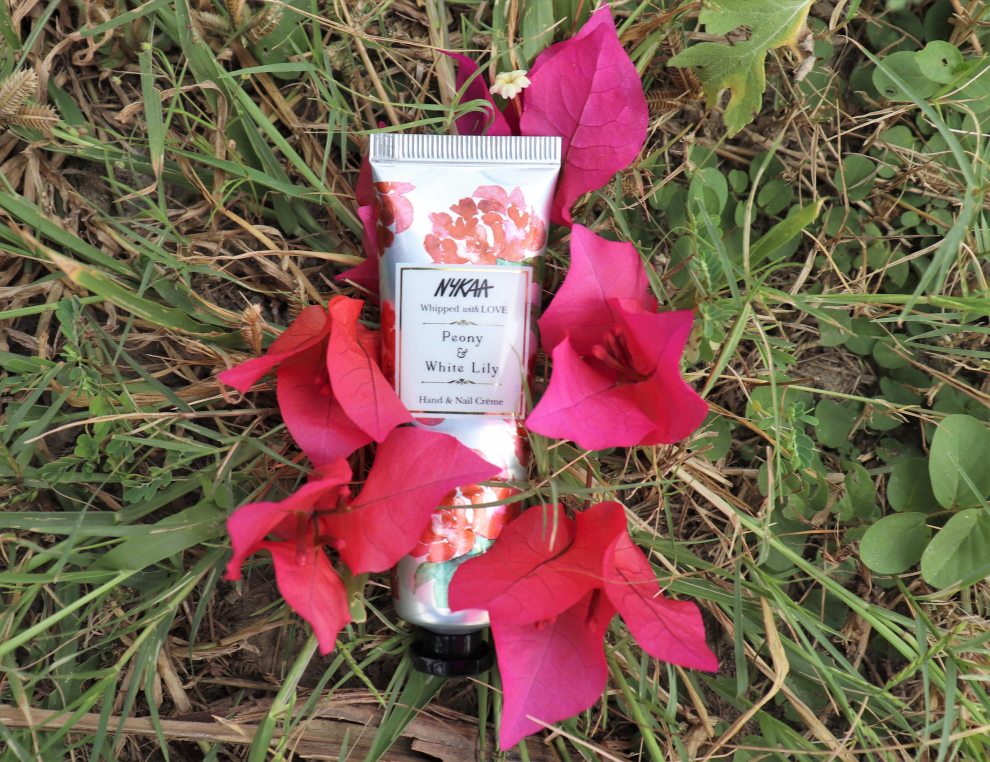 About the product: Flirtatious Peonies mingle with the regal White Lilies to give sweep you to a mystical dreamland with its exquisite fragrance. Peony brings dollops of freshness, while noble White Lilies leave your hands wrapped in the aroma.
Price: Rs. 275/- | Buy it from Nykaa
Quantity: 30 ml
Nykaa Hand & Nail Creme Review – Peony & White Lily
Nykaa Hand & Nail Creme comes in a metallic silver-colored plastic tube with a black colored screw cap. It's been more than a week I have been using this Peony and White Lily cream. The size of the tube is apt and travel-friendly. It is two in one formula which not only hydrates or keeps your hand soft but also takes care of your nails.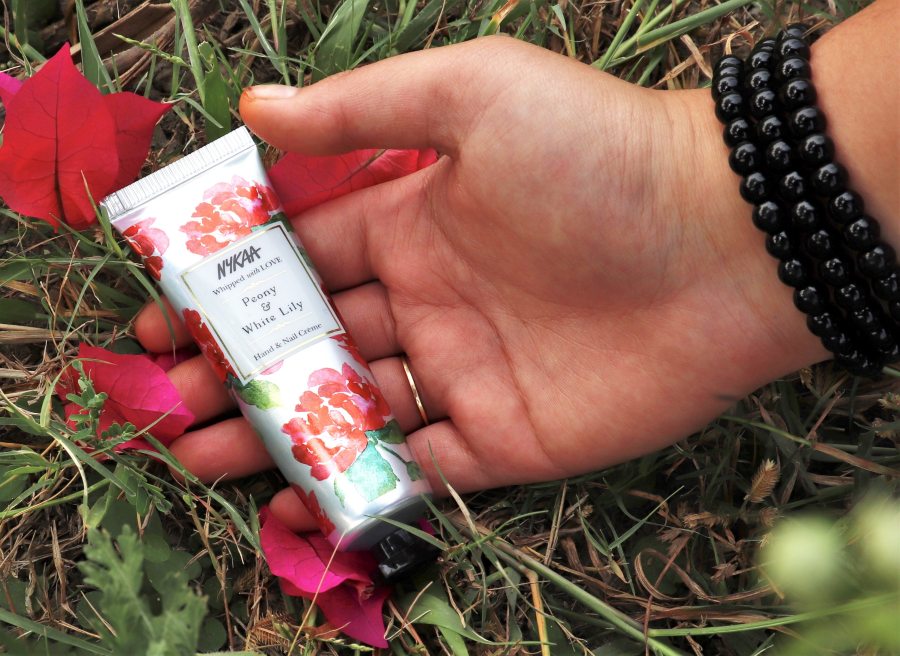 Peonies apart from smelling good it also helps in reducing pigmentation and enhancing skin's natural glow. These flowers have anti-bacterial that helps in fighting tissue aging and soothe skin rashes. While White Lillies help in treating burns and wounds without leaving any scars.
I liked the smell of the cream as it has an amazing floral fragrance and the texture of the cream is very smooth. The cream gets absorbs to the skin quickly and does not give any sticky or oily feel. After applying my hands feels hydrated. The cream contains Propanediol and Coco-Caprylate Caprate which acts as a good moisturizer.
Apart from it has olive oil, jojoba oil, avocado oil, argan oil, and almond oil which are good for hydrating skin and keeping skin soft and helps in fighting early signs of aging, making skin smooth and skin look healthier. So, this cream can be used by those with mature and often dehydrated skin.
Apart from Peony & White Lily, it comes in six different fragrances:
French Lavender a&Honey

Freesia & Vanilla

Magnolia & White Tea

Jasmine & Neroli

Honeysuckle & White Tea

Rose & White Musk
How to apply?
Take little cream in your palm and apply gently all over your hand and as it is a nail cream, you should apply the cream around your cuticles to make it soft and stronger. I usually apply after washing my hands and I never forget to apply before going to bed at night it will get sufficient time to repair your damaged skin.
Pros
Floral Fragrance

Enriched with Jojoba oil, Olive oil, Avocado oil and Almond oil.

Formulated with rich Hyaluronic acid for lightweight hydration.

Paraben and SLS free  
Cons
Does not show effects immediately.
Tip: Don't apply on face as it is specifically formulated with ingredients to keep your hands and nail soft and hydrated.
Whether you should buy or not?
Frankly, after a few days of buying the cream, I thought I have wasted my money and I should have continued with the old cream I was using. After a week, my hands felt a little softer than earlier and now I am using it regularly for better results.
Nykaa Peony & White Lily Hand & Nail Creme
Final Word
I would say one should go for this as it is composed of all the good ingredients and the brand has come up with an amazing cream, which will help repair your skin of the hands. When you start applying you might not feel any difference but as it is said good things take time so use for more than a week and you will see great results. And you won't regret it buying like I first did but now I am happy using it.