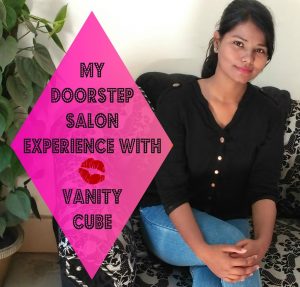 Hello, gorgeous ladies! It's been a while since I pampered myself for real. When I got an opportunity to try out Vanity Cube, at-home beauty services providing portal, I was overjoyed to try it. I opted for a manicure, pedicure, face bleach and hair spa services from them. So after having a pampering session, I'm here to share my experience with all of you. Read my post to know my blissful experience. Psst! I also have a discount code for you guys at the end of the post! ????
An on-demand, on-premise beauty service provider, Vanity Cube helps customers look beautiful all the time at their chosen location, be it at their home, in their office or at any other venue. They aim to bring convenience to your doorstep by catering to all your beauty, wellness and grooming needs, anywhere and anytime.
My Doorstep Salon Experience with Vanity Cube
I booked my appointment on last Sunday afternoon for the beauty services and the therapist reached just on time. She had a huge bag which had all the equipment and products that were going to be used in my treatment. She unpacked it and set them on the floor upon the disposable sheet that was placed to prevent any mess. She was quite professional, cooperative, and friendly. She was very nice.
First, I got
Sara Face and Neck De-Tan
done by her. She took off my makeup with cleansing milk and then carried on doing the rest of the treatment. I was really impressed by a calming face massage. She carried towels, disposable sheets, and clips with her so I didn't need anything from my side which was very convenient. After the de-tan, my face was glowing and tan-free!
After de-tanning, it was time for

 

Anti-Tan pedicure.

 

I used to do my pedicure at my home all by myself and it was a messy process but for a change, I decided to give it a go. She had a foot spa machine with her and after adding water to it, she diluted bath salts, sanitizer, essential oils to prepare a foot soak. The water was getting bubbled and warmed up so meanwhile, she applied the bleach on my hands and legs. One thing I noticed that the therapist was quick with her services and applied bleach on

 

hands

 and feet, all at once to save time. She was quite a great multi-tasker. After soaking feet in the foot soak, she applied scrub, filed my toenails and gave a good massage to my feet. At last, she applied a nail paint on my foot nails. 
Just like the pedicure, for
Anti-Tan Manicure
, she applied bleach on my hands and then after taking it off, I soaked my hands in the warm hand soak solution. She cleared off my cuticles, filed my nails and gave it a relaxing massage. After then, she applied the nail paint of my choice. I chose a flesh-toned nude shade which was appealing to my dusky skin.
Last but not the least, I got a relaxing
hair spa
session. She brushed my hair and applied the L'oreal hair spa cream section by section. Then she gave me the best hair massage ever; she massaged my scalp from root to tips and extended it by forehead and back of my neck. I was about to slip into the sleep when she applied steam to my hair by a steam machine. After covering all my hair she tied it and put on a shower cap to seal in the moisture. I felt de-stressed and forgot my worries for a while, specifically the tension of exams I had for a while. ????
After everything was done, she threw away all the waste by herself and packed her stuff one by one. The great thing was that there was no mess to be seen on the floor. She waved goodbye and left me with awesome looking hair, hands, and feet! 
To my lovely readers here's your code 
MARIYAM20
 for availing 20% discount on beauty services. Visit 

www.vanitycube.in

to book the beauty/makeup services at your doorstep. Note that the minimum booking amount is Rs. 800/- which seems a fair deal.
Final Word:
This was my first ever experience of getting beauty services done at the comfort of my home. The therapist was sweet, humble and professional. I got my manicure, pedicure, Face de-tan and hair spa done with branded products. I felt so relaxed and de-stressed during this session. It was a pampering, hassle-free experience altogether and I'll happily recommend it to my friends and family!
*Complimentary service in return for my honest experience