You can shape your life and face the world a lot better if you take care of your mental health. With this in mind, can mental health jewelry make a difference? Does it address the issue and make people feel better?
According to Dr. Marny Lishman, yes. The renowned psychologist says that wearing a necklace with a mental health reference will have the same effect as talking about it. It can also help put a stop to the stigma attached to mental disorders and normalize the situation.
Wearing this symbolic jewelry defies society's ideal of preventing people from expressing themselves. Although changing the world is hard, if you start with yourself, it's worth a shot.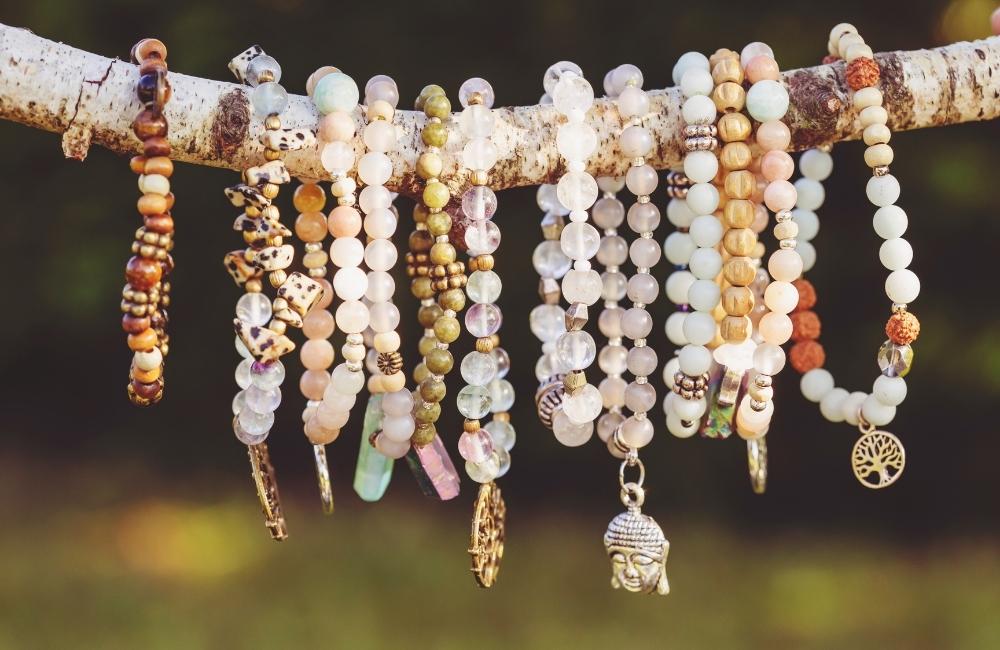 In light of spreading the needed awareness, we've rounded up our favorite mental health jewelry picks:
Readers like you help keep The Beautyholic running. When you buy through links on our blog, as an Amazon Associate, we earn from qualifying purchases at no extra cost to you.
1. Joycuff Engraved Mantra Bracelet
Joycuff is an authentic brand registered in the USPTO in 2017. Their motto is to provide Cuff mental health bracelets made from the best material and properly made at an affordable price. The engravings on the bracelets encourage positivity, optimism, and they are also inspiring.
2. Inspire Silver Square Charm for Bracelet
Featuring an easy beaded layout that slides properly onto any bracelet. Inspire Silver's Mental Health Awareness mental health jewelry for sale charms make exceptional presents for women. Charms on the bracelets promote positivity, strength, relationships, and connection. By wearing this bracelet, you spread the mental health awareness message authentically.
3. Wave Ocean Beach Sea Anklet
This anklet is made of real sterling silver. They are nickel-free, and they don't even fade or lose their shine after regular use. Waves signify the passing of time and the healing that occurs with it. Like the wave hitting the shore and coming back, it inspires people. Likewise, you will be able to stand back strong this time as well with jewelry supporting mental health.
4. Semicolon Heartbeat Cuff Bracelet
Semicolon jewelry is an easy reminder that there are lots to live for, and surviving is lovely. A semicolon indicates that your story is not yet complete, and there is much more to be written.
These make the right present of encouragement for friends or family who are suffering. They can be a kind reminder of Suicide Awareness.
5. Life is Tough but So Are You Bracelet
In itself, the message is clear: regardless of how hard things are, you are a fighter. You can face anything that comes your way with strength and courage. They make beautiful gifts for anyone who decides to give up easily when faced with a difficult situation or thinks it's time to quit. This jewelry embodies the idea that we can overcome any obstacles, and it serves as good depression jewelry as well.
6. Everyday You Change the World Sterling Silver Charm Necklace
A lovely sterling silver necklace is forged, soldered, hammered, after which it is polished to a high shine. This message serves as an important reminder that every human life matters and that we all contribute in our own way to the world. If they desire, they can make a difference in the world through their existence. These are also great gifts for the men in your life who are concerned about their mental health.
7. My Story Isn't Over Yet Heart Semicolon Ring
This semicolon ring states, "my story isn't over yet.". Semicolons are symbols of continuity, and they make excellent anxiety jewelry. This message is straight to all those who are giving up. Essentially, it suggests that they should be positive and that the bad phase does not define life and will pass. You can get these rings as a gift for someone you know going through a tough time.
8. Quan Jewelry Continue Semicolon Heart Necklace
Semicolons represent that you are still living, and therefore, your story hasn't ended yet. The semicolon indicates that a writer had intended to end a sentence but continued it anyway. You are the author of your existence, and you can only end it when you decide to. You shouldn't let adversity write your life's story for you.
9. Fundraising For A Cause | Green Ribbon Awareness Charm Bracelet
The color green represents mental health issues. By wearing a green bracelet, you show your support for the issue. This bracelet features a ribbon that says, "Together We Can Make A Difference." Each bracelet is Fundraising For a Cause in 2005 after the founder Karen Conroy's sister was diagnosed with breast cancer. When tragedy strikes, human beings often find it difficult to support the victims. To commemorate the issue, she designed something that screams hope and positivity and jewelry that donates to mental health.
10. Serotonin Wish Bracelet
A Serotonin Wish Bracelet symbolizes happiness and encourages the wearer to pursue happiness and stay strong. This bracelet supports mental health, depression and, awareness. Besides being a perfect present for your loved one, this bracelet can also be used as a friendship bracelet, a couple's bracelet, and so much more. It is an ideal gift for graduation, the beginning of a new school year, birthdays, Christmas, anniversaries, Valentine's Day, and Thanksgiving.
11. End the Stigma Silver Square Charm Bracelet
The mental health bracelet sports a conventional and fashionable design highlighted by pave set cubic zirconia stones weighing 1 carat. With the lobster claw and heart clasp, it has a traditional braid layout. Made with sterling silver, the bracelet is wearable during the day or at night and can be paired with any outfit. Charm bracelets symbolize positivity and strength. As the bracelet states, one should set one goal at a time, and when one achieves this goal, one can add a charm to it.
12. Joycuff Engraved Mantra Bracelet
A secret message is the best way to express exactly what you feel. This is a great reminder to keep moving forward, and it bolsters your strength to continue longer, one day at a time. If you face adversity in your life or have been through a hard time, this bracelet can be a great motivational gift. Inspiring and uplifting, this bracelet promotes optimism. The bracelet acts as an inspirational reminder, affirmation, and inspiration throughout the day.
13. Silver Keep Going Stainless Steel Ring
There is nothing fancy about this inspirational masterpiece, but it does provide inspiring words. The engraved mental health rings serve as a constant reminder to never give up. This piece is perfect for adding a touch of elegance to any outfit, enlightening the mind, and empowering the spirit. When you are feeling low, simply read the inscribed phrases on the bracelet to boost your spirits.
14. Sterling Silver My Story Isn't Over Yet Semicolon Necklace
There is probably no better jewelry than semicolon mental health awareness jewelry. Inscribed on the bar, the inspirational quote "My story isn't over yet" suggests that life still has a lot to offer – a reminder for anyone looking for a little motivation to survive. People who need some positivity and support in life can benefit from receiving these.
15. Titanium Magnetic Therapy Bracelet
Those suffering from chronic pain will benefit from this therapeutic bracelet. Throughout history, magnetic therapy has been used to reduce inflammation, alleviate pain, and increase blood circulation. Also, it has been used to reduce stress and anxiety, boost sleep, and improve mood and stability. This good-looking bracelet is designed to make you feel confident, to get compliments, and also to get a good night's sleep.
What things symbolize mental health?
Let's move on to symbols that represent mental health now that we have listed some of the best mental health jewelry available online. Below you will find some symbols and their meanings associated with mental health.
Semicolon
This symbol is a popular, traditional mental health symbol. It symbolizes that life does not end and that it continues. The symbol is commonly used to convey that humanity continues to exist.
Butterflies
Symbolizing change and transformation. Butterflies begin their existence as caterpillars and evolve into vibrant, colorful insects that are able to fly—suggesting that we all have the potential to evolve into something greater.
Everest
Getting through mental illness is often frustrating because of the sense of struggle and restlessness. An empowering, rugged Everest mountain symbol gives you a sense of victory in the face of battle and helps you to become stronger. Everest symbolizes the victory human beings achieve when they triumph over their mental health issues. The symbol indicates dealing with the issue while also finding a solution.
Rosary
In various cultures, a rosary is a sacred string of prayer beads that represents grace, fortune, and blessings that believers keep with them while reciting prayers. Having a rosary tattoo along the neck or wrist symbolizes a steadying influence of religion and the belief in divine power.
Lotus Flower
The flower also represents mental illness. According to it, people can overcome even the ugliest of situations. Lotus flower, on many occasions, is combined with the National Eating Disorder Association (NEDA) image to make it more aligned with the issue and make it appear peaceful.
What color do you wear for mental health awareness?
As a ribbon for mental health, green is a vibrant color used in promoting mental health in children and adolescents. The color green is used to depict mental health. A mental health disorder, bipolar disorder, and depression are portrayed by the image.
Other Ways to Raise Awareness
You can follow some tips for mental health issues, apart from wearing jewelry you can identify with.
Talk about your issues openly. Talking about mental health or seeing a therapist may seem embarrassing to many people. The best way to deal with a problem is to talk about it openly. Find someone who is friendly and willing to listen to you without passing judgment and with whom you are comfortable.
Don't leave your kids out of it. As early as toddlers, kids can suffer from mental health issues. It can result from trauma at home, abuse by their parents, or some bad experiences. Hence, it is equally important to listen to these children's concerns to help them lead better lives in the future.
Take mental health screenings once in a while. The screenings determine whether or not you are showing signs of mental health problems, have trouble sleeping, etc. Putting up a social media post about your screenings can also help someone in need but feel nervous or ashamed about it.
Signs of mental health issues can be difficult to identify. If you want to determine this, you need to watch out for signs like sleep disorders, mood swings, panic attacks, etc. Anything unusual or out of the ordinary can be suspicious. Hence, a check on these symptoms will help you find the best solution.
Final thoughts
The more you talk about your issues, the more you will be able to get rid of them. Don't feel ashamed to talk about your issues. Jewelry that promotes mental health helps raise awareness of the illness and helps you stay strong. As a gift option, they're ideal for anyone you know is suffering and needs a little motivation.
Related Posts