I may not be the best when it comes to makeup, but I always try to stay on top of my skincare game. Commuting to work or college in the sultry Delhi weather every single day means coming into contact with pollution, dust, and smoke. This makes my skin really greasy and dull. It also clogs up my pores, making my face prone to pimples.
To prevent all of that from happening, I use a face mask at least once a week. A couple of months ago, I got my hands on the Matra Activated Charcoal Mask with Bentonite Powder and Aloe Vera, and I've been really liking it. I've used it about seven times now, so it's been tried and tested, and today I'm going to be reviewing it for you guys.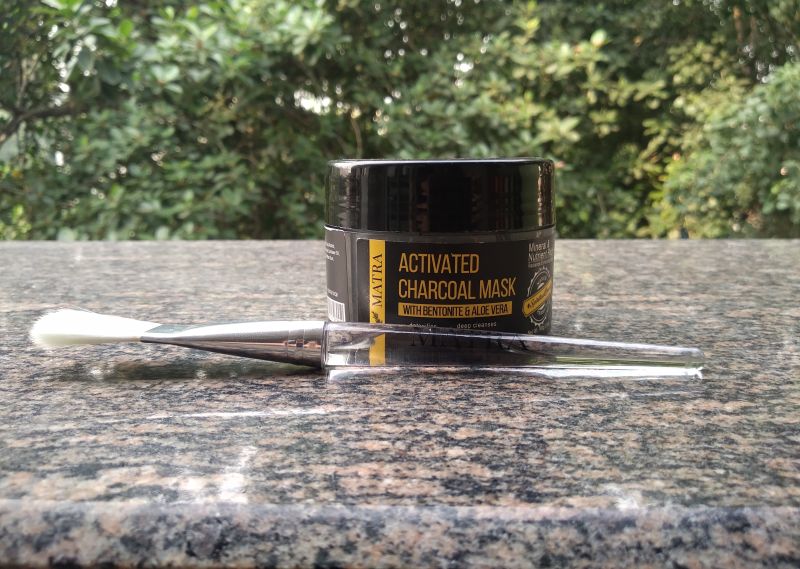 About the Product: Experience pure skin magic with Matra Activated Charcoal Mask! This gentle, creamy face mask works wonders in detoxifying and purifying your skin, rendering it cleansed, hydrated and glowing.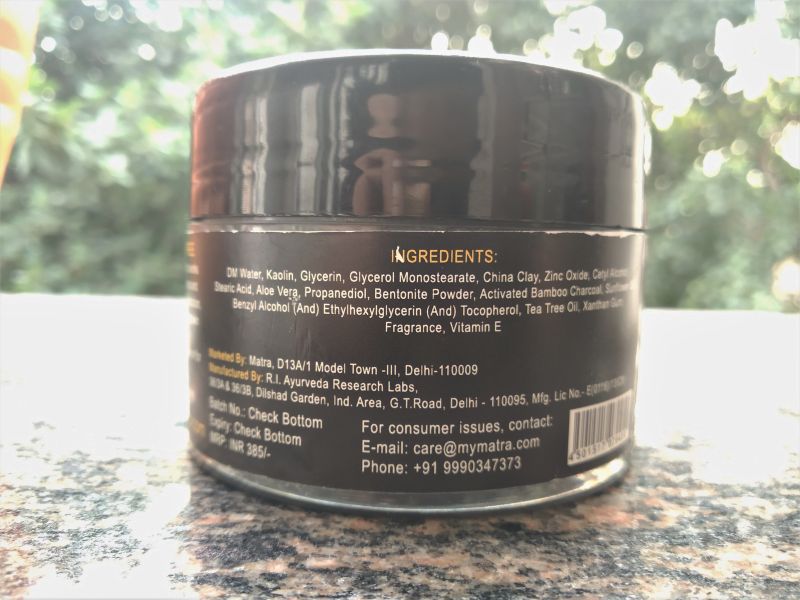 Activated charcoal – deeply absorbs the toxins, while promoting hydration, deep purification, and toning. It removes stubborn impurities and dead skin cells, giving you a radiant complexion.
Bentonite powder – purifies pores and has amazing oil-extracting properties. It detoxifies and demineralizes the skin with essential minerals such as calcium, magnesium, potassium, and silicon.
Combined with the miraculous effects of aloe vera, this is a multifunctional treatment that tightens the appearance of pores and delivers less oily skin with a matte finish.
This treatment will keep you fresh and soft all day long. This Invigorating facial mask is the perfect base to gently exfoliate and remove dirt, toxins, and dead cells.
Readers like you help keep The Beautyholic running. When you buy through links on our blog, as an Amazon Associate, we earn from qualifying purchases at no extra cost to you.
Price of Matra Activated Charcoal Mask: Rs. 385/- | Buy it on Nykaa or Amazon
Ingredients: DM Water, Kaolin, Glycerin, Glycerol Monostearate, China Clay, Zinc Oxide, Cetyl Alcohol, Stearic Acid, Aloe Vera, Propanediol, Bentonite Powder, Activated Bamboo Charcoal, Sunflower Oil, Benzyl Alcohol (And) Ethylhexylglycerin (And) Tocopherol, Tea Tree Oil, Xanthan Gum, Fragrance, Vitamin E
How to use it?
Cleanse your face and pat dry.
Apply the mask using a face pack brush or your fingers. The layer of the mask shouldn't be too thin or too thick.
Wait for 10-15 minutes.
Remove the mask gently using a damp cloth or a facial sponge.
Make sure to moisturize your face after removing the mask!
My Experience with Matra Activated Charcoal Mask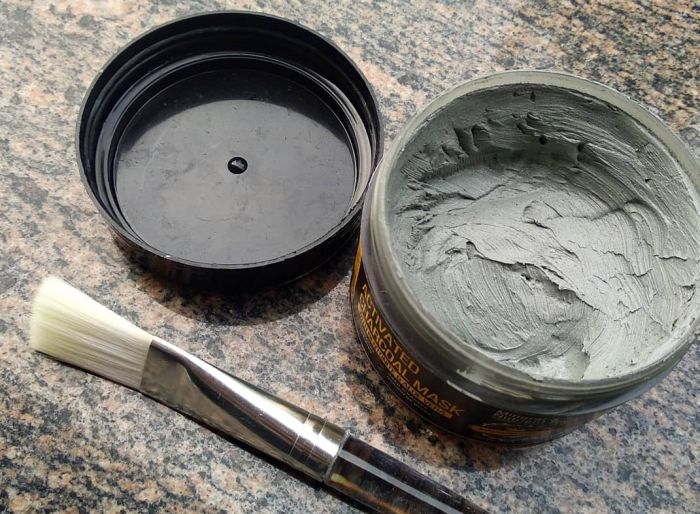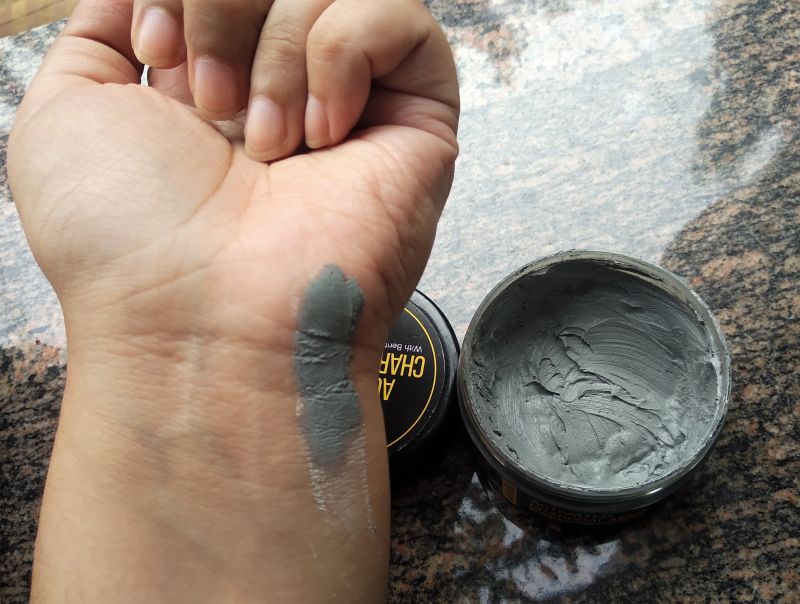 The mask comes packed in a black circular tub. There is no outer cardboard packaging. The plastic container lists all the ingredients and other details. The product is cruelty-free, and paraben and SLS free, and thus gets an instant thumbs up from me. Moreover, it contains ingredients like kaolin, aloe vera, bentonite powder, activated charcoal, and tea tree oil, all of which are excellent for the skin.
The container also has an additional white plastic lid to maintain hygiene. The dark grey colored mask smells quite pleasant to me, but the artificial fragrance might irritate sensitive skin, so I recommend doing a patch test before you use it.
The consistency of the mask is creamy, but it's quite thick, so the application takes a little while. It dries within 10 minutes, and after removing it, my skin feels exceptionally healthy.
It unclogs my pores well and lends my skin a healthy glow. My skin feels clean and soft, and my pores appear smaller. It also removes excess sebum and mattifies the skin. But because it contains aloe vera, which has moisturizing properties, my skin doesn't feel too dry and stretchy.
I feel that it also has exfoliating properties because I can feel a reduction in my blackheads. It is truly a detox for my face! I don't recommend this to dry skinned beauties at all, though, because it will be too drying for them.
The best part about this mask is that it can be used directly from the tub, and you do not need to mix it with water, which makes it very convenient to use. However, if you want to customize it, you can scoop some out in a bowl and add rose water, honey, milk, or your favorite essential oil to it.
At Rs. 385 for 100 grams of product, this mask is quite affordable. I've been using it for two months, and I've still used only half of it. I think that it is perfect for college girls and anyone who doesn't want to invest too much in a face mask.
Pros:
Affordable
Hassle-free
Non drying
Exfoliates the skin gently
Makes the skin glow
Unclogs pores
Mattifies the skin
Cons:
Not suitable for dry skin
Artificial fragrance might irritate sensitive skin
Matra Activated Charcoal Mask
Final Word
Very reasonably priced, this mask is definitely something I will repurchase. It cleans my skin of all the dirt and pollution and adds life to it, giving it a very healthy glow. It is a boon for oily skin, and I highly recommend it. However, it is absolutely not suitable for dry skin.