I can't stop ranting enough about almost arrived summer here in Delhi. It's started to get so hot outside that I prefer to stay in my house. I've decided to use minimal products on my skin as to let it breathe and avoid breakouts. Instead of my regular BB cream, I'm using L'Oreal Mat Magique Matte Transforming Powder. I'm using this compact powder on my skin for a while and like how light it feels. It does more than that and if you want to know, then keep reading my post!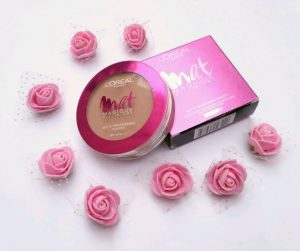 Price: Rs. 399/- for 6 g

Shelf life: 36 months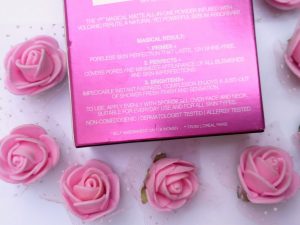 About this product: Mattify your look and keep your makeup fresh all day long with this new magical pressed powder, and intensify your daily eye makeup, with the Magique range. L'Oreal Paris Mat Magique All-In-One Pressed Powder:
Keeps your makeup all fresh and in place for 12 hours!

Comes in 5 different shades to suit the varying tones of Indian complexion.

Comes with SPF 34 PA+++ that protects your skin against the harsh effects of the sun.

Its special mineral formula absorbs excess sebum and keeps you fresh for hours.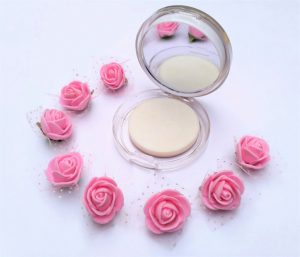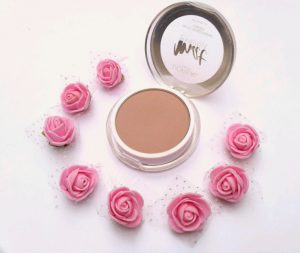 L'Oreal Mat Magique Matte Transforming Powder Golden Amber Review
This compact powder comes in a plastic see-through case with two compartments – first contains the matte powder and the second one has a mirror and the applicator buff. The old packaging had no mirror but I'm quite impressed with its new packaging. The buff is soft and does the job of pressing the powder well into the skin. I just love how sleek and attractive the packaging is!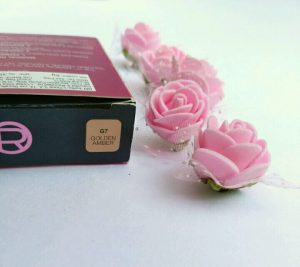 I have this matte powder in shade Golden Amber G7, which is the darkest shade from all the 5 shades. It is meant for deeper skin tones. On my dusky skin, it blends into the skin perfectly. What I've observed is that it is not yellow toned like my skin. It looks a bit ashy on my skin but isn't too much noticeable. I pick the product through a powder brush and it helps blend it effortlessly. It gives me a fresh, matte look and the coverage it provides is medium, more towards the sheer side. 


Left: Swatch, Right: Blended
I apply two coats of this compact powder to blur my minor skin imperfections. Pigmentation is buildable without looking cakey. It doesn't cover major scars, though. Summers have started in Delhi and soon it's gonna be at its peak so I'm using this matte powder through this scorchy season. It also controls oil but for 3-4 hours and after that I sweat a bit. For dry skin, you need to moisturize well before applying this or you'll get dry patches. It also attracts dust, which I think every compact powder does. It stays on for 5-6 hours easily but I think touchup is essential. I use it alone on my face along with a sunblock underneath although it has SPF 34 which is quite great. Since I've been using this compact, my friends have told me that I look darker than before and I've no clue why is it so. Maybe I've tanned a bit or this powder takes away the natural sheen of my skin, I don't know. Anyhow, I like this compact powder as it suits my skin and I feel fresh and light wearing this.

Pros:
Is very affordable

Gives a medium coverage to skin

Has variety of shades for every skin tone

Controls oil and doesn't clog pores
Cons:
Looks a bit powdery on skin, so you need to blend it properly!

Won't suit dry skin.
Final Word: This transforming powder can be used as a compact powder and a pressed powder to set makeup. Considering its price tag, it's affordable and provides a medium coverage which is buildable. This shade is apt for deeper skin tones and controls oil to some extent. It has SPF too. However, you would need a touch-up. If you have an oily skin and prefer something light, this compact's for you!
Show me some love, connect with me! ????????