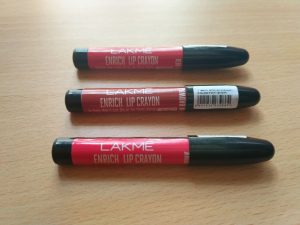 As we all know Lakme has recently launched 'Lakme Enrich Lip Crayons' range with 10 gorgeous shades and they are super affordable. I was so excited with this launch that I bought 3 shades: 01 Berry Red, 09 Cinnamon Brown and 07 Shocking Pink. These lip crayons have become an absolute hit in the Indian beauty sphere. So, today I'm sharing its review and swatches with you. Keep reading beauties to know more! ❤

Price: Rs. 185/- for 2.2 g

About the Product:
Get smooth and matte finish lips with this lip color crayon by Lakmé that is infused with mineral powders. It has a soft texture and is available in 10 gorgeous shades that suit all Indian skin tones. It also has a rich blend of olive and jojoba oil that simultaneously conditions your lips. 

How to apply: Starting from the center of the upper lip, in your cupid's bow, follow your lip line evenly and fill color evenly all over the upper and lower lips with Lakme Enrich Lip Crayons. To get a softer, smoother look, blot with a tissue.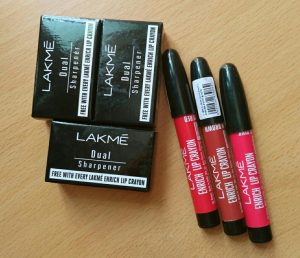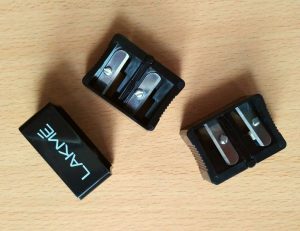 Lakme Enrich Lip Crayons Review & Swatches
These cute lip crayons come in a small chubby pencil form with a black cap. They are color coded so you can easily identify the shade. Each of these lip crayons come with a Lakme dual sharpener. Isn't that great for the price? They are sleek enough to fit in pockets. These are just like wax crayons that I had during my childhood. Its texture is waxy but glides on easily on lips. I have thin lips so these lip crayons give me a precise finish and neat application. They smell of vanilla which is not bothering at all. Let's get on with the shades: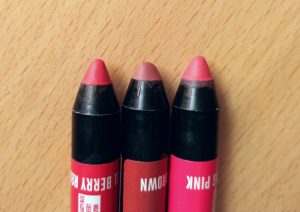 Berry Red: A pretty red shade with warm undertones. On my dusky skin, this shade looks stunning. This shade will flatter every skin tone. It shows up on lips in a swipe but on pigmented lips, 2-3 swipes are needed to cover the pigmentation.

Cinnamon Brown: I just love this shade's name. This shade is a light brown shade that will look light mauve-ish brown on fair skin tones and nude on dusky skin tone. On my dusky skin, it's an MLBB shade which gives a nude look to my lips. It's an everyday kind of shade. This shade is not as pigmented as the other shades. It needs 2-3 swipes to show on lips and also this shade gets finished really quick.

Shocking Pink: True to its name this shade is a popping pink. It's a bright shade that will flatter every skin tone, a sweetheart kind of shade it is. Its pigmentation is medium and takes 2 swipes for an opaque coverage.

These lip crayons are slight waxy in texture but they give a creamy matte finish on lips. They don't highlight patches or crease and looks smooth on lips. Because of its texture, these lip crayons are a blessing for dry lips since it doesn't dry them out. However, the tend to transfer and feathers when applied over the lip line. Despite the price, these actually stay on lips for 4-5 hours easily. It fades after meals. When it fades, it leaves an even stain behind. It gets removed easily without a makeup remover.

Swatches: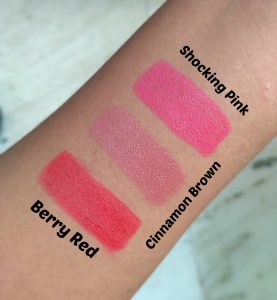 Lakme Enrich Lip Crayons Swatches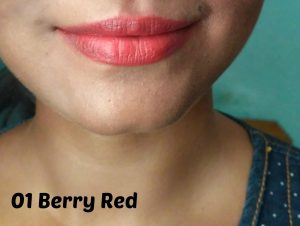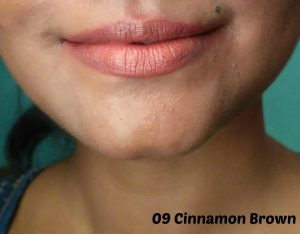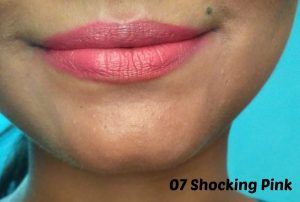 Pros:
Decent pigmentation
Doesn't dry out lips
Stays for 4-5 hours
Creamy matte texture which feels comfortable on lips
Comes with a free sharpener
Cons:
Has a waxy texture
Tends to transfer
feathers after application
Final Word: From the price angle, Lakme Enrich lip crayons are a must-buy! Pigmentation is top-notch and the quality of these lip crayons are amazing. You get a sharpener free with these so there's no point of regretting getting them. There are 10 beautiful shades to pick from and they last on lips for a decent period. I totally recommend them!