Foundation was the first thing I went looking for when I wanted to fill up my makeup stash. I have fair, dry skin with warm undertone and basically wanted something that would be fit for weddings.
Usually, I go naturally on my face because I like to focus on my eyes. I absolutely hate cakey foundations that makes my face and neck look like different tones.
So I ultimately bought the Lakme Absolute Mattreal Skin Natural Mousse in the shade Ivory Fair. Read on to know how the Lakme foundation fared me for the purpose.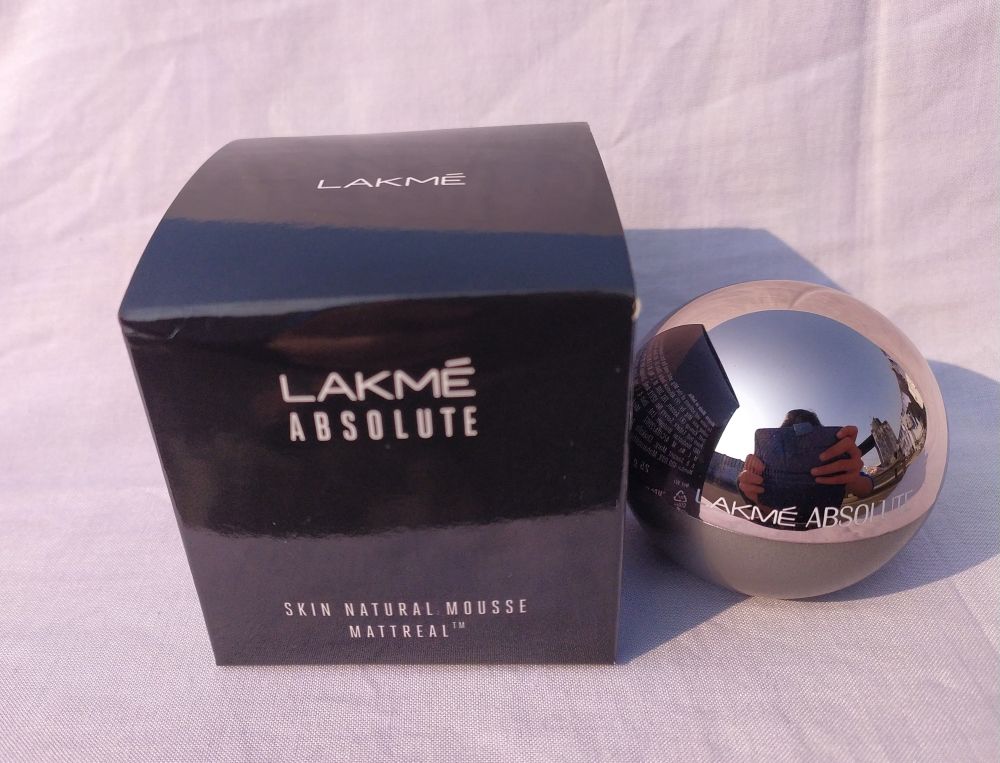 About the Product:
A Feather-Light Mousse foundation for matte Finish
Mousse to powder effect – Mousse formula that blends smoothly to leave a matte-powder effect
Feather-light texture – Ideal for daily use as it feels weightless on the skin
Sun protection – Protects the skin against sun damage with SPF 8
Price: INR 825/-  | Shop it Nykaa or Amazon (Available in nine shades)
Readers like you help keep The Beautyholic running. When you buy through links on our blog, as an Amazon Associate, we earn from qualifying purchases at no extra cost to you.
My Experience with Lakme Absolute Mattreal Skin Natural Mousse – Ivory Fair
So, this foundation comes packed in a black cardboard box which you can use for storing your foundation. On the inside is a steel finish ball-shaped container. The packaging looks super cute and chic though not that hygienic because it is basically pot packaging, so you would have to dip in there every time.
The container has a screw cap and also a protective lid beneath it. The lower half of the container contains the mousse.
When I first saw the foundation honestly, I was disappointed because the container was pretty small, and the product inside was just 70% of its size. I thought it was a waste to buy it since it will finish up so quickly.
And boy, was I wrong! I just had to use like 8-10 small dots for my face. Like this, 25 gm of the product will run really long.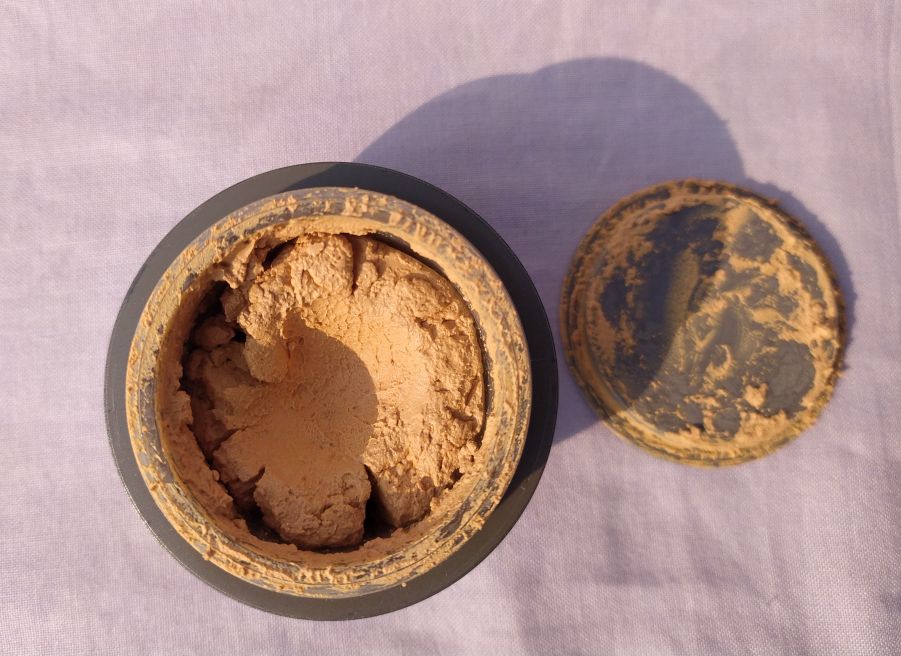 The smell of the foundation is neither too strong nor does it linger around. The smell vanishes after application, so sensitive noses need not worry.
I have dehydrated skin, and this mousse is also drying. So, I literally moisturize the hell out of my face before applying it. And all the dry skin beauties should do the same, or the mousse will settle on and highlight the dry patches of your face.
The foundation inside has a cream-like appearance and texture. I pick up some of the foundations and go on my face in parts like I get some of the foundations and immediately blend it on my cheek, then pick up some more and do the other cheek, then the forehead and then the nose and like that.
I do this foundation like this because it dries really quickly. If you apply it at once on your face and then start blending, the other dots on your face will dry out, and when you try to blend it out, it will come off like small solid pieces as in the picture.
This is the thing I don't like about this product. It is not a big con, though, for you just need to be quick.
The foundation blends like an absolute dream. Due to the rush, I could not buy a sponge or a foundation brush, and I was really scared that the mousse will just sit on the top of my skin and make me look cakey.
But, surprisingly, the mousse was gone in my skin with just a few strokes of my finger. It settles down to a completely matte finish.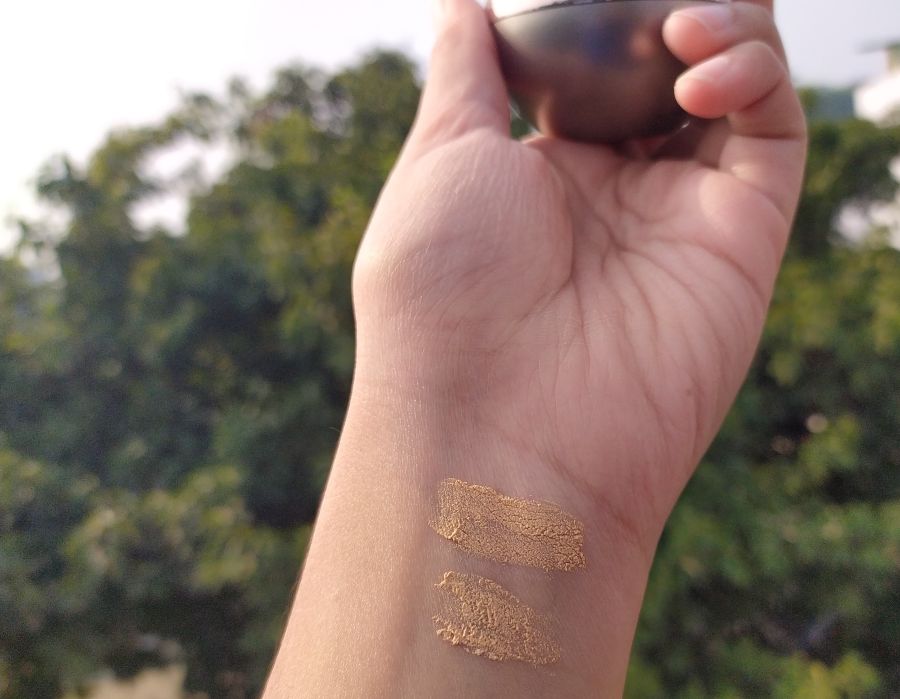 The mousse looks very skin-like and gives a matte feel which I absolutely love.
Then I use a fluffy powder brush and take the slightest amount of setting powder and run it all over my face. I don't use much of the powder because the mousse itself has a matte finish, so much is not needed.
I never had to touch up my mousse, and I had it on for the weddings. But if you want the same look like freshly applied mousse, you would have to do a touch-up after almost 5 hours.
It does not fade much or anything like it remained set for me for the entire wedding function.
Coming to the coverage, a few dots on the face is enough to hide light pigmentation and dark circles. But I applied it to my mother's dark circles and could not hide the darkness completely. It did like 40% of the work.
But it could work on that with some corrector. So, this  Lakme Absolute Mattreal Skin Natural Mousse has medium to light build-able coverage.
Pros
Little products goes a long way
Travel-friendly packaging
It blends like a dream
Settles to a complete matte and skin-like finish
Effortless to use, perfect for beginners
Stays on for almost 5 hours
Minimal to no touch-ups are needed
It has a creamy and lightweight texture that lets your skin breathe
Boon for oily-skinned beauties
Availability
Cons
It does not give full coverage
One has to be quick with the application, or else the mousse will dry out
Unhygienic packaging
Dry skin beauties need to moisturize heavily before applying this mousse
Lakme Absolute Mattreal Skin Natural Mousse - Ivory Fair
Final Word
All over I absolutely loved this mousse it is build-able and perfect for a light as well as a heavy look. About the coverage, since I am young right now and don't have much texture or wrinkles or fine lines so I cannot comment on that. But, I did use it on my mother she is 52 years old and the mousse did not work on her dark circles they were still pretty much visible. So, if you want a medium to light coverage mousse go for it, it is easy to apply, settles down to give a skin-like feel and looks and works amazingly for oily skinned beauties.