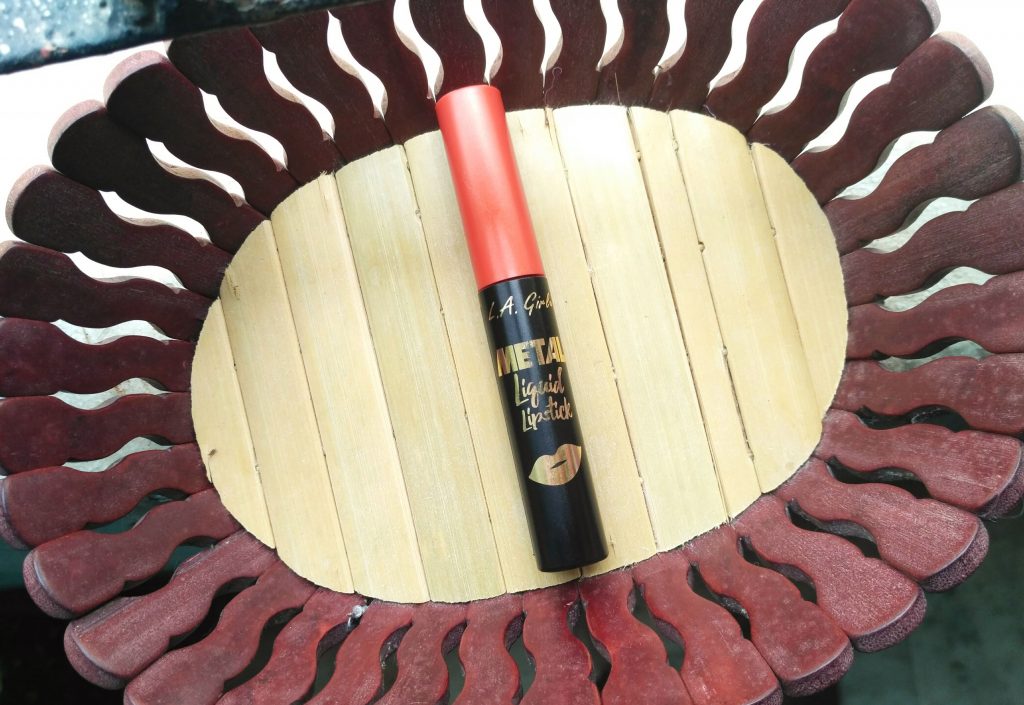 Hello, beauties. Nowadays, the trend of liquid lipstick reaches its peak, and there are many types of liquid lipsticks available in the market. One of the latest liquid lipstick trends is metallic lipstick which is creating hype in the beauty world. LA Girl has recently launched its new range of metallic liquids lipsticks by LA Girl Metal Liquid Lipstick.
I have grabbed a shade from this range named 'Molten,' and I'm here with my review and swatches after using it many times.
About the product: LA Metal Liquid Lipstick is the next generation in lip color.  This creamy, non-drying formula applies on smooth with a rich metallic finish, available in a flattering collection of nude and jewel tone shades. The comfortable, luxurious formula leaves lips feeling as beautiful as they look with added vitamin E and argan oil.
Readers like you help keep The Beautyholic running. When you buy through links on our blog, as an Amazon Associate, we earn from qualifying purchases at no extra cost to you.
Price: Buy from Amazon here
Shelf Life: 36 months
Ingredients: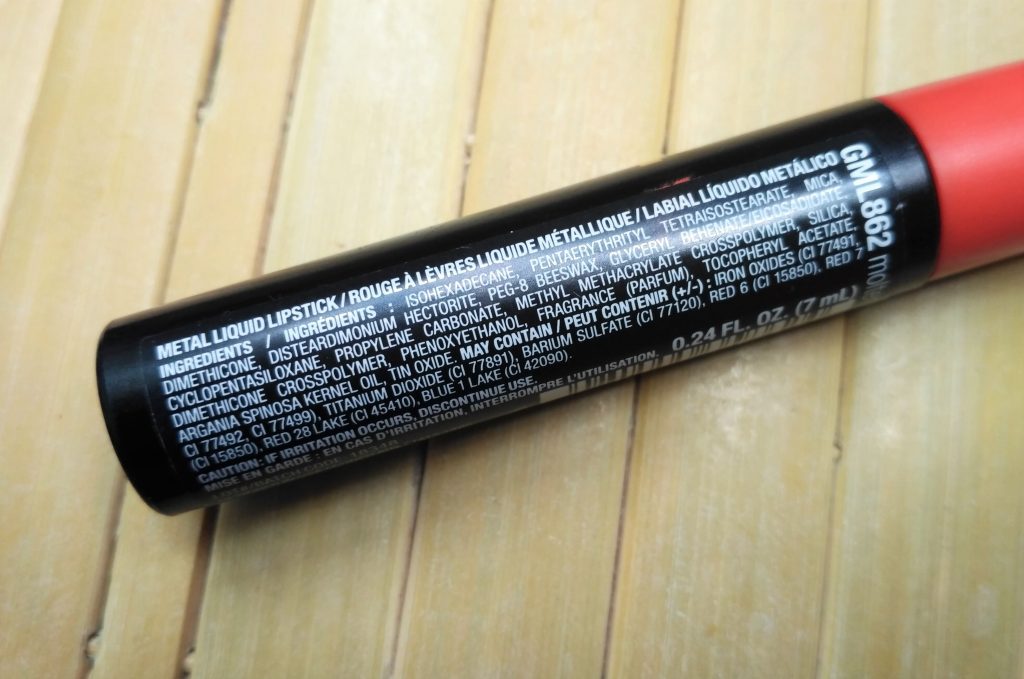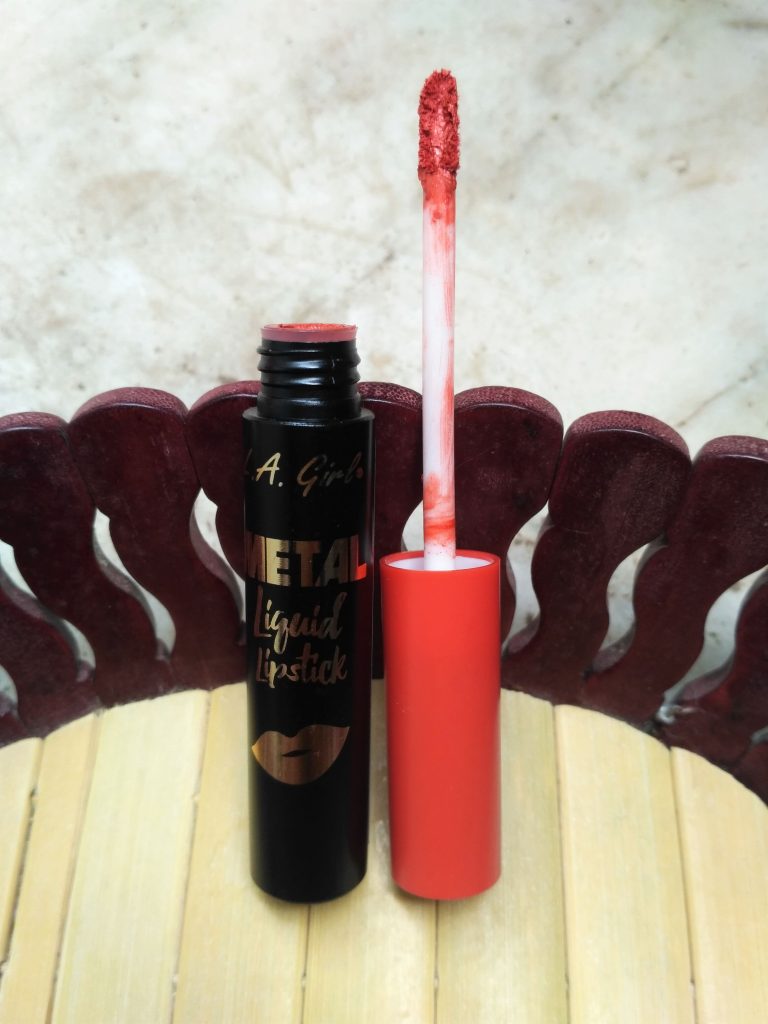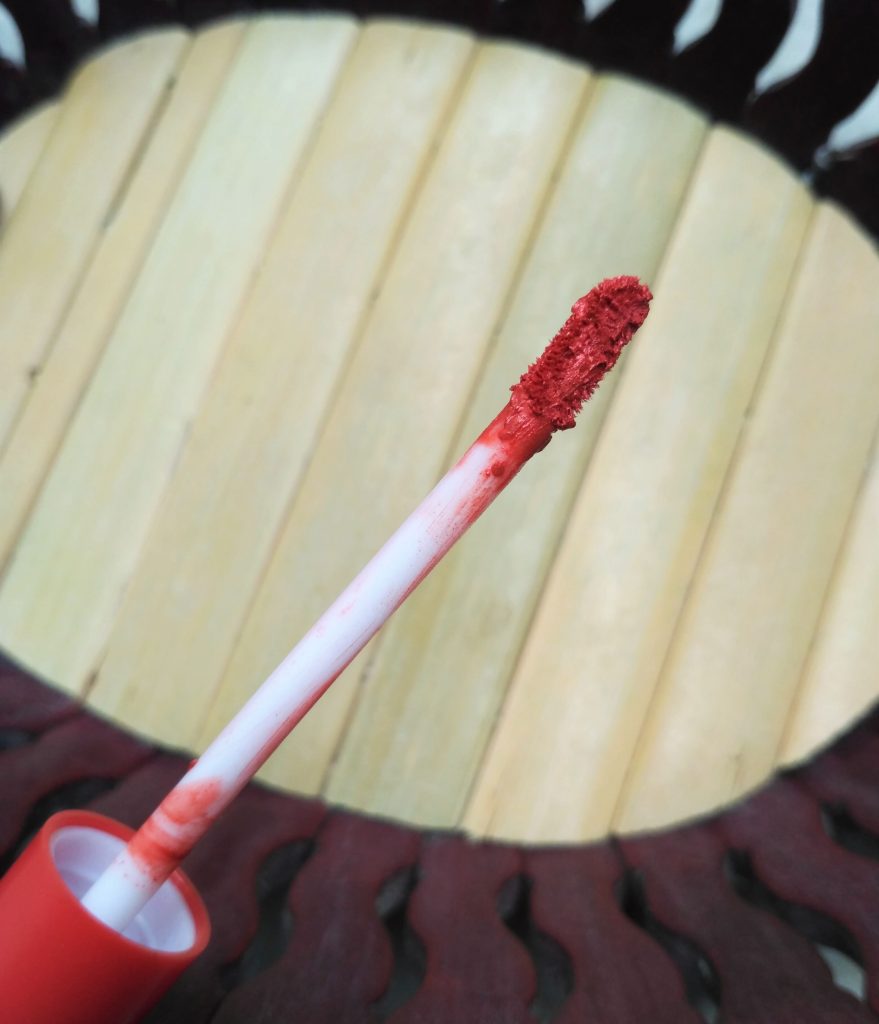 My Experience with LA Girl Metal Liquid Lipstick Molten
If you've read my review on SUGAR Smudge Me Not lipstick, you'd know how amazing my experience with it was.  I expected a fine experience with this too.
LA Girl Metal Liquid Lipstick comes in a black tube with a deep orange color-coded twist cap. The applicator is soft and doe-foot in shape, which helps in easy application.
This lipstick literally smells like vanilla cake, and the fragrance is so sweet that you'll want to eat it. It isn't overpowering, though. The applicator takes out a decent amount of product.
The consistency is super creamy and glides like a dream on lips. It doesn't settle into fine lines. Lips must be prepped and slightly moisturized before for a smooth application.
Molten is a neon orange shade with a hint of coral. It has tiny golden shimmers. I expected it to be a deep rusty orange shade. On my dusky skin, it looks lighter and kind of neon-ish.
It will look best on fair to medium skin tones. However, I adjust it with concealer around my lips and also use lesser quantities. I also use it on my lipstick sometimes for a metallic look.
It has a medium buildable coverage which provides a matte finish. It brightens my lips instantly, and the metallic sheen it provides is impeccable.
Once applied, you have 2 minutes to adjust and even out the lipstick before it dries completely. The formula is extremely lightweight and doesn't feel heavy on lips at all.
I've found another way of using it: as a blush. Just dot 2-3 times on cheeks and lightly rub. You'll have flush, illuminated cheeks in no time!
I'd want to advise not to press lips together as the pigment passes onto the lower lip. It survives lunch and heavy meals but fades from the upper lip. It lasts for 4-5 hours and fades unevenly afterward. You'll need to retouch a few times to make sure it isn't looking chunky.
Swatches:
Pros:
Creamy consistency which spreads like butter
Smells amazing, like vanilla
Pretty coral-ish orange shade
Comes with a convenient doe-foot applicator
Doesn't settle into fine lines
Can be used as a blush
Cons:
Might wash out dusky skin, and it suits fair to medium skin tones more
Fades unevenly on lips after few hours
LA Girl Metal Liquid Lipstick in Molten
Final Word
I got lured into the hype of metallic liquid lipsticks so purchased this one and it was not so great choice. The shade was a tad light for my dusky skin tone but I somehow worked it out. Though it will look pretty on fair and medium beauties. I discovered a new way of using it as a highlighting blush and it works. Though it has a super creamy consistency and sits comfortably on lips, I don't like how it fades unevenly at the end of the day. So I leave it up to you to decide whether to buy this or not. If you're into metallic liquid lipstick trend then you can give this a try.
Have you tried this metal liquid lipstick by LA Girl? Are you into this metallic liquid lipstick trend?