I'm always on the lookout for organic and natural beauty products, especially when it comes to my hair. For the last few years, my hair has become limp and dull. So I'm particular about the hair products I use.
A few months back, I was scrolling through Nykaa to buy a natural conditioner. I came through one and bought it. Since then, I'm using it regularly. It's Khadi Natural Shikakai & Honey Herbal Hair Conditioner, which I'm currently using. It claims to be 100% natural which I doubt. Keep reading to know more about my experience with this conditioner.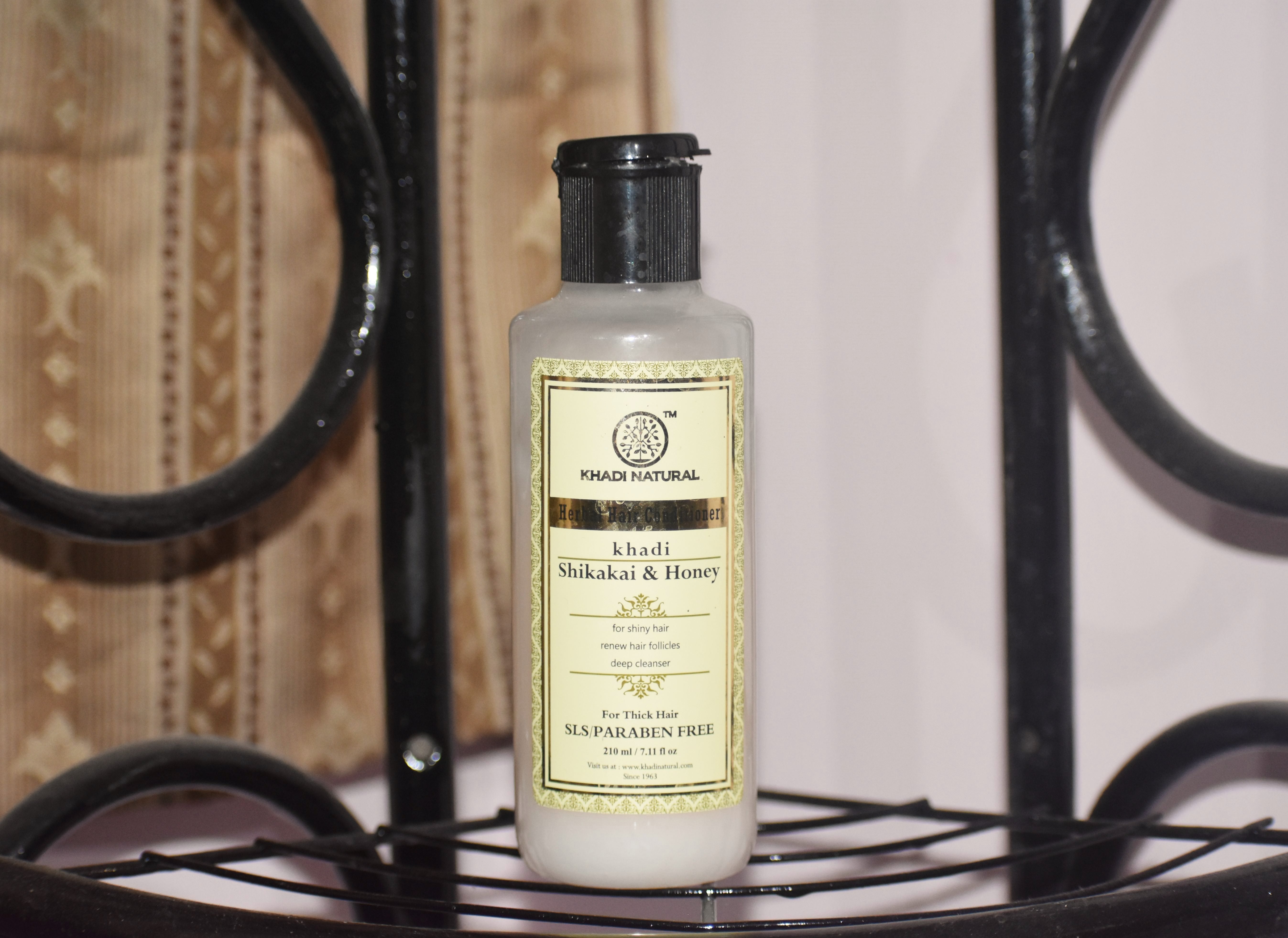 What does it claim?
Make your hair look beautiful and manageable with Khadi Natural Shikakai & Honey Herbal Hair Conditioner. This conditioner keeps your scalp clean.
Deeply conditions your hair.

Makes your hair look healthy and bouncy.

100% natural product.
Readers like you help keep The Beautyholic running. When you buy through links on our blog, as an Amazon Associate, we earn from qualifying purchases at no extra cost to you.
Price: 210 ml | Buy it on Amazon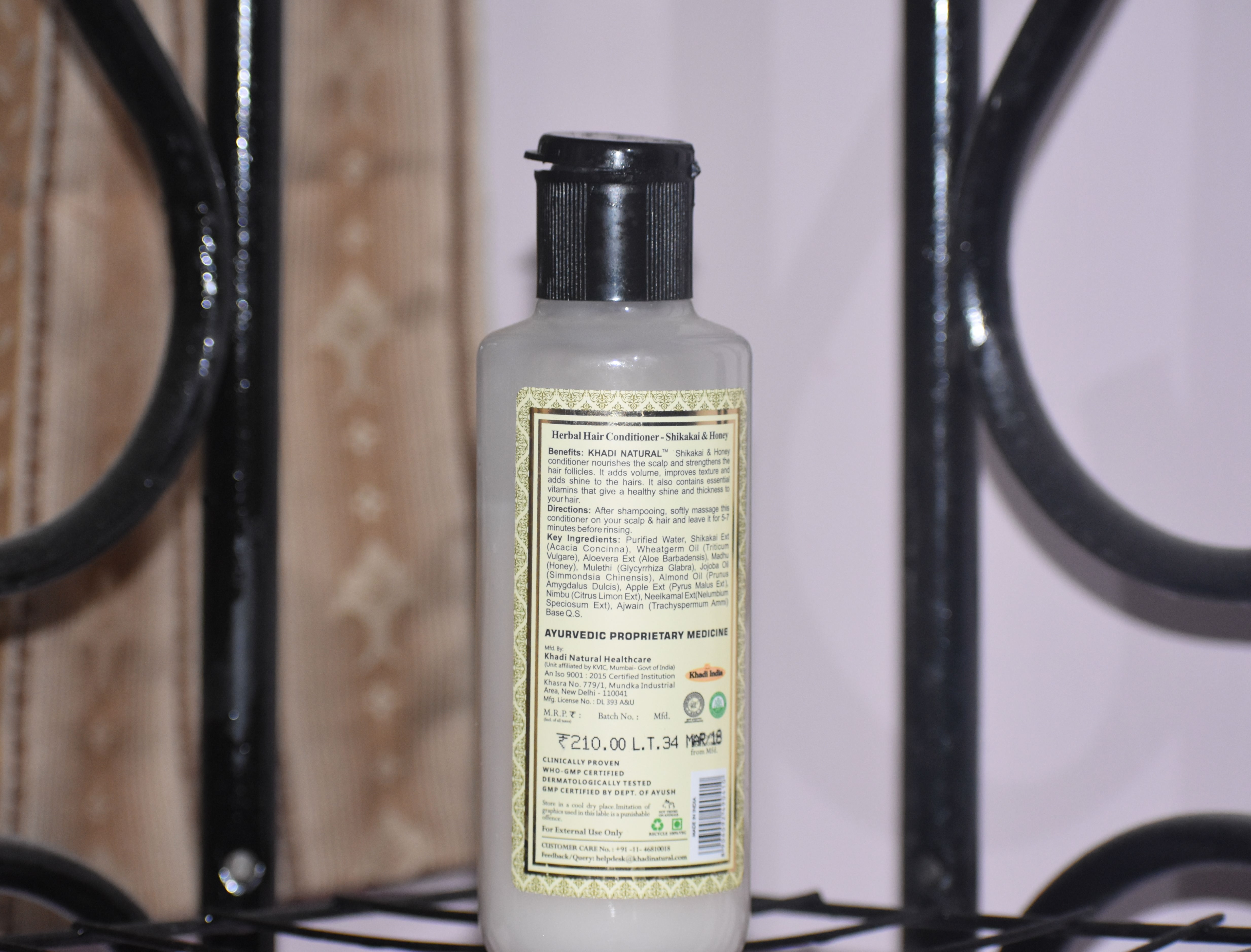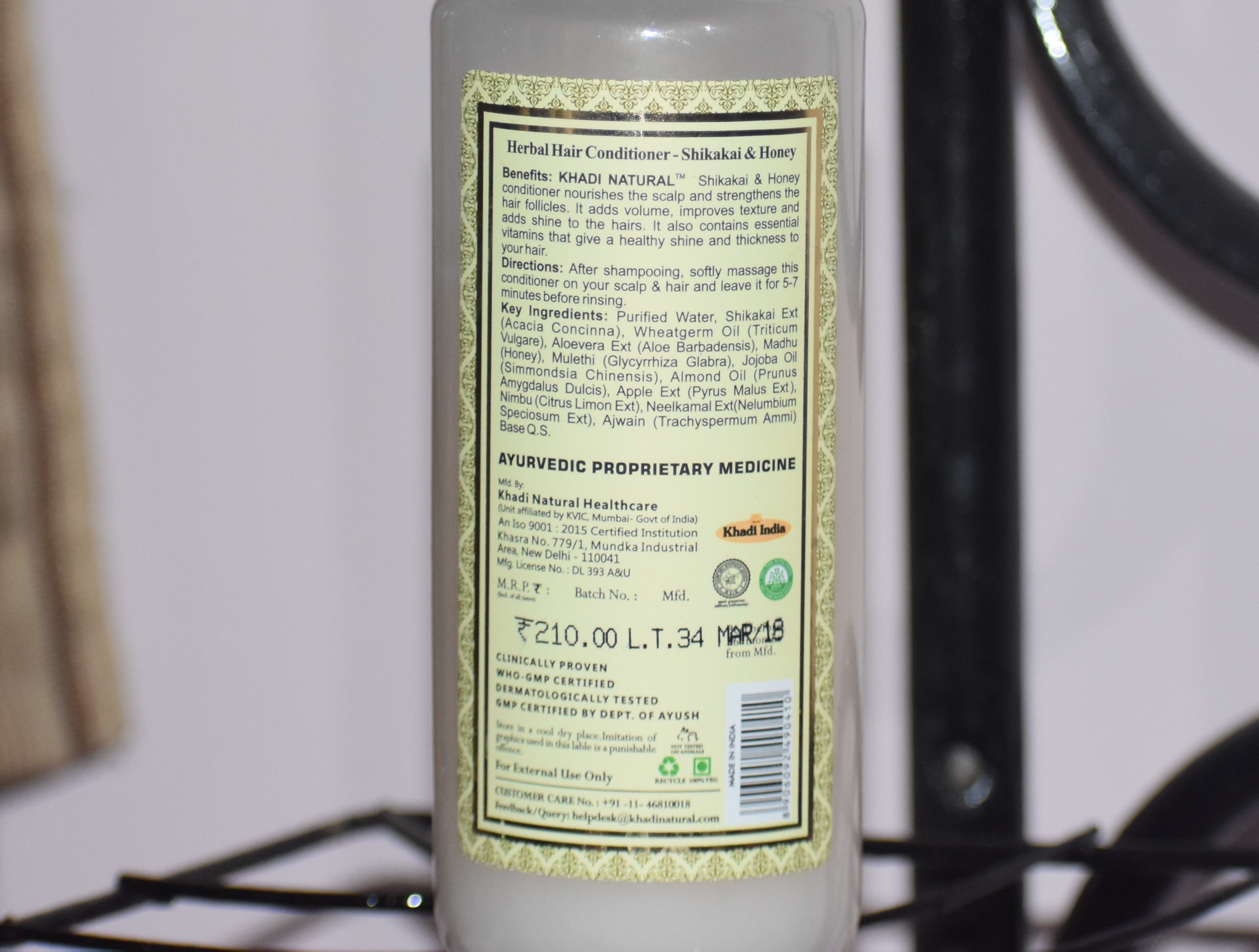 Khadi Natural Shikakai & Honey Herbal Hair Conditioner Review
Whenever I use a chemical-filled conditioner, my hair starts to behave badly. I face scary hair fall and dullness. That's when I decided to use this conditioner as it contains natural ingredients. It contains Shikakai and Honey as main ingredients, and we know how beneficial they are for maintaining the health of our hair.
There's one thing unacceptable about this product is its ingredients list – only the key ingredients are mentioned, so a full ingredients list is missing. But it is free from SLS and Paraben.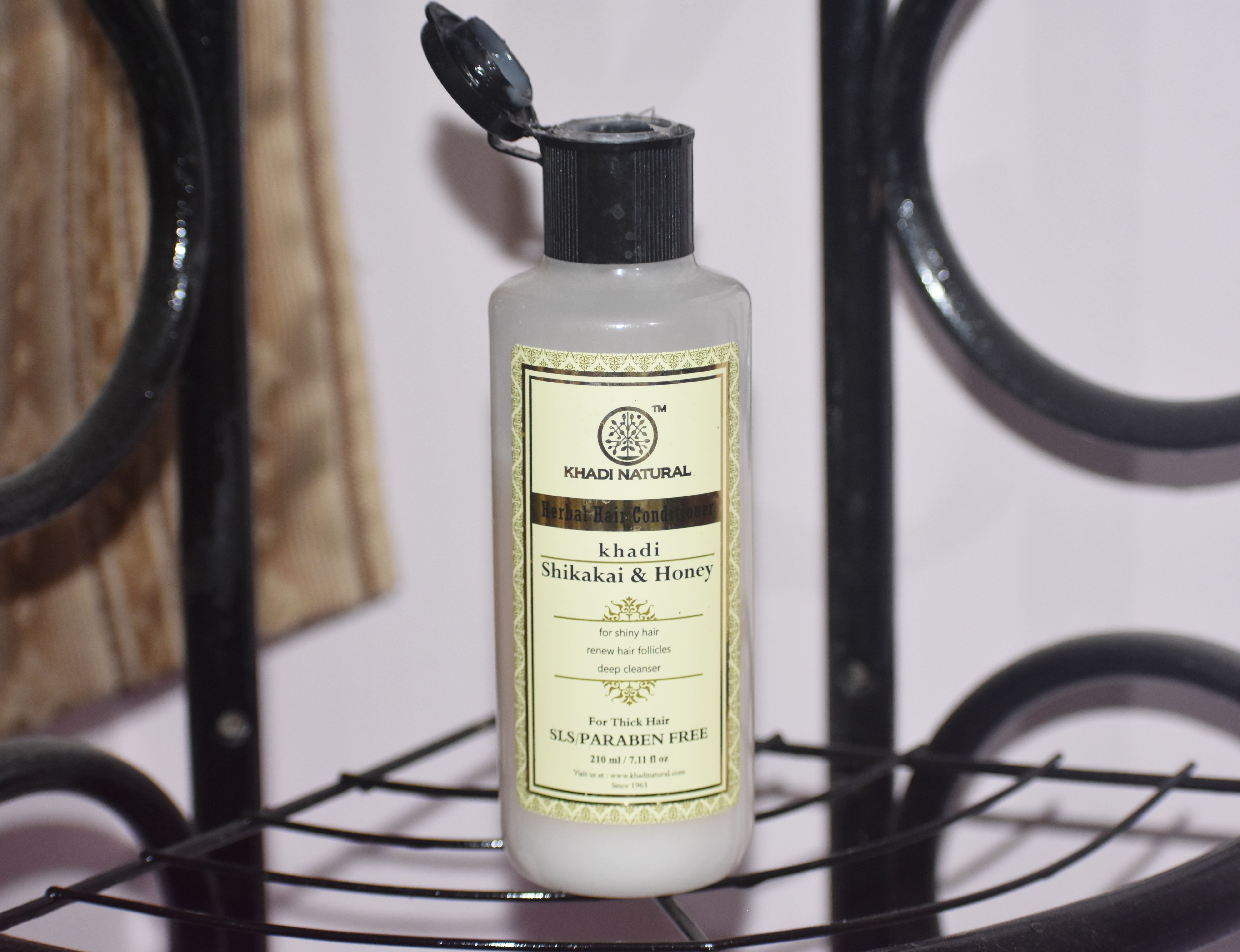 Khadi Natural Shikakai & Honey Herbal Hair Conditioner comes in a transparent plastic bottle with a black flip top cap. It also has a stopper to control the amount of product. In the beginning, the cap used to shut with a click, but after few uses, it stopped working, and the lid didn't close. The packaging turned out to be of cheap quality.
This conditioner has a strong aroma of Shikakai, which is pungent sometimes. If you like its smell, you'll like this fragrance too. It is light-pink colored and has a semi-thick consistency.
After shampooing, on damp hair, I take two dollops of this conditioner considering my hair length. Due to its consistency, it spreads out on hair easily. I have an oily scalp with dry ends, so I focus on my ends more than my scalp.
After generously applying, I let it sit on my hair for 2-3 minutes and then wash it off without rubbing roughly. I don't rub my hair ends roughly to get shampoo or conditioner off my hair because rubbing hair harshly damages its follicles and reduces hair quality.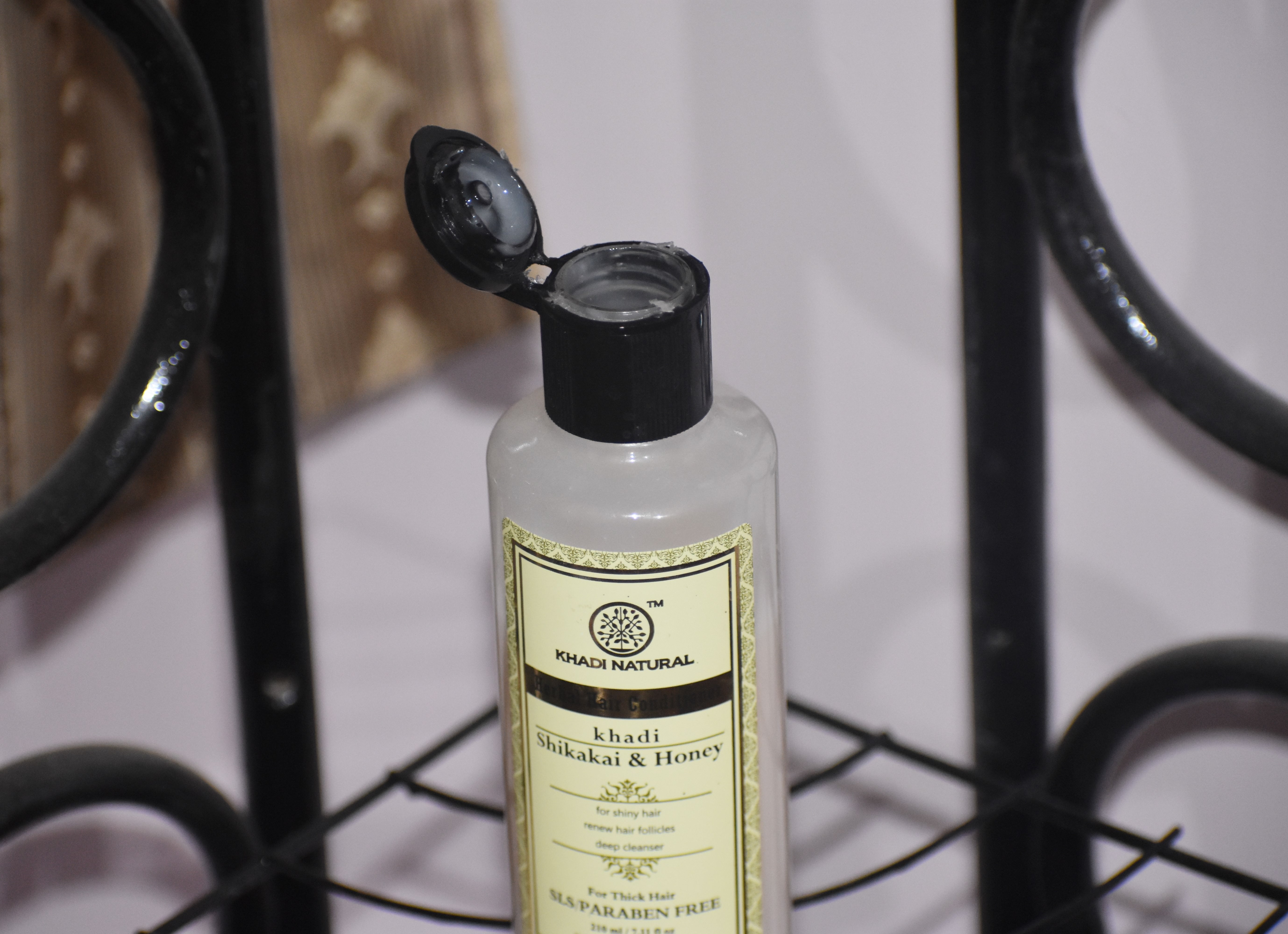 After using this conditioner, my hair feels very soft and shiny. It hydrates my parched hair ends and makes detangling hair easy. The fragrance of this shampoo stays on my hair for the whole day. This conditioner makes my hair manageable and silky. Considering its poor quality packaging, it stands true to its claim except for the '100% natural product' claim.
Pros
Contains hair-loving natural ingredients like shikakai,  honey, henna, etc

SLS and Paraben free

Makes hair soft and manageable

Makes hair bouncy

Detangles hair effortlessly
Cons
The quality of the packaging is faulty
Khadi Natural Shikakai & Honey Herbal Hair Conditioner
Final Word
Its packaging isn't that great but this conditioner faired well on my hair. It contains natural ingredients beneficial for hair like shikakai, honey, jatmansi, etc. It manages to make my hair soft and bouncy. It controls frizz on my hair and detangles it effortlessly. I liked using this conditioner on my dry ends except for the missing full ingredients list part which doesn't justify it's 100% natural claim. Anyhow, I love that it is free from SLS and Parabens which makes it quite safe to use!
Have you tried Khadi Natural Shikakai & Honey Herbal Hair Conditioner? What's your favorite conditioner that helps in managing your hair?