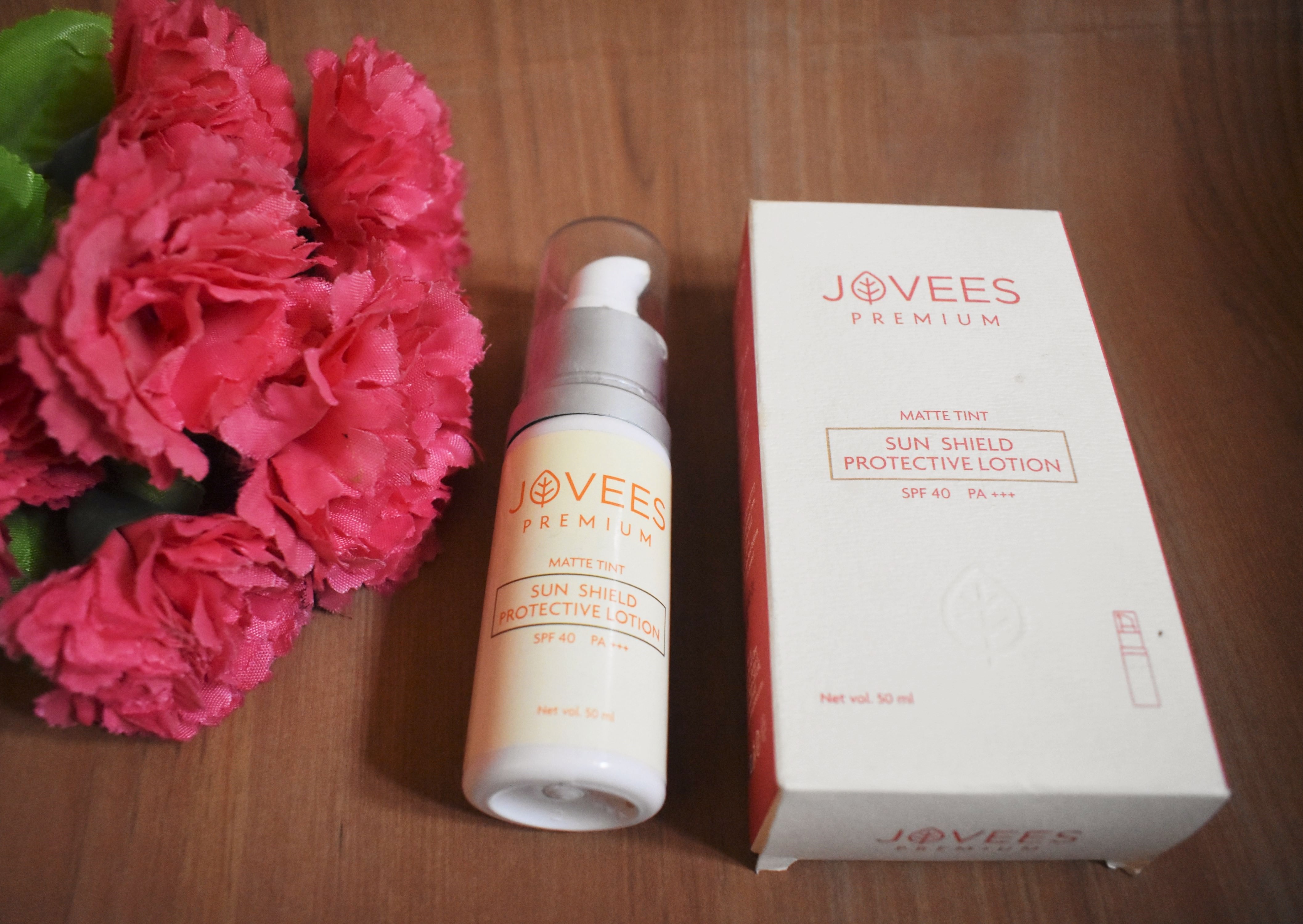 Hey, babes! How are you doing? The weather in Delhi has changed completely from summer to rainy. My oily skin is constantly battling with humidity and oiliness. Not to mention, I'm getting breakouts every now and then. These days I'm not experimenting with much with makeup skincare products as they can break me out. So without further ado, my today's post is about Jovees Premium Sun Shield Protective Lotion in SPF 40 in PA+++.
SPF 40 and 'matte tint' claim caught my attention and I bought it with the hopes that it will suit my oily skin and give a matte look to my face. But did it stood true to its claims? Find out in my review!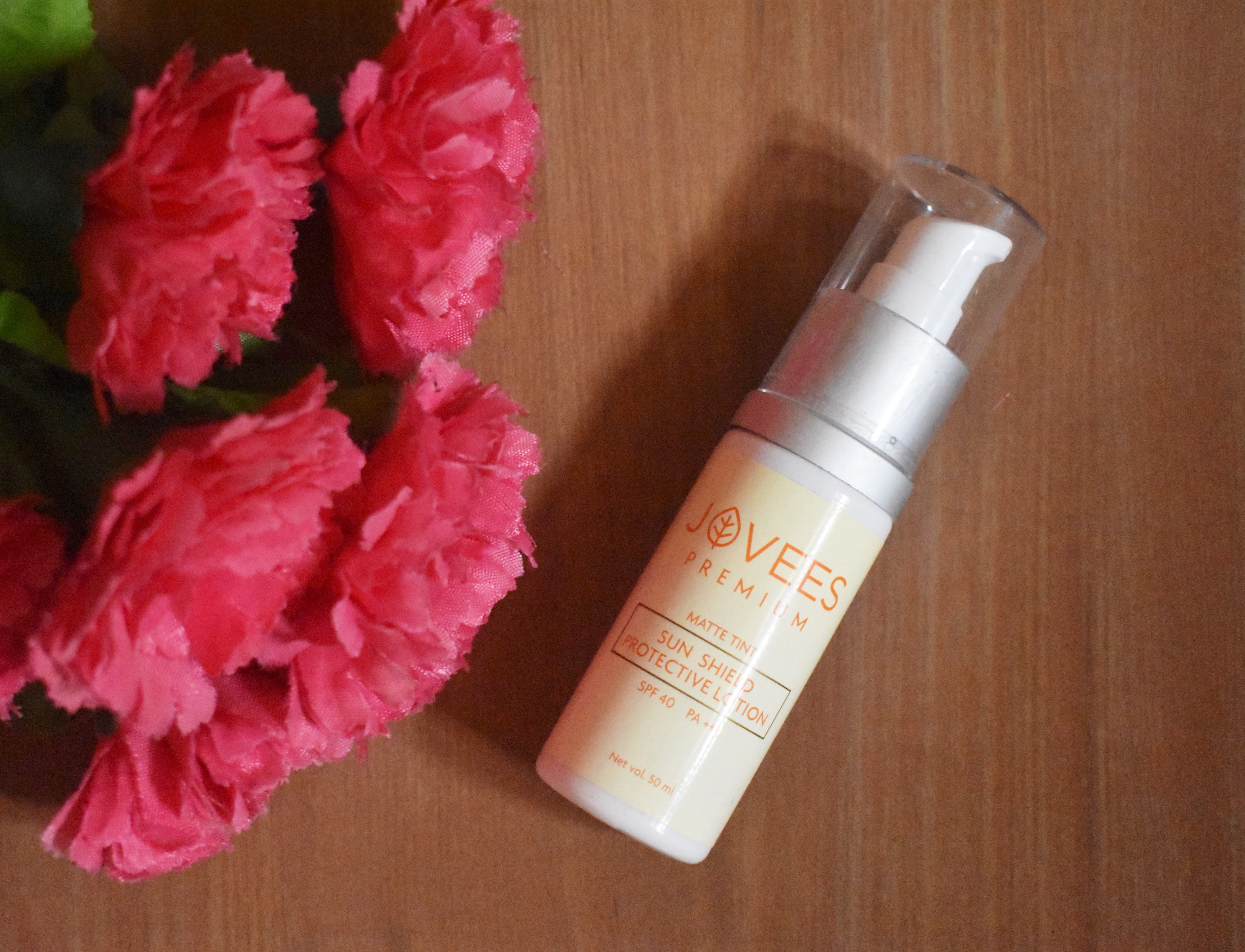 About this product: This Premium lightweight oil-free Sun Shield Protective Lotion safeguards skin from Sun exposure, gives an immediate line-smoothing matte finish that shall protect your skin against harmful UVA/UVB rays. This Premium Lotion shall help to improve elasticity, even tones the skin, protects it from premature aging and helps to retain requisite moisture. Formulated for all skin types and tones, including those that are especially sensitive or oily. This can also be used as a base for makeup.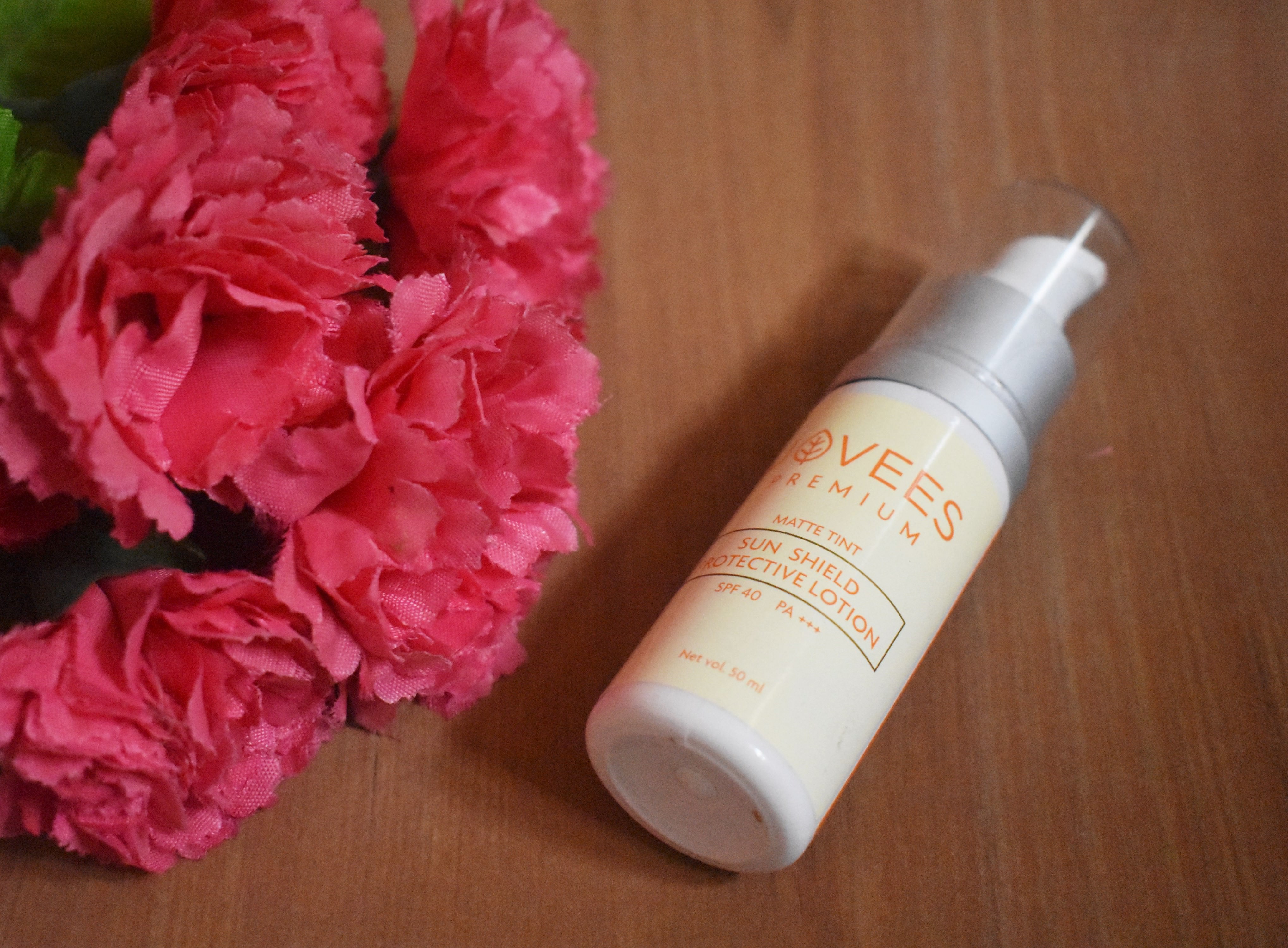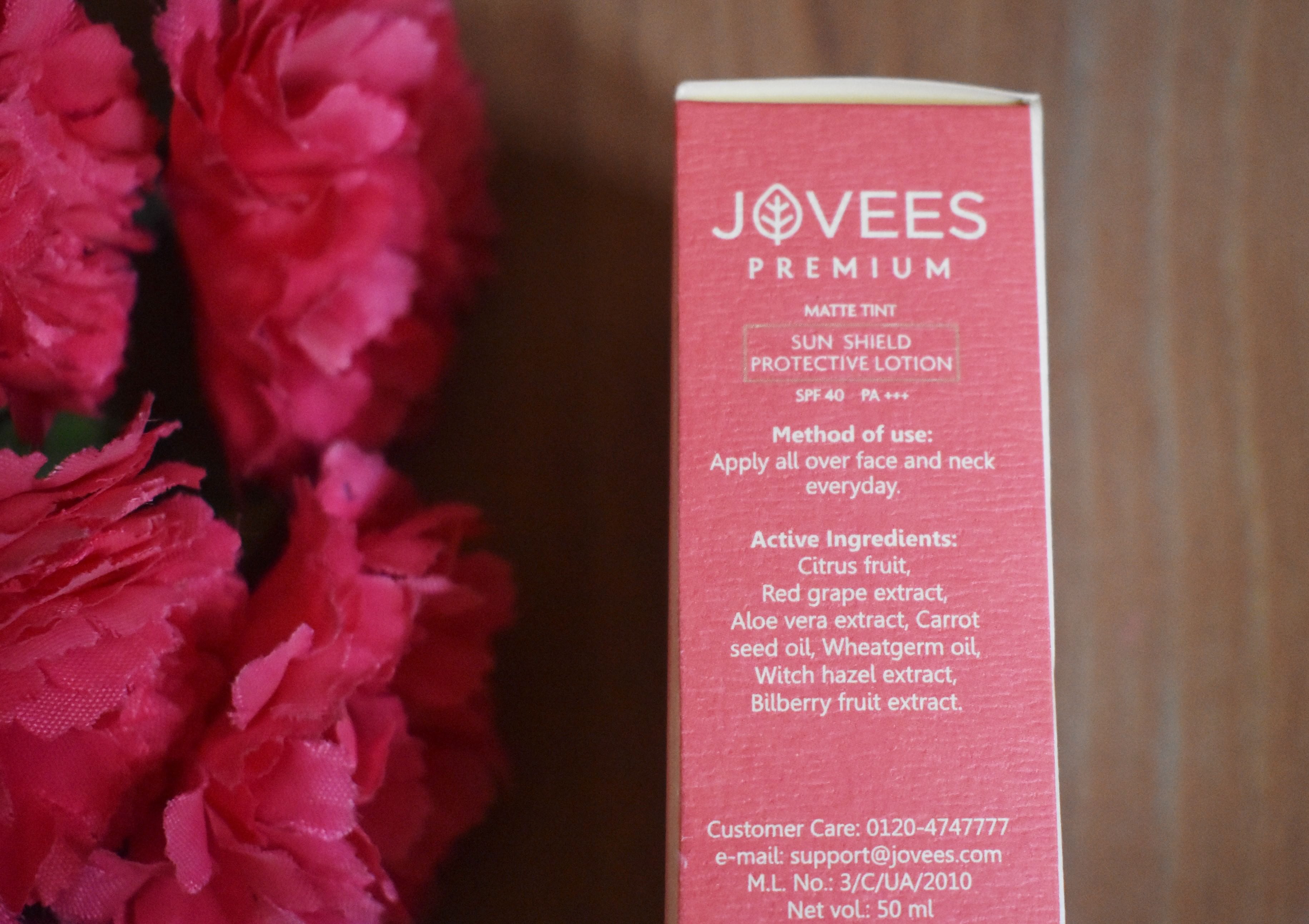 Key ingredients: Citrus fruit, Red grape extract, Aloe vera extract, Carrot seed oil, Wheatgerm oil, Witch hazel extract, Bilberry fruit extract.
Readers like you help keep The Beautyholic running. When you buy through links on our blog, as an Amazon Associate, we earn from qualifying purchases at no extra cost to you.
Price: Rs. for 50 ml | Buy it on Amazon here
Jovees Premium Sun Shield Protective Lotion SPF 40 Review
This sunblock lotion comes in a pump packaging which I absolutely love for its convenience. It has simple packaging though. In the packaging, only the key ingredients are listed. This sunscreen from Jovees, being a natural skincare brand has a missing ingredients list.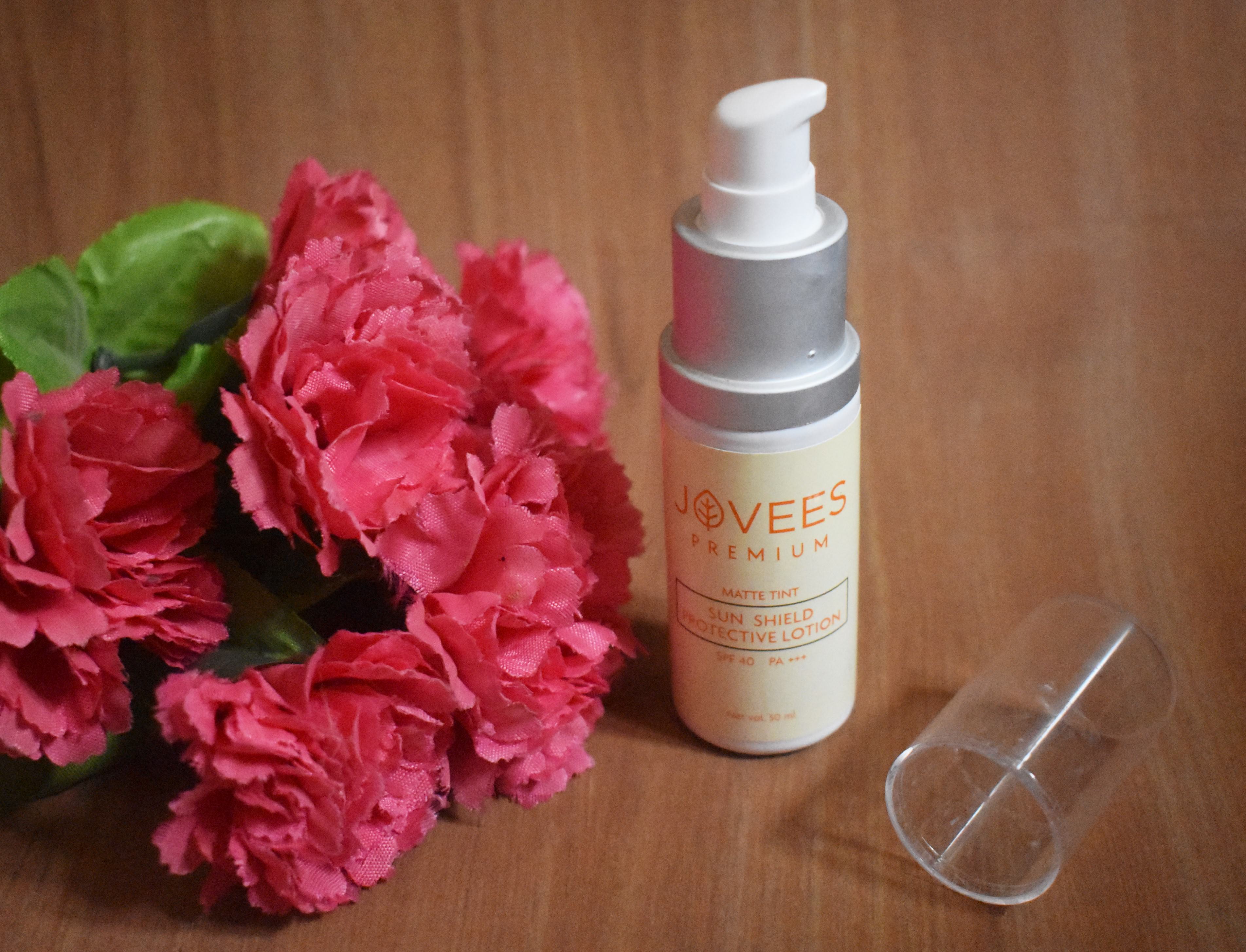 One pump of the product is enough for the whole face. For the neck, you'll need a second pump. As described, it is tinted in a pale skin shade. It has a lotion like creamy consistency. On my dusky skin, it looks a little whitish which fades when massaged well onto the skin. It leaves a white cast which goes away after a few minutes. This sunblock works like a 3 in 1 product: Moisturizer, Sunblock and a BB cream.
As this sunblock claims for a matte tint, it's the other way around. The finish is moisturizing and nowhere close to a matte one. It gives me a dewy look. I'd like to mention that this was my repurchase which didn't turn out too well or didn't prove as good as the previous one. The first one I used was in April when the weather was fine, not too hot or not too cold. At that time, it worked well on my oily skin. Then I lost it somewhere and ordered it again as I was happy with the sunblock.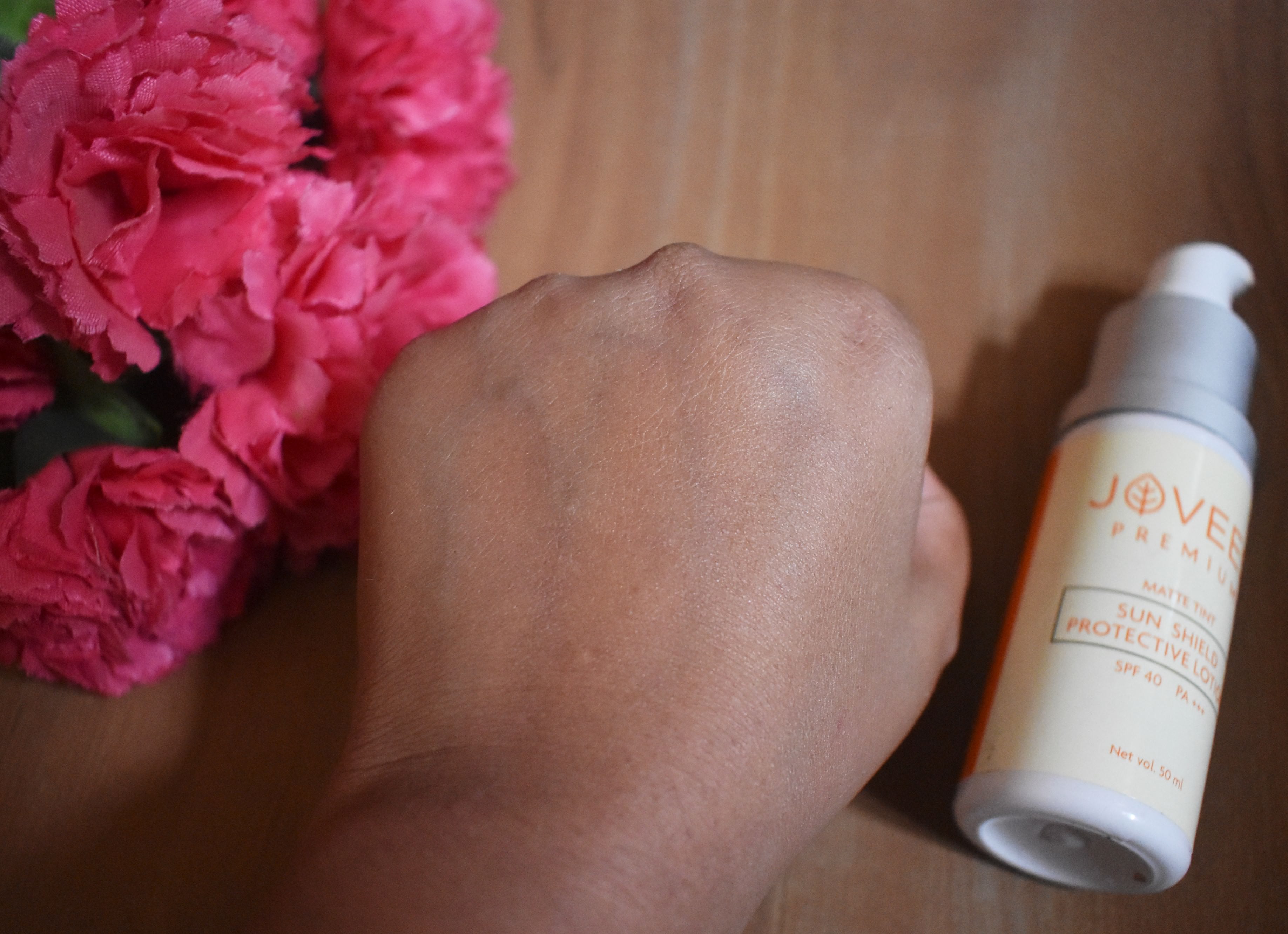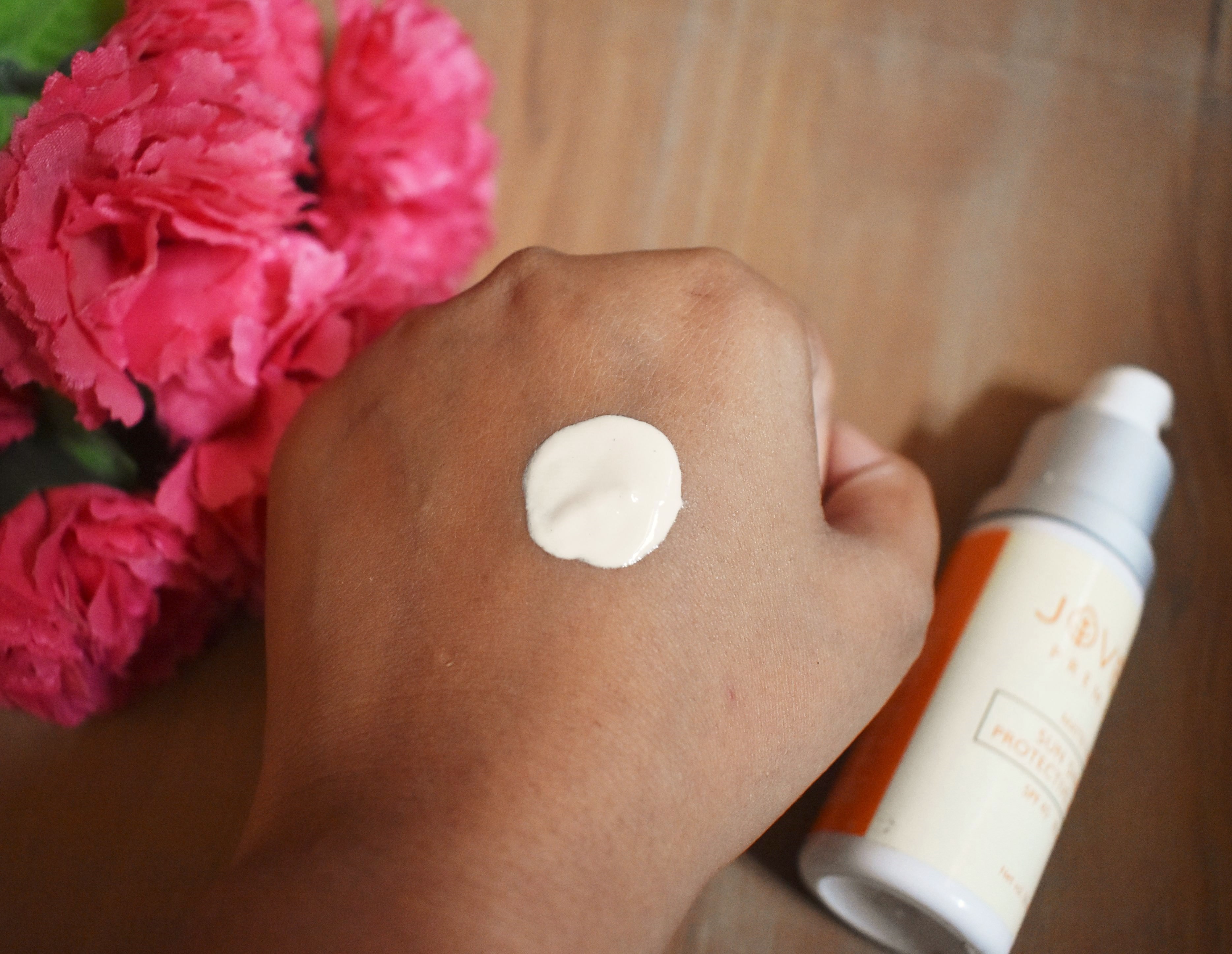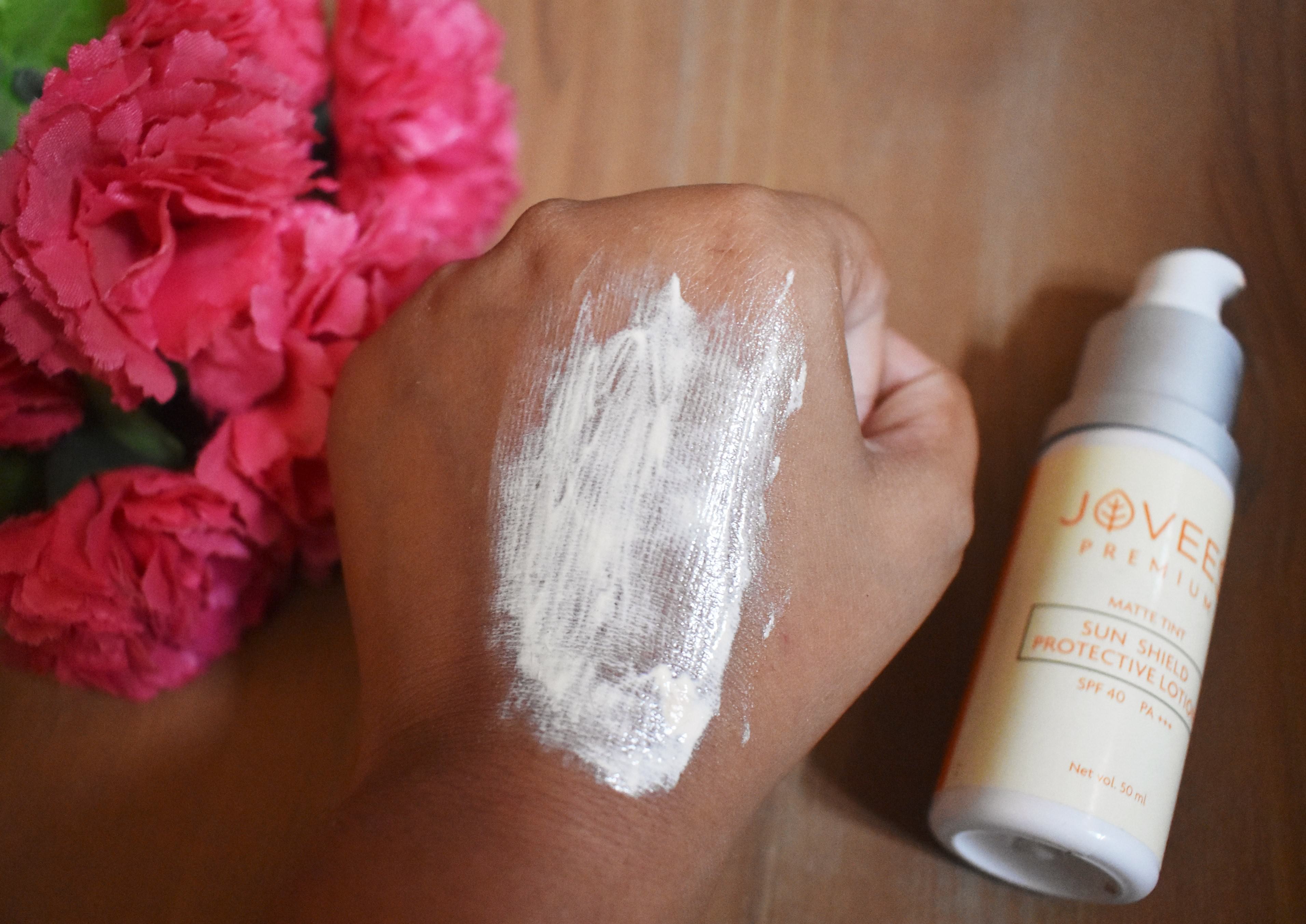 If I use it on a hot or humid day when it's more than 28 degrees, this lotion melts away from my face. Even when I top it off with powder it sweats heavily and the sun protection is gone. If it stays on my face when there's good weather it protects my skin from tanning. It survives only when I'm in an air-conditioned room. This is how this sunblocked fared on my oily skin but dry skin might like it as it has a moisturizing finish. Even on my oily skin, it will only be suitable for use in winters when there's no humidity and hydration is required.
Pros:
This sunblock works like a BB cream and moisturizer

Gives a good coverage

Protects and prevents the skin from tanning

Likely to cause breakouts
Cons:
Doesn't provide a matte finish

T-zone becomes oily and shiny after application

Sweats heavily after 28 degrees temperature

Not recommended for oily skin
Jovees Premium Sun Shield Protective Lotion SPF 40
Final Word
This would've been a good sunblock if it didn't melt away on a summer day despite its matte finish claim. It gives a dewy finish which is not suitable for the summery weather. If this sunblock doesn't melt away and manages to stay on my face for the whole day, it definitely provides good sun protection. Also, it works like a tinted BB cream which can replace a light coverage foundation. I'm not saying that it's a bad sunscreen but it's just that it doesn't perform well on hot and humid weather. It is more likely to suit dry skin types rather than oily ones. I recommend this sunblock for winters as its hydrating in that weather and will stay long as well…
Have you used Jovees Premium Sun Shield Protective Lotion? Please suggest me a tinted matte finish sunscreen/sunblock that suits oily skin!