Hi, lovely divas! I hope the monsoon treats you well with the beautiful weather, chilly nights, and enjoying the cuppa! I'm enjoying it so much, as well as my skin too!
If you remember, a while back, I've posted the review of a sunscreen, Jovees Premium Sun Shield Protective Lotion, which didn't perform well or at least average on my oily skin. I saved that sunscreen for winters.
So, a few weeks ago, I received a sunscreen INATUR Sun Spray SPF 30 from Inatur Herbals for reviewing, a well-known brand for natural, vegan, and Halal-certified skincare products. They are also cruelty-free and free of preservatives. So without wasting much of your precious time, I'll start to share my experience with you!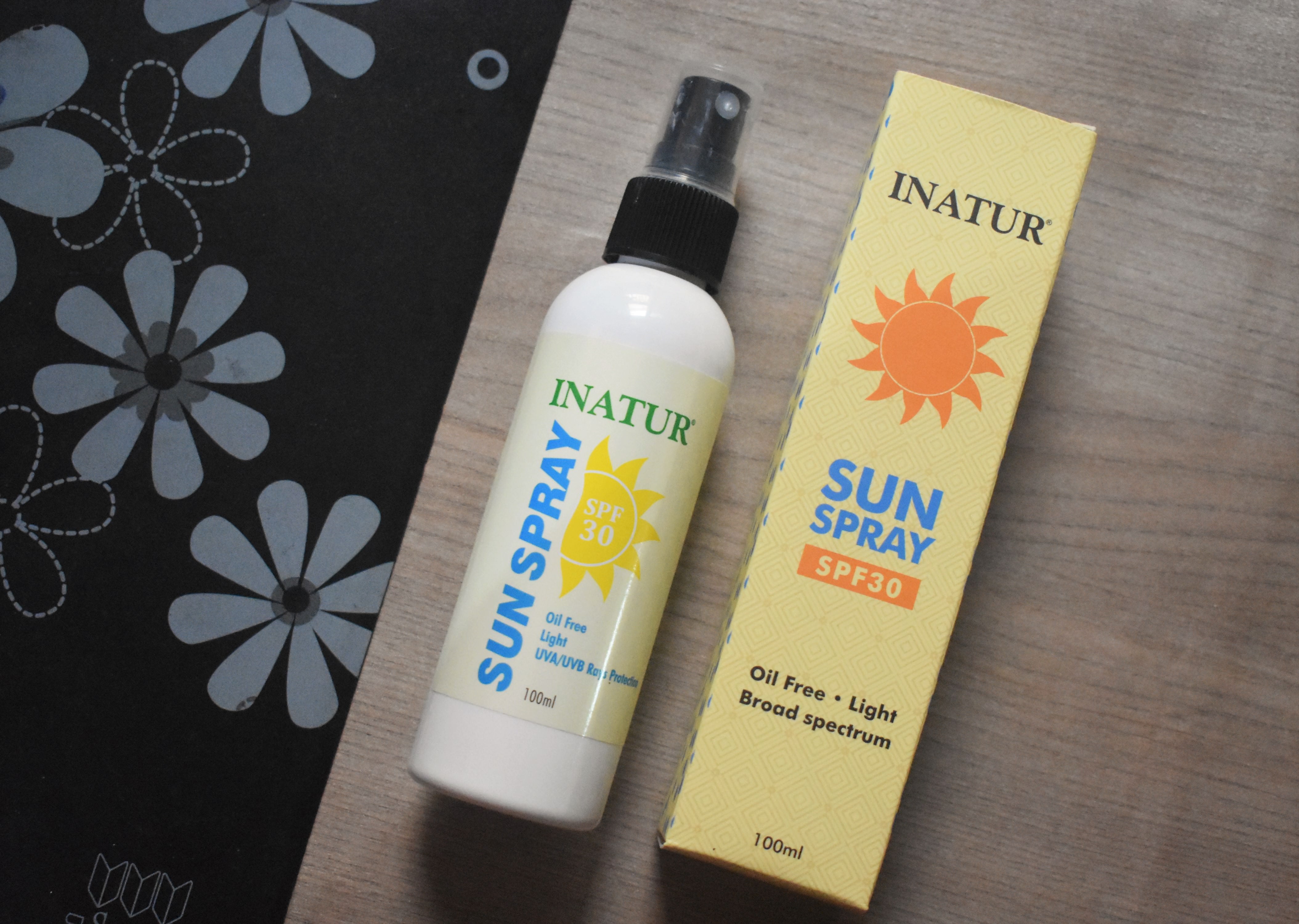 About INATUR Sun Spray SPF 30:
Inatur Sun Spray SPF 30 is an organic-mineral-aqueous system that ensures very high UVA & UVB protection. It is light, oil-free, and excellent for sensitive skin, oily skin, and delicate skin of babies and children. It is enriched with Carrot extracts, which help repair tissues and protect from UV rays, heals sunburns. Honey extracts, which are full of antioxidants that help slow down aging, are exceptionally moisturizing, boost the complexion, and give a healthy glow. Aloe Vera prevents skin aging, treats sunburn,, and gives a radiant glow, and Bergamot oil- a restorative skin toner.
Sun Protection claim: 5 hours
Ingredients: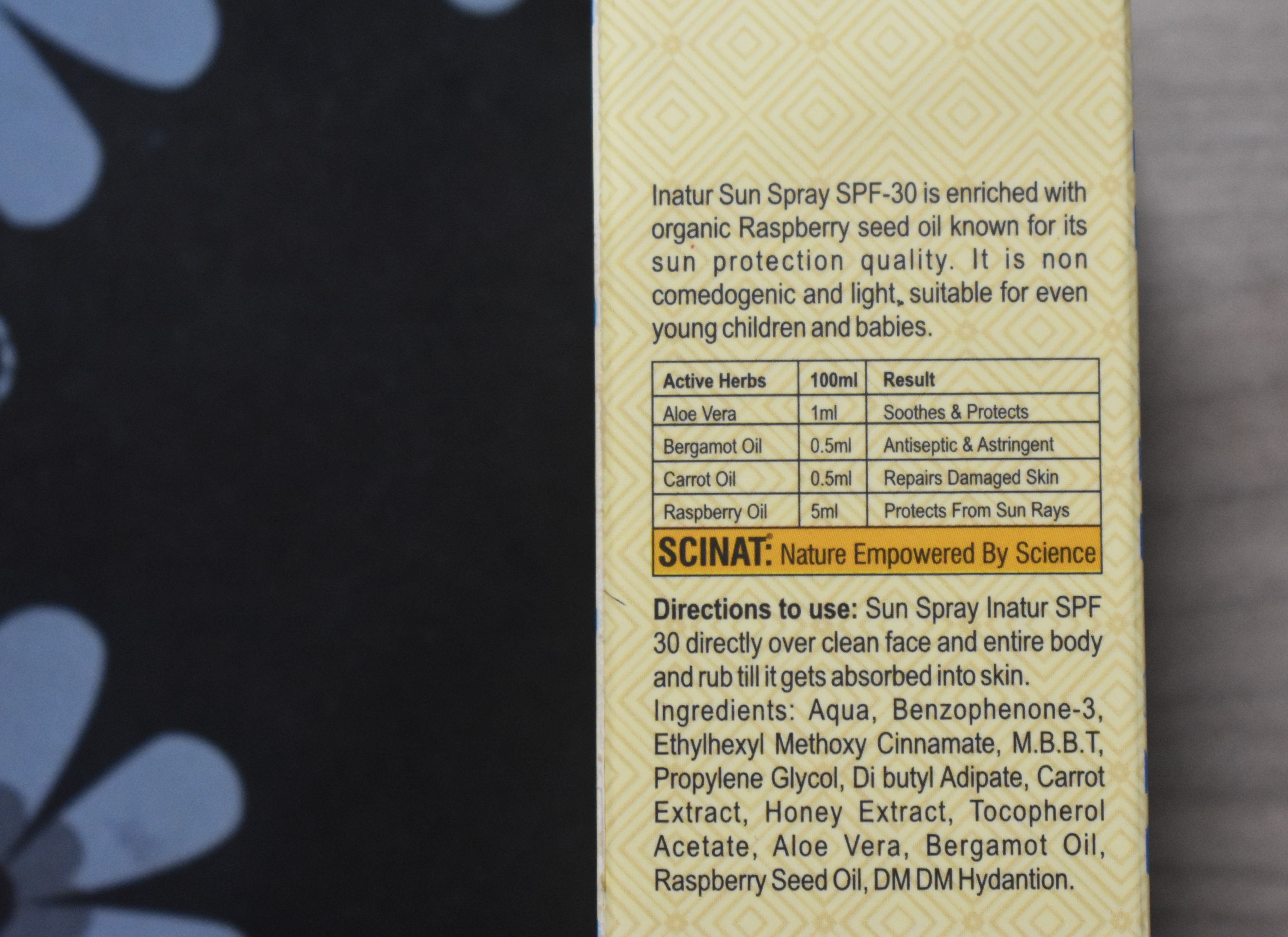 Readers like you help keep The Beautyholic running. When you buy through links on our blog, as an Amazon Associate, we earn from qualifying purchases at no extra cost to you.
Price: Rs. | Buy it from Amazon
INATUR Sun Spray SPF 30 Sunscreen Review
It comes in an opaque white plastic bottle with a spray mechanism. Its look is simple, which I prefer, nothing fancy. I have used many sunscreens to date, but this was my first spray sunscreen. It came right when I was looking for a good sunscreen that won't make my oily skin more oily. As it claims to be oil-free, light, and offers sun protection that lasts 5 hours, it was all I wanted for my skin at the moment.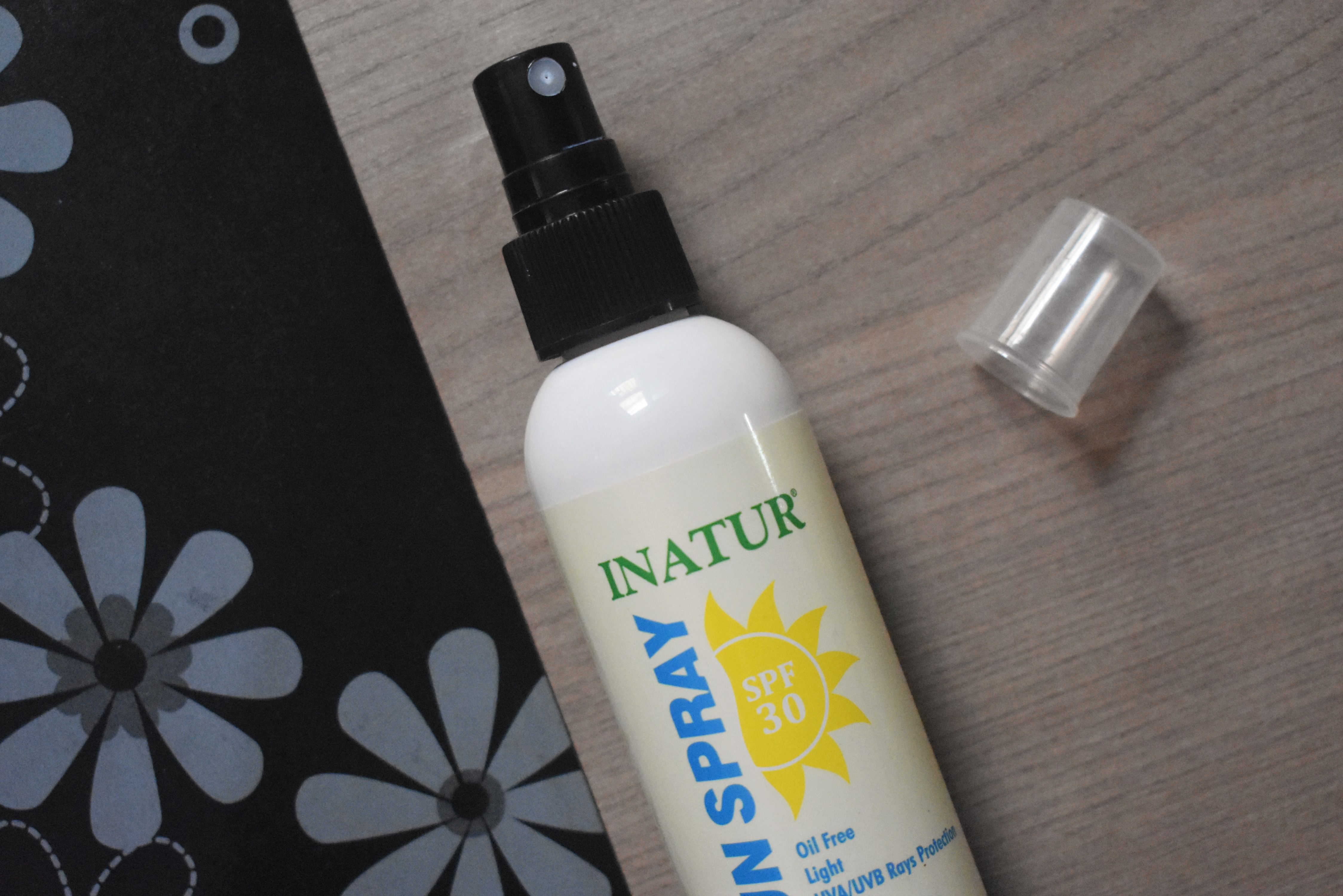 After my Cleansing-toning-moisturizing routine, I spray this sunscreen directly on my face from a distance so that the spray spreads all over my face. I've also tried spraying on my hand and then applying it to my skin. It works best when I spray directly on my face.
One spray is enough for the whole face. It has a watery consistency and very lightweight, which makes it easy to spread and absorb. This sunscreen has a minty herbal fragrance which not overpowering. It settles into a matte finish on a typical day, but when it's too hot, it will sweat away from a little and appear shiny on the t-zone.
It's hydrating for my oily skin, and I don't need an additional moisturizer after using it. It also makes my face appear lively and radiant. I usually top it up with pressed powder to conceal shiny areas like the nose, cheeks, and forehead.
After using this sunscreen regularly, my face doesn't get much tanned since it offers UVA and UVB protection. Its SPF is 30, which might not be suitable for ones who spend a lot of time under the skin. It brightens up my skin, and I don't feel like applying anything after this. Also, it didn't break me out, so I love this for my oily skin. I like that it contains the goodness of natural ingredients like licorice, aloe vera, honey extract, etc.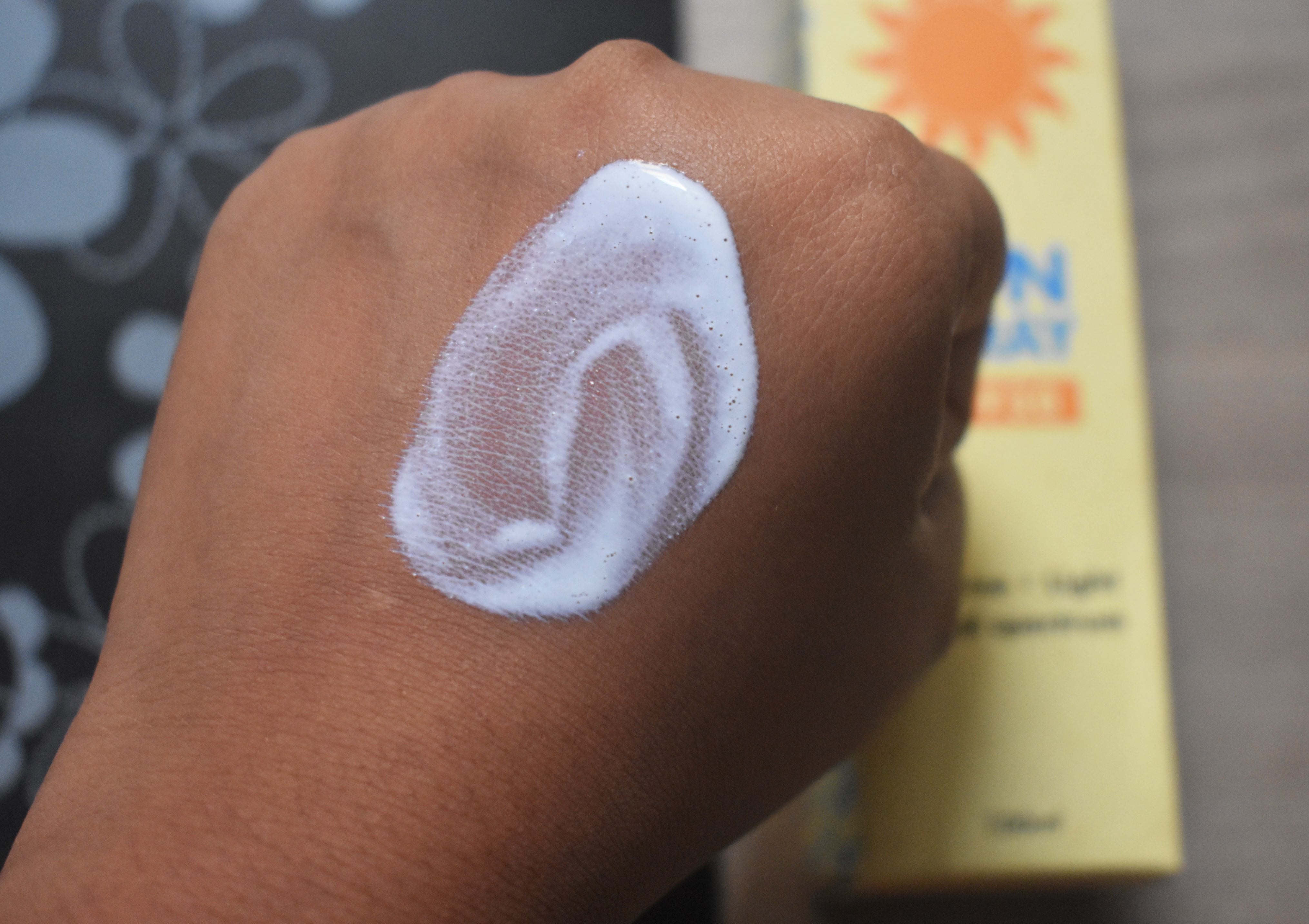 Pros:
All-natural, organic, and cruelty-free product
Doesn't contain any preservatives
A light-weight formula that spreads on the face easily
Gives a matte look to the skin
Provides necessary sun protection
Cons:
The skin becomes oily when applied on a hot and humid day
SPF 30 might not be enough for some who spend most of the day under the sun
INATUR Sun Spray SPF 30 Sunscreen
Final Word
This sunscreen is better than other chemical ones out there. It doesn't contain harsh chemicals for the sake of sun protection and instead has some good, natural ingredients. It has a light as a feather formula which spreads easily after one spritz of this sunscreen. It settles into a velvety finish and makes the skin even and glowing. It works as a moisturizer-cum-sunscreen for the oily skin. However, this one is suitable for all skin types and can be used on the babies and kids too. If you look at the price point, it's good for the quantity provided. I highly recommend this sunscreen not because it was sent to me, but it's really effective and loving for the skin!
Do you prefer organic, vegan, and cruelty sunscreens like this? Have you used any product from Inatur?