Hyaluronic acid is more than just a skincare fad. Lately, many products contain this infamous ingredient that hydrates the skin deep within. On top of that, it can combat the effects of aging, such as wrinkles, crow's feet and fine lines,. These benefits enticed me to purchase Hyalugel Plus gel and try it for myself.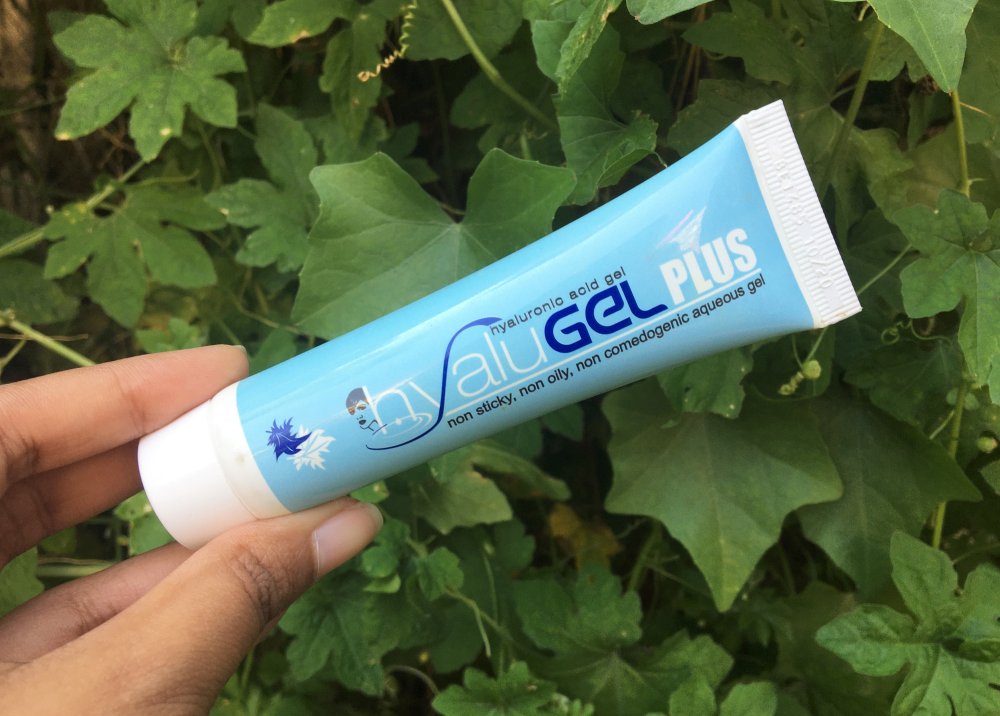 From how to use this gel to how it works, I've got all the answers to your questions in this review. Let's keep reading to find out more.
What is Hyaluronic acid?
Hyaluronic acid (HA) is a clear, sticky substance naturally produced in our bodies, most abundantly found in fluids in the eyes, skin, and joints.
HA's main purpose is to retain water in the tissues to keep them moist and lubricated. As the skin ages and is exposed to things like ultraviolet light from the sun, smoke, and pollution, its amount decreases.
When it comes to skincare, hyaluronic acid works as a humectant, which means it helps skin hold onto water. Did you know that HA can hold water up to 1000 times its weight? It hydrates the skin's outer layer and provides skin with a plumper, healthier look. When the skin gets hydrated, it ultimately looks radiant and youthful.
Hyaluronic acid comes in the form of supplements, injectable fillers, serums, and gels.
About the product
This moisturizer is ideal for oily and acne-prone skin. Additionally, it's gentle enough to use on sensitive skin. A gel that is non-sticky, non-comedogenic, hypoallergenic, colorless, and fragrance-free. It improves the results of cosmetic treatments. Thanks to its excellent spreadability, it is cost-effective. It promotes blood circulation. Reducing pore size helps you achieve baby-soft skin.
Readers like you help keep The Beautyholic running. When you buy through links on our blog, as an Amazon Associate, we earn from qualifying purchases at no extra cost to you.
The ingredients
Aqua, Glycerine, 2.5% of hyaluronic acid, Sodium Benzoate, Phenoxyethanol, Methyl Paraben, Propyl Paraben, Carbomer, and Citric Acid
What does it claim?
Specially formulated for acne-prone and oily skin.
With Hyalugel Plus, you'll be using an innovative blend that's better than any other
Makes your skin more flexible and reduces pore size.
The cream spreads into deep skin follicles and effectively heals affected areas.
No sticky residue, non-comedogenic, hypoallergenic, colorless, and fragrance-free
Price: Check it out on Amazon here.
Benefits of Hyalugel for Skin
Heals wounds: It can help speed up the healing process when applied directly to wounds.
Age-defying: With the right amount of Hyaluronic Acid, you can significantly reduce the depth of wrinkles as well as improve skin firmness and elasticity. It can reverse some of the aging signs that already exist.
Hydrates the skin: Besides being lightweight, it is also capable of locking in moisture from the environment and the deeper dermis, leaving the skin fully hydrated from the inside out.
Treats eczema and dermatitis: Hyalugel can help to relieve mild to moderate eczema symptoms. What's more, it reduces facial redness to give you a healthier-looking complexion.
Makes skin tighter: It helps tighten skin's appearance because it fills it with moisture. This helps define facial contours and keeps them looking young.
Rejuvenates skin cells: Through the ability to hydrate the skin and protect the barrier, HA helps promote skin cell regeneration. This is what naturally leads to a healthier complexion.
How to use it?
Cleanse your face.
Apply the gel on damp skin and massage until it absorbs.
Quickly seal it with a moisturizer so your skin doesn't end up dry.
My Experience with Hyalugel
In a cardboard box, the product comes encased in a blue-colored plastic tube. Typically, I prefer products that have minimalistic packaging.
It is a clear, non-sticky gel without any scent. After I apply it to my skin, it feels cool and refreshing. My initial mistake was waiting for my face to be fully dry before applying the gel. As a result, it stayed on my face and formed a sticky layer instead of sinking into the skin.
To avoid stretchy skin after applying Hyalugel, I immediately follow it with a light moisturizer. In the summer, I just use the gel alone and skip moisturizer and still have hydrated skin. Winter calls for a thick layer of moisturizer.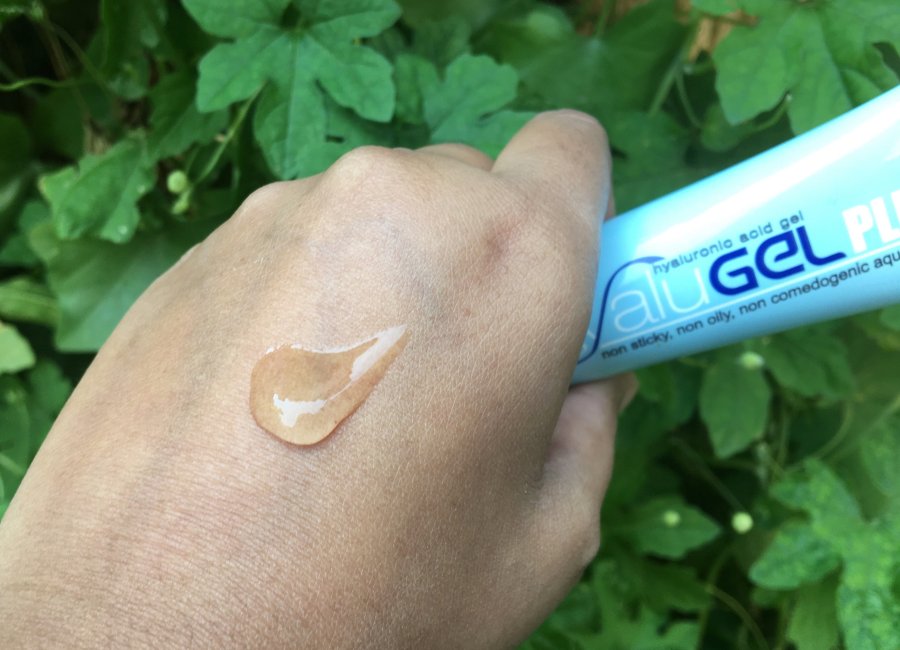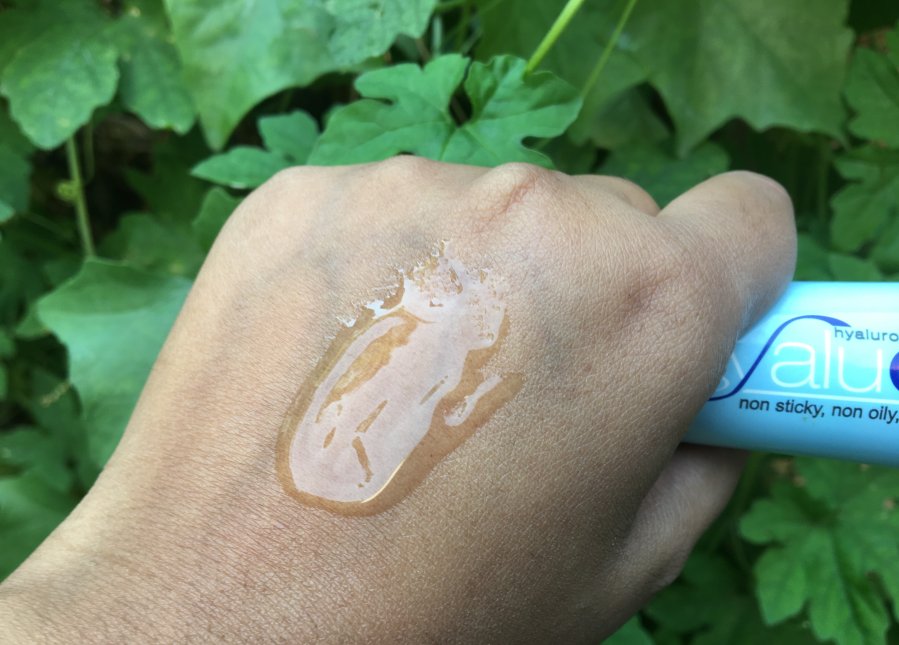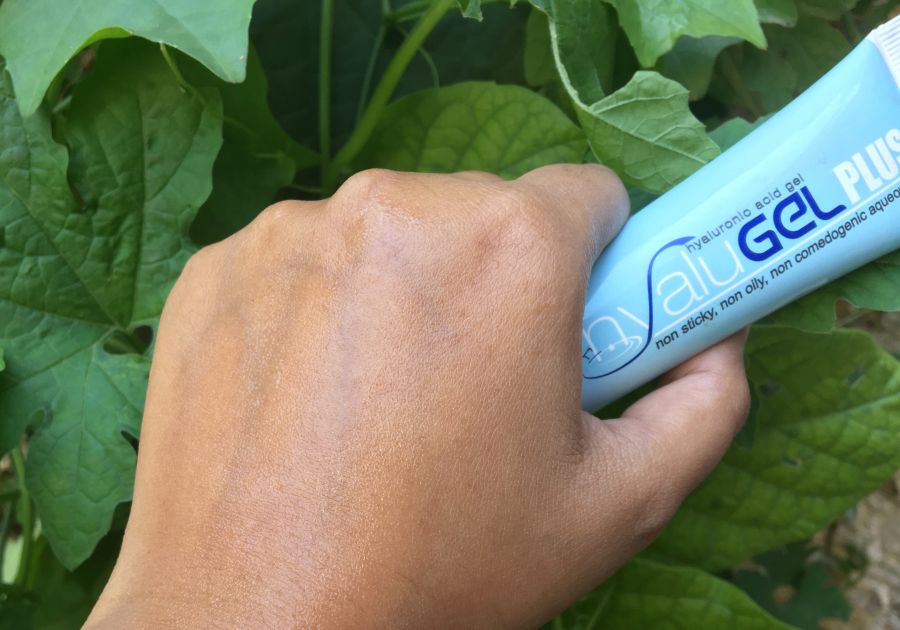 The effect? My skin appears plump and hydrated — that's what it feels like when you get all the water in a few drops. In the first application, my skin looks significantly healthy and taut. Moreover, it appears like glass. Using it for three months really helped to firm up my fine lines. The more I use it, the more likely I am to see a tremendous difference in my fine lines and upcoming wrinkles.
Wondering if it works for scars? While it did make them disappear for a while, I am not certain whether it would last a lifetime. Nevertheless, it has improved the evenness of my complexion. Also, I tried using it as a primer and as I applied my makeup, it went flaky and started crumbling. My oily skin becomes shiny after a few hours.
The one I'm using is Hyalugel Plus which has a 2.5% concentration of HA whereas Hyalugel contains 1%. Choose the concentration that works for your skin. Adding your favorite moisturizer on top of hyaluronic acid, in order to seal in moisture, will ensure the best results. Also, while Hyalugel isn't sun-sensitive, you still need to apply SPF no matter what.
Pros
Suitable for oily and combination skin
Gives skin a healthy glow
The skin appears plump
Feels light on the skin
Skin-soothing
A bargain at the price
Spreads and absorbs easily on the skin
Cons
Contains paraben and silicon
The excessive application leaves a sticky layer
FAQs about Hyalugel
What's the difference between Hyalugel Plus and Hyalugel?
The only difference between them is their concentration. Hyalugel contains 1% HA where Hyalugel Plus comes with 2.5% of the concentration. There is also a price difference – a higher concentration is costs more.
What is Hyalugel used for?
It treats a variety of skincare issues, including dryness, wrinkles, and fine lines. The gel will benefit everyone, even those without skin concerns.
Is it good for dry skin?
A gel that deeply hydrates dry skin can make a significant difference. Be sure to follow up with a rich moisturizer.
How long should I use this gel?
Two or three times a day is more than enough. Because it's a daily moisturizer, you can use it for however long you'd like.
Is Hyalugel a moisturizer?
It can be a fantastic moisturizer for oily skin, though dry skin will benefit more from using it when combined with another moisturizer.
How long does it take to see results?
As topical hyaluronic acid products tend to produce temporary effects, you should be able to notice plumper, more hydrated skin within a few minutes.
But if you're looking to reduce the appearance of fine lines and other signs of aging, you may have to wait a couple of months to see a difference.
Is Hyalugel cruelty-free?
Yes, this gel comes from Ethicare Remedies, a brand that is vegan and cruelty-free.
How often should I use it in a day?
Before and after cleansing, or whenever you desire, you can use it two times a day.
How to use Hyalugel for oily skin?
Wash your face as usual. Apply the gel while your face is still moist, then apply a lightweight, non-oily moisturizer on top. It's okay to skip the moisturizer after applying the gel if the skin feels oily.
Who cannot use this gel?
If you are pregnant, breastfeeding, have other skin infections or are allergic to Sodium hyaluronate or any other ingredient in the gel, talk with your doctor before using it.
Are there any side effects?
Hyalugel Plus is generally safe and does not cause any side effects. However, if you experience any skin reactions such as redness, rash, or any allergic reactions, check with your physician. Women who are pregnant or lactating should consult with a doctor before using this.
The takeaway
Maintaining healthy, vibrant skin starts with proper hydration. Adding hyaluronic acid to your skin routine is one of the easiest ways to do that.
The reason that Hyalugel and Hyalugel Plus work for everyone is because it's easy to use, has fewer side effects, friendly to the skin, and comes in two different formulations.
Have you tried Hyalugel Plus yet? Leave a comment with your experience or if you plan to incorporate it into your skincare routine.