All of us aren't lucky enough to have natural red flush cheeks. I'm sure most of our mothers and grandmother definitely owned a red blush.
I know the thought of red blush makes you feel like you'll look like a clown. But that's not true. In fact, it will make your cheeks look like a newborn or if you are cold.
Now the main question is – how to wear red blush and not look over the top?
Red blush is quite universal and looks good on every complexion. Among all the makeup products, blush is one of the most important and can change your entire look with just a pinch of the product, making you look more healthy and youthful. Red is a very refreshing color and is perfect for spring and summer.
How to Apply Red blush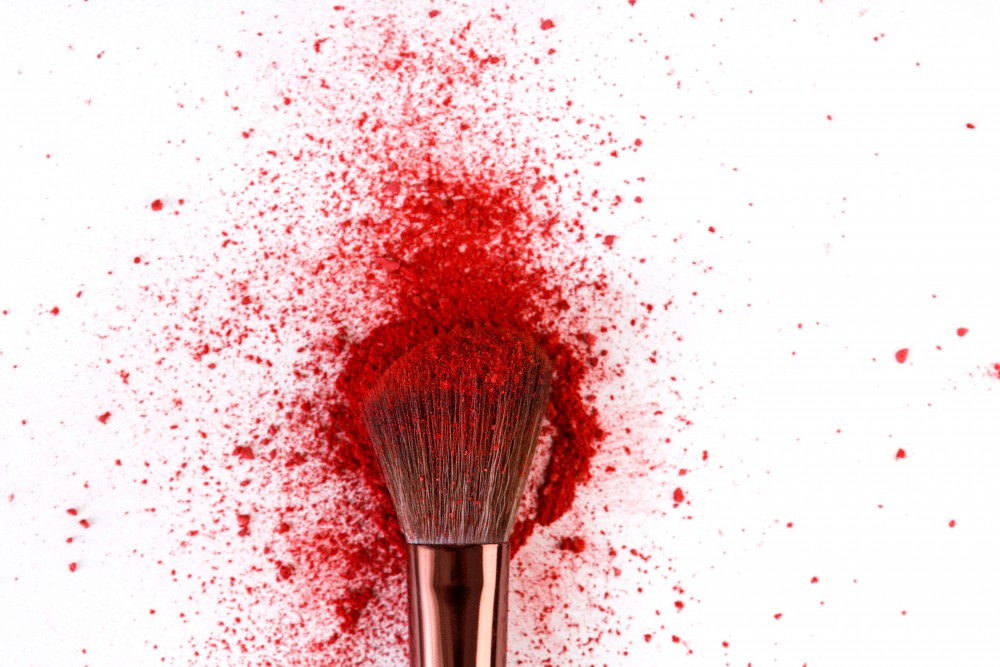 You're definitely wondering why applying something like blush requires a full-on tutorial, as it is effortless to put on. But putting on blush is way more than just dusting the color onto your cheeks. Trust me, the way you apply your blush can change the way your face looks. Red blush is tricky, and it totally depends on its application and how you balance it out with the rest of the face.
Use a big, fluffy brush or even your fingers for the application. Use a small-headed brush to have more control over the blush application. Irrespective of whether you use a brush or your finger, it's important to use a light hand.
Lightly sweep the brush through the blush and tap off any excess and then gently dust the blush onto the apples of your cheeks.
While applying red blush, mostly concentrate on the apples of your face and blend it towards the edges of your face. The application differs depending on one's face shape. Below is an image that will guide you in your blush application according to the different face shapes.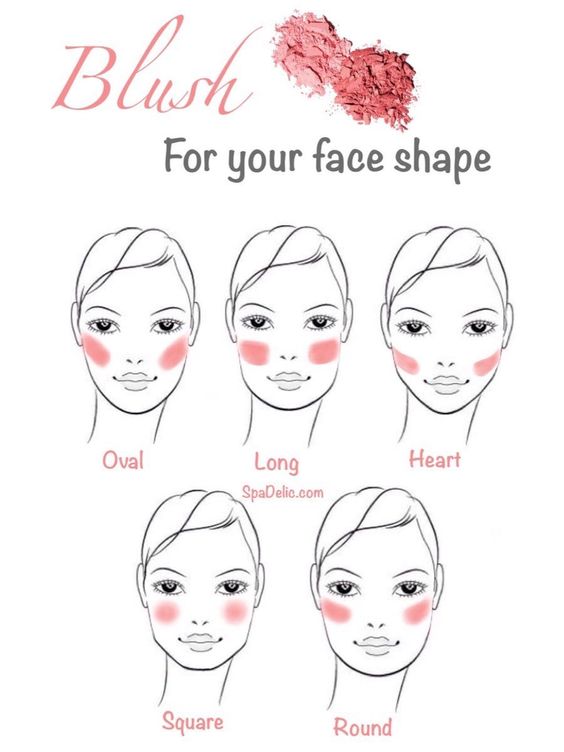 Pro Tip: If you're not very comfortable or just new to using red blush, I suggest you put on your primer, foundation, blush, and then slowly work your way with other areas like your eyes and lips.
Keep your eyes and lips more natural and low-key. A soft black liner and nude pink lipstick will perfectly complement the red blush.
You could also take the risk with red lipstick but stick to more orange and pinkish shades of red. A little hack would be using a gold highlighter on the red blush to tone it down slightly and for a warm look.
 7 Gorgeous Red Blushes You Can Try
Readers like you support The Beautyholic. When you buy through links on our blog, we may earn a small commission at no cost to you.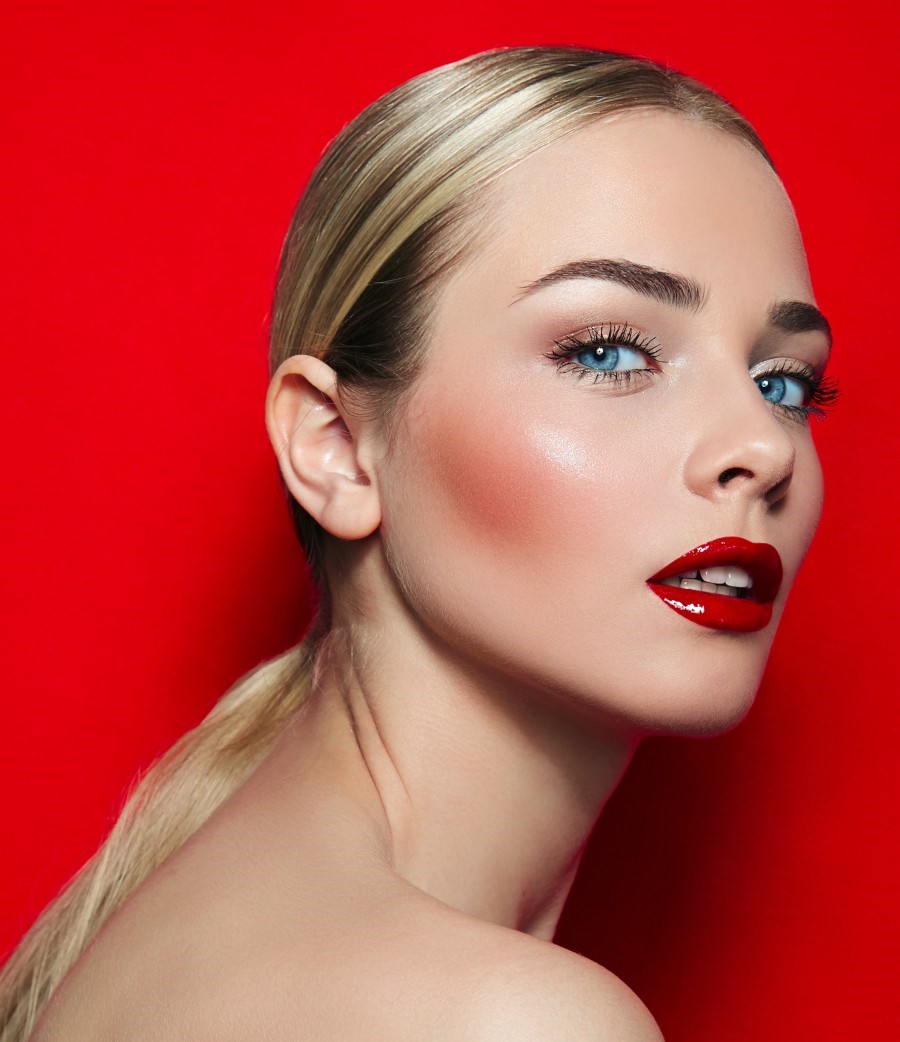 We've curated a list of red blushes from different brands for you to try. Although all of these are red, each has a different effect when applied to the face.
Benefit Cosmetics Benetint Lip and Cheek Stain
The Benefit Cosmetics Benetint Rose – Tinted Lip and Cheek stain comes in a small, transparent nail paint kind of bottle with a brush applicator, making it travel-friendly. It is a rosy berry-like red shade and is not as dark red as it appears on the bottle. Due to its subtle shade, it's perfect for a natural makeup look. The texture of the product is runny, and hence it blends up really well. The Benetint cheek stain dries up really fast, so you have to be quick while blending in the product. The cheek stain lasts all day and needs no reapplication. Another plus about this product is that it doubles up as a lip stain!
L. A. Girl Just Blushing – Just for fun
The L. A. Girl Just Blushing – Just for fun in the shade red is powder blush. Although the shade is red, it depicts more of an orange peachy color. This blush is super pigmented and just a little bit if the product does the job. The texture is really soft and smooth and glides on easily. Because of its soft and smooth formula, it is quite long-lasting.
Milani Baked Blush – 09 Red Vino
The Milani Baked Blush comes in the shade 09 Red Vino, a more berry red with gold shimmer when applied onto the face. One would only need the smallest amount because this product is a lot pigmented. The texture is quite silky and luminous, which adds a natural glow to the skin. This Milani blush is long-lasting. The blush comes in a case like a compact and includes a mirror and a small brush.
NYX PROFESSIONAL MAKEUP High Definition Blush – Crimson
The PROFESSIONAL MAKEUP High Definition Blush in the shade Crimson looks like a bright cherry red with orange undertones when applied. This product is very pigmented and needs a light hand during application. The texture is powdery, and hence all you need is a little bit of his product. This blush is quite long-lasting.
Maybelline New York Blush – Deep Rose
The Maybelline New York Blush in the shade Deep Rose gives a nice soft and natural hue of color to the cheeks. The product is not very pigmented and is perfect for a natural daytime look. This blush has a minimal amount of glitter and is very light on the face, and blends very easily.
NYX Professional Makeup Bright Idea Stick – Brick Red Blaze
This stick blush is convenient to use as it lets you apply it precisely on your cheeks. NYX Bright Idea Stick in Red Blaze has fine shimmers that illuminate a glow rather than a glittery look. It has a buildable pigmentation and gets blended easily, which lasts for around 5 hours. If you are looking for a highlighter-cum-blush, this can be the best bet!
Nars Blush – Exhibit A
The Nars Blush in the shade Exhibit A looks a little scary in the palette because of its bright red color. This product can appear in natural pink or deep red, depending on its application. The pigment is intense, so use the fluffiest brush and barely touch the pan. You don't want to go overboard with it. Also, the hint of shimmer adds the perfect level of glow. Also, the packaging is so sleek that you'll always want to flaunt it. This product is highly recommended for those looking for a natural look and a product of quality.
So here ends our guide on how to wear red blush and the best recommendations. I hope you are now going to give a shot to the mighty red blush!