If you are ready to start your own massage business, you're in for a rewarding career move.
Here you will find a step-by-step guide to starting a massage business, including information on researching the industry, developing a business plan, obtaining licenses and permits, finding the right location, getting insurance, and promoting your business.
Also, we will discuss the costs associated with starting a massage business and tips for making it successful.
Whether you're a seasoned massage therapist or just starting out in the field, read on to learn how to get your massage business rolling.
How Much Does It Cost to Start a Massage Therapy Business
Your location, the size of your business, and the services you offer will determine the cost of starting a massage therapy business. Here are some expenses you might run into:
Rent for a business location
Equipment and supplies
Insurance
Licensing and permit fees
Marketing and advertising
Staff salaries
It's a good idea to create a detailed budget to help you understand the costs associated with starting your business and make informed financial decisions.
Keeping inventory is important for any massage business. You'll need supplies such as massage tables, linens, and oils, as well as equipment like heating pads and hot stones. Those items are easy to get with the help of a B2B beauty marketplace, but the overall cost of your inventory will depend on the size and scope of your business, as well as the types of massage services you offer.
While it's difficult to estimate the exact cost of starting a massage therapy business, it's important to be aware of the various expenses you may incur and plan accordingly. It's easy to succeed if you manage your budget well and deliver high-quality services.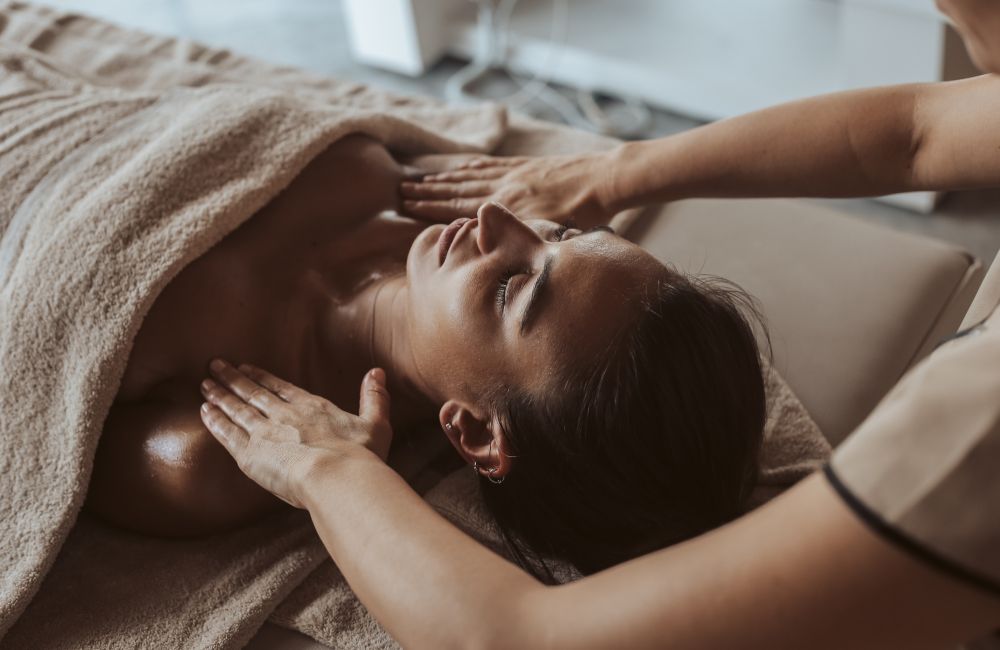 A step-by-step guide to starting a massage business
If you are passionate about helping others relax and feel good, starting a massage business could be the perfect career choice. To get the most out of the industry, it's essential to be properly prepared. Here's a step-by-step guide on how to start a massage business:
Research the industry and familiarize yourself with local regulations
State and local governments regulate the massage industry. It's essential to research the regulations in your area, including any licensing or certification requirements, and make sure your business complies. You should also research the industry to get a sense of the competition and what services and pricing are common in your area.
Create a business plan
A business plan outlines your goals, target market, financial projections, and marketing strategies. It's important to have a clear plan in place to guide your decision-making and ensure your business is on track to meet its goals.
Obtain the necessary licenses and permits
Contact your state's regulatory agency for information on the specific licenses and permits required for your business. This may include a massage therapy license, business license, and sales tax permit.
Find the right space to set up your massage business
Consider factors such as location, size, and cost when choosing a place for your business. You may need to make renovations or purchase equipment to create a comfortable and professional space for your clients.
Secure enough insurance to protect your business
Massage therapy carries some inherent risks, such as the potential for clients to experience discomfort or injury. It's essential to protect your business with the right insurance coverage, such as liability insurance.
Purchase the necessary supplies and equipment
You'll need supplies such as massage tables, linens, and oils, as well as equipment like heating pads and hot stones. Research and compare prices to get the best deals.
A good inventory is important for the success of your massage business for several reasons:
Allows you to provide high-quality services to your clients. Using top-of-the-line equipment and supplies can make a big difference in the comfort and satisfaction of your clients.
Allows you to meet the needs of a wide range of clients. For example, you may need to have different types of massage oils or heated stones to accommodate different preferences or allergies.
Helps you to be prepared for any situation that may arise, such as last-minute cancellations or unexpected demand for your services.
Hire experienced and qualified staff
It's essential to hire therapists who are skilled and licensed in the type of massage you offer. Consider offering training or continuing education opportunities to ensure your staff stays up-to-date on the latest techniques.
Promote your massage business to attract customers
You can promote your business in a number of ways, including building a website, creating social media profiles, and running ads in local publications. To attract new customers, you can also offer promotions or discounts.
You can build a thriving massage business by following these steps and staying focused on delivering high-quality services and customer satisfaction.
Tips to Make Sure Your Business is a Success
Starting a massage business takes time and effort, however, if you prepare and plan carefully, it can be a rewarding and successful venture. In addition to following the steps outlined above, here are a few tips to ensure the success of your business:
Specialize in a particular type of massage or target a specific market, such as athletes or seniors, to differentiate yourself from competitors.
Focus on customer service to build a loyal customer base.
Offer promotions or discounts to attract new customers and keep your business top-of-mind.
Consider offering additional services, such as skin care or yoga classes, to expand your revenue streams.
Keep your business organized and well-maintained to promote a professional image.
Continuously educate yourself and your staff to stay up-to-date on the latest techniques and trends in the industry.
By following these tips and staying dedicated to your business, you can build a thriving massage business that helps others feel their best while also achieving your own professional and financial goals.
Final thoughts
Being a business owner isn't easy, but if done right, it can be a lot of fun. It's a guide to getting a massage business started without feeling overwhelmed.
The key to a successful massage therapy business lies in making wise choices and being flexible. Put this blog to good use and come up with creative ways to promote your business. With the right strategies, your massage therapy business should be a hit.