Two things drew me to this face wash: moisturizing and aloe vera. I started using aloe vera gel a year ago, and now I use aloe gel at least twice a day.
When I saw a Himalaya product with aloe vera that claims to be moisturizing, I couldn't resist, so here I am with my experience with Himalaya Aloe Vera Moisturizing Face Wash.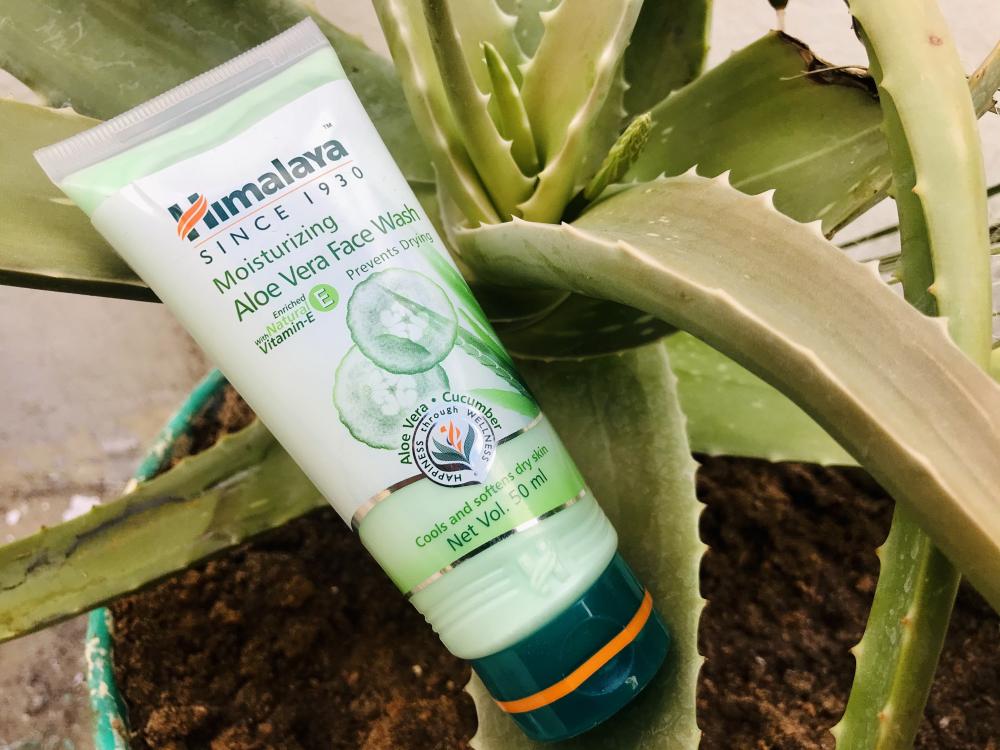 About the product: Himalaya's Moisturizing Aloe Vera Face Wash is a soap-free formulation that replenishes lost moisture from your skin after every wash, eradicating dry and stretched skin. It is enriched with cucumber, which cools and soothes while aloe vera tones and softens your skin. This face wash combines natural ingredients to cleanse your skin, leaving it feeling fresh and glowing.
Features:
Aloe vera face wash enriched with vitamin E

Cleans and moisturizes skin

Keeps skin fresh and glowing

Mild on skin and prevents drying

Soap-free face wash for healthy skin

Suitable for dry skin
Price: Rs 65 for 50 ml | Rs 120 for 100 ml | Purchase it on Nykaa
Ingredients: Aqua, Ammonium Lauryl Sulfate, Cocamidopropyl Betaine, Stearic Acid, Glycerin, Sodium Lauroyl Sarcosinate, Glycol Stearate, Glyceryl Stearate, PEG-100 Stearate, Cucumis Sativus Fruit Extract, Cetyl Alcohol, Fragrance, Xanthum Gum, Phenoxyethanol, Aloe Barbadensis Leaf Extract, Cetearyl Alcohol, Coco-Glucoside and Glyceryl, Oleate, Methylchloroisothiazolinone, methylisothiazolinone, Menthol, Tocopherol, Disodium EDTA, CI 19140, CI 42053.
Features:
The key ingredient is aloe vera. The benefits of aloe vera for skin and hair are endless.
It contains antioxidants, Vitamins A and C, and is essentially anti-inflammatory.

It does wonders on acne, dark spots, and other facial blemishes.

Another major benefit that aloe vera provides is that it is a hydrating agent that can leave your skin feeling moisturized.

In addition, it contains Vitamin E and cucumber.

Cucumber provides cooling, hydration, reduces irritation and acne, etc.

Vitamin E also helps in moisturizing, reducing acne and dark spots, etc.
My Experience with Himalaya Aloe Vera Moisturizing Face Wash
Himalaya Herbals Moisturizing Aloe Vera Face Wash has a creamy formula. It is a pale green color and has a slight aloe smell to it, which smells a bit artificial. It does not lather.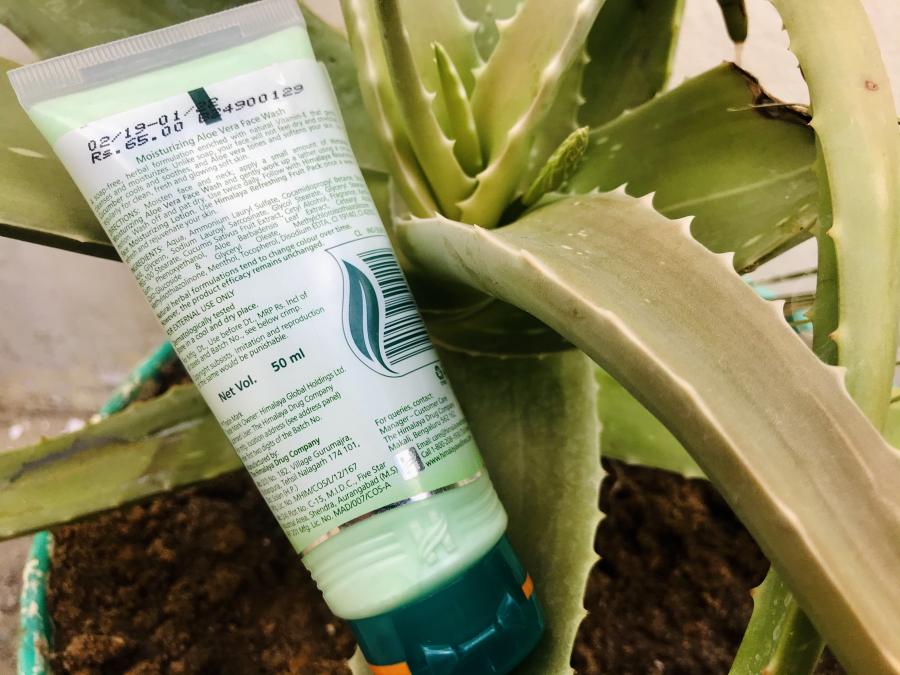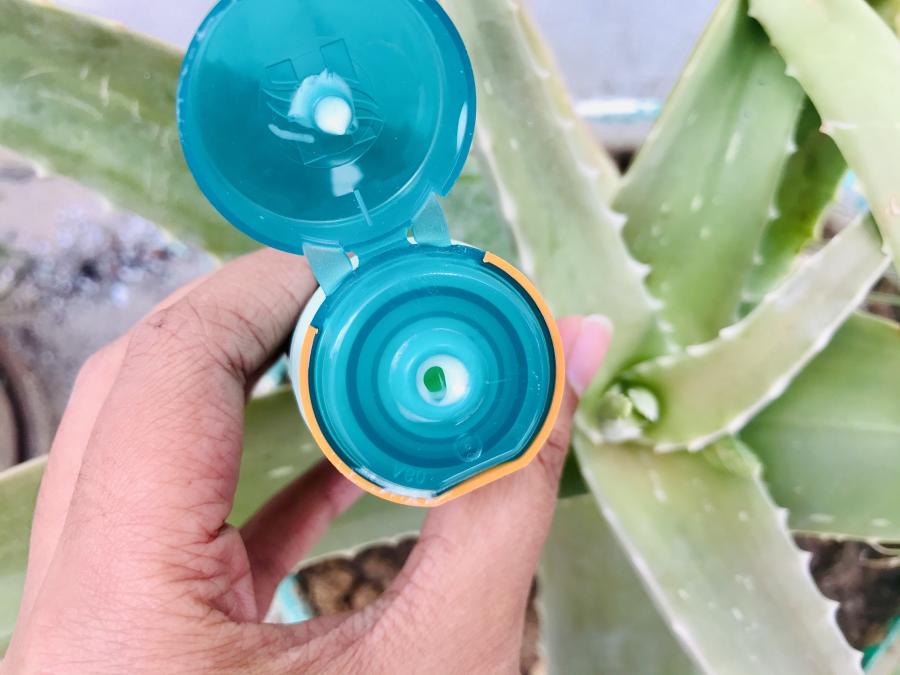 The packaging tube is similar to the other face washes: a semi-clear plastic tube on which the product details are printed. It has a dark green top cap. Though the cap is plastic, it is sturdy enough and closes tightly so that the product does not leak.
These are the benefits that pure aloe vera gel or even store-bought, considering that it is of good quality, cucumber extracts, and vitamin E provides. But the mere fact that your product contains these ingredients does not mean that it will provide the same benefits. I used this face wash for a few months. I don't think that these ingredients made any difference, at least in my case.
First of all, I do not find it moisturizing. My face looked and felt very dry after washing and rough to touch. For a face wash with aloe vera and cucumber, it should at least not strip your skin of its existing oils.
There is a cooling and hydrating feel while you are applying the product, but that's it. The moment you wash it off, it's gone. After using it, I definitely have to use a day cream so that my skin doesn't seem flaky and stretched out. I have noticed that my face feels drier after I wash with this product than before (I am not joking).
While writing the review, I used it to see how it works on Qatar's cold climate compared to the monsoon at Bangalore. I don't know why I was so stupid, but it just made the usual dryness 5 times worse. I just had to slather on a ton of night cream to feel better.
Many reviews stated that it is good for winter skin (which is very dry) and so on. But I personally won't recommend the product to anyone with dry skin. It is more suited for people with oily and even combination skin to an extent. From a person with normal to dry skin, I am not a huge fan. Instead, I absolutely hate it.
Regarding the cleansing effect, it doesn't do any better than the next face wash. I have used face washes that have made me feel rejuvenated and brighter even, but this face wash doesn't make any noticeable difference on my face. The only noticeable difference is that I look instantly dehydrated. It did not cause any breakouts on my skin. But my face is rarely prone to such breakouts, so this is not a specific pro I will add to the list.
The product has absolutely no lather. I feel as if I'm applying a cream mixed with water on my face. I'm not too fond of face washes that don't lather. It may be because the product is soap-free. But sometimes even soap-free products do lather, so I can't say for sure.
Pros
Affordable

Widely available

Good for oily skin

Cruelty-free and natural

Travel-friendly packaging
Cons
Not suitable for dry skin

Doesn't stand up to claim of being moisturizing

Doesn't lather at all
Himalaya Aloe Vera Moisturizing Face Wash
Final Word
This is definitely not one of my favorites. It is terrible for dry skin, especially during winter. There are some good reviews for the products, probably from people with oily skin. It doesn't create any differences on my face other than the fact that it makes my skin more dry. I certainly am not going to repurchase this and do not recommend it for anyone with dry skin and/or living in a dry climate.